Branded Surveys Reviews and Features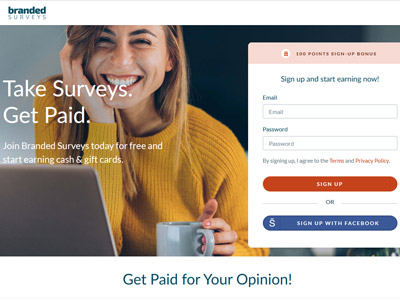 Branded Surveys
343 4th Ave, Suite 201, San Diego, CA 92101 US
Tel: Contact: https://surveys.gobranded.com/page/contact
Operated by: Branded Research Inc.

PAYMENTS OFFERED

Cash paid via PayPal

Amazon gift cards

Best Buy gift cards

Apple gift cards

Starbucks gift cards

Target gift cards

Walmart gift cards

Home Depot gift cards

Prepaid debit or credit cards

Retail e-vouchers

Cash paid via bank transfer

Movie vouchers

Restaurant gift cards

Sweepstakes entries

Donations to charity

HOW TO PARTICIPATE

Online surveys

Daily surveys

Teen surveys

Refer-a-friend program

REDEEMING REWARDS
Once you have earned a minimum of 500 points, you will have the option to redeem your points for cash or gift cards. Choose any amount over $5.00. Gift cards are awarded in $5.00 increments. Alternatively, choose PayPal or Branded Pay (bank transfer) for payment. Redemptions are processed within 1-2 business days.
In November 2017, MintVine rebranded itself as Branded Surveys. The company has been running online surveys since 2012.
Branded Surveys is an online paid surveys site that offers users the opportunity to answer online surveys in exchange for rewards including cash and gift cards.
Over 3 million people in the USA, Canada and UK are members of the site.
How Branded Surveys Works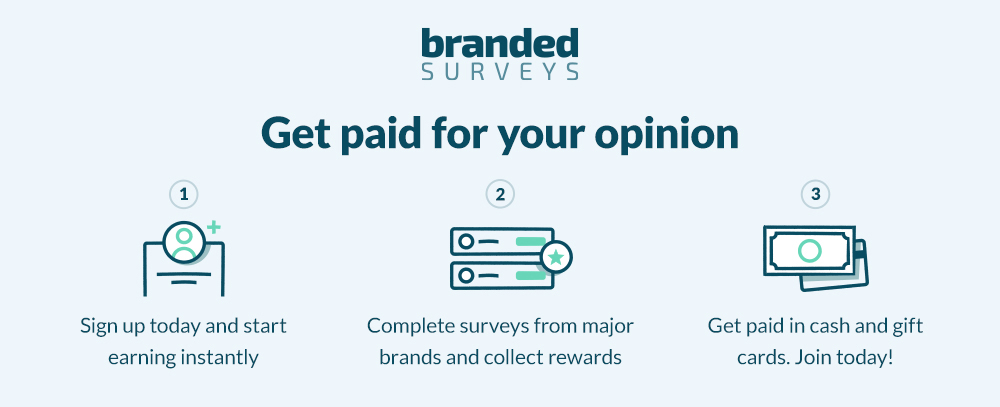 Take Surveys, Earn Rewards
Branded Surveys provides its members the opportunity to participate in online surveys on its Go Branded website, in a wide variety of different topics in exchange for rewards. Formerly known as MintVine, in 2017, the panel completely redesigned their website and took on the new name, 'Branded Surveys'. Branded offers its members tons of different rewards options and issues gift cards within 48 hours of transactions being processed.
New Member Bonus
New members of Branded Surveys can get a $1.00 (100 point) joining bonus by simply creating an account and taking the profile survey. After completing the survey, 100 points will be instantly credited to your account. That's a whopping 20% of the points needed for your first cash out!
Registration is quick – use your social account or email to sign up. No promo code is required to take advantage of the bonus.
Visit the Branded Surveys website

›

Earn a Payout in as Little as One Week!
Payouts on Branded Surveys range in value for surveys and can be as high as 300 points. If you are not the best fit for a survey, you will still be rewarded with points for answering even a couple of questions - compensating you for your time and inching you forward to your first payout, be it a cash payment, gift card or other reward.
How to Redeem Points
When you complete a survey, you will be rewarded with points and your survey answers will be sent directly to Branded Survey's market research clients. Once you have earned a minimum of 500 approved points ($5.00 USD), a redemption button will become active in the "My Points" section of your account, allowing you to cash out your earnings and redeem your points.
Payment threshold: Receive a reward with a minimum of 500 points ($5.00) in your account.
Rewards
When you're ready to request a cash out from your Branded Surveys account, click the redemption button and choose from a wide variety of rewards:
PayPal cash payments
Branded Pay (bank transfer - USA only)
Amazon gift cards
Pre-paid virtual credit cards
Other gift cards including: eBay, Walmart, Target, Home Depot, Chipotle, Airbnb, and more!
Branded Pay connects directly to your bank account, allowing you to get your hard earned cash even faster! Upon approval of your withdrawal (1-2 business days), a payout will post to your bank account within 24-48 hours (USA residents only).
Redemptions take approximately 1-2 business days to process, and all rewards are digital. Gift cards will be issued as e-gift cards, and cash payments will be sent electronically. A valid phone number may be required to verify your identity to cash out your rewards.
Promo Codes
Promo codes on Branded are available for users to input into their member accounts, and will credit accounts with free points. These promo codes are available via special contests and promotions, though they aren't available often.
Visit the Branded Surveys website

›

Survey Lengths
The average survey on the platform takes 11 minutes to complete, but the estimated completion time will always be listed on survey invitations (which are e-mailed, or can also be found listed in your account). Not only can you take interesting surveys, but daily poll opportunities are also offered.
Many surveys, as well as the platform itself, is posted on the gobranded domain name. Go Branded is the same as Branded Surveys - it's simply what the panel uses in their url.
Daily Polls
Log into your account daily to receive 5 points for taking the quick poll available on your Branded Surveys Dashboard. You may complete one poll every 24 hours.
Earn Extra Points
Local Deals are provided by businesses and offer additional opportunities to earn points with Branded Surveys. These opportunities are also listed in your Branded Surveys dashboard. The more points you earn, the more qualified you will be for additional opportunities.
How Much Points are Worth
Branded Surveys uses a very simple points conversion system. 500 points = $5 USD, so 100 points = $1. Therefore, each individual point is worth 1 cent, or $0.01.
If you are located in Canada or the UK, you will receive your rewards in your local currency, converted from USD. For instance, a $10 USD payment issued to a Canadian would be equal to approximately $12.50 CAD. $10 USD issued to a UK resident would equal approximately £8.00.
Member's Tip! Answer questions as honestly as possible so the data collected is accurate and the surveys you qualify for are relevant to you. This makes it much easier to complete surveys quicker.
Visit the Branded Surveys website

›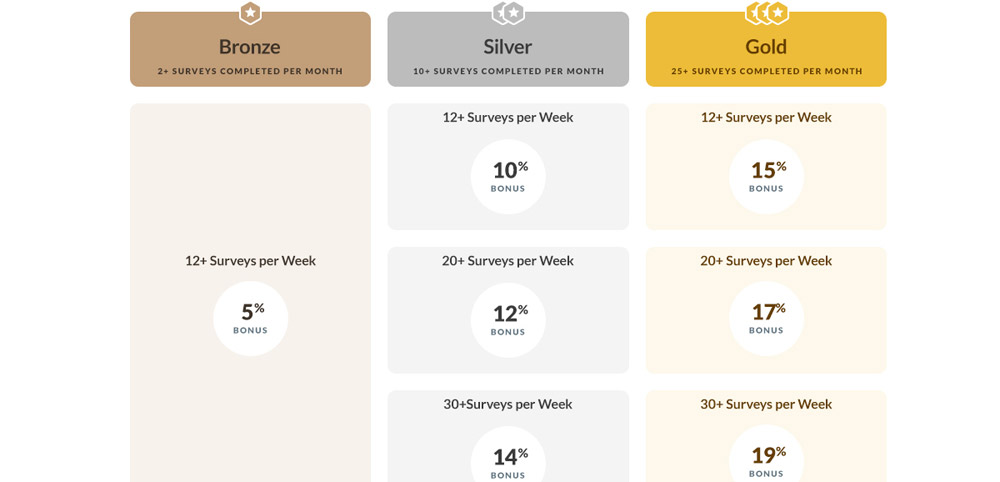 Branded Elite
Branded Elite is Branded Surveys' rewards program. There are three levels of membership depending on your monthly survey activity. The badge levels are Bronze, Silver and Gold. Each badge level grants members the opportunity to earn weekly bonus points.
As you take surveys throughout the month, you can advance through Bronze, Silver and Gold badge levels. You must meet the minimum survey requirements each month to keep your badge through the next month.
Complete 2 surveys per calendar month for Bronze
Complete 10 surveys per calendar month for Silver
Complete 25 surveys per calendar month for Gold
Earn Weekly Rewards
As a Branded Elite badge member, you can earn a weekly bonus when you complete 12, 20 or 30 surveys per week (Monday-Sunday). Your bonus is a percentage of your total approved survey points for the week.
When you complete 12 surveys per week, you can earn a 5% bonus as a Bronze member, a 10% bonus as a Silver member and a 15% bonus as a Gold member.
When you complete 20 surveys per week, you can earn a 12% bonus as a Silver member and a 17% bonus as a Gold member.
When you complete 30 surveys per week, you can earn a 14% bonus as a Silver member and a 19% bonus as a Gold member.
Re-qualify to Keep Your Badge Status
To maintain your badge color, members are encouraged to keep participating. Note that badges are subject to change on the first of each month if there was minimal participation for the duration of the month.
Visit Branded Survey's website

›

Branded Leaderboard
Increase your daily payout by getting on the Leaderboard. The Leaderboard tracks the Daily Top 50, Weekly Top 50 and Monthly Top 20 performers and rewards members for their survey completions.
Daily Top 50 leaders = 50 points
Weekly Top 50 leaders = 200 points
Monthly Top 20 leaders = 300 points
Remain Active to Win Daily, Weekly & Monthly Prizes
Remember that for every survey you complete, you will get submitted into a daily, weekly and monthly random prize drawing. Win up to 50 extra points in a daily drawing, 500 points in the weekly drawing and 1000 points for the monthly drawing. The more you participate, the greater number of entries you will receive for the drawings.
Referral Program
Log in to your account to copy your unique referral link which you can then share with friends and extended family members to increase your account balance. Receive 50 points as a gold or silver badge holder whenever your friends and family reach the silver badge status.
Is Branded Surveys Legit or Scam?

Is Branded Surveys Legit?
Branded Surveys is a completely legitimate paid survey site and is not a scam. Although users of the site may have different experiences interacting with the site and taking surveys, the operating company is a credible market research firm that has issued over $25 million dollars in rewards to its 3 million members - confirming that Branded Surveys is legit.
You can learn more and find out what Branded Surveys users think of the platform in the reviews section below.
Eligibility: USA, UK, Canada residents 16 years of age and older.
Joining Bonus! Branded Surveys is currently offering a 100 point ($1) sign up bonus to new members. » Click here to claim your bonus!
---
SurveyPolice Exclusive: Q & A with Branded Surveys
» More news and information on Branded Surveys
Branded Surveys Reviews (1303)
5 Star Reviews (591)
45.4
4 Star Reviews (194)
14.9
1 Star Reviews (317)
24.3
June 17, 2017 by Tara from United States
I have not received my pay out and it has been over a month and it is my first pay out. I have left two emails for "customer service" and have not received one response. It says it has been processed yet I haven't received it or a response from customer service as to what they're doing about it. There is no number to talk to a human being. The one listed about takes you to State Farm. I am not pleased at all and I never leave reviews. And since I left my message I received the general email updated we all get so I know they are emailing just ignoring my request!

Branded Surveys responded to this review on June 18, 2017
Payments take 3-5 business days to process and, depending on your payment method, may have gone to your spam folder. Please email
[email protected]
so we can investigate and thank you for your feedback.
June 2, 2017 by Jenni from United States
This used to be a great site, but not anymore. I was a member for about 6 months, and I've been paid about $300. They used to have a lot of surveys, but that all changed in mid-May. Something happened where there were hardly any surveys, and the ones that appeared would reach quota very quickly. I used to be able to complete 6-10 surveys each day, but now I can hardly get 1 or 2. I finally got an available survey, then finished it only to be disqualified for rushing through. Well, OF COURSE I rushed through--I had to finish before the quota was filled. I answered all the security questions correctly, and was still DQ. So I'm damned if I do, and damned if I don't. That was the last straw, so I cancelled my account.

I guess the surveys go to other survey companies first, then go to Mintvine only after they're almost full. How else can they can be over quota within a few seconds after becoming available on Mintvine?

Like I said, they'll pay you--they're not a scam, but there aren't enough surveys anymore to get the $10 needed for payout. At this point, I don't know why they're accepting new members. There aren't even enough surveys for the old members.
You can still earn 5 points/day by doing the daily poll, and eventually you'll reach payout.

Branded Surveys responded to this review on June 2, 2017
We are working to ensure a large quantity of surveys are always available for our valued panelists. We apologize for your negative experience, and thank you for your feedback.
May 26, 2017 by Margaret from United States
I have been doing Mintvine for over a year, and up until the last month, I loved them. However, the past month, every single survey I complete, tells me I've finished the survey, then once redirected back to Mintvine, a message pops up saying the survey quota has been met, and I receive no points. Every time I have complained to them, they have given me the points. The problem is I don't want to spend ten minutes, trying to get help, every time I finish a survey. There are far too many better survey sites, you don't have to worry about getting your points from. I would recommend some place else.

Branded Surveys responded to this review on May 26, 2017
Thank you for your feedback. At MintVine we strive to deliver high quality surveys and we will work to improve these negative experiences.
The recent bad experiences appear to be accurate.
April 5, 2017 by Nick from United Kingdom
Constant partner redirects (via the ridiculously named "funnel" surveys), numerous timeout failures, with no way of reporting them due to no invite to refer to.

I have no idea what they were like when they earned all those glowing reviews, but now my experiences tell me that they are exactly the same as other data churners like Toluna and Research Now, which is to say that they'll suck your time for a strong risk of zero payment. Only MySurvey sends so many emails every day with no reward.

I won't make too much mention of the onerous "Quality score" and ludicrous QA questions that they maintain against your profile, ironically if a regulatory body held them up to similar quality standards, they would most likely get kicked out of the survey game.

This year, I'm taking a long hard look at how I use my spare time, it's clear that data churners waste your time vastly more than the likes of proper first party survey sites such as Pinecone SurveyBods etc.

Why they are so high up the SurveyPolice charts, on current performance is baffling however.

Branded Surveys responded to this review on April 5, 2017
We are sorry to hear about your negative experience with MintVine. Thank you for your feedback.
March 31, 2017 by Mike from Canada
I took a $40.00 pay out and have not received it in my PayPal account, so I went to MintVine web site to log in and now I have no account, they have never heard of me. A complete waste of my time with these guys, a total RIP OFF.

Branded Surveys responded to this review on April 2, 2017
We are sorry to hear of this negative experience. If you had an account with MintVine it will be retrievable to investigate.
» Return to: TOP RATED SURVEY SITES
---
Popular Topics
Top Survey Sites of 2022
---
Highest User Rated Survey Sites
---
Survey Sites That Pay Instantly
---
Get $100 Free PayPal Payments
---
9 Product Testing Job Websites
---
12 Online Surveys That Pay Cash
---
How to Earn Free Uber Gift Cards
---
14 Ways to Get Free Amazon Gift Cards
---
Best Paid Focus Groups
---
How to Get a Free Visa Gift Card
---
Ways to Get Free Xbox Gift Cards
---
Featured Advertisers: