BzzAgent Reviews and Features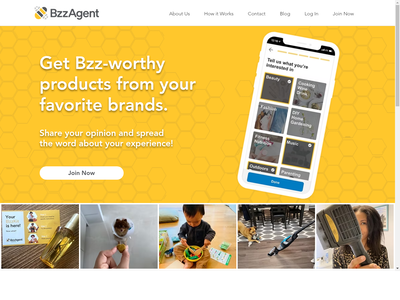 BzzAgent
184 Shepards Bush Road, Brook Green London, W67NL GB
Tel: 1-877-BZZAGENT Contact: [email protected]
Operated by: dunnhumby

PAYMENTS OFFERED

Merchandise

HOW TO PARTICIPATE

Online surveys

Product testing

REDEEMING REWARDS
Every campaign offers a stated reward which is rewarded after an assignment completion.
BzzAgent is a media network, operating since 2002, that recruits "BzzAgents" to evaluate products and services and then share their opinions on them with people they know. BzzAgent has over one million member agents around the world, and uses the idea of word of mouth communication to generate measurable results for marketers.
Influence the Biggest Brands
BzzAgent has an impressive client list which includes: L'Oréal, Nestle, Proctor & Gamble and Purina. You may be invited to test products from international companies and have a major influence on the brand!
Test Merchandise
Members must receive an invitation to a campaign in order to participate. Assignments usually involve testing merchandise and coupons/rebate offers for free samples and then writing/sharing their thoughts on the brand online and on social media.
Being Assigned an "Activity"
If you are asked to test a product, in many cases you will be assigned any or all of the following activities:
Posting to social media about the product (Facebook, Twitter or Instagram)
Writing a review about the product you have been instructed to use
Uploading photos and videos about a given product
Communication Directors (Comm Devs) then rate and respond to the activities you submit based on guidelines, and you are awarded points based on the quality of the "buzz".
Online Surveys
In addition to testing products, BzzAgent invites its members to participate in quick online survey opportunities for extra points and rewards. These also help the organization it you with the right products that you'll be excited to try.
Collect Points and Free Products
Receive MyPoints and sometimes free products in exchange for your BzzAgent participation. Feel good about sharing your opinion to the world and gaining something in return.
Build your BzzScore
Each member accumulates a BzzScore on a yearly basis. It ranges from zero to 10 and takes into account all of the activities you participate in. Depending your level of participation, your BzzScore may go up and down throughout the year. The following are ways to keep your BzzScore high:
Putting detail and attention into your assigned activities
Staying up to date on all the latest survey opportunities
Being an influencer by involving your fellow friends in your BzzActivites
Connecting your BzzAgent profile to your social media accounts
The better your BzzScore, the more invites you will receive for new campaigns. You can view your BzzScore at any time from your member home page.
Earn Rewards
BzzAgent offers rewards as you participate. Some are unlocked along the way and some contain little surprises to keep you interested and always wanting more. Rewards are rewarded after various milestones or achievements, such as: your 10th Tweet, an exceptional photo, your 25th review, etc.
Explore the BzzAgent website and catch up on the hottest trends in the "Latest Buzz" section. See what fellow users are saying about a variety of exciting products. Connect even further by following the BzzAgent Facebook, Instagram and Twitter pages!
Eligibility: Residents of the USA, UK, Canada, Brazil, France and Germany.
---
March 17, 2020 by Kris from United States
I took many surveys from them and the only thing I received was a magnet.
What a Revamped Disappointment
August 17, 2019 by Megan from United States
I was with them for a good while before there new design and I had gotten quite a few product tests. I completed all my tasks and had a high buzz score and then they did whatever they did... I haven't gotten an invite one, I never hear from them and the only products I have applied for are ones I see on my freebies sites and I get denied for every one of them. Then if you say something to them about it then they act like they are shocked to hear this but I read thru comments and more people are displeased with this new format then the few that like it. It makes me mad because all the hard work I did previously to keep my account in high standing was for nothing. That shows me they could care less about loyalty and long term members. That tells me all I want to know about it. As of today I am still a member, I'm kind of curious to see if I'll get an invite to any product tests. I think they ruined a great testing platform and I wouldn't recommend them to anyone.
July 29, 2019 by Brian from United States
I fail to see why this site is rated so high? Since joining it has not sent me a SINGLE actual survey although I waste my time taking all the 'preliminary' ones that are supposed to build a 'profile'. These hardly give any reward worth mentioning and I have to actually log into the site to know they are available, the site sends no email notice. Maybe other folks want to waste there time doing these and getting no actual surveys, but I'd rather be getting rewarded for my time. Since writing this review, I have cancelled from the site.
Used to be proud to be a member
June 1, 2019 by Dian from United States
Before they changed how the site worked, I was so proud to be a member. I encouraged others to sign up and the products were great. I tested everything from perfume to pet products. I received at least one offer a month. Since the change, I've only received 3 offers and they were all not applicable to me. Their Instagram is flooded with people saying the same thing. I emailed them, to see if there was a problem and was called a liar. This is really sad, as I was once very proud to be a member. Don't waste your time.
Was good at first, not anymore
March 31, 2018 by Laura from Canada
I joined in 2004 and at first I loved this program for it's perks and honesty. I was sent many various products which I got to keep and left "word of mouth" posts and advice on how I thought they worked.
Now I am no longer able to login and have contacted them 5 times over the past three months with no response. I think they have become defunct.
» Return to: TOP RATED SURVEY SITES
---
Popular Topics
Top Survey Sites of 2020
---
Highest User Rated Survey Sites
---
Survey Sites That Pay Instantly
---
Survey Sites with Low Cash Outs
---
9 Product Testing Job Websites
---
12 Online Surveys that Pay Cash
---
14 Ways to Get Free Amazon Gift Cards
---
Get Paid for Browsing the Internet
---
How to Get a Free Visa Gift Card
---
Get Paid by PayPal Without Fees
---
Ways to Get Free Xbox Gift Cards
---
Featured Advertisers: