CreationsRewards Reviews and Features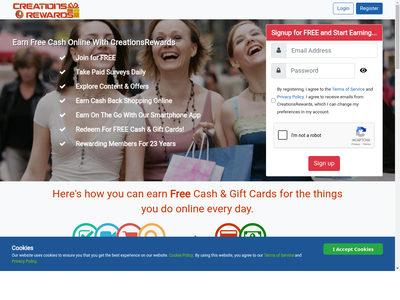 CreationsRewards is a GPT (get-paid-to) website where you can earn cash for completing offers, doing tasks, and participating in online surveys.
How CreationsRewards Works
After joining Creations Rewards and logging into your account, you will be presented with a variety of ways to start earning points:
Daily surveys - visit the surveys section for new survey opportunities. Some surveys are even available to take on a daily basis.
Daily videos - watch daily videos to receive compensation for viewing.
OfferWalls - sign up for special offers and deals for the fastest way to earn points.
Shopping - similar to cashback, shop at your favorite online stores listed on CreationsRewards and get rewarded for your purchases.
Visit websites - browse particular websites and complete short tasks such as small interactions with website features to earn points.
Sweepstakes and contests - visit the "win" and "promo" sections of CreationsRewards to play trivia games for bonus points. Visit their Facebook and Twitter accounts for additional special codes for more points.
Referring friends – refer your friends and extended family and earn 10% of the points they earn for the life of their account.
With 5,000 points in your account (worth $5), you can start redeeming your points for rewards. Choose from a selection of gift cards (from Amazon, Walmart, etc.), or choose to receive a prepaid debit card. You can also opt to receive cash PayPal payments.
CreationsRewards is over a decade old!
CreationsRewards was founded in 2000.
Eligibility: Anyone 18 years of age or older located in Australia, Canada, UK, or USA is welcome to join CreationsRewards
» Earn a $5 signup bonus, by earning at least 5,000 points within the first 60 days of becoming a new member.
CreationsRewards Reviews (20)
November 11, 2017 by Robert from Canada
I spend days upon days followng the rules and requirements to earn a result $10.00.
I cash in on Oct. 6/17 expecting payment within their new terms of 7 - 14 days.
It is Nov. 10 and NO PAYMENT OR ACKNOWLEDGEMENT that the $10.00 is coming.
I have sent 10 emails requesting status and they haven't even replied.
STAY AWAY - IT IS TIME WELL WASTED.
Never thought I would be treated so unfairly.
rewards not paid/no reply from site
November 4, 2017 by Lisa from United States
I requested a $10 Amazon goft card payout from Creations Rewards on 8/30/2017, and per their site, payouts are processed 8-14 days later, but it is now November, I still haven't received it. I've submitted 3 support tickets, messaged through Facebook, called office and left voicemail, and filed complaint with BBB, still haven't heard anything at all from them. I also have well over $20 in accumulated points from after the date I requested my first payout so I am really getting upset about the lack of response. I have stopped taking their surveys for now, until I hear from them and get a resolution.
April 8, 2017 by Terri from United States
I opened an account on Creation Rewards a few days ago. Completed a few tasks and made a total of 36 cents. Signed in the next day and everything was gone. My credits said 0 and all the information on my profile was gone. I sent an email to customer service explaining what happened, I figured they would state there was some kind of glitch with their site and apologize about the time I spent signing up and and completing the tasks with nothing to show for it. Instead they basically said I was lying. When I went to review their 'How would you rate the support you received?' it would not allow me. It kept just bringing up a blank page. I am a housewife and I join survey sites to make extra money for my household. I have much experience with various types of sites like this. I would avoid this site because they have poor customer service and there does seem to be a technical problem with different parts of their site.
February 11, 2017 by Victor from United States
Modifying my previous review. I finally gave up. They will not honor the rewards. Waited three months, no cooperation from customer service, just phony auto-reply tickets.
January 8, 2019 by FRANCISCO from United States
these people say that will pay you in 8 to 12 weeks , this when all the surveys they provide come from companies that pay within 10 days max, like global test market and others
» Return to: TOP RATED GPT SITES
---
Popular Topics
Top Survey Sites of 2023
---
Best Rated Survey Sites
---
Ultimate Guide to GPT Sites
---
Taking Surveys for Gift Cards
---
The Best International GPT Sites
---
14 Ways to Get Free Amazon Gift Cards
---
Find Swag Codes to Make Extra Money
---
GPT Sites That Pay Instantly
---
Guide to Legitimate Paid Surveys
---
Survey Sites That Pay Instantly
---
25+ Easy Ways to Make Money Fast
---

Featured Advertisers: