Crowdology Reviews and Features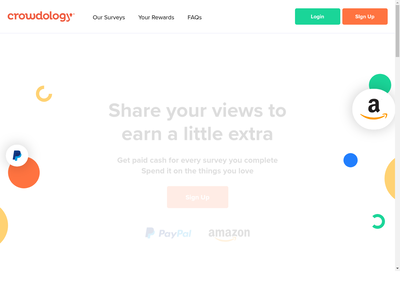 Crowdology
75 Bermondsey Street, London, SE1 3XF GB
Tel: 44 (0) 1732 356 399 Contact: [email protected]
Operated by: VIGA

PAYMENTS OFFERED

Cash paid via PayPal

Amazon gift cards

Sweepstakes entries

HOW TO PARTICIPATE

Online surveys

Online focus groups

Video surveys

Telephone surveys

Refer-a-friend program

REDEEMING REWARDS

No points system
Accrue a balance of $8.00 (or 4 GBP) in your account, receive a PayPal payment within 48 hours of request and sometimes even instantly. $10 USD (£5) minimum account balance required for Amazon vouchers.

Register for Paid Surveys and Cash Out With PayPal or Amazon
Crowdology offers cash for each survey completed. 5 minute surveys pay $0.50 and after a balance of $8.00 (or £4 in the UK) is accrued in your account, you can withdraw your earnings to your PayPal account. Alternatively, choose to receive an Amazon voucher. Surveys pay anywhere from $0.40 - $10 each.
Types of Surveys Offered
Online surveys on everyday topics, brand-name household products and current issues. Crowdology stresses that their surveys are not boring!
Survey Lengths
The surveys themselves are quite short, ranging from 2 to 20 minutes in length and award cash upon successful completion - there are no complex points systems to worry about as cash is awarded each time a survey is finished.
Sweepstakes
Sweepstakes are held sporadically and usually upon registering to the Crowdology panel. You can also be entered into sweepstakes by sharing Crowdology with your friends via email invite.
Some of the prizes Crowdology members have won include Bose Quiet Comfort Noise Cancelling Headphones, Spotify Premium Subscriptions and ASOS Vouchers, just to name a few.
Redemption Process
In order to withdraw from your account, you will need to have at least $8.00 in your Crowdology account (or £4 in the UK) as well as a PayPal account to transfer your Crowdology funds to. This company does not pay out rewards via check. The time between the request and the balance landing in your PayPal account is on average 48 hours. Also, if you use Amazon Payment, it could take up to 4 weeks before you see your money.
Who is Crowdology?
Crowdology is an online market research panel where you can earn extra to do the important things you love. It's run by VI.GA, who collect opinions on behalf of research firms.
Eligibility: Residents of UK and USA, 18+
---
November 15, 2019 by Lionel from United Kingdom
I've needed to contact support and each time I try I get no response. Recently my login has been refused but asked to reset my password. On doing so refuses yet again. They accept my email request to change my password. Why can't they answer my request for help?
September 26, 2019 by Patrick from United Kingdom
All I requested was a new password and I got "We regret to inform you that our systems have identified activity that is in violation of Cint's Participant Terms & Conditions for Panel Membership. As a result, we have removed your panelist account from our system and you will no longer be able to login, take part in surveys or other research programs or redeem or receive any rewards.

This decision will not be reviewed or reversed."
and that was after several years of surveys.

May 15, 2019 by amanda from United States
I noticed I was banned from this company. I was at about $9, not enough to request payout of course. I tried to do a survey here or there but did not qualify. Next thing I know there is an "error" on the account and my balance is wiped.
January 21, 2019 by john from United Kingdom
I thought most people here were been rather harsh about Crowdology, I was wrong!

I had been a member for quite a number of months and did manage to cash out a couple of times.

Then the fun began, I noticed some of the money I had earned started to be removed for no reason, I contacted their customer support and received no response.

Last week I went to the site and was presented with the error page many of us know so well so I contacted Support and was informed I had been banned for breaking their terms and conditions. on looking at their terms and conditions, I read this little gem:

"We reserve the right to terminate your account and/or cease to operate the Crowdology platform and provide access to services on the Crowdology platform at any time immediately and without cause and with or without notice."

Bottom line is they will ban you for no reason if they want. I would have liked to have given them a 0-star review but that's not possible
Never Qualified; Annoying reCaptchas
January 4, 2019 by Paul from United States
JANUARY 2019 UPDATE: If you don't think it's possible for a bad situation to worsen, try this one. You respond to email invitations, don't qualify, and then have to endure over a dozen, sometimes nearly 20, successive survey screen-outs. Since they already have your profile, you'd think that this bunch could use that profile to pre-screen, but no. This one is an absolute waste of time.
SEPTEMBER UPDATE: You can redeem by PayPal, but you get no email confirmation. You also cannot see on the website a record of your awards and redemptions. They just subtract your points and leave you hanging. Support? No phone number to call. Just email them and wait. And wait.
UPDATE: This one has gotten much worse of late. They still make you endure repetitious captchas, but now you endure being disqualified from not one, not two, not three, but four, five, six, seven eight surveys in succession over and over again. They supposedly already have your basic profile, and we are mystified as to why they don't use it to pre-screen better. It is therefore taking far too long to accrue points.
It seems needlessly annoying, grating, ridiculous, wasteful, tedious, and user-unfriendly to mulishly insist on a sequence of 7, or 8, or 9, or 10 or more successive reCaptcha requirements to log in to this site. They must think there are a lot of impostors trying to rip members off for their 88 cent rewards.
» Return to: TOP RATED SURVEY SITES
---
Popular Topics
Top Survey Sites of 2020
---
Highest User Rated Survey Sites
---
Survey Sites That Pay Instantly
---
Survey Sites with Low Cash Outs
---
9 Product Testing Job Websites
---
12 Online Surveys that Pay Cash
---
14 Ways to Get Free Amazon Gift Cards
---
Get Paid for Browsing the Internet
---
How to Get a Free Visa Gift Card
---
Get Paid by PayPal Without Fees
---
Ways to Get Free Xbox Gift Cards
---
Featured Advertisers: