DailyRewards Reviews and Features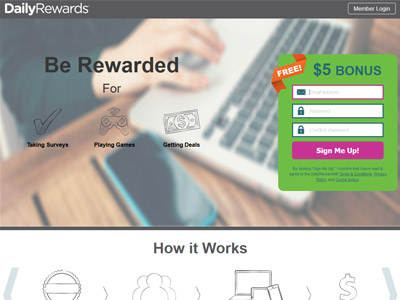 DailyRewards
Operated by: Prodege, LLC
100 N. Pacific Coast Highway,
8th Floor, El Segundo, CA 90245
Contact: https://help.dailyrewards.com/hc/en-us/

DailyRewards is a Canadian-focused cash-based online rewards club that passes on the revenue it generates from advertisers to its members. By participating in paid surveys, reading e-mails, playing games, redeeming coupons, and more, you can get cashback on your activates.
Earn cash credited to your Paypal account when you complete particular tasks. These include:
Shopping – download the Ownza plugin and receive 1%-10% cashback from various online retailers.
Web searching - do your daily internet searches using the Search and Earn cash box, and you can earn daily cash.
Taking surveys – daily surveys and special survey opportunities are available in your account. The cash bonus amount per study completion will be listed.
Watching videos – video assignments are frequently featured. Simply watch the listed videos, and earn.
Completing offers – try out products and services from DailyRewards' advertisers, and get compensated for doing so.
Doing small tasks – earn cash rewards for completing tasks such as sorting online content, researching answers on the internet, and labeling products.
Referring friends - refer friends and earn 10% of what they earn. Banners and links are provided in your account.
Cash Rewards
Once your account reaches a balance of $30.00, you can request a PayPal payment.
Becoming a Gold Member
Once you cash out for the first time, your account will automatically be upgraded to gold. Gold members enjoy additional perks including faster payments, more sweepstakes entries, more loyalty rewards, and additional referral rewards.
Visit DailyReward's website

›
DailyRewards Canada was founded in 2014 and has over 135,000 Facebook fans. Internationally, including through their InboxDollars website, they have awarded over 60 million dollars in rewards to their members. 24/7 support is provided.
DailyRewards is run by Prodege, who also runs Swagbucks, InboxDollars (USA/international website) and InboxPounds (UK focus).
Joining Bonus! DailyRewards is currently offering a $5 sign up bonus to new members.
» Click here to claim your bonus!
DailyRewards Reviews (26)
July 30, 2021 by Bill from Canada
Daily Rewards is so different now its refusing to pay or help in any way and acting like they just want you to go away. They cant tell me why my password works for to do surveys but fails to work come time to redeem. im just fed up now they blaming paypal, even if there problems they making that you cant do anything but surveys. I will not do another of there survey till I get paid, same the with the card invalid password except when you do their survey. I am at a loss what to do screenshots of their errors dont help explaining anything you may as well be talking to a doorknob.
All money removed from account
May 9, 2021 by John from Canada
I was a member of this site for a while and cashed out a few times. I took a break from doing surveys for a few months. Came back and found that all the money in my account has been erased - about $25. No warning message was ever sent for that. It was just deleted. This is the only survey site that I have been a member of that deletes funds in a person's account without warning.
July 20, 2020 by Rex from Canada
This site is simply an advertisement to sign up for services and items you probably dont want or need, very few surveys give points, awful, awful.
July 10, 2020 - Maintenance
July 12, 2020 by John from Canada
After about 4 years of being at Daily Rewards and earning the min. each time $20, $25, $30 - I was $8.59 into earning my 4th payout. I can't get back into my account. The site won't accept my password. Lost 7 months of work, avoid this place!
Don't even think about joining Daily Rewards!
June 23, 2020 by Nicola from Canada
Everyone else here has said it so well: Daily Rewards are not worthy of your time.

It took my ages to earn my first $10, as I got disqualified from loads of surveys after having spent way too long providing them with with free information (information for which they were not paying).

Then I got an email to tell me that my account had been terminated because I had violated a rule. When I tried to log on, I got this:

"In accordance with our Terms & Conditions, your account has been terminated due to violation of terms, which can include but is not limited to:
Logging in via VPN, Proxy, Foreign or with blocked IP.
Violation of any term listed in our terms & conditions.
Bot-like activity.
Account reported for violating advertiser terms or intended use."

To my knowledge, I haven't done any of those things, so I started with a chat (which was obviously a bot). I asked for specifics and I was reassured that my issue would be escalated.

Then I got an email:

"Dear Member -

Unfortunately, the account you are inquiring about has been flagged for violation of one or more of our Terms of Membership.

This may be the result of:
- Duplicate accounts (More than 1 account per computer, household, IP)
- Violation of Advertiser's terms/conditions
- Access of the account outside the area eligible for Membership
- Use of a VPN, Proxy Network, etc.
- Other violation of our Terms

Unfortunately, due to this violation, this account (and any/all other accounts involved) have been terminated, including all earnings and other account contents. If you have further questions, please see our Terms of Membership using the link below:
Terms of Membership

Sincerely,
Aaron Member Services Resolution Team Lead"

So, I have responded with "Thank you, but you haven't told me anything I don't already know. I need more information." I haven't heard anything since then, and I don't expect that I will.

Unfortunately, I am not their employee and there is no law protecting me. Sadly, they can do as they please.

Truly, I have lost nothing by losing Daily Rewards. They are not worth the fight. But the principle of the matter makes me want to fight on.

Moral of the story: Don't waste your valuable time and your helpful knowledge and opinions for the benefit of a company that does not see the value in you.
» Return to: TOP RATED GPT SITES
---
Popular Topics
Top Survey Sites of 2023
---
Best Rated Survey Sites
---
Ultimate Guide to GPT Sites
---
Taking Surveys for Gift Cards
---
The Best International GPT Sites
---
14 Ways to Get Free Amazon Gift Cards
---
Find Swag Codes to Make Extra Money
---
GPT Sites That Pay Instantly
---
Guide to Legitimate Paid Surveys
---
Survey Sites That Pay Instantly
---
25+ Easy Ways to Make Money Fast
---

Featured Advertisers: