E-Rewards Reviews and Features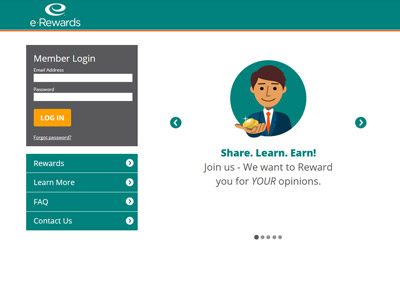 E-Rewards
6 Research Drive, Shelton, Connecticut 06484 US
Tel: 877-254-1234 Contact: [email protected]
Operated by: Dynata
Quick Overview:
Rewards Offered: Airline Miles Air Miles Reward Miles Best Buy gift cards Merchandise Retail e-vouchers Restaurant gift cards Starbucks gift cards
Member Opportunities: Online surveys Teen surveys
Redeeming Rewards: Point amounts vary greatly per reward. Yearly magazine subscriptions range from $10-$70 e-Rewards currency. A $25 gift card redemption may require $60 worth of points.
Similar Panels: Branded Surveys, Panel Champ, MySoapBox

e-Rewards is one of the world's leading market research panels. Share, earn and learn by sharing your experiences about top global brands.
Earn e-Rewards
Earn Opinion Points/e-Rewards currency for taking surveys. Exchange your points for gift cards, magazine subscriptions, hotel reward points, and airline points. Choose from over 30 different retailers to redeem gift cards with. You may redeem a gift card only once per quarter with most gift card options.
Prizes
e-Rewards can also be redeemed towards prizes. Many prizes come in the form of discounts towards purchasing products and services they provide.
Redeem Your e-Rewards Currency
In most cases, your account will be credited as soon as you complete a survey. However, in some cases the credit may take up to 7 days to appear on your account. Similarly, e-Rewards sends most electronic gift cards immediately upon request (within one hour). Most physical gift cards will be sent out within 4-6 weeks of redemption.
e-Rewards also requires mobile and landline verification in order to redeem your rewards. This verification helps you keep your rewards secure. For data security, they will need to verify your account with a valid US mobile or landline number in order to redeem your reward. Once you provide your number, you will receive a verification code via that number that you will need to enter in order to finalize the redemption process.
You can redeem your e-Rewards Currency/Opinion Points as soon as you accumulate enough to qualify for the reward you desire (the lowest gift card option is $10).
Invitation-Only Panel
e-Rewards is an invitation-only online survey panel. You may be invited to become a member by providing your email to one of the e-Reward partner companies. Once invited, e-Rewards is free to join.
Survey Setup
e-Rewards provides members the option to participate in various surveys and studies. Respondents have 30 days to complete the surveys.
Eligibility: Must be 13+ to join in USA/Canada. Minimum age to join varies in other regions.
Alternatives to e-Rewards
Survey takers who have joined e-Rewards are also interested in these survey programs:
February 17, 2020 by Delmar from United States
They send giftcards with no balance. I printed out a giftcard to Gamestop and took it to my local Gamestop store, only to find out there's NO balance. I was mortified and after several attempts to contact both Erewards and Gamestop, neither one has tried to make it right. Just got the runaround. No longer a customer at either...EVER!!!

E-Rewards responded to this review on February 18, 2020
Hi Delmar,
Thanks for your review.
We're sorry to hear that you're experiencing issues with your reward. We would kindly ask you to reach out to our member support team once more explaining the situation and that the problem is still not solved. The team will investigate further and get back to you as soon as possible.
Please accept our apologies for the inconvenience!
Best wishes,
The e-Rewards team
good luck trying to get rewards
February 8, 2020 by eric from United States
I have been going back and forth with customer service to redeem a $10 reward to Marcus. They gave me a 800 number to call and was for fandango, they couldn't help. contacted Marcus and they can't help. e-rewards asked for my code and pin and they won't help. Wish I could give them a rating for 0 the same help I got from them. so they read my review and i have e-mailed them 8 times and they want me to contact them again? They never responded to the last one! what a joke!
CT State Attorney General William Tong
September 23, 2019 by Philip from United States
Panel members who have had earned award points stolen should know that e-Rewards is located in Shelton, CT. Google 'complaint with William Tong'. This search will take you to a 'Complaint Form Landing Page' within the State of Connecticut government website. It's time for all affected panel participants to rise up and fight this most unscrupulous company.
September 10, 2019 by Andy from United States
Like many of the recent reviews, my account was recently deactivated for no apparent reason with a balance of approximately $300 (high because E-Rewards only allowed quarterly redemptions for the rewards I was interested in). This will very likely happen to you as well should you join their panel, so I strongly urge you not to waste your time. Oddly enough, E-Rewards continues to send me daily emails urging me to take a survey but then will not allow me to take any surveys or redeem any rewards.
September 2, 2019 by Bob from United States
Like many readers here, my account was recently deactivated with a balance of almost $745 to be spent. Also cited by eRewards was a canned response that "the accuracy and attentiveness of your account has been flagged." Of course, they could not cite any specific surveys or other information other than their Accounts Department made this final decision.
I had been a long time survey taker and successfully completed hundreds of surveys of which they received money for my time and effort. Obviously earning so much in credits, I never had a problem with accuracy and attentiveness.
I suspect they are purging their membership to avoid having to pay out legitimately earned rewards. Among others I wonder how Amazon, Starbucks, iTunes and Best Buy would feel knowing potential gift card purchases have been arbitrarily reclaimed by this devious and dishonest tactic.