E-Rewards Reviews and Features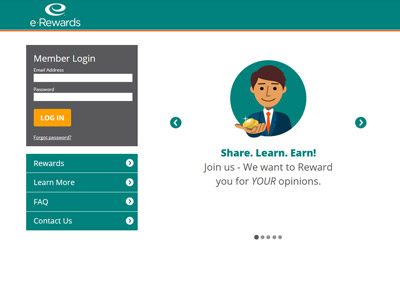 E-Rewards
6 Research Drive, Shelton, Connecticut 06484 US
Tel: 877-254-1234 Contact: [email protected]
Operated by: Dynata

PAYMENTS OFFERED

Airline Miles

Air Miles Reward Miles

Best Buy gift cards

Starbucks gift cards

Walmart gift cards

Home Depot gift cards

Target gift cards

iTunes gift cards

Retail e-vouchers

Merchandise

Restaurant gift cards

HOW TO PARTICIPATE

Online surveys

Teen surveys

Product testing

REDEEMING REWARDS
Point amounts vary greatly per reward. Yearly magazine subscriptions range from $10-$70 e-Rewards currency. A $25 gift card redemption may require $60 worth of points.

e-Rewards is one of the world's leading market research panels. Share, earn and learn by sharing your experiences about top global brands.
Earn e-Rewards
Earn Opinion Points/e-Rewards currency for taking surveys. Exchange your points for gift cards, magazine subscriptions, hotel reward points, and airline points. Choose from over 30 different retailers to redeem gift cards with, including Best Buy, CVS Pharmacy, Walmart, Macy's and more. You may redeem a gift card only once per quarter with most gift card options.
Prizes
e-Rewards can also be redeemed towards prizes. Many prizes come in the form of discounts towards purchasing products and services they provide.
Redeem Your e-Rewards Currency
In most cases, your account will be credited as soon as you complete a survey. However, in some cases the credit may take up to 7 days to appear on your account. Similarly, e-Rewards sends most electronic gift cards immediately upon request (within one hour). Most physical gift cards will be sent out within 4-6 weeks of redemption.
e-Rewards also requires mobile and landline verification in order to redeem your rewards. This verification helps you keep your rewards secure. For data security, they will need to verify your account with a valid US mobile or landline number in order to redeem your reward. Once you provide your number, you will receive a verification code via that number that you will need to enter in order to finalize the redemption process.
You can redeem your e-Rewards Currency/Opinion Points as soon as you accumulate enough to qualify for the reward you desire (the lowest gift card option is $10).
Invitation-Only Panel
e-Rewards is an invitation-only online survey panel. You may be invited to become a member by providing your email to one of the e-Reward partner companies. Once invited, e-Rewards is free to join.
Survey Setup
e-Rewards provides members the option to participate in various surveys and studies. Respondents have 30 days to complete the surveys.
Eligibility: Must be 13+ to join in USA/Canada. Minimum age to join varies in other regions.
Alternatives to e-Rewards
Survey takers who have joined e-Rewards are also interested in these survey programs:
1 Star Reviews (174)
41.5
October 11, 2019 by Christina from United States
I always read reviews for survey sites but I dont agree with any of the poor reviews. I'm sure people have had problems and some dont qualify.. I recently had my account closed, Due to some circumstances I was unable to participate and I was locked out. I emailed member services after a couple of days I had access again and my reward balance was not taken from me. My personal experience the rewards add up quickly if you do all surveys available and then go into the emails you were sent. I use my rewards for choice privileges and I can get a free room fairly quickly when in an emergency.. I personally love it,I have never had any issues.. If you got a invite and your reviewing it deciding to join or not, my advice is sign up and see how you like it and enjoy the experience. This should have way more positive reviews...
Amazing and Rewards are great!
January 11, 2019 by Kaitlyn from United States
I started this panel about 2 years ago and I am very satisfied with this survey site. It pays well and I was able to get 120,000 Gamestop points onto my Gamestop Powerup Rewards account with this website so far. However, you need to receive an email from a partner of this panel to have an account with them. Very happy with them and the rewards pay well.
September 3, 2018 by Kat from United States
I hardly ever leave reviews for anything, but reading approximately 50 of these reviews about e-rewards compelled me to write this one.
I've been with e-rewards for about 2 years, sometimes not taking surveys for weeks at a time, but when I need my Starbucks card refilled I take all available surveys. My only complaint about e-rewards is that sometimes the screening for surveys can be as long as a survey itself, and then I'm told I don't qualify. It's annoying, but it's balanced out by the many surveys that are fair in time and pay well.
The many reviewers who said e-rewards closed their accounts for no reason really concerned me and I immediately cashed out for a Starbucks card, worried I would lose what I had earned. Maybe it might happen to me as well, that e-rewards closes my account for no discernible reason. I probably wouldn't be too happy about it if it happened, but so far I've been happy with e-rewards.
The main reason for this review is that I was angry with the reviewer who left a one-star review for e-rewards because she had amassed $1200 in e-rewards currency and wanted e-rewards to give her cash since she did not like the rewards offered. We can all see what the rewards are before we spend our time taking the surveys. If the rewards don't suit us, then there are plenty of other survey sites. I want my five-star review to balance out the mean one-star review by this person who knew what the rewards were before she took the surveys and is now disparaging e-rewards.
June 7, 2018 by mary from United Kingdom
fabulous panel. if you get screened out you still get 25 points and always pay up
March 28, 2018 by Tamika from United States
I think it's really neat how there are so many different rewards and ways you can earn stuff. 5 stars from me .
» Return to: TOP RATED SURVEY SITES
---
Popular Topics
Top Survey Sites of 2022
---
Highest User Rated Survey Sites
---
Survey Sites That Pay Instantly
---
Survey Sites with Low Cash Outs
---
9 Product Testing Job Websites
---
12 Online Surveys That Pay Cash
---
How to Earn Free Uber Gift Cards
---
14 Ways to Get Free Amazon Gift Cards
---
Best Paid Focus Groups
---
How to Get a Free Visa Gift Card
---
Ways to Get Free Xbox Gift Cards
---
Featured Advertisers: