E-Rewards Reviews and Features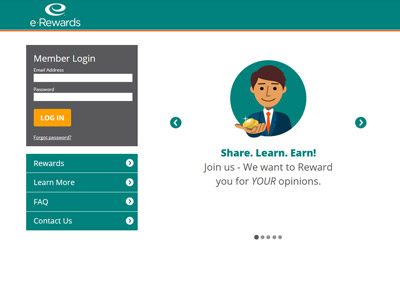 E-Rewards
6 Research Drive, Shelton, Connecticut 06484 US
Tel: 877-254-1234 Contact: [email protected]
Operated by: Dynata

PAYMENTS OFFERED

Airline Miles

Air Miles Reward Miles

Best Buy gift cards

Starbucks gift cards

Walmart gift cards

Home Depot gift cards

Target gift cards

iTunes gift cards

Retail e-vouchers

Merchandise

Restaurant gift cards

HOW TO PARTICIPATE

Online surveys

Teen surveys

Product testing

REDEEMING REWARDS
Point amounts vary greatly per reward. Yearly magazine subscriptions range from $10-$70 e-Rewards currency. A $25 gift card redemption may require $60 worth of points.

e-Rewards is one of the world's leading market research panels. Share, earn and learn by sharing your experiences about top global brands.
Earn e-Rewards
Earn Opinion Points/e-Rewards currency for taking surveys. Exchange your points for gift cards, magazine subscriptions, hotel reward points, and airline points. Choose from over 30 different retailers to redeem gift cards with, including Best Buy, CVS Pharmacy, Walmart, Macy's and more. You may redeem a gift card only once per quarter with most gift card options.
Prizes
e-Rewards can also be redeemed towards prizes. Many prizes come in the form of discounts towards purchasing products and services they provide.
Redeem Your e-Rewards Currency
In most cases, your account will be credited as soon as you complete a survey. However, in some cases the credit may take up to 7 days to appear on your account. Similarly, e-Rewards sends most electronic gift cards immediately upon request (within one hour). Most physical gift cards will be sent out within 4-6 weeks of redemption.
e-Rewards also requires mobile and landline verification in order to redeem your rewards. This verification helps you keep your rewards secure. For data security, they will need to verify your account with a valid US mobile or landline number in order to redeem your reward. Once you provide your number, you will receive a verification code via that number that you will need to enter in order to finalize the redemption process.
You can redeem your e-Rewards Currency/Opinion Points as soon as you accumulate enough to qualify for the reward you desire (the lowest gift card option is $10).
Invitation-Only Panel
e-Rewards is an invitation-only online survey panel. You may be invited to become a member by providing your email to one of the e-Reward partner companies. Once invited, e-Rewards is free to join.
Survey Setup
e-Rewards provides members the option to participate in various surveys and studies. Respondents have 30 days to complete the surveys.
Eligibility: Must be 13+ to join in USA/Canada. Minimum age to join varies in other regions.
Alternatives to e-Rewards
Survey takers who have joined e-Rewards are also interested in these survey programs:
1 Star Reviews (174)
41.5
October 27, 2020 by Chris from United States
e-rewards had been a very good panel for many years. However, a few months ago, they indefinitely suspended my account for reasons that are simply not true. If you're still a member, I highly recommend cashing out as soon as possible. They will neither reinstate my account, nor let me cash out with over $400 worth of gift cards. e-rewards is taking advantage of users, and stealing their heard earned rewards. Stay far, far away from this shady survey panel!
September 25, 2020 by Donna from United States
E-Rewards, IPoll and Opinion Outpost are connected to Dynata. Eventually, your hard-earned money will be taken. Mine was within days of each other.
File complaint at FTC + Attorney General
September 10, 2020 by Francis from United States
It's looking like Dynata (the company behind e-Rewards, iPoll, and others) is getting even worse. There are already 1000s of bad reviews on sites like this all saying basically the same thing. At some point you try to redeem for rewards only to discover you can't. Contact them and either get no reply or they give you the same excuse as everyone else: you weren't being attentive, were rushing through surveys, etc. If you know that's a lie and ask them to reconsider, provide proof, or a more detailed non-boilerplate response then they just ignore you. Although they never provided any advance warning or notice of terminating your account, in the past you had a clue because they stopped sending surveys. But now it's looking like they've realized they can not only terminate thousands of accounts and not pay out all those redemptions BUT they can also just keep sending surveys, earning more off your efforts but then not process your redemptions. Most other people I know who were using e-Rewards have also had their accounts terminated for the fake reason described above but myself and one other person still had ours. Probably because we were doing few redemptions and letting our balance build. But now both of us had the same thing happen: redemption request went through without the error (which means a terminated account most people get) but the reward never showed up. It just sits there in pending status day after day after day even though their site claims they send rewards within 24 hours! And if you try to submit a ticket to customer support about the problem it gives you an error that it can't create it. So they keep sending you surveys to take (which they make money from) but don't send your redemptions and don't allow you to contact them about the problem. To all the 1000s of people they've done this to that have posted here and other review sites, don't waste time reporting them to the Better Business Bureau - they have no authority to do anything. You need to report them to government agencies with authority to go after them for fraud: FTC (Federal Trade Commission - you can submit a complaint on their website), and the Attorney General office for your state and the states where e-Rewards and Dynata operate (Texas and Connecticut). If enough people file fraud complaints, these people have the authority to do something about it and hopefully one day you'll get back all or at least some of what you had in your account when they terminated you or stopped sending your reward redemptions.
Sad excuse for a survey company
August 24, 2020 by Andrea from United States
Well add me to the list of being ripped off....got terminated for trying to find out why I am having a hard time trying to get a gift card.....I did get one in April, one for May, and one for June, but not for July....and after emailing my issue about it, they terminate me. WHY?!!! I have been with them for only a few months, got the invitation from Harris Poll, and this is the thanks I get?!! So far I have a decent survey company that is treating great, I hope that with my complaint and the complaints from others, E-Rewards better honor their customers.

Update: Not sure if anyone else has this issue, but is anyone still signing in on that website? Even though my account was suspended, I was still able to sign in just to update my profile survey, but not able to get my Amazon gift card.
August 11, 2020 by Angela from United States
Watch out - I had been a member for years and had some credit of 500. I go to claim rewards and I keep getting an error. I had to email them and then receive a reply that they have suspended my account - no reason. I keep asking for a reason since I did all the surveys to earn my rewards but THEY TOOK THEM!!! Don't use this company - unless you want to waste your time as I am sure they got paid
» Return to: TOP RATED SURVEY SITES
---
Popular Topics
Top Survey Sites of 2022
---
Highest User Rated Survey Sites
---
Survey Sites That Pay Instantly
---
Survey Sites with Low Cash Outs
---
9 Product Testing Job Websites
---
12 Online Surveys That Pay Cash
---
How to Earn Free Uber Gift Cards
---
14 Ways to Get Free Amazon Gift Cards
---
Best Paid Focus Groups
---
How to Get a Free Visa Gift Card
---
Ways to Get Free Xbox Gift Cards
---
Featured Advertisers: