E-Rewards Reviews and Features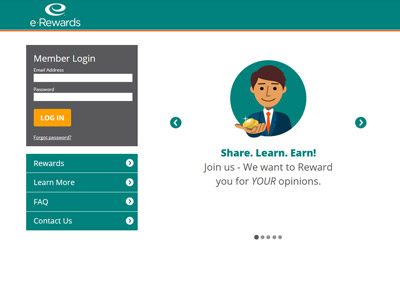 E-Rewards
6 Research Drive, Shelton, Connecticut 06484 US
Tel: 877-254-1234 Contact: [email protected]
Operated by: Dynata

PAYMENTS OFFERED

Airline Miles

Air Miles Reward Miles

Best Buy gift cards

Starbucks gift cards

Walmart gift cards

Home Depot gift cards

Target gift cards

iTunes gift cards

Retail e-vouchers

Merchandise

Restaurant gift cards

HOW TO PARTICIPATE

Online surveys

Teen surveys

Product testing

REDEEMING REWARDS
Point amounts vary greatly per reward. Yearly magazine subscriptions range from $10-$70 e-Rewards currency. A $25 gift card redemption may require $60 worth of points.

e-Rewards is one of the world's leading market research panels. Share, earn and learn by sharing your experiences about top global brands.
Earn e-Rewards
Earn Opinion Points/e-Rewards currency for taking surveys. Exchange your points for gift cards, magazine subscriptions, hotel reward points, and airline points. Choose from over 30 different retailers to redeem gift cards with, including Best Buy, CVS Pharmacy, Walmart, Macy's and more. You may redeem a gift card only once per quarter with most gift card options.
Prizes
e-Rewards can also be redeemed towards prizes. Many prizes come in the form of discounts towards purchasing products and services they provide.
Redeem Your e-Rewards Currency
In most cases, your account will be credited as soon as you complete a survey. However, in some cases the credit may take up to 7 days to appear on your account. Similarly, e-Rewards sends most electronic gift cards immediately upon request (within one hour). Most physical gift cards will be sent out within 4-6 weeks of redemption.
e-Rewards also requires mobile and landline verification in order to redeem your rewards. This verification helps you keep your rewards secure. For data security, they will need to verify your account with a valid US mobile or landline number in order to redeem your reward. Once you provide your number, you will receive a verification code via that number that you will need to enter in order to finalize the redemption process.
You can redeem your e-Rewards Currency/Opinion Points as soon as you accumulate enough to qualify for the reward you desire (the lowest gift card option is $10).
Invitation-Only Panel
e-Rewards is an invitation-only online survey panel. You may be invited to become a member by providing your email to one of the e-Reward partner companies. Once invited, e-Rewards is free to join.
Survey Setup
e-Rewards provides members the option to participate in various surveys and studies. Respondents have 30 days to complete the surveys.
Eligibility: Must be 13+ to join in USA/Canada. Minimum age to join varies in other regions.
Alternatives to e-Rewards
Survey takers who have joined e-Rewards are also interested in these survey programs:
1 Star Reviews (174)
41.5
August 15, 2013 by Logan from United States
I've been a member of E-rewards for about 4 years.

I've seen a disturbing pattern. The last few times I've participated in a survey I've spent 20+ minutes pretty much taking an entire survey in my opinion, then told, you don't fit the criteria and provided .25.

I'm beginning to feel partial credit is fraudulent. Today I took a cosmetics survey; I provided all the personal, basic info. I was asked to check the cosmetics I use from a list. I checked polish clear, polish color, mascara, eye liner, eye shadow, lip gloss, lip stain, lip balm w/color, lip balm w/o color, lip liner, face primer, pressed/loose powder, blush, concealer, and bronzer. (Of course I don't use those all at once or all the time.)

I was asked multiple questions about use of clear polish and color polish; where I have it applied; at home, or salon, and asked for both manicures and pedicures.

I was asked the following for each item on separate pages. How many times a week do you wear item, next page, how many times a day to you reapply item, where do you purchase item, then shown item brands carried by the retailer I indicated, and asked the brand I purchase. If I used two brands I was asked which one I used more often. When information for the last item on the list was complete; I was told I did not meet the criteria for the survey. I am more than sure I took a survey.

I provided details on the use of 15 different products and got a quarter?
August 9, 2013 by Ju from United States
Disorganized member services when there is a problem; takes ages to hear back and then no resolution. Missed credit for fully completed surveys and they just ignore you! VERY disappointed in E-Rewards. Poor all around.
July 26, 2013 by Melissa from United States
WARNING - regardless what you think about their surveys & rewards, there is a another infuriating problem with this company if you sign up. In May they embedded a pop-up reminder program with their email that once it loads you can't get rid of. You will now have un-blockable pop-up reminders of pending surveys throughout the day.
Redeem Rewards?? Nothing Good Here
July 25, 2013 by Jeanni from United States
I agree with "redeem sucketh". I have been an e-rewards survey taker for going on 4-5 years!! ONCE they offered Target gift cards and I got two of those. Since then, all their rewards are LAME!

*Omaha Steaks - $10 off on $40 (but you have to pay S/H)
*Golfsmith - $15 off a $75 purchase. ha ha ha ha ha!!!
*i-tunes - can only be downloaded to a computer
*restaurant.com - unknown sub-par restaurants that frequently go out of business.
*U-Promise - Isn't on my rewards list (??)

I don't really care that sometimes i only get 25 cents for a survey i'd been hard at for 15 minutes...it's the inability to spend the reward dollars for something meaningful, either for myself or my relatives.

Also, all their rewards are second rate for first class prices. I'm disappointed!!
» Return to: TOP RATED SURVEY SITES
---
Popular Topics
Top Survey Sites of 2022
---
Highest User Rated Survey Sites
---
Survey Sites That Pay Instantly
---
Survey Sites with Low Cash Outs
---
9 Product Testing Job Websites
---
12 Online Surveys That Pay Cash
---
How to Earn Free Uber Gift Cards
---
14 Ways to Get Free Amazon Gift Cards
---
Best Paid Focus Groups
---
How to Get a Free Visa Gift Card
---
Ways to Get Free Xbox Gift Cards
---
Featured Advertisers: