Gfk MediaView Reviews and Features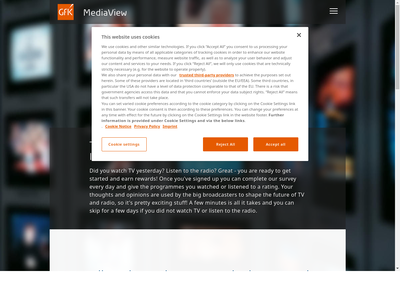 Gfk MediaView
90419 Nürnberg, Nordwestring 101 Nuremberg, DE
Tel: +49 911 395-0 Contact: [email protected]
Operated by: GfK

PAYMENTS OFFERED

Cash paid via check

Movie vouchers

Merchandise

Retail e-vouchers

Sweepstakes entries

HOW TO PARTICIPATE

Online surveys

Daily surveys

REDEEMING REWARDS
The more surveys you take weekly, the more likely you will be entered into the higher tiers for weekly draws and prizes. You can also earn points to be redeemed by major online retailers.
GfK is one of the world's largest market research companies, spanning over 57 countries and has been conducting surveys for over 70 years! GfK is committed to providing the highest quality of information and protection of its panelists. They are members of the UK Data Protection Act and follow the Market Research Society's Code of Conduct.
GfK MediaView Panel
The Gfk MediaView panel lets its members share their opinion on what they watch on the television and hear on the radio. You could have an influence on what shows are available in your country and change the future of broadcasting!
Take Daily Surveys
Every day there are surveys available about TV and Radio related subjects asking you about your viewing and listening habits. There are no survey screen outs. Each time you complete a survey, you will receive "tickets". Once you have accumulated 10 tickets, you will receive an entry into a prize draw for cash, vouchers, experiences and gadgets. Each days' surveys are available between the hours of 6AM and 12AM only.
How Does it Work?
Every day, you can rate the television programs you watched the day before, giving a simple rating score (1-10) to the programs you watched for at least 5 minutes.
Get Rewards
For your participation, you have the chance to win prizes including cash, exclusive experiences, and e-vouchers from retailers such as Amazon, Tesco, Cineworld and more. There are weekly draws to participate in as well.
The number of surveys you complete each week determines which of the weekly prize draw tiers you will be entered into at the end of the week:>
1-2 surveys = Bronze
3-4 surveys = Silver
5-7 surveys = Gold
Each survey you complete also earns you points, which can be spent towards a catalogue of great prizes in the points prize draw:
Each TV survey = 200 points
Each Radio survey = 100 points
Per "5 minutes" of a survey = 500 points
Eligibility: Residents of the UK, Ireland and Isle of Man.
---
Gfk MediaView Reviews (29)
April 16, 2021 by Baelfire from United Kingdom
I stuck it out with them for about a year, Religiously inputting my tv and radio habits daily. In the whole year I was with them I only ever got £3. Absolute waste of time.
November 9, 2020 by Paul from United Kingdom
I have been a member of Mediaview for over 20 years and have only missed a few I have over 1000000 points and they are worth nothing I have nothing from them for over 2 years and the prize draws are rubbish would not recommend. Their customer service is awful if they are down.
November 1, 2017 by alan from United Kingdom
I've been doing their tv/radio surveys for some time now. As reported by another reviewer all was fine until they changed their website earlier this year. To check if you have won you need to check in their faq area where they list the fact that the winners are shown on a Tuesday. These lists have not been updated since w/e 4th September. They also have been pushing a draw for £1000 which we used points to try and win. How do we know if anybody actually won? neither they nor I can answer that. I've contacted them several times about tis problems and they do not reply. They did reply when I told them I hadn't received some bonus points and they did put that right. But what use is any of that if you can't win anything because they don't pay out or even let you know if you have won something. I would really like to just pack it all in but the thought that I may have won something keeps me hanging on. They obviously know this and are quite happily getting their reviews done for absolutely nothing instead of almost absolutely nothing.
They can't even pay you a £1 voucher
July 11, 2017 by Nick from United Kingdom
Update: Having received a £5 voucher for doing a 7 day media study (which is already cheap in the extreme), I've been waiting for almost three months to convert it into something I want, never again. GFK Media UK are recruiting right now - I signed up a few weeks back, mainly just so I could get the registration incentive via Quidco Opinions.

So I saw the lack of paid rewards, read the reviews here - nothing seems to have changed at least.

Last week I happened upon the winners list, (which is buried in the FAQ for no apparent reason), and as it turned out, I had actually won a £1 voucher. But for the fact that I scoured that site, I would never have known. So I contact GFK - first response was that I should have it already, after I poked them again, it turns out they've been having problems sending out the vouchers.

Seriously.

£1 vouchers.

That they don't even notify you of.

I wonder how much they save by not paying people who don't even know they've won?

Still waiting for that voucher a week later, and still waiting for the Quidco incentive - a whopping £1 each.
July 27, 2016 by Marina from United States
This GFK company hardly send any surveys that I can do and they test you over and over and then say you don't get to do the survey, etc. They took away points from this account in which they make me put my points which is their account but separate. There the points are only allowed to sit a certain amount of time and then expire. Imagine that!! They expire. Those are points I had worked for. That is like taking a worker's wages away. That should not be allowed. I quit after they claimed they had a right to take my points away. It is so silly and they don't even offer great rewards. A person cannot save the points in fear of them making the points saved worthless. Really they don't care about the survey panelist!!
» Return to: TOP RATED SURVEY SITES
---
Popular Topics
Top Survey Sites of 2022
---
Highest User Rated Survey Sites
---
Survey Sites That Pay Instantly
---
Get $100 Free PayPal Payments
---
9 Product Testing Job Websites
---
12 Online Surveys That Pay Cash
---
How to Earn Free Uber Gift Cards
---
14 Ways to Get Free Amazon Gift Cards
---
Best Paid Focus Groups
---
How to Get a Free Visa Gift Card
---
Ways to Get Free Xbox Gift Cards
---
Featured Advertisers: