Harris Poll Online Reviews and Features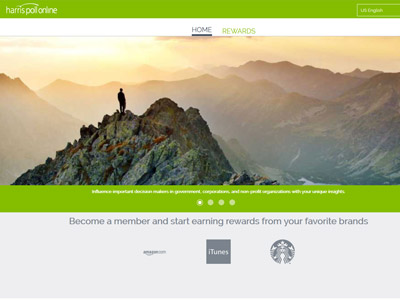 Harris Poll Online
85 Broad Street, New York, New York 10004 US
Tel: 800.866.7655 Contact: https://www.harrispollonline.com/#contactus
Operated by: The Nielsen Company, LLC

PAYMENTS OFFERED

Amazon gift cards

Home Depot gift cards

iTunes gift cards

Starbucks gift cards

Walmart gift cards

Retail e-vouchers

Sweepstakes entries

HOW TO PARTICIPATE

Online surveys

Mobile surveys

Mobile app

In-person focus groups

Telephone surveys

Teen surveys

REDEEMING REWARDS
1250 point ($10) minimum balance required to request rewards.

Beginning March 30, 2020, Harris Poll Online USA stopped offering new survey opportunities. Existing members from the USA may redeem any existing account balances up to one year from the date points were credited to their accounts. The Canadian version of the panel is still operational.
Harris poll is one of the oldest and most prestigious polls in the world, operating for more than 45 years with a focus on the US and Canadian market. Have your say on matters that affect you and see the results from the surveys you complete. You can compare experiences, opinions and more to people who are both like and unlike you. Occasionally, the studies you contribute to will be published in national and international media outlets. The Harris Poll is a member of the National Council of Public Polls (NCPP), the Council of American Survey Research Organizations (CASRO), the Council for Marketing and Opinion Research (CMOR), and the European Society for Opinion & Marketing Research (ESOMAR).
Electronic Rewards
Harris Poll offers their members the opportunity to earn points, known as HIpoints in exchange for their participation. Once you earn 1250 points (worth $10), you can request an e-gift voucher from places like Amazon, iTunes, Starbucks, Walmart, ESPN, and more. You may also be entered into sweepstakes after each completed survey for even more chances of winning big.
Get Disqualified, But Still Have a Chance to Win!
If you attempt to complete a survey, but are disqualified in the process, you will receive an entry into the Harris Panel Sweepstakes. You will be also be offered the opportunity to try qualifying for other available surveys.
Survey Lengths
Online surveys typically take anywhere between 5-25 minutes to complete. Short surveys will take around 5 minutes, and very long ones are around 25 minutes. These reasonable survey lengths will keep your attention and prevent you from getting bored too quickly! There are special surveys on offer as well including special focus groups, telephone based surveys, and even surveys about independently downloaded software. Common survey topics, however, range from fashion to movies to shopping habits.
Participate Often
Expect to receive between 3-5 online surveys a month.
Earn Points
Even if you are disqualified from completing a survey, expect to receive around 15 HIpoints! The amount of points you get per survey varies depending on the length or complexity of the survey.
Download the App!
Harris Poll now has an app, available on iOS and Android. The mobile apps will require you to login with your Harris credentials. Using the app allows you to see survey opportunities, take surveys, participate in special research programs and access your rewards. Turn on your notification settings for the app to receive new survey opportunities in real time.
Cashing Out
After you have reached 1250 points, you are able to redeem your HIpoints for e-cards and gift vouchers. Most people who participate, reach this threshold after completing around 10 surveys. Rewards include e-cards or gift vouchers from Amazon, iTunes, Starbucks and more.
Rewards Processing Times
Redeem your rewards and receive them within 15 business days. They will be sent to your e-mail account. Most rewards will be credited to your account within 10 minutes of your participation, but occasionally it may take as long as 24 hours for the credit to appear in your account. If you are redeeming your HIpoints, you will receive your e-code within 24-48 hours of cashing in your HIpoints. If you have cashed in for physical merchandise, you will receive your merchandise via USPS within 7-14 business days. All costs of rewards (including shipping and handling) are covered by Harris Poll, unless you are redeeming products using an e-certificate.
Chances to Win $10,000 Every Quarter
HarrisPoll gives away a $10,000 USD prize every quarter to one lucky winner in their Histakes - the Harris Poll Online Sweepstakes. You earn an entry if you have been disqualified for surveys, as well as for actions like participating in short surveys that may not award points. Winners names are published on the HIstakes winners page and this list is kept up to date.
Eligibility: Canadian residents, 13+.
---
Harris Poll Online Reviews (214)
April 10, 2016 by lynn from United Kingdom
complicated log ins keep changing to the point you can't access your account......in short ....just don't bother! not worth the effort.
July 31, 2015 by Eric from United States
I was a member of this site a couple of years ago. It took very long to earn enough to cashout. Months to get to the minimum 20 or 25 cashout at the time I think. I just used it as a backup to my other panels. Of course when I finally earned enough they sent me a code that did not work. i contacted cs who sent me on a confusing mission through a couple of other websites to get a new code. When i finally figured out what to do i get a message my code had already been redeemed kept contacting cs but they never responded to half a dozen emails. I never got my Barnes and Noble Card that was supposed to be A Christmas Gift for someone. Avoid this site
I filed a BBB complaint against Harris Poll
June 8, 2015 by Chris from United States
This is my complaint that I filed with the Better Business Bureau:

"On 12/4/2014 I placed Order 5487434 for a $10 Wal-mart e-card. I entered the code at walmart.com and it got lost. In January 2015 I filed Help Desk Request Number HD2015002131 requesting a copy of my reward. After that Request and numerous follow-up emails to Customer Service, all I ever received back were form letters. So, on Wed. 5/13/15 (a week ago) I called Harris Interactive in NYC and left a message with Alex, who works on the Help Desk. She never returned my call or took any action to send me my reward."

I will post any replies I receive from Harris or the BBB. BTW, if you want to contact Harris Interactive directly, the phone number to call is (585) 272-8400.

****************************************************************************************
It's been almost 2 weeks and not a word from Harris Poll. All they have to do is email me a $10 Wal-mart card. It makes me question the honesty of this company, and quite frankly, the true identity of some of these posters with glowing reviews. If Harris is truly a 5-star survey site, then why don't they pay me? Or even respond to a BBB complaint? There are much better survey companies out there.
************************************************************************************
BBB Complaint update - one week later (6/8/15):
Well, after months of sending in Help Desk Requests and then filing a complaint with the Better Business Bureau, Harris Poll finally resent me my $10 Wal-mart ecard. What a shame I had to go through all of that just to get paid. I belong to some excellent survey companies that are ethical, prompt and treat me with respect. I am no longer a member of Harris Poll Online.
June 7, 2015 by trish from United Kingdom
POINTLESS site, used to be able to claim other vouchers but all you can do now is throw away your earning on sweep stakes for a chance to win cash... wish yo never win. I tried messaging them just useless. AVOID.
This is fine, provided you enjoy working for free
April 2, 2015 by Dennis from United States
I have been taking surveys with this group in excess of two years. In fact, it was the only organization that I took surveys through for a very long time. Recently, I read that someone was having trouble receiving payment after cashing in points. Right after that, I cashed in points. This was my first redemption in approximately two years of taking surveys. I cashed in 15,000 points for Amazon gift cards. I did get the codes, but it took a long time. The length of time concerned me, so I made two more attempts to cash in points. One on the 12th of January, and another on the 9th of February. Neither of these redemptions have been honored in nearly a month for one case and nearly two months in the other. I have contacted their help desk twice. They didn't even bother to respond in the second case. I notice that they are attempting to recruit new people to take surveys or them. It is highly probable that their base of survey takers is rapidly dwindling. Beware.

===========================
I gave them nearly one more month. Nada. Not even a "please be patient, we're trying to find the problem". I ran across a recruitment survey from them on another site. High probability that they are losing panelist in droves. It takes a few months for new people to accumulate enough points to try redeeming the points, so they are making money from clients and not paying the new people.... be warned on this one.
» Return to: TOP RATED SURVEY SITES
---
Popular Topics
Top Survey Sites of 2021
---
Highest User Rated Survey Sites
---
Survey Sites That Pay Instantly
---
Survey Sites with Low Cash Outs
---
9 Product Testing Job Websites
---
12 Online Surveys That Pay Cash
---
14 Ways to Get Free Amazon Gift Cards
---
Best Paid Focus Groups
---
How to Get a Free Visa Gift Card
---
Get Paid by PayPal Without Fees
---
Ways to Get Free Xbox Gift Cards
---
Featured Advertisers: