InboxDollars Reviews and Features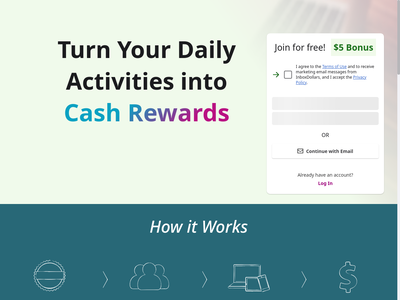 InboxDollars
Operated by: Prodege, LLC
100 N. Pacific Coast Highway,
8th Floor, El Segundo, CA 90245
Contact: http://support.inboxdollars.com/hc/en-us

InboxDollars is a cash-based online rewards club that passes on the revenue it generates from advertisers to its members. By participating in paid surveys, reading e-mails, playing games, redeeming coupons, and more, you can get cashback on your activates.
Earn cash credited to your account when you complete particular tasks. These include:
Using coupons – find hundreds of printable grocery coupons, and earn additional cash back when you use them!
Playing games – select from dozens of card, strategy, sports, and word games, and get paid when you play.
Shopping cashback – visit the InboxDollars website and get cash back for your purchases from hundreds of merchants including Walmart, Target, Old Navy, and more.
Answering surveys – take online surveys when they become available, and earn cash every time you successfully complete a study.
Using the toolbar – earn additional cash by using the toolbar for your web searches, and have an easy way of staying informed about the latest free offers, surveys, etc.
Reading e-mails – receive emails with special offers, and earn cash when you open some special emails.
Referring friends - refer friends and earn 10% of what they earn. Banners and links are provided in your account.
Once your account reaches a balance of $30, you can request a check or a Visa Cash Card.
For non-Gold members, it takes around two weeks for payments to be processed. For gold members, payments are processed weekly. Payments are issued in US dollars, regardless of where you live.
Becoming a Gold Member
Once you cash out for the first time, your account will automatically be upgraded to gold. Gold members enjoy additional perks including faster payments, more sweepstakes entries, more loyalty rewards, and additional referral rewards.
Got disqualified? Still have a chance to win
If you try to complete an online survey but get disqualified when attempting to do so, you'll still receive an opportunity to win a prize by earning a spin on Billy's Spin and Win wheel. The number of spins you've accumulated is found on the 'Surveys' page.
Prizes include: $0.25 tokens (after your next successful survey completion, get an extra .25 credit in addition to the survey credit; 5 tokens maximum can be sitting in your account), $5.00, $1.00, and $0.05 cash bonuses credited immediately to your account, or Scratch Off Progress which will be credited immediately to your account; win and you'll see the Scratch Off progress bar will move forward towards the next scratch off card.
InboxDollars has been around for a long time
InboxDollars was founded in 2000 and has over 17 million members, and over 2.5 million Facebook fans. They have awarded over 60 million dollars in rewards to their members and have a mobile app available.
InboxDollars is run by Prodege, who also runs Swagbucks, InboxPounds (UK focus) and DailyRewards (Canada focus).
Eligibility: InboxDollars is open to international residents 18 years of age and older.
Do NOT join this site A waste of time.
July 12, 2020 by Mitchell from United States
Inbox dollars is alright i guess they do pay but they make you pay a processing fee when you cash out you do get it back because you get a $3 bonus after cashout. I think it's one of those sites that gives you something to do if there's no other surveys on other sites.

But if you do join just know they do pay out. I have a big problem with this site i can't do any surveys they keep wanting to send me a text to verify who i am the problem is i can't get a cell phone signal here so i can't get in to do surveys. They need to stop this cause i don't know that i would give them my number now anyway. I could make them some money

Update: there one of those sites that lets you finish a survey then does credit you for it every once in a while so watch them and report it to them if you get done that way.
May 14, 2020 by Lauren from United States
After using InboxDollars for about a year, all of my surveys suddenly disappeared. I've been averaging about $40 a month and my surveys disappeared last week after I hit around $25. This is what I got back after contacting them:

"All Activities and Features are made available to an account based on a variety of factors such as inventory, eligibility, geographic locations, and demographics.

If you are not seeing surveys on your page then this would indicate that the account is no longer eligible for surveys other than what is shown on the account.

This can occur if you provide inaccurate or dishonest information, your geographic responses given to the advertiser does not match your profile on the account or due to changing or altering your profile demographics, "speeding through the surveys" which means your eligibility to access or even participate in future surveys may be limited and they have been removed.

Members must provide truthful, accurate, valid information provided to any survey provider, and false or inaccurate information is considered a violation of terms.

Please note that all activities will display on your account as what is currently available to you and we are not able to change or alter what your account has accessed to in regards to surveys.

Please allow me to offer further clarification - as explained in our previous responses InboxDollars® is independent of our Survey Providers. This means that InboxDollars® has no say in which Surveys are available to you. The availability of Surveys is managed entirely by Survey Providers, at their discretion. While we have been happy to provide general insight into why Surveys may not be available to you, we have no control over which Surveys are or are not available."

I'm frustrated because I am always honest and careful in my surveys. I responded asking for contact info for the "Survey Providers" and haven't heard back for a week, even after a followup.

I have a feeling they disable surveys for accounts that are making more money than they want. I'm slowly struggling towards my $30 and then will be canceling my account, which is upsetting because this was a great source of extra income this year.
Beware, very deceptive with emails.
April 27, 2020 by Kevin from United States
Clicked on one of the Paid Emails to view an advertisement and upon opening the webpage I immediately received a "thanks for signing up" email from WorldWinner. This is very deceptive. I had almost $14 in my inbox dollars account but I will not stand for this deceptive practice. I cancelled my account immediately and logged into my new forced subscribed WorldWinner account and changed the email address to a temporary email address.
February 1, 2020 by Stanley from United States
DO NOT sign up unless you want to get bombarded with telemarketing calls! I just signed up for a "Deal" and even tho I did not finish, I did enter my phone number when I got 3-6 Robo-Calls already.
horrible site do NOT waste your time!!!
July 23, 2019 by Michelle from United States
their surveys take forever & they pay very little in rewards! they promise you the moon & stars to sign up for things or to refer people, then they do NOT give you your earned credit.. there are way too many other fun sites that do give you your credit.. do not waste your time on this site!!!