Myiyo Reviews and Features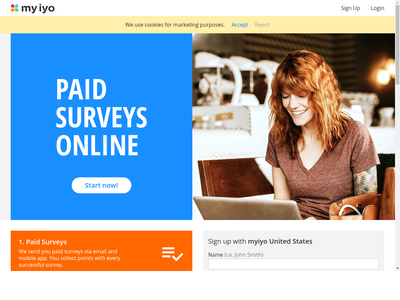 Myiyo
Mertensgasse 12, 40213 Düsseldorf, DE
Tel: +49 211 828 2800 Contact: https://www.myiyo.com/index.php?sec=contact
Operated by: mo'web research
Quick Overview:
Rewards Offered: Cash paid via PayPal Cash paid via bank transfer Donations to charity
Member Opportunities: Online surveys Refer-a-friend program
Redeeming Rewards: Request a PayPal payment when your account reaches 20,000 points (20 Euros). 10,000 points (10 Euros) required for long-time loyal members. Note that myiyo only pays in Euros, which may not necessarily be your local currency.
Similar Panels: OpinionWorld, Panel Champ

Myiyo was created and is operated by mo-web research and has existed for more than 10 years, in that time collecting millions of interviews and conducting thousands of surveys worldwide. Myiyo is based in Germany with communities of users in select countries worldwide including the UK, Spain, Russia, Peru, Mexico and South Africa among others. It is not currently available in Canada or the USA.
Earnings per Survey
Each survey you successfully complete will be rewarded with points in the range of 1,000 to 3,000 points depending on the length and complexity. 1000 points is the equivalent of 1 Euro. On average, surveys are about 20 questions and take 12 minutes to finish. It may take up to 40 days for your points to get credited to your account, as some surveys may have to close before awarding the participants.
Get Paid by PayPal
Take surveys in exchange for cash paid to your PayPal account. Request a 20 Euro payment (regardless of where you live), when your account reaches 20,000 points. Bank transfer available to those located in countries where PayPal is not available, such as South Africa and Russia.
Donate to Charity
Myiyo also offers its members the opportunity to donate to the charity, Three Little Birds. It is aimed at assisting groups and individuals in need including the homeless, the disadvantaged, and the destitute. You may donate as many points as you with to the charity.
Visit Myiyo's website

›
At Myiyo, your opinions could help shape and support companies and governments. Your experiences could also guide the future of the products and services that you use. Join now and begin making a difference!
Create a Member Profile
This panel allows you to create your own profile, known as a "shoutbox". Within your personal shoutbox you can post photos, videos and your own email votes all for points! Fill in your entire profile and receive 500 bonus points. Confirm your email address and you'll receive 100 more bonus points! Depending on how much you participate with Myiyo, your profile will be given a title such as "novice", "experienced", "pro" and "veteran" so other members can identify how experienced each member is.
Loyalty Program
Long time members of Myiyo may be offered the opportunity to cash out their earnings with just 10,000 points (€10) instead of 20,000 points in their account.
Visit Myiyo's website

›
Refer Friends, Earn More
For each friend you refer, you will earn 500 points (0.50 Euro) after they complete their first survey. You can refer friends through the unique referral url provided in your account.
Eligibility: Aimed primarily at Europeans, 18+
---
Constant disqualifications
July 7, 2016 by Werner from South Africa
Overall I loved the layout, the easy interaction engagements and the concept. BUT, the reason for my 2/5 rating is because of the fact that I was never allocated any survey points although I followed every rule in the How-to survey book to complete their surveys. They always have an excuse! 'Not applicable to you, You completed the survey but... ' If you have the patience to be accepted for 1/6 surveys please be my guest.
Long enough to not have the patience information
May 2, 2014 by Robert from United States
The only bright spot
When you have earned at least 20,000 points, you can request a payout to your PayPal account. 1,000 points are the equivalent of one euro. Where the use of PayPal is restricted or limited such as South Africa or Russia, participants can request a bank transfer.

Once you have activated your email-address you will be able to receive invitations to surveys via email. Alternatively, you have to log in to your myiyo account and check if there are any new invitations available for you. You will receive 100 points as a reward for activating your email-address.

In order to increase the likelihood of being invited to participate in surveys, you should complete your profile-questionnaire. You will receive 500 points as a reward.myiyo
December 20, 2018 by Kelly from Brazil
Surveys are rare, and when they do, I rarely get anywhere. They require a lot of points in order to redeem for payment. Not worth it.
April 16, 2016 by Martin from United Kingdom
Been a member for well over a year, still haven't reached 20,000 points

They seem to be very restrictive on criteria, I get screened out on about 80% of surveys (get about 1 a month) so at the current rate it would take years to earn anything

One positive is they have a forum (soundbox) for comments - most seem to be from people moaning about screen outs!

An unusual excuse given by the board moderator is that their system has detected the survey has already been completed by someone using that IP address. Not heard that one before

UPDATE

Well it took 15 months but I got to the cash out point. But in addition to making you wait 6 weeks after completing a survey for it to be "validated", now there's another wait of at least a month for the payment to be processed!
April 20, 2015 by Eden from United Kingdom
I was signed up to this survey site for almost a year and only got a few surveys in that time. It would have taken a very long time if ever to get up to the redemption, so I deleted my account. I wouldn't recommend this site.