Opinion Outpost Reviews and Features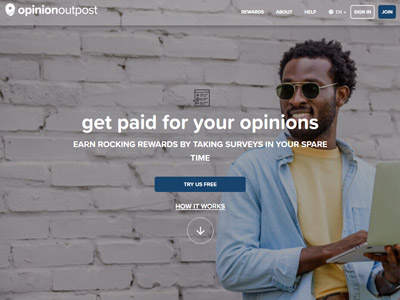 Opinion Outpost
6 Research Drive, Shelton, Connecticut 06484 US
Tel: 877-254-1234 Contact: [email protected]
Operated by: Dynata

PAYMENTS OFFERED

Cash paid via PayPal

Amazon gift cards

iTunes gift cards

Home Depot gift cards

Prepaid debit or credit cards

Retail e-vouchers

Restaurant gift cards

Donations to charity

Sweepstakes entries

HOW TO PARTICIPATE

Online surveys

Product testing

Diary surveys

Mobile surveys

Refer-a-friend program

REDEEMING REWARDS
Minimum account balance required to request rewards: 100 points ($10 / £5) for PayPal payments, 50 points ($5) for gift cards
Opinion Outpost is a paid survey site that helps connect survey takers to studies conducted by some of the world's biggest companies. By taking surveys, you can make quick cash from home while helping your favorite brands adapt and grow.
The website is owned by Dynata which is a global sampling and survey company. A pioneer in the world of online market research, Opinion Outpost has been around for more than a decade!
How Opinion Outpost Works
Opinion Outpost gives everyday consumers the opportunities to participate in online surveys and product tests in exchange for cash rewards and gift cards.
Signing up is free and to do so, you'll enter your name, date of birth, postcode and email address on their website. After that, you'll be prompted to enter your full address and confirm your email address before you're able to begin answering surveys.
Once you've fully registered, you'll see a "Take A Survey" button on your main account dashboard. This will take you to your list of available surveys. You can choose to have surveys emailed to you if you prefer.
You also have the option to add additional information (via profile surveys) to help Opinion Outpost match you with more relevant surveys to you.
Earn Great Rewards for Participating
Sign up with Opinion Outpost to take paid surveys and complete product testing assignments in exchange for rewards. Simply join the site for free and receive invitations to complete online surveys on your computer or mobile device.
You don't have to wait long to get rewarded - if you take a survey worth 50 points, you'll already have enough to redeem a $5 Amazon gift card. The following reward options are offered on the site in exchange for participating:
PayPal payments - with only 100 points (worth $10/£5), you can request that a PayPal payment be made to your account. Bear in mind that only verified PayPal accounts will qualify for payment.
Amazon e-vouchers - with just 50 points ($5) in your account, you can request an Amazon e-gift code.
iTunes gift cards - with 100 points ($10) sitting in your account, you can request an iTunes gift card.
Retail gift cards - with 100 points ($10) in your account, you can receive a gift card to Nike, Domino's Pizza, The Home Depot, CVS, Chili's 3-Choice and more.
Visa prepaid cards - with 100 points ($10) in your account, you can purchase a virtual Visa prepaid card to spend online or add to your smartphone app for offline spending.
American Red Cross donations - donate your points to the American Red Cross if you'd prefer a charitable option.
Super-Fast Rewards Delivery
Opinion Outpost is very unique in that rewards are often delivered instantly after requesting them. It's uncommon to have to wait more than a few minutes/hours to receive a PayPal payment or e-gift card that you've requested.
Visit Opinion Outpost's website

›
Take Surveys Often
Paid surveys will be sent to you on a regular basis. You can also visit the website, log in and find a list of available surveys, giving you plenty of chances to make cash. A typical survey takes 10-15 minutes to complete and the amount of points you can expect to receive per survey ranges between 5 to 50 points. 1 point = $0.10.
Qualifying Questions
Before you begin your chosen survey, you may have to answer a series of multiple-choice questions. These may appear to be irrelevant to the topic of the survey itself, but are a way for researchers to ensure they're receiving responses from the people they're looking for ones from. Sometimes, you'll be disqualified from taking the survey after answering these, however there will usually be other surveys available for you to take.
Modern, Interactive Surveys
Opinion Outpost offers fun, interactive online surveys that are attractive and simple to take. On top of offering sweepstakes entries, periodically, they offer games at the end of surveys which give you the opportunity to win additional points and/or additional sweepstakes entries. One such game is called the Opinion Outpost Door Game.
Opinion Outpost does not offer a mobile app. Although many of their surveys are mobile-friendly and can be completed on your phone, you will still need to access them via your e-mail, or by logging into the website from your phone.
Visit Opinion Outpost's website

›
Badges
Opinion Output recently added 'Badges', which essentially serve as loyalty bonuses. You start out with a Bronze membership and have the chance to upgrade to Silver, Gold, Platinum or Diamond based on how active you are on the website and how complete your profile is.
As your badge levels increase, additional achievement points are awarded, which can be found on your Survey History page. These will show up as 'community achievement'. Bear in mind that you can be downgraded to a lower tier badge if you don't remain active on the website.
Quarterly Chances to Win $10,000
If you are in the USA and you get disqualified from a survey, participate in a survey, or exchange your valuable points for an entry, you will be have a chance to win $10,000 in a quarterly cash draw. That means that $40,000 in total is awarded to 4 lucky members every year! If you are in Canada, there are also sweepstakes available, in the form of 4 quarterly draws worth $1,250 each ($5,000 yearly).
Refer Your Friends to Earn More
Opinion Outpost's referral program will award you $1.00 every time you refer a friend using your custom link and they complete at least one survey. Earn up to $5.00 in total. Find the "refer a friend" tab when you log into your account to grab your custom referral link to share with friends or extended family members.
Is Opinion Outpost Legit?
Opinion Outpost is over a decade old and is a legitimate survey site. Opinion Outpost is not a scam, though as with any survey program, your experience and success with the site may vary. The site does not sell information to third parties (as per their commitment to adhering to market research standards), and is a safe and legit website.
Note: If you are having technical issues with Opinion Outpost, reach out to [email protected] for assistance.
*Amazon.com is not a sponsor of this program. For complete gift card terms and conditions, see www.amazon.com/gc-legal. ©,®,™ Amazon.com Inc. and/or its affiliates, 2020. No expiration date or service fees.
**iTunes® is a registered trademark of Apple Inc. All rights reserved. Apple is not a participant in or sponsor of this promotion
---
SurveyPolice Exclusive: 9 Question Q & A with Opinion Outpost
Opinion Outpost Reviews (1492)
5 Star Reviews (621)
41.6
4 Star Reviews (200)
13.4
1 Star Reviews (405)
27.1
January 19, 2022 by Robin from United States
I would leave a minus zero stars if I could. This panel owes me points and refuses to pay. I see they are doing the same thing to others. Here is the bs reply I got.

We took the aforementioned action after reviewing the accuracy and attentiveness of your account activity. As a renowned market research provider, we take the validity of our research data very seriously and needed to take steps to address the matter. We appreciate your time on our panel but, as previously stated, we unfortunately have no option other than to permanently suspend your account. Thank you for your understanding.

Sweet
Opinion Outpost


There is no "aforementioned action" and nothing was "previously stated". I have always answered all surveys honestly and passed all checks and read them all thoroughly. This isn't the only company I'm getting kicked out of either. Not sure what is going on. We should be able to sue these unethical companies. I suspect it's only going to get worse. I will be talking to my Representatives and Senators to work on getting some laws that oversee this dishonest and ripoff stuff.

I see they are signing their unfair kickout letters with names like Sweet and Princess. They aren't even trying to be a reputable survey company. Something really needs to be done to put these type of companies out of business, other than just leaving reviews. That helps, but they shouldn't be allowed to exist. Thanks for reading.
Just when you thought it had hit bottom
August 30, 2021 by Joe from United States
** Update ** 28 AUG 2021 - It has been a couple of years or more since Opinion Outpost (owned/operated by Dynata) abruptly closed my account, alleging I had done something I had not done, and my losing the ~$29 USD I had accumulated, and did so with no recourse and no means of getting the money I had earned (frequent story I have read many others STILL saying is happening to them). Since that time I will occasionally see a Dynata survey pop up through other panels, and their behavior is still clearly evident. Their invite will offer an incentive and given an estimated time to complete the survey. It is not at all unusual to have it take better than 50% more the alleged estimated time to actually complete their survey (i.e. an advertised 20 minute survey takes every bit of 30 minutes, such as that). To be perfectly honest, I am surprised to see them still in business, and somehow having avoided legal ramifications for their blatant dishonesty and in some cases, downright theft (closing panelist accounts without warning and keeping the money the panelists earned). Such is life in this present world, so it seems.

** End of edit **

I've been a member of this panel for a number of years. Over the past two to three years (maybe longer) the quality and integrity of this panel has gone on a steady and steep nosedive. This collapse seems to coincide with the panel having been purchased by Survey Sampling, Inc., who then merged with Research Now, and who has now changed their name to Dynata. Dynata owns and operates quite a list of survey panels:

Alumni Opinions
E-Rewards
iPoll
Irish Opinions
MyOpinions
Opinion Miles Club
Opinion Outpost
OpinionWorld
Points for Surveys
ProOpinion
Qué Crees
QuickThoughts
Rewarding Your Opinions
SmileCity
SurveySpot
Valued Opinions
Web Perspectives
YourVoice

Interestingly, every single one of these panels have user reviews that talk about one very common issue... user accounts being frozen for no explainable reason, and this consistently happens when users try to cash in the rewards they have earned. What a coincidence, eh?

Another favorite tactic, as of late, has been to have users go through the entirety of a survey, only to be told upon submission, that they did not qualify. This has gotten to be a very frequent issue. This is also no coincidence.

Survey rewards have been getting continually worse, and worse, and then when you thought it could get no worse... it gets worse.

Do you think it is fair compensation to be given:

$1.20 for a survey with over 200 questions?
$1.80 for a survey with 325 questions?
$0.30 (30 cents) for a survey with over 100 questions?

What a bush league survey panel this has become, and such a shame.

I have read two different reviews where panelists have said they receive participation points when they don't qualify for surveys. The latest one says:

April 26, 2019 by LAURA from United States
pay out is fast & if u dont qualify for survey they still give 5 points for trying.

In the years I have been a member of this survey panel I have NEVER... not once, not ever.... been awarded points when disqualified. The only time I have gotten points is when I have complained about getting so-called "disqualified" when I completed and submitted a 100% fully completed survey, and was told I did not qualify even after completing the entirety of the survey. But that requires contacting customer service and relying on them to manually give the reward. Aside from that, I have never seen nor heard of panelists receiving participation points when you don't qualify. That makes me very suspicious to see someone making such a claim.
You have cancelled your membership
July 1, 2021 by mike from United States
Long time member here (10+ years), and I am now getting a message that *I* have cancelled my membership. I did not. Waiting to see if there is help from their customer service, but if not, this will be my final review for them.
March 30, 2021 by Carmen from United Kingdom
I racked up £40 some time ago but when I tried to claim it I was told my work was not up to scratch and no appeal. I have only just seen this site so I am two years late...
March 25, 2021 by MATTHEW from United States
I filled out my profile 100% and still didn't have any surveys to fill out. I message the site and asked them why and they decided to suspend my account because "they take their surveys serious". I explained that I too, take surveys serious but I did not have an opportunity to start let alone complete one of their surveys yet. I guess the decision is irreversible so that's why I'm leaving this review.
» Return to: TOP RATED SURVEY SITES
---
Popular Topics
Top Survey Sites of 2022
---
Highest User Rated Survey Sites
---
Survey Sites That Pay Instantly
---
Survey Sites with Low Cash Outs
---
9 Product Testing Job Websites
---
12 Online Surveys That Pay Cash
---
How to Earn Free Uber Gift Cards
---
14 Ways to Get Free Amazon Gift Cards
---
Best Paid Focus Groups
---
How to Get a Free Visa Gift Card
---
Ways to Get Free Xbox Gift Cards
---
Featured Advertisers: