PermissionResearch Reviews and Features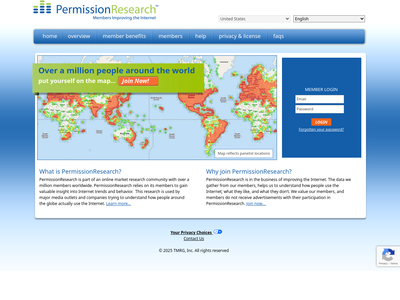 PermissionResearch
comScore, Inc., 11950 Democracy Drive, Suite 600 Reston, VA 20190 US
Tel: 1-866-638-7388 Contact: https://www.permissionresearch.com/supportform.aspx
Operated by: TMRG, Inc

PAYMENTS OFFERED

Cash paid via check

Retail e-vouchers

Sweepstakes entries

Donations to charity

HOW TO PARTICIPATE

Browser add-on

Online surveys

Refer-a-friend program

REDEEMING REWARDS

No points system
Entries into sweepstakes and occasional invites to surveys that offer cash and gift card rewards are offered to members of the panel.
Over 2 million people around the world are a part of the PermissionResearch community. PermissionResearch is part of ComScore Inc., a large market research company which was founded back in 1936. The goal of the PermissionResearch project is to understand the patterns and trends that exist when individuals surf the internet. A better understanding of how people use the internet serves the ultimate purpose of helping companies make guided future business decisions on the web.
Identifying Trends
PermissionResearch has the goal of measuring how people engage online. They are collecting data on online usage and purchase information. In addition to collecting data used in research reports, the PermissionResearch software increases your eligibility for surveys. It uses your Internet surfing data to provide you with surveys, which are most relevant to the services/products you use.
When you sign up, you not only share your online browsing and shopping habits, you're allowing PermissionResearch to collect information about your TV viewing habits (including data such as the channels and programs you watch and record, and the on-demand programming you order) directly from your TV service provider on your behalf.
How to Become a Member
If you would like to become a member of PermissionResearch you must begin by filling out a registration form. PermissionResearch is invitation only, so be patient while waiting for your invite! If you qualify, you will be asked to download a special type of software that will be used to track your habits while you surf the internet. The software will not interfere with any of your surfing, and will run silently in the background. If you would like to participate in the TV tracking research project, you will be guided on how that can be set up.
Member Perks
Trees for Knowledge: PermissionResearch has partnered with a non-profit organization known as Trees for the Future. Trees for the Future has been helping thousands of communities in Central America, Africa and Asia by planning nearly 65 million trees since 1989. Trees for the Future plants a tree for each new person who joins the PermissionResearch community. When you sign up for PermissionResearch, you are recognized with a tree planted through the Trees of Knowledge program.
Monthly Sweepstakes: As a reward for members, each month one lucky panelist will receive $100. There are also other draws for bigger cash prizes of $2500, $5000 and even $100,000! Earn extra sweepstakes entries when you refer friends or family to the panel.
Free Software: PermissionResearch members also receive free software such as file protection, screensavers, games and online privacy tools!
Cash and Gift Cards: From time to time, PermissionResearch members may be contacted for special surveys that offer extra perks, like cash or gift cards as a thank you for participation.
Take Occasional Surveys
Periodically, members may be asked to complete special surveys about their internet or TV usage habits. Occasionally these will be emailed to you, and/or occasionally appear as a pop-up on your browser. These surveys may be rewarded with a cash or gift card for your participation. The reward will be outlined in the survey invitation.
Commitment to Privacy
PermissionResearch ensures that the software used to record internet usage patterns does not reveal your identity, as it collects data in aggregate form. This panel has a strict privacy policy set in place and has an A+ BBB accreditation.
Eligibility: International members accepted, 18+
---
PermissionResearch Reviews (15)
August 25, 2014 by Dennis from United States
Originally I got a decent amount of small surveys from them. I frequently qualified and if I do not, I get compensated about 8 cents for trying. Than the rules changed and you had to do offers for 50% of the reward and it became impossible to make money on the site.
October 20, 2013 by Arcadio from United States
I haven't been a member of this site long enough to see if I would win anything but the software is so bad it will slow down your computer. After I uninstalled their software my computer ran a normal speed again. Do NOT install if you want your computer to run like a computer from the stone age.
May 5, 2013 by Olly from United Kingdom
I signed up for this through swag bucks to get points, I registered and installed, that's when the problems started.. First of all my security software blocked and deleted it, but it just kept coming back so I restarted my pc. Now its got a Blue Screen Of Death, nice one now it wont even let me re format, had to purchase a new hdd as it fried my current one, forget this bull
February 18, 2012 by Barb from United States
I've had nothing but problems with PermissionResearch.com. I was also not able to view the Rewards section of the site and all efforts to contact customer service went unanswered. I finally had to report to the BBB to get a response from them and get access to Rewards. By then they had deleted all points in my account due to inactivity. (Why would I take surveys if I didn't know what I was going to get or fear that I wasn't going to get anything?)
Now every survey I take, I don't qualify for, but they say they will reward me with a TOKEN to play for a prize. I've never once gotten a token. Saved all the emails that said I would, contacted CS multiple times, again NO answer whatsoever. Done with this site for good.
Destabilizing, intrusive Software
February 18, 2012 by thomas from United States
After installing their silly, and destabilizing software, my MS NET FRAMEWORK architecture went bonkers, along with other mysterious PC problems! Ended up having to REFORMAT my HD to get rid of their cr**-ware! Lousey CS was NO help!
» Return to: TOP RATED SURVEY SITES
---
Popular Topics
Top Survey Sites of 2021
---
Highest User Rated Survey Sites
---
Survey Sites That Pay Instantly
---
Survey Sites with Low Cash Outs
---
9 Product Testing Job Websites
---
12 Online Surveys That Pay Cash
---
How to Earn Free Uber Gift Cards
---
14 Ways to Get Free Amazon Gift Cards
---
Best Paid Focus Groups
---
How to Get a Free Visa Gift Card
---
Ways to Get Free Xbox Gift Cards
---
Featured Advertisers: