Pinecone Research Reviews and Features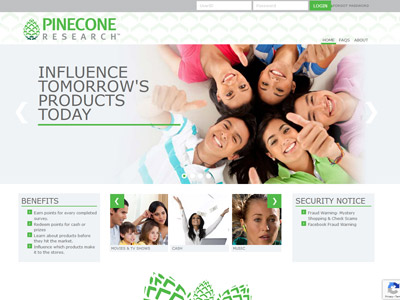 Pinecone Research
85 Broad Street, New York, New York 10004 US
Tel: 800.864.1224 Contact: https://members.pineconeresearch.com/#/ContactUs
Operated by: The Nielsen Company, LLC

PAYMENTS OFFERED

Cash paid via bank transfer

Amazon gift cards

Walmart gift cards

Starbucks gift cards

Prepaid debit or credit cards

Home Depot gift cards

iTunes gift cards

Movie vouchers

Merchandise

HOW TO PARTICIPATE

Online surveys

Product testing

Surveys for Hispanics

Mobile app

REDEEMING REWARDS
Typically, rewards are delivered within a few business days or sometimes even immediately after completing a survey. Your first 300 points will equate to $3, which will be sent to your home address.
Pinecone Research is a trusted leader in the survey panel industry. They are owned and operated by the market research company Nielsen, whose operations are headquartered in New York.
Pinecone Research focuses on improving the quality of tomorrow's products through collecting research via paid surveys and product testing opportunities offered to consumers.

How to Join Pinecone Research
Because Pinecone Research is an invitation-only survey panel, potential new members must be invited by other members to join, or they must find a join link posted on a website. SurveyPolice currently offers Pinecone Research signup links for Americans, Canadians, and people living in the UK: » Join Pinecone Research here.
If you'd like to learn more about how to sign up for Pinecone Research, including tips on joining and why there are membership restrictions in place to begin with, check out our article on how to find an invitation to join Pinecone Research, as it should help answer any questions you may have about the process.
Reward Types and Amounts
For each survey taken, Pinecone Research awards its members a minimum of 300 points. This equates to $3.00 USD for every survey completed. Canadians typically earn $3.00 CAD per survey, while Britons earn £3 per survey completion. There are a variety of options that accumulated points can be used towards.
Bank Transfer - A new payout option recently introduced by Pinecone is cash payments made via bank transfer. When selecting this option, you will be asked to create a 'wallet' on a third party payment processor website. Once set up, you can request a cash payment deposited directly into your bank account. Payments are typically issued within 48 hours of request.
Amazon e-Cards - You can choose to receive an Amazon gift card with your collected points. The e-card will be sent directly to your email account.
Catalog and Gift Cards - Pinecone Research offers an extensive catalog of gift cards and merchandise options. Some of the gift card options include Starbucks, iTunes, Walmart gift cards, as well as many others.
Prepaid Virtual Visas – If stated up front, some Visas are only available to US residents and residents of US territories and can only be used in the United States.
Earn your First Check Automatically
Once you complete your first survey, which is always rewarded with a minimum of 300 points, Pinecone Research will automatically send you a check for $3.00 to the mailing address on your profile. This is a security measure to establish your profile and account. After your first check, you will have the option to choose the form in which you would like to receive your future rewards.
Visit Pinecone Research's website

›
Survey Types
Interesting online surveys are e-mailed to members, and are on a variety of different topics. Surveys usually take about 15 to 20 minutes of your time to complete. Pinecone may also send its members very short questionnaires that take about 2 – 5 minutes to fill out, and although these questionnaires are not compensated, they are still important in making a difference.
Product Testing Opportunities
Occasionally, Pinecone may mail out products for their members to test from home. These may be physical products, or food items that may come delivered in a cooler. A follow-up survey is usually provided as part of the product test, which typically pays around $3. These opportunities are highly sought after, as you may receive free food (or a product that you might be able to keep), as well as a paid follow up survey!
Visit Pinecone Research's website

›
Quick Customer Service
If you have a question on anything Pinecone Research-related, do not hesitate to send in an inquiry through the website. The response time is usually 1-3 business days, or even quicker depending on the workload of employees during the time of your question.
Mobile App

If you prefer to take surveys on the go, you can download the Pinecone Research app on your iOS or Android mobile device. The app will allow you to view available surveys, take surveys, view and redeem your points, view your account history and more. Just remember to join the Pinecone Research panel itself before attempting to take surveys through the app!
Is Pinecone Research Legit?
Absolutely. This survey program is over a decade old and has paid out millions of dollars in rewards to its members. Pinecone offers quality paid surveys to its members and is known for offering fair rewards. Pinecone is not a scam and is a completely legitimate website.
Eligibility: Available in select countries, Pinecone Research is an invitation-only panel.
---
Please note that PInecone Research has been targeted by a cashier's check scam. If you receive a large, unexpected check seemingly from Pinecone, DO NOT attempt to cash it!
Pinecone Research Reviews (684)
5 Star Reviews (389)
56.9
1 Star Reviews (116)
17.0
October 16, 2021 by Cindi from United States
The first thing I will say is if you're looking for quantity this is not the one in my experience so far. I love this one personally. I've been lucky and I've done a few in-home full-size product testings with compensation upon completion. I did run into a few technical difficulties during surveys but messaged them received a response in good time and figured it out so their customer service is great. Their communication is really good and overall I would recommend this one. It may not be a huge moneymaker at least for me so far but I enjoy the products and the payouts are real they go right into your account bank account if you'd like I've had no issues with that. They also have an extensive list of reward options to choose from so the choice is yours.
October 7, 2021 by KELLY from Canada
love their surveys and payments always recieved==Gr8 sute ☺
May 15, 2021 by Elaine from Canada
The only issue is that they don't often have surveys so it takes a while to get points.
March 29, 2021 by Michelle from Canada
Love this research company. The surveys are not as many as I'd like but its still a good amount. The customer service is quick with replies and very quick to help in any way.
They also are very fast to issue your reward. They have great options for rewards.
This is definitely a great survey company to sign up with!

Pinecone Research responded to this review on April 23, 2021
Hi Michell,
Thank you for taking the time to leave us some Feedback! While we do wish to provide as many surveys as possible, they are reliant on the needs our clients present to us, which at certain times of the year may be fewer than usually.
We appreciate your membership with us, and hope to continue providing great customer support!
Best Regards
November 30, 2020 by Melinda from United States
I've seen a LOT of negative reviews on this and decided to share my experience. For one - I know no one read terms and conditions half of the time, but they clearly state that they reserve the right to disable your account at any time. It's annoying, I'm sure for everyone who's experienced it - BUT, they do it when you no longer fit the demographic they're searching for. I recommend cashing out EVERY time you get credited. If you do the virtual card you can use the "save for later" option and keep it all separate from the site in case you're account is deleted.

I've NEVER had an issue with cashing out. I've cashed out for over a year now and never once was I messed over. If you do have a problem, contact their support team. I was late to a product review survey and emailed them, the next day I had a response and the matter was sorted. This site pays very well, I've tried MANY things not out yet, and its probably the only site I don't dread logging in to.

Bonus - they don't send a billion emails a day. You get them only when a survey is ready, which isn't every day. Also, three dollars a survey is soooo worth the ten minutes of time it takes.
» Return to: TOP RATED SURVEY SITES
---
Popular Topics
Top Survey Sites of 2022
---
Highest User Rated Survey Sites
---
Survey Sites That Pay Instantly
---
Survey Sites with Low Cash Outs
---
9 Product Testing Job Websites
---
12 Online Surveys That Pay Cash
---
How to Earn Free Uber Gift Cards
---
14 Ways to Get Free Amazon Gift Cards
---
Best Paid Focus Groups
---
How to Get a Free Visa Gift Card
---
Ways to Get Free Xbox Gift Cards
---
Featured Advertisers: