TGM Panel Reviews and Features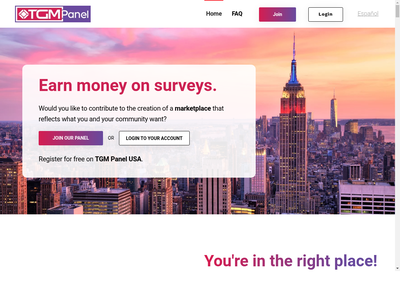 TGM Panel
Dluga 29, 00-238 Warszawa, Mazowieckie PL
Tel: Contact: https://help.tgmpanel.com/en/contact.html
Operated by: TGM Research FZE

PAYMENTS OFFERED

Cash paid via PayPal

Amazon gift cards

Prepaid debit or credit cards

Retail e-vouchers

HOW TO PARTICIPATE

Online surveys

Mobile surveys

Online focus groups

Mystery shopping

Daily surveys

Online beta testing

Refer-a-friend program

REDEEMING REWARDS

No points system
$10 USD minimum account balance required. Rewards processing completed within 72 hours of request.
TGM Panel is an online research panel where panelists can transform their opinions into money. TGM Research specializes in mobile market research and online panels and can access billions of users worldwide through their network of mobile apps, ad networks and websites.

Easy Surveys
With TGM Panel, you can take paid surveys every day without any limits. No surveys are over 30 minutes and survey inventory is high, meaning you'll have plenty of studies to choose from.
Earn Great Rewards
You can choose one of four methods to cash out your earnings with TGM. These are:
PayPal payments - Receive a PayPal payment for $2.00 USD with just 2 points in your account. Or, earn a cash balance of $12.50 to request a payment to your PayPal account. Your PayPal e-mail address must be the same as the one you use to register with TGM.
GCodes® Rewards - With just $10.00 USD in earnings, you can request a GCode, which is a code that can be used to request a gift card from many different retailers.
Amazon e-vouchers - With just $10.00 USD in survey earnings, you can request an Amazon e-gift code.
Virtual Visa Debit cards - With $10.00 USD in earnings, you may request a virtual visa debit card (USA members only)
Fast Reward Processing Times
Rewards processing times are super quick! After submitting your rewards request, receive your reward within 72 hours. To submit your request, log into your account, click the 'Rewards' link at the top of the screen, and then select the prize you'd like to receive (PayPal payment, Amazon gift card, etc.). You will then receive an e-mail containing your reward information.
Visit TGM Panel's website

›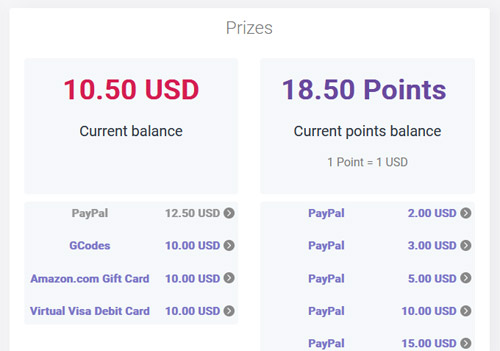 Cash for Every Survey Completion
Earn cash for every online survey you complete; when you have taken enough surveys or completed enough tasks to request a reward, you can simply redeem your cash balance for a cash reward or a gift card.
Earn Points, Even if you Get Disqualified
If you attempt to complete a survey but are unable to finish it because you got disqualified, TGM will still compensate you for your time and will credit points to your account, just for attempting the survey (something most survey sites don't do). These points can add up and can help you reach a payment sooner. Typical disqualifications award 0.03 points (equivalent to $0.03).
Tip! TGM Panel pays 0.03 points ($0.03) per survey disqualification. These add up over time! $$$
Mobile Surveys and More
TGM's surveys are mobile-optimized so that taking surveys on your phone is simple and seamless. Surveys are designed to be quick and fun, making survey taking on the go, easy. The platform itself and surveys are available in a variety of different languages. Other activities such as mystery shopping, online focus groups and mobile app testing are also available.
Score Surveys to Help Improve Future Studies
After you've completed a survey, you can score the survey and share your feedback about it. TGM uses this information to actively conduct quality checks on survey suppliers, so as to decrease the chances of you encountering technical errors, late screen outs, and closed projects on future surveys.
Visit the TGM website

›

Generous Referral Program
TGM Panel offers a referral program where you can earn up to 20% of earnings (referral amounts vary by country) made by your friends and others you recruit to the website. Simply log in to your account to copy your unique referral code, which you can then share on social media, or in an email or text message to your friends.
To check how much you have earned from your referrals, simply click the 'Refer & Earn' link in your account. You will then see a list of your referrals, their registration date and the number of points you have earned from their survey completions.
Is TGM Panel Legit or Scam?

Is TGM Panel Legit?
Although TGM Panel is a relatively new survey website, they genuinely provide paid online survey opportunities. TGM is not a scam, though as with any survey program, your experience and success with the site may vary - especially if you are from a country where few survey opportunities are available. The site does not sell information to third parties and is a safe and legit website.
TGM specializes in providing paid survey opportunities to people all over the world, but survey takers from outside western nations may be pleasantly surprised to receive regular surveys. If you're from: South Africa, Kenya, India, Indonesia, Malaysia, Saudi Arabia, United Arab Emirates, Greece, Poland, Serbia, or Ireland, you may find TGM to be especially worthwhile.
Eligibility: TGM Panel is available in 80+ countries.
5 Star Reviews (165)
71.7
October 1, 2020 by Leisa from United States
Cashed out 9/3 and still have not received. The tricky verbiage you may have missed, like I did, amounts to "TGM only pays out points directly and we have no problems with that". The questionable part comes in when you find that "Cint is responsible for paying out the USD"-you know the actual incentive that you are doing this for. I laughed: I did, when I saw how they got me with this. When I think of the screen outs, actual survey time and how long it took to get to $12.50, it immediately makes me angry again. On top of this, with TGM announcement, they stated they were adding the money back to accounts so we could choose a new reward. You know, because they are the only company in the world that PayPal isn't working for. Guess what ALSO hasn't happened? Got some snappy yet indifferent replies from customer service that amounted to nothing. My recommendation is to stay away or ditch this one.

TGM Panel responded to this review on October 2, 2020
We have explained what the problem was. It was a PayPal error and it affected thousands of businesses around the world. The problem is fixed now, and we cash out normally with PayPal. We inform EACH time we got the info from Cint or Paypal on portal.tgmpanel.com, so you were aware of our work to fix it.
I do see that you cashed out on 2020-09-11 20:46 and got 10 USD via GCodes, immediately after we rolled out back PayPal payments.
TGM Panel
August 4, 2020 by danielle from United States
The site is okay, but never told me it would take ten days to get the money. Sent them an email and some lady told me that cint told them just yesterday that first time users would receive payment only after 10 days. I wonder why other panels using cint pays instantly....

Update: they are paying same day however, I have been trying to make a dollar to withdraw and I am sure never to work on it again. Its like when you get near cashout, you never qualify for surveys. i have been trying two weeks. Too many disqualifications.. hell no.. not more slavery work bye bye

TGM Panel responded to this review on August 4, 2020
Hi Danielle,
Thank you for your review. Although it is not very helpful, if you would give a shout to Cint, you would know it's their new Policy to avoid fraud. We were not aware of that until last week. This is only for new panel members (for the very first payment), as the next payments are done normally. Sorry for this, but it is not our fault. There are plenty of fraudulent users lately, and we understand that Cint has to take those measures.
UPDATE
Also please contact us on support. We do not have anyone with name Danielle from US. So we cannot check what is a problem. For US the minimum payment is 10 USD for money amount and 3 points (3 points = 3 USD) from the point balance.
Thanks,
TGM Panel
May 18, 2020 by jack from United States
Ive been doing online surveys since 2014 and I was hopeful about this site, but it quickly turned out to be a waste of time. From the start, it serves up long tedious surveys and allows you to complete them, thanks you then tells you sorry, you were unable to complete the survey. NO THANKS!

TGM Panel responded to this review on May 19, 2020
Hi Jack,
Sorry to hear about your bad experience. I didn't find any ticket from you, we were not aware of this problem. We are currently serving 90% Cint surveys, and as you should know - Cint serves different surveys, long and short. Also please remember, we make money only when your survey are completed, so it's enough to get in touch with us to clarify the situation.
Kind regards,
Greg
September 14, 2022 by Muhammad from Pakistan
When every information they collect then they redirect the page, and we don't earn any money.
June 24, 2022 by Lisa from United States
After a week. Tons of hours and numerous surveys with over 50+ "disqualifications", only made 0.26 cents. They don't pay even if you're disqualified for age or state. Not to mention survey states 5-10 minutes but truthfully it's 20-30 minutes. I wouldn't even give them 1 star.
» Return to: TOP RATED SURVEY SITES
---
Popular Topics
Top Survey Sites of 2023
---
Highest User Rated Survey Sites
---
Survey Sites That Pay Instantly
---
Get $100 Free PayPal Payments
---
9 Product Testing Job Websites
---
12 Online Surveys That Pay Cash
---
How to Earn Free Uber Gift Cards
---
14 Ways to Get Free Amazon Gift Cards
---
Best Paid Focus Groups
---
How to Get a Free Visa Gift Card
---
Ways to Get Free Xbox Gift Cards
---
Featured Advertisers: