TreasureTrooper Reviews and Features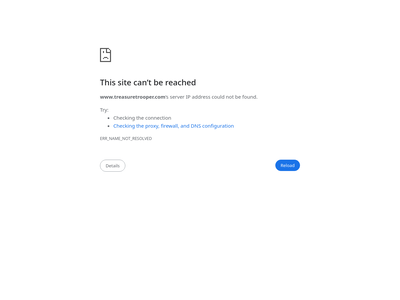 TreasureTrooper
Operated by: TreasureTrooper
PO Box 270303 Flower Mound, TX 75027-0303
Contact: [email protected]

TreasureTrooper is a unique GPT website with an Indiana Jones feel. Like other get-paid-to sites, members can earn rewards for shopping, completing offers, taking surveys, completing tasks, and referring friends. These are all done on a somewhat "gamified" platform, complete with cartoon-like and comic-style images of jungles, treasure maps, dragons, and more.
How TreasureTrooper Works
Earn cash for completing offers, shopping online, completing surveys, and completing tasks.
Offers – offers range in payouts from $0.50 to $50.00. Most of the offers are free. This is the fastest way to accumulate earnings in your account, as there are thousands of dollars' worth of offers available for completion.
Shop – earn cashback on the purchases you already make with popular online retailers. Hundreds of stores are listed where you can earn rebates. For every $5 you earn from cashback, you will receive a platinum coin credited to your account which can be exchanged for gifts and prizes.
Surveys – there are 8 daily surveys available to take, and they are worth up to $1.00 each per completion. Other paid survey opportunities are also posted to the website.
Complete tasks – fill out forms, use TreasureTrooper's search tool, watch videos, and more, and get paid cash to do so.
Play mini-games and earn non-cash credits such as gems and gold coins which can be traded in for prizes (read more under "Rewards", below).
Referring Friends - refer friends to the website and earn 20% of their earnings and 5% of what your friend's referrals earn. Commissions increase when you start referring more referrals.
Once your cash balance reaches $20, you may request a check or PayPal payment. Checks take a little longer to process, but PayPal payments can be instant. Note that completed offers, surveys, etc., can take a little while to be approved in your account which can temporarily delay reaching the minimum account cashout level.
Checks are processed between the 15-20th of the month for the balance on your account on the final day of the previous month.
By playing games on the site, you may also be awarded with other types of credits on your account such as gold and platinum coins, pearls, gems, etc. These can be exchanged at "Mabutu's Trading Hut" for prizes such as gift cards, small electronics, and clues to games on the site.
Contests – frequent cash contests are held with goals such as earning a certain amount of money within a month, and receiving an additional cash bonus.
TreasureTrooper is Unique Fun
Members of TreasureTrooper have earned over 7 million dollars and the site has been around since 2005. Their popular online forum features around 500,000 posts, and hosts popular discussions surrounding making money on TreasureTrooper, including chats about treasure hunts and contests that the website holds.
Eligibility: TreasureTrooper is open to residents worldwide who are 13 years of age and older. However, US, Canada, and UK residents will find that they have the most success using the website.
» TreasureTrooper is currently offering a $1 signup bonus to new members.
TreasureTrooper Reviews (12)
August 18, 2018 by Jemar from United States
I think this is by far the best survey site out there. Do not listen to the other bad reviews! there is absolutely nothing wrong with this site. They are here to help you make money for sure.

It's like an unlimited amount of surveys you can take on this site to earn money. I do admit that for first time users it can be a bit confusing because there are pages and surveys all over the place. But all you have to do is stick to a certain routine and just do that each day/week.

Personally i make $3 a day on this site, which mean every week i will get $20. But you can make way more than just $3 a day (it will take longer however).

I just take daily survey 1, daily survey 2, daily survey 4 and daily survey 6. Or you can take daily survey 1 and 2 and then do 2 offers surveys.

The point is you just have to stick to a certain routine and just do that every week thats about $3 a day (for my routines anyway).

Opinion outpost is another site and you can probably make more money faster, but the thing is they always freeze your account for no reason, and their customer service is really bad (so hard to get in touch with them) so in the long run you end up making more money on treasure trooper anyway.

Definitely give it a try. Plus there is a chat and you can socialize and have fun with others.

Give it a try you wont regret it!
December 2, 2016 by Damien from United States
I've been a member of this site for about 5 years. Ive made almost $2,000 in just my spare time in those years. They have many options to make yourself some cash and you should try it out.
October 16, 2015 by Grandy from United States
I've been a part of a lot of GPT sites and TreasureTrooper is probably my favorite. Yes, there are frustrations when offers don't approve, but that seems to be universal in this industry. TT is awesome because 1) they have been around forever, 2) they continue to add new features all the time, and 3) their website is just FUN! It can be overwhelming at first, but there is so much to do there and a lot of it all ties into each other. They also have a lot of fun Social Media content & contests!
October 15, 2015 by John from United States
This one's my favorite right now. Lots of fun mini games make the fact that I'm only getting a couple bucks an hour feel worth it. Great community also.
Treasure Trooper Rocks!!!
July 26, 2016 by sue from United States
For the record, I joined Treasure Trooper in the last week of December 2013. I have made over $2,000 there just by doing surveys and participating in the various other methods available to make money there. I do not dedicate a lot of time to this. The more time you devote to your Treasure Trooping; the more money that you can earn. There are many members at TT that earn several hundred each month consistently. I have NEVER had an issue receiving my earnings. One can receive their earnings from TT via a check or PayPal. The minimum cash out is $20. In addition to the money, I have earned numerous $50 Visa Debit cards, a $20 Amazon gift card, and several hundred more dollars (not included in the aforementioned $2,000) in cash money via the follow-ups that you sometimes qualify for. Follow-ups occur when you are selected to provide additional feedback. This is done off board and may include providing an opinion on an issue (via email, video conferencing, or phone interviews) and or reviewing a product or service. As an example, I once received $100 for participating in a 60-minute-phone conference on ice cream. I am currently testing out some garbage bags. I will receive $50 each week and this is a 2 week product trial.
Treasure Trooper can be quite confusing when one first joins (even for those with experience at similar sites). To assist in eliminating the confusion, Treasure Trooper provides an initial tour, a forum, and a chat-room where newbies, and anyone else, can enter and get answers to their questions. Treasure Trooper's chat room is always moderated. In addition, there are members present that go above and beyond to answer new members' questions and make them feel welcome. I have gone on to connect with many Troopers outside of chat in the real world. I am in the chat room often and I love assisting the newbies. I consider it an investment that I will eventually receive a return on. My philosophy is that the more members at Treasure Trooper that are successful in earnings, the more money the site itself is able to make. Treasure Trooper will be able to maintain and acquire more money making opportunities for all of us Troopers. As an added bonus, you can earn valuable free items while in chat, play games, and fight your dragons on Friday night in an effort to show off your skills. My favorite chat game is JANGO, which is played every Tuesday evening; this is Treasure Trooper's version of BINGO!!!
In my opinion, Treasure Trooper is the best survey site out there. It is unique in that there are so many different ways to earn money. For example, you can raise and fight dragons. Not only is this entertaining, but you can make money doing this as well, if your dragon is the victor. Dragons can be sold and are worth between $5 - $100, depending on the breed. Be forewarned though that the dragon feature can be quite addictive and time consuming.
In my opinion, one of the easiest methods to earn money at Treasure Trooper is by making cash calls. This is my favorite. All you have to do is select the call you wish to make, follow the guidelines, and get paid just for asking companies about their products or services. Often this takes only 4 minutes! You can use your house or cell phone and no special equipment is required.
» Return to: TOP RATED GPT SITES
---
Popular Topics
Top Survey Sites of 2022
---
Best Rated Survey Sites
---
Ultimate Guide to GPT Sites
---
Taking Surveys for Gift Cards
---
The Best International GPT Sites
---
14 Ways to Get Free Amazon Gift Cards
---
Find Swag Codes to Make Extra Money
---
GPT Sites That Pay Instantly
---
Guide to Legitimate Paid Surveys
---
Survey Sites That Pay Instantly
---
25+ Easy Ways to Make Money Fast
---

Featured Advertisers: