Univox Community Reviews and Features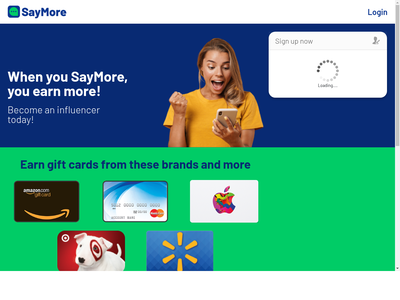 Univox Community
101 Wood Avenue South, Iselin, New Jersey 08830 US
Tel: 1-866-344-7832 Contact: http://univoxcommunity.com/Page/ContactUs
Operated by: Schlesinger Group

PAYMENTS OFFERED

Cash paid via PayPal

Amazon gift cards

Reward Link

Prepaid debit or credit cards

HOW TO PARTICIPATE

Online surveys

Mobile app

Refer-a-friend program

REDEEMING REWARDS
Minimum account balance of 2500 points ($25) required to request rewards.

Join and Get $2
By joining Univox Community, your account will automatically be credited with points worth $2 as a welcome to the community.
Choose From 4 Great Reward Options
Every time you complete a survey, you will earn reward points. Every 100 points equates to $1.00. With 2500 points in your account, you will be eligible to request a $25.00 cash payment or e-gift card. Univox currently offers its members three ways to request their earnings:
PayPal - receive a $25 cash Paypal payment directly to your account
Amazon e-gift card - opt to receive a $25 Amazon.com e-gift card
Virtual Mastercard - request a virtual Mastercard rewards card which is accepted at any online merchant who accepts Mastercard payments.
Reward Links - receive a Reward Link e-gift card, which can then be turned into a gift card from dozens of your favorite stores.
Visit Univox Community's website

›
Get Rewarded, Even When You're Disqualified!
If you attempt to complete a survey but are unable to (i.e. you get disqualified), your account will still be credited with up to 5 points if you've been disqualified because of Client Security terminate, the client is over quota, or the client has terminated the survey. In order to reduce the number of times you may be disqualified from a survey, community members are invited to participate in surveys based on their basic profile information.
Great Loyalty Program for Regular Participation
Univox has four different levels of users, each with their own point minimums for point redemptions:
Ambassador users - Redemption button is activated once 1000 points ($10) is accumulated, and redemptions start at a minimum of 1,000 points ($10) with a maximum of 10,000 points ($100).
Premium users - Redemption button is activated once 1500 points ($15) is accumulated, and redemptions start at a minimum of 1,000 points ($10) with a maximum of 10,000 points ($100).
Verified users - Redemption button is activated once 2000 points ($20) is accumulated, and redemptions start at a minimum of 1,000 points ($10) with a maximum of 10,000 points ($100).
Basic users - Redemption button is activated once 2500 points ($25) is accumulated, and redemptions start at a minimum of 1,000 points ($10) with a maximum of 10,000 points ($100).
Visit Univox Community's website

›
A Large Community, and Growing!
Univox Community currently has over 3 million members, and is growing every day. The site also features an online forum which features community news, regular contest announcements, and more. Via the online forum, members can participate in group discussions.
Refer Friends and Family and Earn Additional Points
Each time you refer someone to Univox Community, you will earn 100 points ($1.00) per signup once they've made 10 survey attempts or have fully completed their first survey. You may refer an unlimited number of friends and family members.
Download the App!
Univox is now mobile! Download their app, available on iOS and Android, and take surveys on the go. Allow for push notifications and you'll know when the latest survey arrives!
Eligibility: Worldwide, 18+
Joining Bonus! Univox is currently offering a $2 sign up bonus to new members.
» Click here to claim your bonus!
---
Univox Community Reviews (252)
1 Star Reviews (180)
71.4
April 24, 2021 by abos from United States
legit? yes it is legit and will pay for you but: time of survey is not true all the time and it will be long ,soo long for an hour or more for less than 30 cents. you could be finding yourself jumping from site to others answering the same questions in every single one till finally get the real survey page and if you are lucky you will take it and get paid for or bad luck that the survey is closed or reached the max participation wanted for. customer service are the worst ,why? they will never tell you the truth or true solutions for you. i made some time with them and got paid three times but one day i logged in and no survey there!!! none ,zero. contacting cs not helpful, they ask me to log out and in many times. not working. taking a survey from invite link in my inbox not helpful. they ask me to use my normal network. but i didn't change any, my WiFi and phone still the same. if they banned me for some mistake or so. they didn't warn me not by email nor on website and i am sure i did not make any bad behavior but it is OK. may be they should work with us to get this work. maybe they just do not care. it is not a bad site, but i accepted the terms and conditions of them and they do not respect us or our rights so one star is more than enough for this site. i will change it if the take control and make changes to all not only me cause i have more things can not fit in this short review. thank you all.
March 30, 2021 by Jim from United States
I was taking a survey and I completed it , it even thanked me for completing it , how ever when I click the next button it took me to another survey instead of back to get credit , so I wrote support , that wrote back "we are going to need a number" lol no all they have to do is look at my account .. So I let it ride and started writing it down , well it happened again and this time I had the number and wrote support , they wrote back "we are going to need the name of that survey" lol they don't have names ... So again I blew it off , So I started highlighting the survey number then take a screen shot , this morning there was about 50 surveys , I went to one screened out went back to the survey page and it said "oops we don't have any surveys for you" blocked??? why? they won't answer
what a gr8 way to treat a vet

update
they have a spin the wheel deal after you complete so many surveys you get to spin for prizes , I spun and "won" 1000 points as long as you complete 10 surveys in 48 hours , only problem is they make sure you don't .after that I completed 3 survey in the last 24 hours . This is only the facts exactly as they happened
February 20, 2021 by Kenneth from Canada
I agree with most of the comments I see, here.

Just when you're ready to cash your points, you get locked out, and they tell you that they have received feedback from their clients that you give "suspicious" answers, so they've cancelled your account.

I have replied to them that I have NEVER given any incorrect information to them, and to give me just one example.

Of course, I have received no response, because they don't have any examples.

If they can come up with just one, I will come back here, and apologise.
January 22, 2021 by Rob from United States
Excuse not to pay me after I cashed out $25 last November. They claim my answers were questionable and claim they will pay me within few days. I never got paid!!!!! Avoid!!!!!
January 17, 2021 by Doug from United States
Since November 1 I have received 0 surveys when I used to have 100's a day. When I asked them to correct the issue they would not respond.
There is definitely an issue.
0 surveys in 2 months, terrible and they refuse to admit they banned my account. Do not trust what this company tell you it is a lie.
» Return to: TOP RATED SURVEY SITES
---
Popular Topics
Top Survey Sites of 2021
---
Highest User Rated Survey Sites
---
Survey Sites That Pay Instantly
---
Survey Sites with Low Cash Outs
---
9 Product Testing Job Websites
---
12 Online Surveys That Pay Cash
---
14 Ways to Get Free Amazon Gift Cards
---
Best Paid Focus Groups
---
How to Get a Free Visa Gift Card
---
Get Paid by PayPal Without Fees
---
Ways to Get Free Xbox Gift Cards
---
Featured Advertisers: