Univox Community Reviews and Features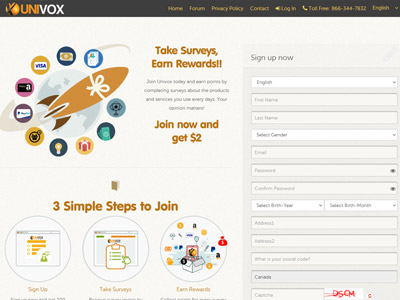 Univox Community
101 Wood Avenue South, Iselin, New Jersey 08830 US
Tel: 1-866-344-7832 Contact: https://www.univoxcommunity.com/Page/ContactUs
Operated by: Schlesinger Group

PAYMENTS OFFERED

Cash paid via PayPal

Amazon gift cards

Reward Link

Prepaid debit or credit cards

HOW TO PARTICIPATE

Online surveys

Mobile app

Refer-a-friend program

REDEEMING REWARDS
Minimum account balance of 2500 points ($25) required to request rewards.
Univox Community is an online survey community operated by Schlesinger Group - a global research company that conducts thousands of surveys every year.
Consumers can sign up to Univox to participate in online surveys on a variety of different of topics in exchange for rewards including cash and gift cards.
How Univox Community Works

Take Surveys, Earn Rewards
Univox Community works with some of the world's largest brands who want to hear your opinions and are prepared to pay you for your participation in their important research studies. By joining Univox Surveys, you will be contacted with online survey opportunities as they become available. Participate to earn points, redeemable for a variety of different rewards.
Join and Get $2
By joining Univox Community, your account will automatically be credited with points worth $2 as a welcome to the community.
Choose From 4 Great Reward Options
Every time you complete an online survey, Univox will credit your account with reward points. With 2500 points in your account, you will be eligible to request a $25.00 cash payment or e-gift card. Univox currently offers its members four ways to request their earnings:
PayPal - receive a $25 cash Paypal payment directly to your account
Amazon e-gift card - opt to receive a $25 Amazon.com e-gift card
Virtual Mastercard - request a virtual Mastercard rewards card which is accepted at any online merchant who accepts Mastercard payments.
Reward Links - receive a Reward Link e-gift card, which can then be turned into a gift card from dozens of your favorite stores.
Points Value: Every 100 Univox points equates to $1.00. Therefore, 1000 points = $10.00.
Visit Univox Community's website

›
Get Rewarded, Even When You're Disqualified!
If you attempt to complete a survey but are unable to (i.e. you get disqualified), your account will still be credited with up to 5 points if the disqualification is due to Client Security terminate, the client is over quota, or the client has terminated the survey. In order to reduce the number of times you may be disqualified from a survey, community members are invited to participate in surveys based on their basic profile information.
Great Loyalty Program for Regular Participation
Univox has four different levels of users, each with their own point minimums for point redemptions:
Ambassador users - Redemption button is activated once 1000 points ($10) is accumulated, and redemptions start at a minimum of 1,000 points ($10) with a maximum of 10,000 points ($100).
Premium users - Redemption button is activated once 1500 points ($15) is accumulated, and redemptions start at a minimum of 1,000 points ($10) with a maximum of 10,000 points ($100).
Verified users - Redemption button is activated once 2000 points ($20) is accumulated, and redemptions start at a minimum of 1,000 points ($10) with a maximum of 10,000 points ($100).
Basic users - Redemption button is activated once 2500 points ($25) is accumulated, and redemptions start at a minimum of 1,000 points ($10) with a maximum of 10,000 points ($100).
Visit Univox Community's website

›
A Large Community, and Growing!
Univox Community has well over 3 million members, and is growing every day. The site also features an online forum which features community news, regular contest announcements, an active Q & A section, and more. Via the online forum, members can participate in group discussions with other Univox members.
Refer Friends and Family and Earn Additional Points
Each time you refer someone to Univox Community, you will earn 100 points ($1.00) per signup once they've made 10 survey attempts or have fully completed their first survey. You may refer an unlimited number of friends and family members - your unique referral link is located in your Univox account.
Download the Univox Community App!
Univox is now mobile! Download their app, available on iOS and Android, and take surveys on the go. Allow for push notifications and you'll know when the latest survey arrives!
Is Univox Community Legit or Scam?

Is Univox Community Legit or a Scam?
Univox Community is a legitimate paid surveys website and is not a scam - it has millions of members worldwide and has been online for over a decade. However, users may experience varying degrees of success with the website, as well as differences in customer service. Although Univox is not a scam, as with any survey site, it is advisable to read user reviews before joining.
Eligibility: Worldwide, 18+.
Joining Bonus! Univox is currently offering a $2 sign up bonus to new members.
» Click here to claim your bonus!
---
Univox Community Reviews (273)
1 Star Reviews (201)
73.6
January 19, 2017 by Sarah from United States
you don't have to always check your mail you you can just go to univox and do try all the surveys they have and if you don't got to do the survey then you get 5 point and they have great contest been with them for almost 2 years and still making money there are one of the best never had a problem cashing out you do need to link facebook to your account that help them to see you're a real person but there great to me
January 18, 2017 by Avik from India
Market cube is among the best online survey companies globally who has a very good team of members conducting online surveys.
New and Improved Site (Not so much anymore)
October 1, 2016 by vivian from United States
I am very Happy to be part of the Univoxcommunity, recently they made alot of changes, all for the better, This site usually has a good amount of surveys a day, and for almost every survey you do not qualify for you still receive 5 points, which add up fast,they have multiple contests, daily contest, daily sweepstakes contest and weekly contest, they also have 3 types of rewards, Amazon, Virtual Visa and PayPal, payouts are usually really fast to, recently I have received within 24-48 hrs, I belong to 15-20 survey sites, and Univox is by far the best of them all. Well this is an update because some things I previously stated are no longer true, the surveys are very few and are lucky if you qualify, also the daily games are now, whenever they feel like it, and weekly contest, I guess I am saying they aren't what they use to be.

Univox Community responded to this review on October 19, 2016
Hi Vivian,
Thanks for your feedback. We really appreciate your kind words.
We are happy that you are a member of our community.
Thanks
Nitika
Team Univox
IMO it's one of the if not the best survey sites.
July 24, 2016 by justin from United States
Lots of surveys to do and they pay more per survey than most sites. You probably won't qualify for most surveys but you get 5 cents for trying which adds up. Some of the complaints on here are due to people who don't take 2 minutes to read how the site works, a example would be "I hope to get a $10 amazon gift card" the site clearly says you need $25 to redeem when you first join.

There is a place to send email to Customer Service if you have a problem with a survey giving credit.
Someone said 90% of surveys don't credit, that's not true it's only occasionally a survey doesn't credit and a lot of the time you'll get the points if you send CS a email.
"I usually make 200 pts in 12 minutes each day" so you're getting $10 a hour and are complaining about it? That's better than every other survey site I've tried. Most pay .50 for a 20 min survey or $1 for a 40+ minute survey and you get nothing if you don't qualify.
April 27, 2016 by Gina from United States
Univox is the BEST company to do surveys for! The surveys are for more points than other panels. They have 3 different choices of payouts, which are Amazon and Virtual Visa Card and Paypal. They pay within 2 weeks of redemption, which is quick, but they have made major improvements and payout is within a day or 2. They are making good progress on addressing any complaints or problems, through Shout Box, which is live. They even have daily and weekly contests, which are great. It feels like you are part of a family when you join Univox. Would definitely recommend.

Univox Community responded to this review on September 27, 2016
Hello Gina,
We appreciate your feedback. In case if you have any questions, we would request you to please drop us an email at
[email protected]
or you can call us at 1-866-344-7832 between 8:30AM-6:00PM. We'll be more than happy to help you.
Thanks
Nitika
Team Univox
» Return to: TOP RATED SURVEY SITES
---
Popular Topics
Top Survey Sites of 2022
---
Highest User Rated Survey Sites
---
Survey Sites That Pay Instantly
---
Get $100 Free PayPal Payments
---
9 Product Testing Job Websites
---
12 Online Surveys That Pay Cash
---
How to Earn Free Uber Gift Cards
---
14 Ways to Get Free Amazon Gift Cards
---
Best Paid Focus Groups
---
How to Get a Free Visa Gift Card
---
Ways to Get Free Xbox Gift Cards
---
Featured Advertisers: