Univox Community Reviews and Features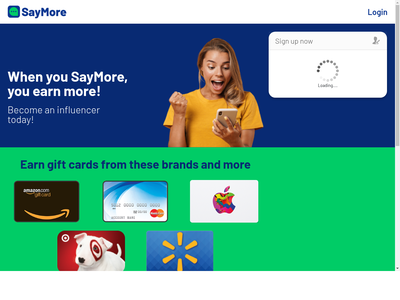 Univox Community
103-3015 Dunes West Blvd, Mt. Pleasant, SC 29466 US
Tel: 1-866-344-7832 Contact: http://univoxcommunity.com/Page/ContactUs
Operated by: Market Cube
Quick Overview:
Rewards Offered: Cash paid via PayPal Amazon gift cards Reward Link Prepaid debit or credit cards
Member Opportunities: Online surveys Mobile app Refer-a-friend program
Redeeming Rewards: Minimum account balance of 2500 points ($25) required to request rewards.
Similar Panels: Opini, Tellwut

Join and Get $2
By joining Univox Community, your account will automatically be credited with points worth $2 as a welcome to the community.
Choose From 4 Great Reward Options
Every time you complete a survey, you will earn reward points. Every 100 points equates to $1.00. With 2500 points in your account, you will be eligible to request a $25.00 cash payment or e-gift card. Univox currently offers its members three ways to request their earnings:
PayPal - receive a $25 cash Paypal payment directly to your account
Amazon e-gift card - opt to receive a $25 Amazon.com e-gift card
Virtual Mastercard - request a virtual Mastercard rewards card which is accepted at any online merchant who accepts Mastercard payments.
Reward Links - receive a Reward Link e-gift card, which can then be turned into a gift card from dozens of your favorite stores.
Visit Univox Community's website

›
Get Rewarded, Even When You're Disqualified!
If you attempt to complete a survey but are unable to (i.e. you get disqualified), your account will still be credited with 2 points if you've been disqualified because of SC drop out, the client is over quota, or the client has terminated the survey (after 10 survey attempts). In order to reduce the number of times you may be disqualified from a survey, community members are invited to participate in surveys based on their basic profile information.
Great Loyalty Program for Regular Participation
Univox has four different levels of users, each with their own point minimums for point redemptions:
Ambassador users - Redemption button is activated once 1000 points ($10) is accumulated, and redemptions start at a minimum of 1,000 points ($10) with a maximum of 10,000 points ($100).
Premium users - Redemption button is activated once 1500 points ($15) is accumulated, and redemptions start at a minimum of 1,000 points ($10) with a maximum of 10,000 points ($100).
Verified users - Redemption button is activated once 2000 points ($20) is accumulated, and redemptions start at a minimum of 1,000 points ($10) with a maximum of 10,000 points ($100).
Basic users - Redemption button is activated once 2500 points ($25) is accumulated, and redemptions start at a minimum of 1,000 points ($10) with a maximum of 10,000 points ($100).
Visit Univox Community's website

›
A Large Community, and Growing!
Univox Community currently has over 3 million members, and is growing every day. The site also features an online forum which features community news, regular contest announcements, and more. Via the online forum, members can participate in group discussions. Members can also chat with other members and with customer support via Shoutmix, a live chat system.
Refer Friends and Family and Earn Additional Points
Each time you refer someone to Univox Community, you will earn 100 points ($1.00) per signup once they've made 10 survey attempts or have fully completed their first survey. You may refer up to 5 friends.
Download the App!
Univox is now mobile! Download their app, available on iOS and Android, and take surveys on the go. Allow for push notifications and you'll know when the latest survey arrives!
Eligibility: Worldwide, 18+
---
August 11, 2014 by Carole from United States
I have cashed out with them once in the past even though you never, never qualify for surveys. I earned my 2500 points by earning 5 points at a time from disqualifications. I just wanted to reach my goal again, cash out and never bother with them again. I requested a payout June 3rd, Their information says 2 weeks for payout. I contacted them a month after and got a reply I would get my payment ( Amazon code) next week. I am still waiting and they are not replying to me anymore and it looks like this is the general consensus based on the comments on their Facebook page.
July 17, 2014 by cndy from United States
I cashed out my points for a amazon 06/20/2014 and still have not received it. I sent many emails, one was answered over a week ago and it stated I would get it that week. Well I'm still waiting for my amazon or a response to my last 2-3 emails!
April 21, 2014 by Kimberly from United States
WORST survey company I've come across yet! They do NOT respond to communication. They do NOT credit points. They do NOT care about their members! They do NOT do anything about their surveys not crediting for over 6 months now. Go look at the comments on their fb page. It's unreal. They have no respect for members. They obviously are just getting paid by the survey companies and leaving us out in the lurch! STAY AWAY!!!
March 15, 2014 by katherine from United States
apparently, univox and safecount are the same company. I have had nothing but problems with both of them, and have yet to see a penny for my efforts. I have completed multiple surveys for them, some so long they take literally hours to complete, and even when I get a message saying that I have completed the survey, when I am redirected to safecount/univox, I am told I didn't qualify, and awarded a miserable 5 points, instead of the hundreds of points I was promised. I have tried to contact safecount many times, but months later, have yet to receive any kind of reply. I contacted univox, and got a 'we'll get back to you', but weeks later...nothing. the only reason I bother with their surveys is that I am halfway to the cashout threshold, and I didn't want all the time I have spent to be in vain, although I'm doubtful that I will get my money if I ever manage to reach the threshold. do yourself a favor and avoid this site like the plague!
January 21, 2014 by Carla from United States
I took two surveys in the last two weeks and at the end of each I got the following message, "We have noticed a discrepancy in the manner in which you have taken the Survey. You have earned 0 Univox points for your effort " This is just a way of not paying me. I contacted them twice because I have no idea what I did wrong, and still have yet to hear back.