Univox Community Reviews and Features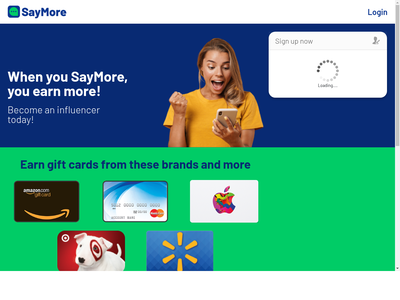 Univox Community
101 Wood Avenue South, Iselin, New Jersey 08830 US
Tel: 1-866-344-7832 Contact: http://univoxcommunity.com/Page/ContactUs
Operated by: Schlesinger Group

PAYMENTS OFFERED

Cash paid via PayPal

Amazon gift cards

Reward Link

Prepaid debit or credit cards

HOW TO PARTICIPATE

Online surveys

Mobile app

Refer-a-friend program

REDEEMING REWARDS
Minimum account balance of 2500 points ($25) required to request rewards.

Join and Get $2
By joining Univox Community, your account will automatically be credited with points worth $2 as a welcome to the community.
Choose From 4 Great Reward Options
Every time you complete a survey, you will earn reward points. Every 100 points equates to $1.00. With 2500 points in your account, you will be eligible to request a $25.00 cash payment or e-gift card. Univox currently offers its members three ways to request their earnings:
PayPal - receive a $25 cash Paypal payment directly to your account
Amazon e-gift card - opt to receive a $25 Amazon.com e-gift card
Virtual Mastercard - request a virtual Mastercard rewards card which is accepted at any online merchant who accepts Mastercard payments.
Reward Links - receive a Reward Link e-gift card, which can then be turned into a gift card from dozens of your favorite stores.
Visit Univox Community's website

›
Get Rewarded, Even When You're Disqualified!
If you attempt to complete a survey but are unable to (i.e. you get disqualified), your account will still be credited with up to 5 points if you've been disqualified because of Client Security terminate, the client is over quota, or the client has terminated the survey. In order to reduce the number of times you may be disqualified from a survey, community members are invited to participate in surveys based on their basic profile information.
Great Loyalty Program for Regular Participation
Univox has four different levels of users, each with their own point minimums for point redemptions:
Ambassador users - Redemption button is activated once 1000 points ($10) is accumulated, and redemptions start at a minimum of 1,000 points ($10) with a maximum of 10,000 points ($100).
Premium users - Redemption button is activated once 1500 points ($15) is accumulated, and redemptions start at a minimum of 1,000 points ($10) with a maximum of 10,000 points ($100).
Verified users - Redemption button is activated once 2000 points ($20) is accumulated, and redemptions start at a minimum of 1,000 points ($10) with a maximum of 10,000 points ($100).
Basic users - Redemption button is activated once 2500 points ($25) is accumulated, and redemptions start at a minimum of 1,000 points ($10) with a maximum of 10,000 points ($100).
Visit Univox Community's website

›
A Large Community, and Growing!
Univox Community currently has over 3 million members, and is growing every day. The site also features an online forum which features community news, regular contest announcements, and more. Via the online forum, members can participate in group discussions.
Refer Friends and Family and Earn Additional Points
Each time you refer someone to Univox Community, you will earn 100 points ($1.00) per signup once they've made 10 survey attempts or have fully completed their first survey. You may refer an unlimited number of friends and family members.
Download the App!
Univox is now mobile! Download their app, available on iOS and Android, and take surveys on the go. Allow for push notifications and you'll know when the latest survey arrives!
Eligibility: Worldwide, 18+
Joining Bonus! Univox is currently offering a $2 sign up bonus to new members.
» Click here to claim your bonus!
---
Univox Community Reviews (259)
1 Star Reviews (186)
71.8
November 19, 2013 by Nancy from United States
I rarely get logged in and when I do, it is through another survey company.
October 21, 2013 by Cortney from United States
I got my Amazon code today, one week after requested. I have been a long time member of this community. It is a good panel to be a part of. I have never had any issues with them. Timely payouts just as promised.
September 24, 2013 by Linda from United States
i'm a member of Univox and Safecount, both owned or managed by the same company. I've redeemed for Amazon a total of 7 times up until a couple months ago. The last was a redemption made with Safecount and I'm still waiting for it. I've gotten all redemptions from Univox but I've seen posts where people are no longer getting rewards from Univox either. I've called and emailed their corporate people who do nothing, as well as post on their Facebook page. They claim there's been user fraud on their site and they're not fulfilling redemptions til they get that straightened out. I say they are the ones committing fraud. They are taking the points out of our accounts but NOT sending us the Amazon codes.The woman who answered the phone tried to convince me that what I was getting for my 2500 points was a contest entry for Amazon. OH PLEASE....what a totally misinformed employee. I told her there was no way I'd pay what amounts to $25 for any contest entry. Someone told me that new management started with them a while back and it seems to coincide with all these problems. Whatever you do, if you haven't already, DON'T JOIN THIS PANEL!! It's a total mess. By the way, the site is still online. Someone else posted it had been removed or was gone. It is not gone and they still manage to send me tons of surveys even though they can't send my Amazon. Good luck to everyone else who may be in the same position with these jerks.
Univox seem to be cyber criminals
August 23, 2013 by Arnold from United States
I redeemed 2500 points on August 1 and even now my profile shows that I made a redemption. However, they have NEVER sent me the $25 Amazon.com certificate and have not replied to my complaints. This is an Indian company having no US office. Univox is represented by Market Cube, which seems to have US offices. I also sent complaints to the administrative contact I found on whois.com. Both companies have the same contact person.
I filed a formal complaint with the law enforcement authorities (computer crime) in the US.
Has anyone experienced similar trouble with this company ? This is certainly a website to avoid. Why spend your time filling out surveys and when you have enough points for a reward, you won't get anything ? Ugly theft !
Not the best one out there
July 29, 2013 by Chris from United States
I have cashed out twice from Univox and never had a problem. However, it does take a while to get to the cashout amount. I am disqualified from a big chunk of the surveys either up front or get most of the way through one and then it happens. I have completed one now and again that I don't get credit for and customer service has given me credit for them or partial credit. I would use a better survey site.
» Return to: TOP RATED SURVEY SITES
---
Popular Topics
Top Survey Sites of 2021
---
Highest User Rated Survey Sites
---
Survey Sites That Pay Instantly
---
Survey Sites with Low Cash Outs
---
9 Product Testing Job Websites
---
12 Online Surveys That Pay Cash
---
How to Earn Free Uber Gift Cards
---
14 Ways to Get Free Amazon Gift Cards
---
Best Paid Focus Groups
---
How to Get a Free Visa Gift Card
---
Ways to Get Free Xbox Gift Cards
---
Featured Advertisers: