Xcel-Online Surveys Reviews and Features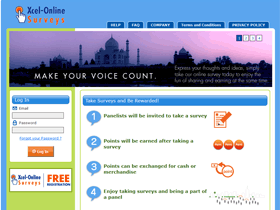 Xcel-Online Surveys
16, LGF, Sant Nagar, New Delhi, 110065 IN
Tel: +91 11 42343500 Contact: https://community.xcel-onlinesurveys.com/inquiry/
Operated by: Market Xcel Data Matrix
Quick Overview:
Rewards Offered: Cash paid via check
Member Opportunities: Online surveys Mobile surveys Telephone surveys Teen surveys Refer-a-friend program
Redeeming Rewards: 325-point (325 INR) minimum account balance required before being able to request a check.
Similar Panels: Panel Champ, MobileXpression
Xcel-Online Surveys is a part of Market Excel Data Matrix PVT LTD. Market Xcel is an organization that provides customized solutions in the field of research. It was established in the year of 2000, and since then it has been serving clients from various industries. Take surveys on a variety of different topics, and when your account reaches enough points, you can receive cash and merchandise. The amount of points you receive for every survey completion will vary, but will range from 5-200 points each. A reward point is equivalent to INR 1.
Sign up to Receive Surveys
Once you sign up, surveys will be emailed to you. Occasionally, you'll receive surveys via SMS or phone. Other members of your household can also participate, so long as they have their own email and unique name.
Take Surveys, Get Points
The reward points for each survey will vary depending on the topic and the content of the survey. These can vary from 5-200 points and can be even more. in some special cases. Currently, 1 reward point is equivalent to INR 1. Points will be clearly outlined before you start the survey. After completion, points will be credited to your account 4-6 weeks after the survey closes.
Redemption
You may request a payment once you have reached a minimum of 325 points (325 INR). Redemption is via check and TDS will be deducted as per the Government of India rules.
Referral Program
You can invite friends to Xcel-Online Surveys and get compensated for doing so. Simply log into your account and navigate to the 'Invite Friends' section and follow the steps. Receive 10 reward points for every friend you refer.
Eligibility: Residents of India 13+. Members under 18 will have their points and prize money assigned to their parent/guardian.
---
100% user-friendly and easy survey site
March 31, 2019 by Sujon from Bangladesh
This survey site is very good for me. minimum withdrawal amount is 100 Rupees. this is very good.
May 15, 2018 by ARPIT from India
I Completed three surveys provided from X-Cel Online surveys, but never received points for them and most of the time x-cel survey expires very soon for example if on mail I received survey @ 05:00 AM and I checked the mail @ 09:00 AM and clicked on survey link on new window a popup message displayed " Sorry, this survey has expired" I send him lot's of mail to report this issue but they never replied and I also send him Screenshot of my X-Cel survey profile that I've completed 3 surveys but i did't received any points for it but they are deaf and dumb X-Cel survey support are not answering.
I Hate X-Cel Survey, Its a bad survey site don't sign up for X-Cel survey.
Good survey site but very late payments
September 13, 2017 by dhruv from India
After 8 weeks i received my reward instead of the mentioned 4-6 weeks. The frequency of surveys is good but payment period is not what is written on the site. And the support does not answer any query.
April 20, 2019 by Sadiya from India
There is no response for any complaints which I made till date... My money voucher is still pending so many money around 400rs to 500rs...worst support team
January 29, 2017 by AARTI from India
I have been a regular survey take for this website, i have redeemed my points on 05/11/2016 - but still have to receive the reward voucher in exchange of points. The company does not reply to the emails and online help queries. Not sure if they are really reading the emails or willing to be true and genuine. In past also they have redeemed very late. Fail to understand the functioning of the Website.Would appreciate if the Management gives a sincere thought to the inconvenience being caused to the panelists and members.