YouGov Reviews and Features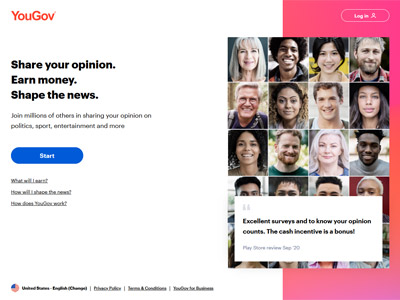 YouGov
50 Featherstone Street, London, EC1Y 8RT GB
Tel: +44 (0)20 7012 6000 Contact: https://today.yougov.com/about/contact-us/
Operated by: YouGov

PAYMENTS OFFERED

Cash paid via PayPal

Cash paid via bank transfer

Amazon gift cards

Best Buy gift cards

Apple gift cards

Target gift cards

Walmart gift cards

Merchandise

Movie vouchers

Restaurant gift cards

Retail e-vouchers

Donations to charity

Sweepstakes entries

HOW TO PARTICIPATE

Online surveys

Product testing

Mobile surveys

Mobile app

Daily surveys

Business surveys

IT surveys

Teen surveys

Refer-a-friend program

REDEEMING REWARDS
Rewards vary country to country. Minimum 35,000 points ($15 worth) required to request rewards in the USA. In the UK, a £50 minimum account balance is required.
YouGov is one of the world's leading research companies, with an impressive 6 million members worldwide. They publish a number of syndicated reports, such as the annual Global Survey of Wealth & Affluence, which provide comprehensive market intelligence on a range of industry sectors. The results of their research is frequently featured in the media.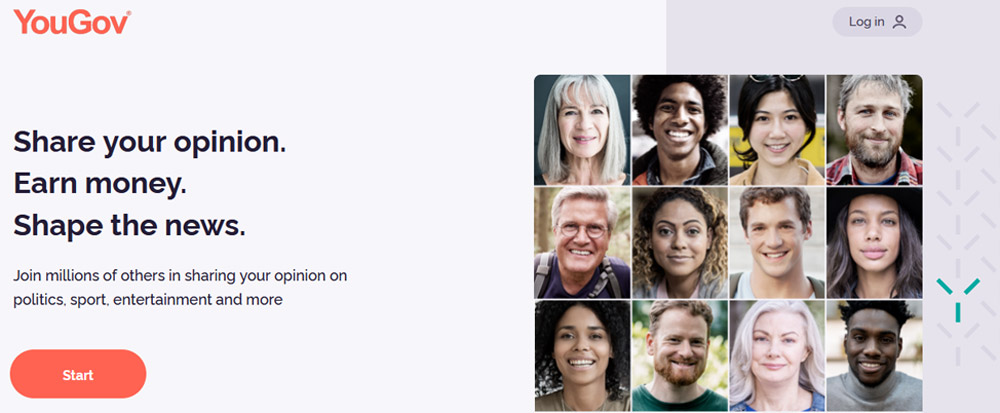 Create a YouGov account in minutes
To join YouGov, simply enter your email address and desired password on the sign up screen on the website. You'll be sent a verification email containing a code to confirm your email address, then voilà. You're ready to go.
Start Taking Surveys
YouGov will email you when a new survey becomes available. You can expect to receive 5-7 new opportunities per week and you'll earn points for each paid survey completed.
Convert Your Points Into Rewards
Once you've earned enough points, you'll be able to convert these into rewards including cash, gift cards and more.

Sign Up Bonus!
Join YouGov online panel and get rewarded for participating in online surveys and focus group opportunities. As a sign up bonus, you will get your first 500 points for creating your account and confirming your e-mail address. You'll earn an additional 2000 points for filling out the very short welcome survey that takes approximately 3 minutes to complete.
Compensation Per Survey
Most online surveys will award between 300-500 points; the longer the survey, generally, the more points that are awarded. 1,400 points equates to $1.00. Reward redemptions are for gift cards but vary from country to country. In the USA, the minimum is 35,000, which equates to a $15 gift card. The first survey available to you after registering is worth 2,000 points, which will help you on your way to obtaining your first reward.
Points Value 30,000 points = $25.00, therefore 100 points = approximately $0.08. Points increase in value if saved for bigger rewards, as 100,000 points = $100.
Reward Options
YouGov surveys offers a variety of redemption options for members, and these options vary from country to country. Cash payments awarded via PayPal are a way to earn money in some countries, and gift cards are available in most countries. Retailers include Amazon, Best Buy, Apple, Walmart, and more. YouGov branded merchandise is also available.
PayPal payments - receive a $25 PayPal payment by redeeming 30,000 points. Receive a $50 payment by exchanging 55,000 points or a $100 payment for 100,000 points.
Amazon gift cards - receive a $25 Amazon gift card in exchange for 30,000 points. A $50 gift card = 55,000 points, and a $100 Amazon card = 100,000 points.
Additional rewards - Visa pre-paid cards, bank transfers, additional gift card options and merchandise available on a per-country basis.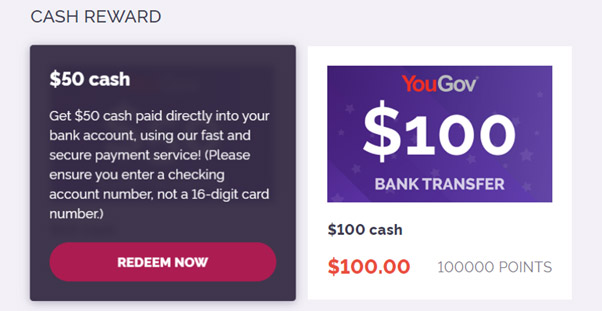 Rewards Delivery
Cash rewards are issued within 1-3 working days. Gift card rewards take approximately 2-3 weeks to receive after redemption. Gift cards are physically mailed.
Visit YouGov's website

›
Survey Lengths
The length of each online survey varies, but most are between 5-15 minutes long. Surveys are rarely longer than 20 minutes, as this is considered a maximum. YouGov offers paid surveys quite frequently compared to other similar sites. You will receive an email every time a new survey is available. It can be different from country to country, but on average you can expect 5-7 surveys a week.
A big plus for YouGov is that they almost never send you a link to a survey that you then do not qualify for. If you are screened out, you are likely to be matched with another survey.
Survey Topics
As with any paid survey site, YouGov's survey topics can vary, however most of the time, they frequently about politics, as YouGov's surveys and political polling results are frequently published in the media. Surveys may also be about consumption habits, your social attitudes, what you think of things happening in the news, and so on.
See the Opinions of Others
YouGov offers the chance for you to see what your answers in surveys are used for. About once a month, they send out a newsletter, where they link to some of the national and international stories where their survey results have been featured. You can also find this information on their website if you choose not to receive their newsletters. This gives you the ability to find out where your opinions stand in relation to the greater YouGov surveys community!

Download the YouGov App
YouGov has a mobile surveys app that has been downloaded over one million times and is available on both iOS and Android. Download the app to take paid surveys on the go, check your points balance and to redeem rewards. Stay up to date on the latest survey releases by activating push notifications that will come to your mobile first!
YouGov Lottery
In some countries, YouGov surveys offers a lottery, and you can use your points in exchange for chances to win. The prizes you can win in the lottery can be big!
Refer Friends, Earn Money
In some countries, YouGov provides you the opportunity to earn points for every friend you refer to their site using your unique link. Once a friend has signed up and completed 6 surveys on YouGov, you will receive 200 points credited to your account.
If you're an experienced affiliate marketer, you can earn up to $3 per lead if you apply for YouGov's affiliate program.
Share Your Opinions!
The 'Opinions' feature of the YouGov surveys website lets you share your opinion on the topics that interest you most. When you do, other members will be able to comment and vote in a poll whether they disagree or agree.
What's more, you can browse other people's opinions and respond and vote on them in this polling section.
Visit the YouGov surveys website

›

Is YouGov Legit?
YouGov is absolutely legitimate and has been in business for over 20 years. They run a high-quality online survey panel that conducts thousands of surveys yearly and is frequently featured in the media. The YouGov survey site is legit, not a scam, and is a great and safe way to voice your opinions and participate in quality research.
As with any survey site, member experiences may vary, so before joining, it's advisable to read the YouGov survey reviews below, so that expectations are met.
Eligibility: Available in select countries. Must be age 14+ in USA to join, 16+ in UK to join.
Joining Bonus! YouGov is currently offering a 500 point bonus to new members plus an additional 2000 points for completing the profile survey. » Click here to claim your bonus!
---
5 Star Reviews (116)
33.2
September 8, 2016 by Rose from Australia
This company expects people to wait 20 days for the Paypal rewards they have earned. Other companies pay this reward instantly. I have waited twenty working days for reward to be paid and it still hasn't. I have tried to contact the company but they have not responded to my emails. The company has finally responded and stated that because they have had a large number claims processing will be delayed but they hope to have claims processed by Sep 23. Relieve this company's workload by not joining the panel.
April 18, 2016 by Johan from United States
they do not pay, I make a request on February 26th but until now they not send me the money and not answer my questions.
January 3, 2016 by peter from United Kingdom
I am a member of a number of survey panels and this is far and away the worst. Very poor rewards for example watch a video for one hour then answer questions for 10-15 mins reward £1 about 20 or 25% of other panels. When you get near to receiving a reward survey results dry up. "Technical Problems " Only occur after they have answered most of the questions but before you receive a reward in other words they get the answers you get nothing.
I don't gamble in real life....why should I here?
March 9, 2015 by Mark from United Kingdom
I've been on YouGov for a while now and am getting increasingly frustrated.

Firstly, there are far too many market research polls (I didn't join a political polling company to answer questions about sausages.....

But, my main beef (pun intended) is that far too many of the polls these days don't give you a points reward (which add up to cash once you've done enough polls), but, instead, an "entry into their sweepstakes".

I am opposed to gambling and do not gamble in real life - why should I do so here?
October 29, 2014 by patricia from United States
Well to be quite honest I refuse to be on a survey panel . that refuses to return emails from their panelists. And Mrs. Kelly is dishonest. She told me she would pay me this week , sure it was only 10.00 but that's just it its the point. Of being lied too. Im sure my friends over at survey police will be glad to read my new review on YOUGOV.So keep your 10.00 and kiss off.
» Return to: TOP RATED SURVEY SITES
---
Popular Topics
Top Survey Sites of 2022
---
Highest User Rated Survey Sites
---
Survey Sites That Pay Instantly
---
Get $100 Free PayPal Payments
---
9 Product Testing Job Websites
---
12 Online Surveys That Pay Cash
---
How to Earn Free Uber Gift Cards
---
14 Ways to Get Free Amazon Gift Cards
---
Best Paid Focus Groups
---
How to Get a Free Visa Gift Card
---
Ways to Get Free Xbox Gift Cards
---
Featured Advertisers: