Over the past few months, you may have noticed that SurveyPolice has slowly been undergoing some design changes. Bit by bit we're upgrading the website, and today we launched our new design for survey panel listings!
New graphical representations of reviews
The information presented for survey panels on SurveyPolice is generally pretty comprehensive, but we did want to provide more data pertaining to user reviews. To address this, all panels now display a reviews distribution bar graph which displays how many 5, 4, 3, 2, and 1 star reviews there are for a panel in total. The chart also shows what percentage of users have left a review pertaining to the respective number of stars.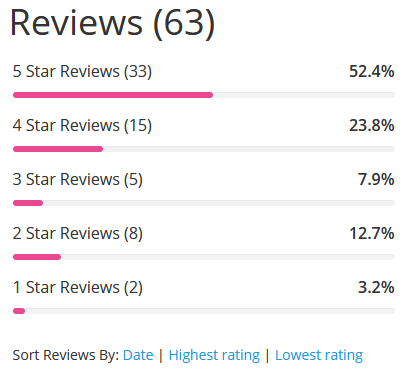 This panel for instance has 63 reviews with 33 of them, or 52.4% of reviewers assigning a 5 star review. Only 2 reviewers left 1 star reviews. Note that in order to simply things, because we permit users to leave half star reviews, half stars are included in these totals. 4.5-5 stars are grouped together, as are 3.5-4 stars, etc.
Easier on the eyes, and on mobile!
Our new survey panel listings have better mobile compatibility, are organized more cleanly, and have been updated with a more modern look. We're constantly updating survey panel listings to ensure that they're current and accurate, though you may notice an influx of information being added to panels over the coming weeks.
Reward counts


Listings also now display the number of rewards a panel offers. A quick glance at this number will immediately give you a sense of whether a survey site offers a rewards catalog, or if they stick to only one or two types of reward options. Click the text link that says 'Rewards' to be shown the actual list of the types of rewards the panel offers.
We hope you find these updates useful. Let us know what you think in the comments below!
» Check out the new survey panel listings