This isn't your typical run-of-the mill guide on finding the best survey sites which just features a big, long list of survey panels you should join. You won't find anything else like this guide online, as we're experts in the field of surveys.
How? SurveyPolice has existed for over 15 years, and as the world largest dedicated reviews site for online surveys, we know paid surveys.
With minimal effort, we can help you find the best paid surveys that work for you – and not anyone else. We'll cover the following topis:
In this in-depth guide, we'll not only provide some recommendations, but we'll also divulge how you can truly find the best possible survey programs that will work for you and why.
How to Find the Best Survey Sites
When you're looking for the best paid survey sites to make money or earn free gift cards, the #1 thing to keep in mind is that surveys are not a one-size-fits-all type of endeavor. The truth is: certain survey sites work better for certain types of people.
Depending on your location, your purchasing habits, your age and other factors, a survey program that is a top choice for one person, may only yield mediocre results for you (more about this below).
Having said that, there are still some universal 'secrets' that exist for finding the best possible survey sites for everyone to make money – no matter what your background is and what kind of survey taking you're looking to do.
Secret 1:

Find survey sites that are based in your home country

If you live in the USA, this is easy; some of the biggest market research companies in the world operate out of the US, so finding a US-based survey panel is extremely easy. If you live in South Africa on the other hand, this might be trickier.
Why care where a survey site operates out of?
more survey opportunities in your country
higher chances to be selected for product tests, focus groups, etc.
easier to contact technical support
special cash out options may be available for your country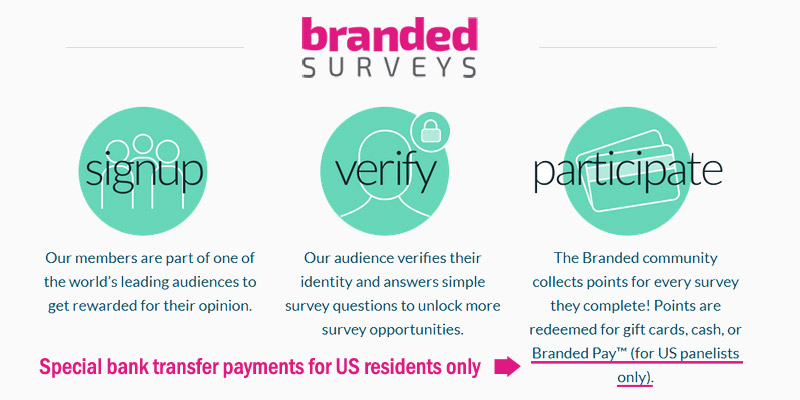 The country a company is headquartered in knows that country better than any other; where a person lives or a company is located, gives them local knowledge, expertise and contacts.
Headquarters of major survey sites
Although we don't currently have an easy way to search SurveyPolice based on where a survey company is physically located, here is a quick cheat sheet that shows where some major survey panels are based out of.
In the USA (California is a hot spot!):
| | | | |
| --- | --- | --- | --- |
| Survey Site | Headquarters | Features | Signup |
| | San Diego, CA | $1 joining bonus, cash for surveys | |
| | Glendale, CA | Easy surveys, low cashout | |
| | El Segundo, CA | $5 joining bonus, various ways to earn | |
| | New York, NY | High average payout of $3 per survey | |
| | Brooklyn, NY | Studies pay $50+ (though are hard to qualify for) | |
| | Calabasas, CA | $5 joining bonus, interactive experience | |
All the sites listed above offer the opportunity to make money in various forms, including PayPal cash payments as well as via gift cards.
Worldwide:
If you can't find a panel located in your country, the next best thing is to find a survey panel that either specifically advertises that they are in need of survey takers from your country, or they already have a lot of existing members in your country. You can find the top paid survey sites here.
For example: If a panel already has tens of thousands of users in a country, it will be easier for them to conduct research there. If a client is looking to survey 800 IT specialists in the UK and a panel has 200k users to choose from, the research company can likely find people to take such a survey. If the panel only has 10k total users, it simply won't be possible.
Case in point: PaidViewpoint is the highest rated survey site on SurveyPolice; survey takers love them, as they have held this position for years and offer cash instead of points for participating. However, if you're from India, you won't receive nearly as many opportunities to take paid surveys as someone in the United States or Canada.
Although PaidViewpoint allows users from India (and in any country around the world) to sign up with their site, and they do occasionally provide surveys for money to non-Western countries, reaching the $15 rewards threshold minimum may prove to be a challenging amount of money for people living in certain parts of the world to earn.
Insider tip: If you really want to get the scoop on how many survey takers a site has in your country, visit the survey panel's parent company website and look for what's called a 'panel book'. This is the standard term for what is basically a summary of how many users a survey site has in every country, including their demographics! The more common your demographic, unfortunately, the less likely it is for you to be chosen for studies.
Secret 2:

Join survey panels that give signup bonuses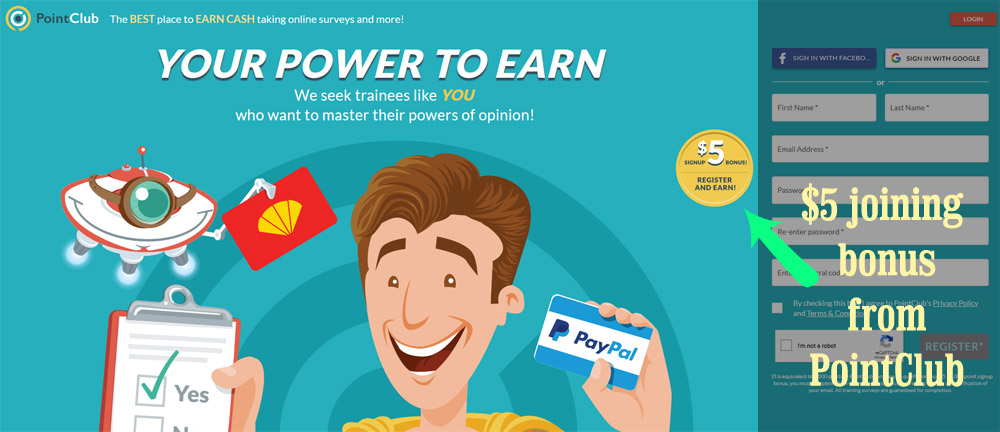 This is a great way to test the waters while narrowing down which are the best survey sites for you. Sign up bonuses with some of the best survey sites can be as high as 30%, making your first cash out faster to reach. Not only will you have to take fewer surveys in order to earn your first cash out, but you'll have the added benefit of assessing what a panel's cash out process is like.
If you find that your first cash out is easy to attain (especially with the signup bonus) and requesting payment is easy and seamless, you've found a winner!
The following survey sites offer bonuses for signing up:
You can find a full list, including the bonus amounts expressed as a percentage of minimum cash outs here: Survey sites that pay sign up bonuses
Secret 3:

Find opportunities that work for you

We're referring to a couple of different things here.

First off, online surveys are great, but some of the best survey sites also offer product testing opportunities, focus groups, video surveys and more. If you're invited to participate in one of these types of studies, be sure to jump on it, as the money you earn from these can be quite generous!
Product testing involves receiving a product in the mail to test from your home. You'll get to keep the product or you'll be paid to test it.
Focus groups can be held in-person or online. They can pay anywhere from $20-$250.
Video surveys are surveys that are held using software similar to Zoom or Skype. They can pay anywhere from $5-$50.
Music surveys are questionnaires about your musical preferences and familiarity with songs played on the radio. Panel Champ offers these, and they pay up to $90 per study.
Second, if a survey panel offers the ability to sort the paid surveys it has on offer, do so! You can use the sort feature by length of survey (long/short), reward offered (low/high), and sometimes by popularity.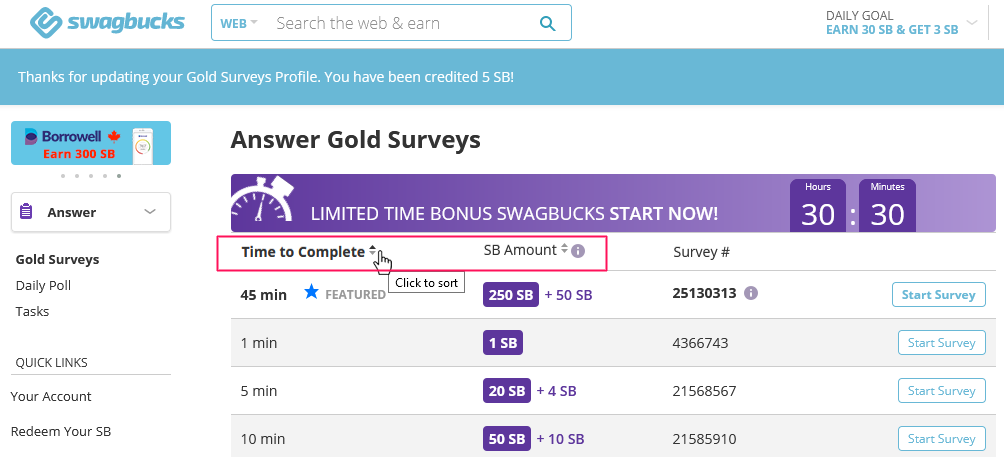 The screenshot above was taken from Swagbucks. On Swagbucks, you use the sorting function to order rows by shortest surveys to longest, and by SB amount (SB's are points redeemable for cash and prizes on Swagbucks).
If you don't have a lot of time: pick surveys that offer a small points reward but are also short. Even if a reward seems a bit lower than you expect, low rewarding surveys can work well when you don't have a lot of time and want to minimize your chances of being disqualified.
If you have more time: don't bother with the shorter surveys. Pick the longer studies that although might be more difficult to qualify for, will pay better than shorter ones.
Secret 4:

Refer your friends to legitimate survey sites

You might wonder what referring friends has to do with finding the best survey sites, but the two are linked; if you are able to refer friends to survey programs via word-of-mouth, your social media accounts, etc. you will be able to reach your cash out goals sooner on the sites you're already a member of, helping you make extra money.

Some survey referral programs pay a one-time referral commission of $0.25-$5.00, while others will give you the ability to earn 10-30% of your referral's earnings for life.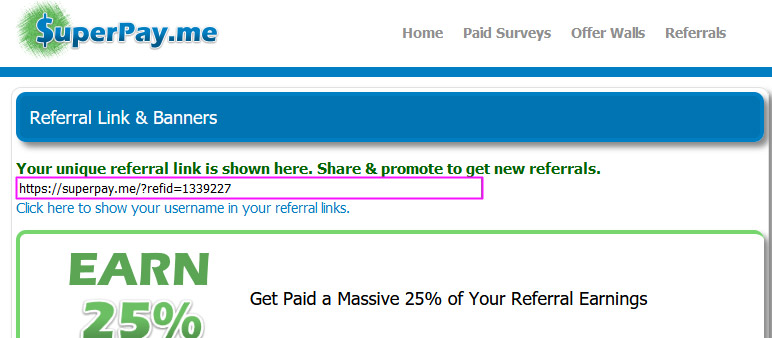 Whether you have a large extended family, a social media following, or just a few friends who are interested in making money online, your personal network can be great at helping you make money online. If this is the case for you, be sure you're joining online survey sites where you can earn money or points for referring others.
Therefore, if you have the ability to recruit others to take surveys, ensure you join programs that have a referral program. Otherwise, if you make a recommendation to a friend, you won't get paid for doing so.
Some of the best survey referral programs (in terms of generosity) are:
You can find a full list of the best survey referral programs here.
How it works: To refer friends, simply log in to your survey panel account, and look for a link that says something like, 'refer a friend', 'invite a friend', 'referral program'. There, you will find your personalized referral link that will be linked to your profile and will credit your survey account when someone signs up using your URL.
At any time, you can log into your account to see how many people you've referred, and if applicable, how much you have made in money or points from that user. This is a powerful and great way to boost your cash earnings from your membership, especially if you are able to refer people who are highly engaged with the paid survey site.
Secret 5:

Use survey apps whenever possible

A survey app is basically a version of a survey site's platform that is downloadable on your phone. By using such an app on your mobile device, you can check your account balance, request rewards, but most importantly, you can get notified of new surveys, as soon as they become available.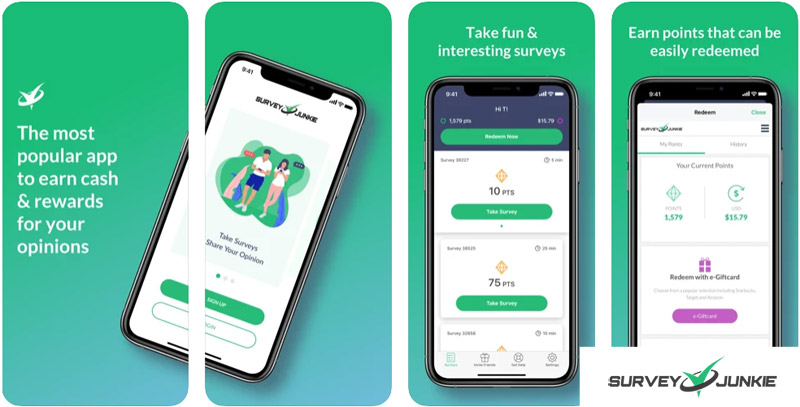 This is a huge advantage over waiting for a survey e-mail to come in and is one of the quickest ways you can make more money. Here's why you should download a survey website's app if they have one:
You'll receive push notifications of new surveys to complete (making you first in line to take them, thus reducing the chance of being disqualified)
You're more likely to complete surveys on your phone in your spare time (think about the time you already spend on your device)
If you get notified of short surveys or a quick poll directly on your phone, this may be the only way you'll actually participate in these types questionnaires
Keep a pulse on your survey taking by having access to your surveys account at your fingertips
Some of the best paid survey sites offer survey apps on Google Play and the Apple Store, so if you have a cell phone and can download apps, you should do so.
Here's a short list of paid survey sites who offer a free surveys app:
Bonus Secret:

A case study in survey success

With the help of this surveys guide, we know that by signing up with safe, legitimate survey sites that are well reviewed and are preferably located in our home country, we have the highest chance of being successful at taking surveys. But even by following these tips, some people get better surveys than others.

Let's take a look at two people who have signed up for the same survey sites, but one person is receiving additional higher paid surveys than the other person.
Bob from Utah, USA
Bob is 36 years old, owns his home and is married with 2 children
His household income is $120,000
He buys a new car ever 3 years
He likes cutting-edge technology and loves apps
Types of surveys Bob will qualify for: surveys about children, surveys about home ownership, surveys about buying new vehicles, technology-related surveys, surveys for high income earners.
Matilda from London, England
Matilda is 23 years old and single
Her household income is £15,000 (around $20,000 USD)
She is finished school, but has graduated with £35,000 in loans
Due to her student loans and low salary, Matilda severely limits her spending and only spends money when she needs to
Types of surveys Matilda will qualify for: surveys gauging attitudes of young people, academic research studies, government-commissioned studies.
Based on the information above, who do you think will qualify for more paid online surveys? Bob or Matilda?
If you picked Bob, you would be correct! Bob is the head of a household that has 2 children (children need goods too!), he and his wife earn a lot of money (120k total), he regularly purchases new vehicles (a high value item) and is a technology enthusiast (aka a buyer of consumer discretionary items).
Online paid surveys are most commonly commissioned by
for-profit companies
looking to attract new customers for their products. With this in mind, within seconds of reading about Bob and Matilda, you'll quickly see that Bob spends more money than Matilda does. The opinions of consumers like Bob is always in high demand by market research companies.
How do survey companies know about you? There are a few ways they do this. First off, they get this data from your profile information. Your profile is used to match you with more relevant surveys so that you're not being invited to complete surveys you won't qualify for (ex. ones about children if you are not a parent).
The other, more sophisticated method they use involves geo-fingerprinting. This involves being able to determine someone's basic data, based on their location.
What if you lie on surveys?
It's never a good idea to lie, and you'll get caught (sooner or later). How? Your IP address is logged when you sign into a survey site and if it doesn't match the country, city or area you say you're from, or changes all the time because you use a proxy service, that will be the first red flag.
From there, the way you answer surveys also matters. If your answers are wildly different from the way other people in your same (supposed) demographic bucket answer them, your account may be investigated. Although you might get away with lying on a few surveys, it's a short-term strategy that could ultimately result in your account being banned.
Pro Tip: Don't be fooled by 'proof' of earnings from paid survey sites
If you've been researching making money taking surveys, no doubt you've come across a payment proof from a survey site that looks similar to this: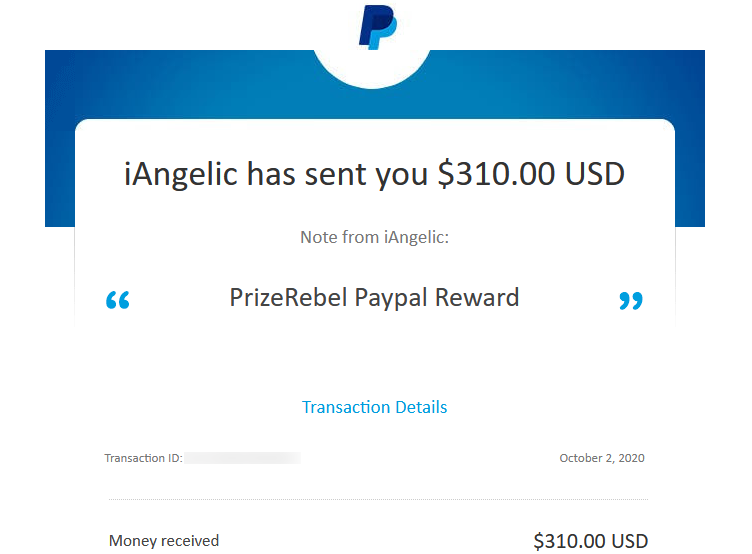 The secret to this?
Although this payment came from
PrizeRebel
, a survey site, it was mainly income earned from referral earnings and NOT from taking surveys.
Many survey companies offer referral programs where members can refer other users to their program and get paid for doing so. But when you receive a payment for these referrals, it often looks the same as it would a payment for completing surveys with the survey company.
You'll see many sites promoting surveys who use this technique, and it is misleading. Although surveys can pay well (especially for things like product tests and focus groups), most online surveys offer payments in the $0.25-$5.00 range, so receiving a payment like the one above would take quite a long time to earn.
It doesn't mean that the companies being promoted all over the internet are bad or that the cash payment above couldn't be attained by taking online surveys; just don't necessarily equate the PayPal payment screenshots you see on so-called survey review sites as ones earned solely from completing paid surveys.
Tip: Set up a few basics
Although taking surveys isn't rocket science, it's good to have a few things in place before joining online survey panels, especially if you plan on doing it seriously.
Here are some basic things to have in place before trying to find the best paying survey sites:
to stay organized, make sure you create a new email address specifically for registering with survey sites
link this email address to your PayPal account
when you complete surveys, get in the habit of keeping your own records. This will be worth its weight in gold in the event you aren't credited properly. SurveyPolice offers a free survey tracker tool you can use (or taking screenshots or using a notebook works fine too!)
Tip: Do your research into the best survey sites – properly!
You don't have to jump the gun and rush into joining any survey website. To find the best sites, and to avoid scam companies that disguise themselves as survey sites but are in fact marketing companies, ensure you do a bit of basic research:
before joining a site, make sure you read reviews for it. Don't take one person's word for it – read as many reviews from survey takers as you can for more reliable information
make sure you can find a survey site's privacy policy, terms of service and contact information before signing up with them
something amiss? If you see typos on a site, find broken links or something just doesn't 'feel' right, move on. There are hundreds of survey sites out there, so never feel like you need to join a site that seems a bit off
Spending just a few minutes on a bit of research will help keep your information safe, and will help you find the best paid survey websites that will help you make money.
Remember…
If you want to find the best paid survey sites, the first thing you need to know is that 'best' is subjective: a survey site that works great for one person might prove to be below average for another.
This is due to two main things: your goals and your demographic data.
Your goals impact which survey sites will work best for you because: if you're looking to make a bit of extra cash without dedicating a lot of time, you will find many companies that can work well for you. However, if you're looking to take this gig seriously and find a survey taking job, taking paid surveys that meet your criteria will be much more difficult.
Your demographic information will also impact your ability to be a survey junkie, as if you live in a place like Africa, you may have to be more flexible with the sites you get started with. Someone living in the USA on the other hand, can be much pickier, as Americans are always in high demand. This is an unfair aspect of online surveys sites (as if your socioeconomic status playing a part in the studies you receive), but it is the way things work.
Conclusion
Truly finding the best paid survey sites that are most complimentary for you will be different among different people. Who you are, where you're located, your socioeconomic details, and how much time you have means that online survey sites that work well for you, won't necessarily work for others.
By utilizing some of the insider tips above, such as finding companies located in your home country, learning how to sort surveys by your needs, and utilizing survey apps, you will maximize your ability to find the best paying survey sites available to you. This will increase your per hour earnings which will help you earn more money and gift cards and is what ultimately separates great survey takers from those who don't nearly as many rewards.
» Find the best rated survey sites
---
Related posts: