Paid survey apps are a great tool to help you maximize your free time by spending your few spare minutes earning extra money. It only takes a few seconds to load up these apps, find surveys to take and to start filling out your answers.
» Skip ahead to find the best survey apps
Instead of mindlessly scrolling through social media while you're standing in line or waiting for a bus, you can earn cash and rewards for answering a few questions. Utilizing the best survey apps to complete studies is much faster than logging into survey websites on your computer, as most of these apps will send out push notifications or an SMS containing a new survey, so you can immediately be made aware them and can be first in line to take the best paying ones.
A word of warning about other websites: some websites who claim to provide lists on the 'best survey apps' haven't done their research properly; they often provide a giant list of survey sites, but many of these sites don't actually offer a paid survey app!
Our list below on the other hand is accurate and completely up to date.
15 of the best paid survey apps
In this guide, you'll learn more about some of the best survey apps available to download on iOS or Android smartphones and tablets. Downloading these onto your mobile device is completely free and is arguably the simplest method of taking advantage of paid survey websites for a great option to earn easy money.
1. Survey Junkie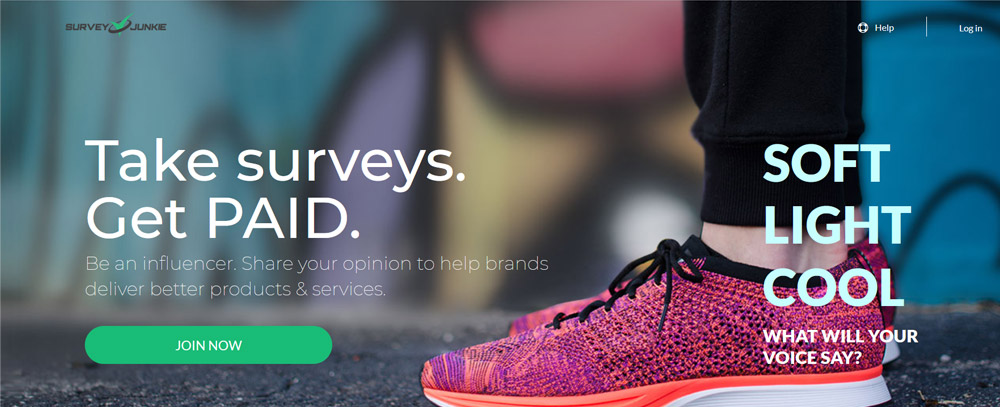 The Survey Junkie app focuses on consumers' opinions about various brands and products.
You'll earn between 10-200 points per survey completed, and these points can be exchanged for retail gift cards, PayPal payments or direct bank transfers.
You'll have to earn $10 worth of points before you can cash out, but Survey Junkie will gift you some points even if you're deemed ineligible to complete a questionnaire. Not many of the apps on this list are that generous.
You can earn points by referring friends to Survey Junkie too, so it shouldn't take too long before you've earned enough to convert your points into a reward.
2. YouGov Surveys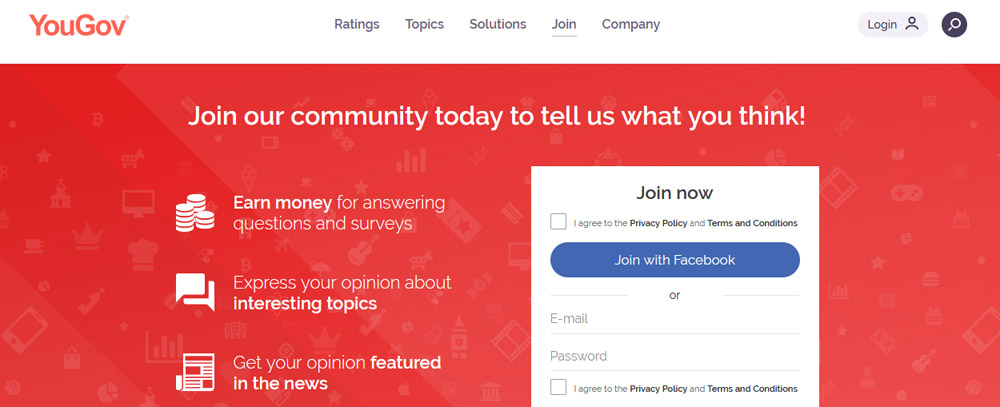 YouGov is one of the world's most popular market research companies. It's likely you've seen the results of its polls reported in the national press.
Their survey app features surveys about topical issues, such as politics or current affairs as well as the usual questions surrounding brands and products.
It'll take a while to convert your points into rewards though. You'll need to build $50 worth of points to do so, but you're likely to have a better experience with YouGov's collection of the interesting surveys available on their mobile app, than some of the other panels out there.
YouGov doesn't release as many surveys as most of the other apps on this list either, so it's only recommended if you're in the paid survey hustle for the long haul.
3. Pinecone Research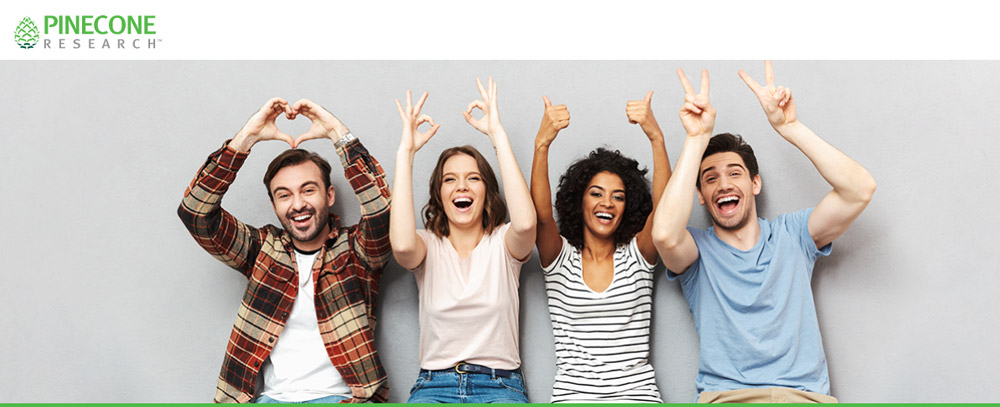 Pinecone Research is an arm of Nielsen – one of the world's most well-known market research companies.
Its app isn't as popular as its desktop website – as proven by the fact that it has only received a handful of reviews on the iOS store.
Nevertheless, this app has a tiny cashout limit (just $1), plus you might even be lucky enough to find some product testing opportunities. Pinecone has had a strong reputation among survey respondents for years, so you're likely to have a positive experience as a member.
4. LEO Surveys


The LEO Surveys app was created with integrity by Canada's largest paid survey company Leger Opinion Surveys. However, it can be accessed by smartphone users around the world and is one of the higher-rated smartphone apps on the iOS store too.
You can earn anywhere from $1 to $35 per survey depending on its length. Your points can be converted into PayPal payments, gift cards or Visa pre-paid cards. As a respondent, you can can also take fun, short polls on their site, refer friends and more.
5. Swagbucks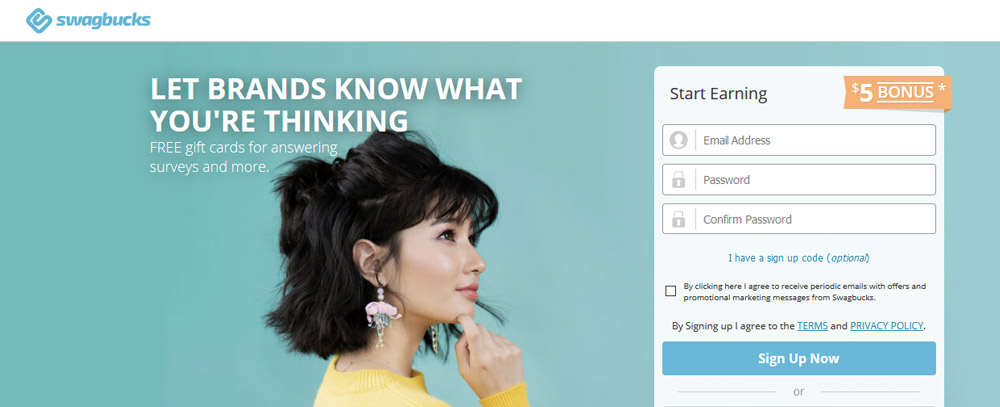 Swagbucks is a highly popular rewards website that gives its users the opportunity to earn cash and rewards for taking surveys, watching videos, doing internet searches and by earning cashback on purchases.
New users of the program will receive a $5.00 account credit, just for joining.
You can get paid to your PayPal account or earn gift cards by participating and downloading the Swagbucks app makes it easier and convenient to earn rewards faster. Coupons are also available through the app and they practically offer unlimited surveys, via the high number of providers they have listed.
6. Marketagent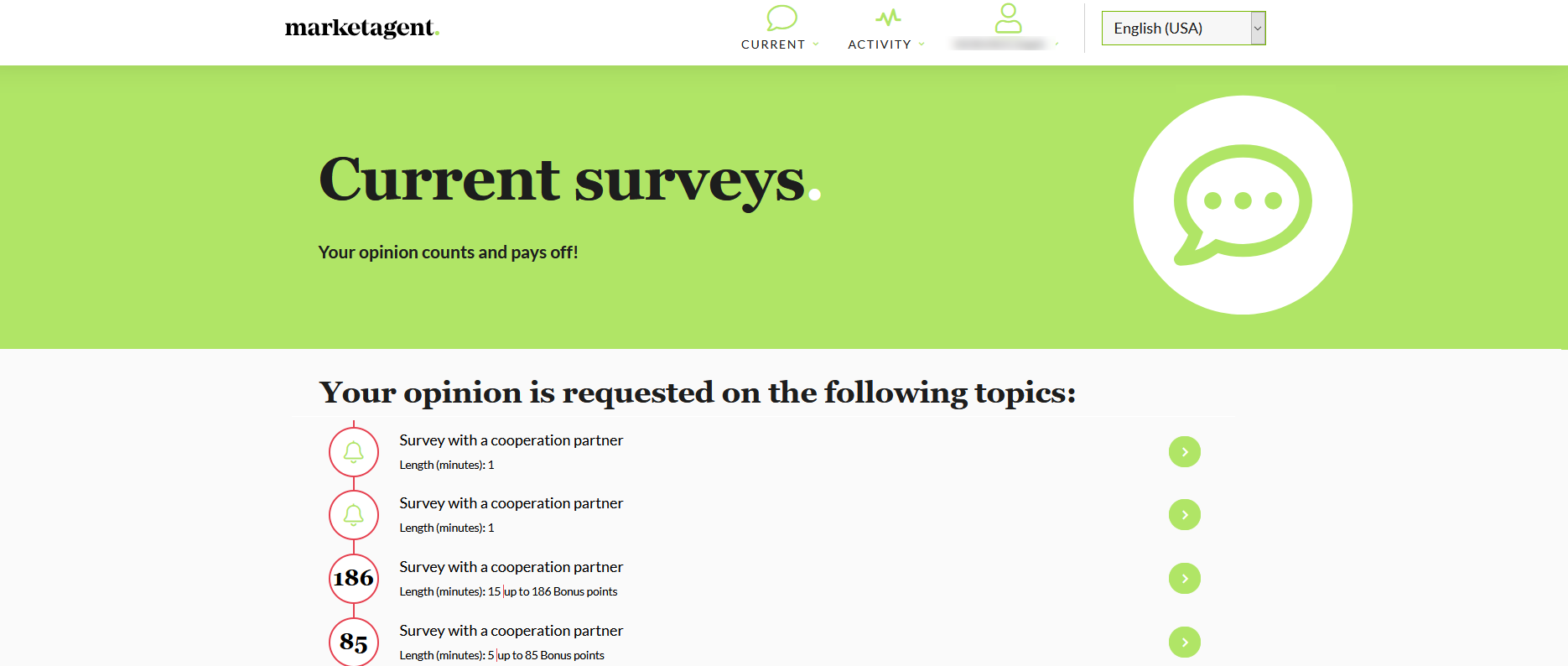 The Marketagent app is a simple way to access and take paid surveys from your phone. Enable notifications (if you wish) of new surveys as they become available, view your account history and cash out your rewards.
With just 1000 points (equivalent to $12.50) in your account, you can receive a cash payment made to your Skrill or PayPal account
New members receive a 100 point joining bonus (worth approximately $1.25).
7. Ipsos


To earn rewards using the Ipsos app, you'll need to receive an invite from its team to use them.
The best way for that to happen is to sign up for the i-Say website using your computer and begin answering surveys. Even without the app, this is a great way to earn extra cash or an Amazon gift card.
Ipsos offers 2 apps: one app for answering surveys, and another for providing qualitative feedback directly to its research team.
8. PaidViewpoint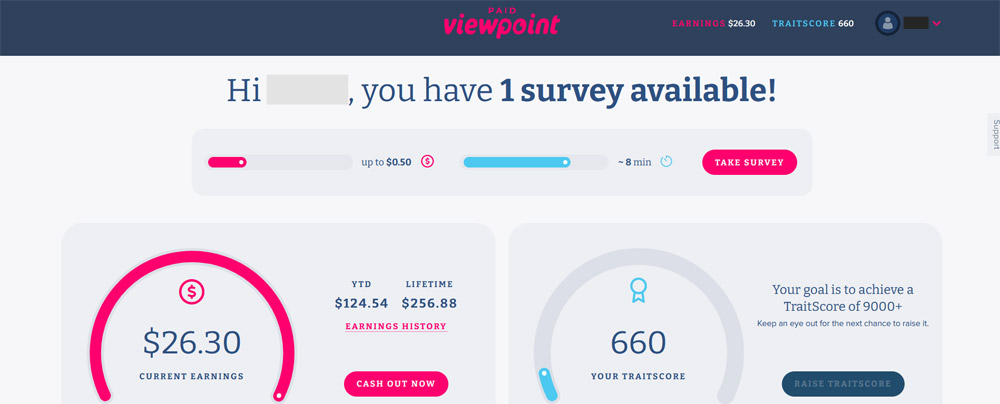 Paidviewpoint has been the #1 rated survey site in the USA on SurveyPolice for years, and we picked it as our top survey site of 2022! It is loved by survey takers around the world for its simplicity, its fairness and its trustworthiness. Their customer service is also extremely responsive. It is considered legit like almost no other site out there.
You can download their free paid survey app (available on Android only) to take surveys directly from your phone, check your account balance and cash out your balance. You can get paid via PayPal, or choose a gift voucher to Amazon or Walmart instead.
9. NCPMobile (National Consumer Panel)


The NCP app is relatively unique in that it doesn't just let you earn money by answering surveys. You can also earn cashback by scanning the barcodes of items you've bought, and answering a few questions about the product.
On top of that, you can earn money passively by agreeing to let the app monitor your internet usage (which anonymizes your data and aggregates it with others').
This app was co-created by Nielsen and IRI, and it's as fluid as you'd expect a venture from these two research giants to be.
10. MobileXpression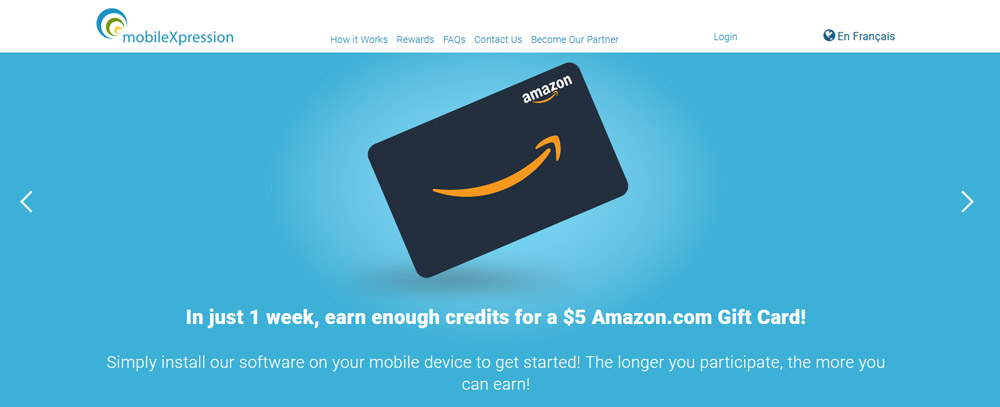 MobileXpression is primarily an app which aims to discover trends in mobile internet usage. Once you download it, it will ask permission to monitor your surfing habits, and you'll earn rewards just for agreeing to this.
The rewards available are limited to retail gift cards or charity donations, but as a welcome gift, users in the USA will receive a $5 Amazon voucher after one week of active membership. UK users will receive a £20 Amazon voucher after two weeks of active membership.
For extra points, there's the occasional survey to answer on this app too. However, most users will be happy to install this app, give it permission to track them (anonymously), and then enjoy the passive income.
11. MOBROG
MOBROG is an up-and-coming smartphone app which pays users for offering their opinions on brands and products.
As with most of the apps on this list, it will let you know how much you can earn for answering a survey before you begin. In most cases, you'll earn between $0.50 and $3.00 per completion.
You can not only use this market research app to take surveys, but also to check your account balance and request payment by PayPal.
12. Univox Community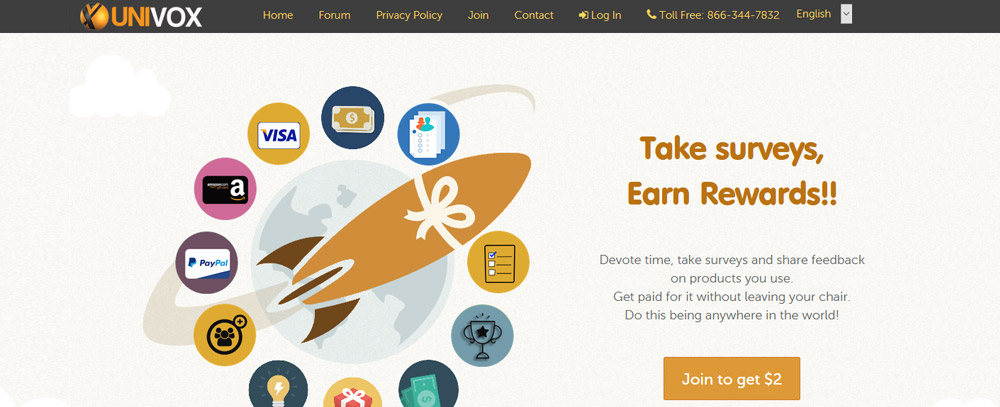 Univox is simple paid survey app that does a lot of things right. To start, earn 200 points ($2) as a welcome bonus. You'll also earn 100 points ($1) for every member you refer that takes at least 10 surveys, and there's no limit to the amount of referral bonuses you can earn.
You'll need to earn $25 worth of points before can claim a reward. However, frequent users will see this limit drop the more they use the app, allowing them to collect their earnings much sooner.
You can exchange your points for PayPal payments, Amazon gift vouchers, Tango reward cards or virtual prepaid debit cards.
14. Toluna Influencers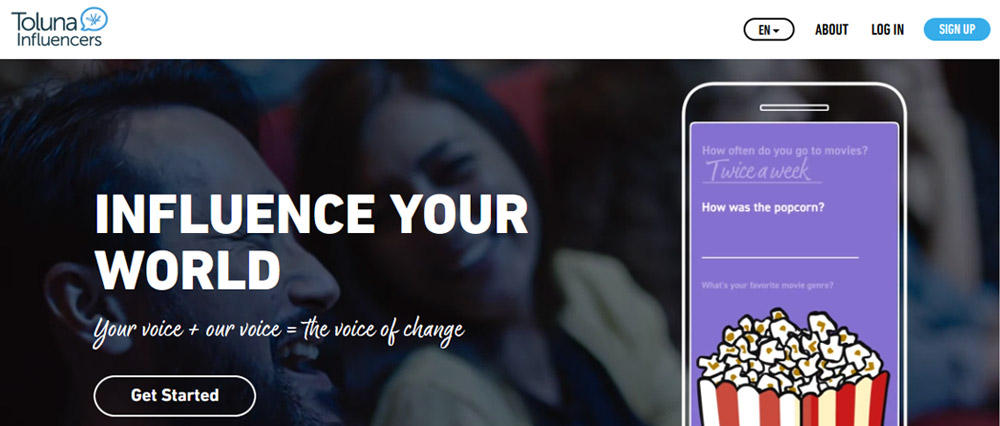 Toluna Influencers lets you convert the points you earn into gift cards or PayPal cash transfers.
It has plenty of super-quick surveys for you to answer within a couple of minutes too. It's perfect for those spare moments on the bus or while waiting for a friend to arrive.
Users report especially enjoying the community aspect of Toluna Influencers; you can discuss the results of specific surveys with other users, gaining insight into what other members think – giving it more of a community-type feel over other sites.
14. QuickThoughts
As its name implies, QuickThoughts is packed with shorter surveys. This app may pay less per survey than others on this list, but it's perfect for those who are looking for an app to fill tiny breaks throughout their day.
You can answer a maximum of five surveys per day. There are also some location-dependent activities offered up now and again. Once you've earned enough points ($10 worth), you can convert them into iTunes or Amazon vouchers.
15. MyPoints
The MyPoints app offers a wide range of ways to earn rewards, and not just by answering surveys.
Its unique selling point is arguably the huge amount of retail partners offering cashback deals through the app. Before you plan to buy anything online, have a look to see if the retailer is on MyPoints. By simply clicking through to your favorite store using the apps, you can earn 1-5% cash back on your purchase (and up to 40% in some exceptional cases!).
You'll also be given a free $10 bonus upon earning your first $20 worth of cashback in a month.