Roamler is a smartphone app, which pays you to complete mystery shopping and market research tasks in and around your city.
With this app installed, you can earn small payments in a short amount of time, just by visiting local businesses, taking a few photos and answering a few questions about them – all within the Roamler app.
How Roamler works

Download the app
Roamler is available in the UK, Germany, France, The Netherlands, Belgium, Italy, Poland, Spain, Sweden, Turkey and Chile.
Android and iOS users in these countries need only download the app onto their phone to become a 'Roamler', although they may need an invite code to get started. This is to prevent cities from being overwhelmed with Roamlers.
Note that unfortunately at this time, Roamler is not available in the USA or Canada.
Complete tasks to get paid
Once you're registered, you'll complete a few simple training tasks for free, then graduate to paid tasks.
Roamler uses GPS to track your location and show what tasks are available near you. Next to each task you'll see the reward for completing it. The more complex a task, the more you'll earn.  The majority of tasks have to be performed on the business premises, and the app will use GPS to make sure you are.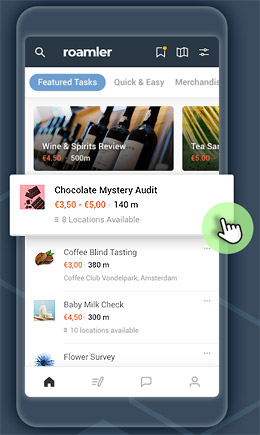 Tasks will disappear if another Roamler accepts it before you, so you'll need to be quick to accept a challenge.
Once you've accepted the task, you'll be given a designated number of hours to complete it.
A typical task will involve you answering questions about a business and perhaps providing evidence by taking a few photos. In some cases, you'll be required to ask staff questions and record your answers.
Once you complete a task, your answers will be submitted to be reviewed by Roamler staff. Your task will usually be reviewed within one working day. If you pass the review, your balance will be topped up immediately.
Types of Tasks
Below is a list of the most common categories of task you'll be asked to perform as a Roamler.
Stock availability market research. The most common type of task. You'll be asked to enter a retail store and answer questions about specific products, their availability and how they're displayed. Your answers will usually have to be backed up with photos. You may also have to answer questions about the in-store marketing, such as whether certain posters or deals are being displayed or not.
Mystery shopping. You'll be tasked with asking specific questions to staff members and to record their responses. Often, you'll need to keep your identity as a mystery shopper hidden.
Staff interviews. You'll be asked to question staff members or managers about the store and the service they offer. For these tasks, you'll be provided proof that you are authorized to ask these questions by the retailer.
What rewards are available with Roamler?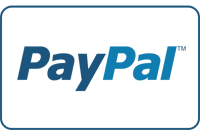 You can cash in your Roamler balance as a PayPal payment whenever you want. If you cash in an amount higher than £20, Roamler will cover the PayPal transaction fee too.
After submitting your payment request, your PayPal cash payment will be instantly made to your account.
How much can I earn with Roamler?


Above anything else, your earning potential will depend where you live.
If you're in a huge thriving city like London or Amsterdam, you'll find new tasks being added all the time. The rewards are based on the difficulty of the task, but you can expect to earn anywhere between £1 and £10 or more per task completed.
Provided you're willing to travel to several locations, it's often possible to earn anywhere from £10-£50 on a good day.
Unfortunately, if you're based in a small village with one greengrocer, a newsagent and a weekly farmer's market, opportunities to earn money are likely to be sparse/non-existent.
As well, if you're willing to perform different types of tasks (vs being selective about the ones you complete), you'll have more opportunities to earn with the app.
Is it safe to use Roamler?
Roamler has grown to become a highly reputable market research app. It has partnered with a wealth of well-known retailers – and that's why it's able to offer so many projects to its users. PayPal payments under £50 are processed instantly, while those over £50 arrive very quickly too. There's no danger of a scam here.
When you're required to interact with a staff member for a task, Roamler provides you with a script to use – and when necessary – proof of authorization from the retailer.
The app has attracted hundreds of reviews on TrustPilot, with an average rating of 3.4.
Roamler pros and cons
Pros:
Plenty of tasks to complete if you live in a big city.
Earn between £1 – £10 or more per task depending on its difficulty.
Cash out to PayPal whenever you want, with no minimum earnings threshold in place.
Fast and effective in-app customer service system, which you can use whenever you get stuck with a task.
Cons:
If you live in a small town, there's unlikely to be many tasks available to you.
If you live in a big city, you'll often have to snap up tasks quickly, before someone else does.
There are no alternatives to PayPal for payment.
What are the alternatives to Roamler?
Roamler is somewhat unique, in that it's a smartphone app that offers easy access to a side-hustle as a mystery shopper.
Other apps and micro-jobs websites tend to only offer skilled jobs and you'll often have to compete based on your ability to perform the task.
The closest alternative to Roamler is TaskRabbit, which is available in various cities across Canada, The United States and The United Kingdom. However, most of the jobs on this website involve DIY or some form of manual labor.
Passive Income Apps
If you're open to using different types of apps, such as passive income apps that you can download on your phone to earn rewards without much effort (the rewards will be lower than with Roamler, as the level of effort required will be minimal), here are some options:
Citizenme – CitizenMe's mission is simple: it gives you cash for your data. Choose to share as much or as little as you'd like and get rewarded.
MobileXpression – Earn $5 your first week in the US, or a £20 Amazon voucher after 2 weeks in the UK
The bottom line
If you're lucky enough to live in a large city in one of the 14 countries that Roamler operates, this app could be a great little earner for you.
The tasks are mostly quick and easy, and there are plenty available in big cities.
If you don't have a friend to give you an invite code, Roamler suggests you search internet forums to find some. A quick Google search for 'Roamler invite code' will point you in the right direction.
Eligibility: Residents of the UK, Germany, France, The Netherlands, Belgium, Italy, Poland, Spain, Sweden, Turkey and Chile.