Mystery shopping, aka secret shopping, is a fun job that is in high demand. The idea of being able complete simple tasks in a store and earn compensation for your efforts is something that sounds attractive to most people. But what's really involved in these assignments, how do you stay away from scams, and are there any actual legitimate opportunities available in the field?
» Skip ahead to find mystery shopping assignments
What is a mystery shopper?
Mystery shoppers, also called secret shoppers, are typically contractors who are hired to collect information about a product, service, or business. They commonly pose as a regular customer and are sent to a business location specific collect information. This could be related to a store's product displays, their prices, or even the businesses' employees. They are most commonly hired by market research companies and are an independent contractor.
What mystery shoppers do:
1. Analyze customer service
While shopping at a store, secret shoppers may be asked to strike up a conversation with a customer service representative and ask a large number of questions. These questions often have to be memorized and are part of a sort of "script". Subsequently, the shopper may then complete a detailed report that evaluates the worker's overall knowledge, helpfulness and friendliness. Typically, such reports are submitted within 48 hours of visiting an establishment, and may take a fair bit of time to complete.
2. Add products to a sale
Shoppers may be tasked to indicate which associates suggested additional products before specific sales were completed, and will then create a list of the add-on items. The representatives may also explain how any auxiliary products complement the main items to improve their functionality. Essentially, the mystery shopper may be asked to show reps how to properly upsell a product or service.
3. Describe product attributes
If a secret shopper is preparing to purchase an item, the undercover buyer can examine each representative's sales pitch and create a list of features that the salesperson described. The mystery shopper may also indicate whether or not the representative offered to reduce the price.
4. Handle returns
An undercover customer may attempt to obtain a refund after a set deadline has already passed. The secret shopper will analyze the associate's response and determine whether or not the individual suggested similar products, and the undercover client may then comprehensively evaluate the representative's explanation of the return policy.
Revealing your identity
Sometimes, (but not always), the secret shopper will reveal their identity as a mystery shopper to an establishment. This is especially true when secret shopping at bars and places where liquor is sold. The shopper may be tasked with seeing if they are asked to show their identification. These "test results" may then be revealed to the establishment. This exercise is often the mandate of a head office who wants to ensure that their various business locations are in compliance with various rules and laws that are in place, especially serious ones such as ID'ing potential minors.
Business benefits of hiring a secret shopper
Numerous reports have shown that mystery shopping can potentially increase a store's profits by more than 8 percent. When representatives know that undercover customers periodically shop at the store, the strategy can boost the number of products that the shop sells by 11 percent.
Evaluating a businesses' compliance with various policies (especially in the case of franchises), is also a major role of the mystery shopper. All major businesses that have multiple locations will have a handbook that outlines everything from store policies, its appearance, where product is sourced from, etc. in an effort to establish consistency. This consistency is key, as customers expect the same experience from the same business across multiple locations.
Finding assignments
A secret shopper may utilize mobile apps that list assignments that can be completed within a predetermined radius of the undercover customer's location. Applications will also indicate the payment for the assignment, any extra rewards, questions that the undercover customer should ask and specific products that the shopper can purchase. The listing may also specify the time at which the secret shopper should visit the store and if special hardware is needed to complete the assignment (such as a working camera phone to be able to take pictures of products for example).
How to become a mystery shopper
If you'd like to find a mystery shopper job and participate in a secret shop, you do so through the following companies: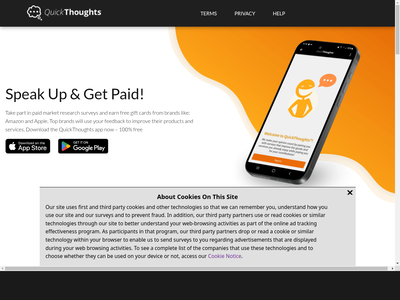 QuickThoughts
QuickThoughts is a mobile app that primarily offers surveys, however periodic shopping assignments are also offered. You might be asked to participate in in-store polls, or to provide feedback on your shopping experience at a local store.
…Join here
Rewards for mystery shoppers
In addition to regular pay, many secret shoppers receive free products, gift cards and promotional codes. The mystery shoppers typically obtain full reimbursements for products that they have purchased; however, mystery shopping companies typically do not allow shoppers to keep more expensive products such as televisions, laptops, household appliances, heavy-duty tools and smartphones. Moreover, companies commonly provide free meals for mystery shoppers, and undercover customers can often bring along friends and family members on their assignments in an effort to be less conspicuous.
The industry
According to numerous analyses, the demand for secret shoppers is increasing by more than 8 percent every year, and in total, businesses provide approximately $1.6 million to secret shoppers nationwide. Additionally, more than 2.2 million mystery shoppers are at least periodically active in the United States.
Landing a secret shopping gig can difficult, as competition is fierce for this attractive job. Your best bet is to apply to various mystery shopping companies online, download an app that will help connect you with assignments, or join an online survey panel that periodically offers its members shopping assignments.
Modern takes on mystery shopping
Thanks to smartphones, mystery shoppers are now more accessible than ever. With the majority of the population in Western countries owning or having access to a smartphone, these pervasive devices have made it easier to connect consumers to mystery shopping assignments available in their area.
Although many apps may stay away from referring to assignments as "mystery shopping", if you see suggestions of "shopping assignments", "gps-based activities" that offer rewards, "field agent", or "missions", you can be confident that you are essentially participating in a market research assignment. By providing information relating to a company's product or service via the data you collect on your store outing, you are in effect doing what secret shoppers do.
Paying for mystery shopping information
This is a big no-no. Similar to online survey scams, there are plenty of websites that will try to sell you information packages on how to supposedly earn thousands of dollars in extra money by participating in mystery shopping, or will even have the audacity to suggest that you can make a living at it. Such enticing claims have fooled thousands of people into forking over money for mostly useless information regarding how mystery shopping works and for the names of market research companies who offer mystery shops – something that is posted online, for free.
If you're seeking the names of actual mystery shopping companies, a better strategy is to conduct a simple search online and ignore any results that are not of actual mystery shopping companies. To apply as a shopper, you'll only need to fill out an information form. Any company or website requesting payment is one that you should immediately click away from.
As stated above, you can get started with a free list of mystery shopping companies available for your country using our highly customizable search tool, SurveyPolice Pick-a-Perk.
» Find mystery shopping companies
Sources:
http://work.chron.com/mystery-shopper-duties-21202.html
http://www.marketforce.com/become-a-mystery-shopper
http://www.mspa-na.org/value
http://www.serviceexcellencegroup.com/blog/why-should-your-company-implement-a-mystery-shopping-program-survey-says
https://www.retaildoc.com/mystery-shop-retail