QuickThoughts Reviews and Features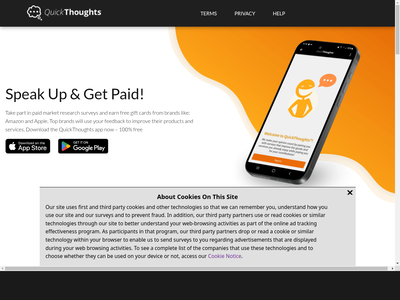 QuickThoughts
6 Research Drive, Shelton, Connecticut 06484 US
Tel: 877-254-1234 Contact: [email protected]
Operated by: Dynata

PAYMENTS OFFERED

Amazon gift cards

iTunes gift cards

HOW TO PARTICIPATE

Mobile app

Mystery shopping

Diary surveys

REDEEMING REWARDS

No points system
Request an Amazon gift code or an iTunes gift code once your account reaches $10 (or £10 in the UK).

First launched in 2013, QuickThoughts is an app that gives you rewards for your opinion. QuickThoughts is owned by Dynata.
Get the App!
The QuickThoughts app is available on both Android and iOS. It is available for use on both mobile phones and tablet devices such as iPads. The app has been downloaded more than 1,000,000 times on Google Play, and has paid out millions of dollars to its members.
Rewards Offered
Earn Amazon gift codes and iTunes gift codes in exchange for completing surveys. Once your account reaches $10 (£10 in the UK), you may request a code. Reward redemptions are instant; after you request your Amazon e-voucher, you will receive it immediately.
Rewards
The app offers rewards of gift cards from Amazon or iTunes. Note that if you are on an iOS device, you will only have the option of redeeming your rewards via iTunes.
Download QuickThoughts

›
Types of Assignments
Although QuickThoughts primarily offers mobile surveys, sometimes other opportunities are offered, such as shopping assignments where you could be asked to take pictures of products on store shelves. Other shopping assignments such as taking in-store polls near you, or providing feedback on your shopping experience at a local store, are also available.
High Survey Availability
QuickThoughts is unique in that it connects you with 1000's of online survey sources, making a constant number of surveys available to take.
Survey Lengths and Compensation
Mobile survey lengths vary, but typically take anywhere from 5 to 30 minutes. Surveys award between $0.50 - $3 each. You will even receive $0.10 if you are screened out!
Download QuickThoughts

›
Participate in Sweepstakes
Occasionally, some surveys may offer sweepstakes entries in lieu of points. You will be alerted to this before you begin your survey.
Donate to Charity!
If you elect to donate your points or dollars to one of the charities approved by Dynata, Dynata will donate said points or dollars to the selected charity. The donation is not made by or on behalf of Dynata and Dynata does not and will not match any donation.
Eligibility: Users worldwide can download the app.
SurveyPolice Exclusive: 9 Question Q & A with QuickThoughts
---
Alternatives to QuickThougths
Survey takers who have joined QuickThoughts are also interested in these survey programs:
QuickThoughts Reviews (124)
Worst survey rewards site
August 17, 2021 by Frank from United States
My account was indefinitely suspended for "the accuracy and attentiveness" of surveys. I enter all information correct like I would on any other surveying site. Avoid this site at all costs. They kept my $20 and suspended my account. Avoid at all costs, there's plenty of other surveying apps that don't ban you over something petty.
Wouldn't allow redemption
June 23, 2021 by Daron from Australia
No problems at all, until I reached ten dollars and tried to redeem. They claimed they had detected problems with my answers, and locked my account. My answers were honest and thoughtful with all surveys, and they didn't mention any problems until I claimed the money.
May 8, 2021 by Holly from United States
I accrued money pretty quickly which was cool so I thought I would save up some and when I reached $50 I wanted to cash that in for some amazon money and I kept getting an error message. I contacted customer support and i got the same generic message it seems everyone has gotten about my accuracy and my account was flagged and suspended.

I asked for a supervisor to get back to me and they said my account will be sent to the accounts team for re-review. I had never even cashed out any money I was letting it accrue and I think they got scared and didn't want to pay it out. I am always careful when I am doing surveys so I do not understand why my account was flagged and suspended. I told them in an email that this is the first I am hearing of any issues and I wasn't even given a warning and now I haven't heard anything!

There was nothing wrong with my account or data they just don't want to pay out after all my time I spent taking over $50 in surveys.
April 6, 2021 by Amy from United States
This site used to be great! It was a quick and convenient way to earn $20 every few days. About 3 weeks ago, I stopped receiving survey invites. After several emails to Quickthoughts, and being told my account is active, they are still not sending me invites. It has just stopped for an unexplainable reason. They have just stopped sending my surveys.
Loved it, Suspended, then Reinstated
February 24, 2021 by Maria from United States
In the beginning, the company will send you warm and friendly emails talking about how to maximize the number of surveys you can receive and how thankful they are for you being a member. Then, once you start seeing several available surveys in your feed, using the app is fun. After you earn enough to cash out and try to do so, however, prepare for crickets.

I earned $14.30 and tried to cash out maybe 3 times. Then, I contacted customer support. I didn't hear anything for 5 days. So, I contacted them again. Only then did I get a generic, copy and paste email back saying that my account had been suspended (nobody ever told me in any way shape or form that was what was wrong and why I couldn't cash out). I was being accused of not providing quality or honest answers, having lied about my demographic information, or not paying attention while completing surveys. All of these are complete BS, because I do surveys to make a living. I lost almost all of my income due to COVID-19, so I take these survey apps and websites very seriously because they are literally my lifeline right now. I have requested an account reinstatement, but am not holding my breath. Sure, it's only $14.30, but that's a handful of cheap meals for my family right now that we so desperately need.

UPDATE: My appeal was read by a customer service person who reviewed my survey responses personally and saw that the flagging of my account was in error. My answers are good, consistent, and I see my surveys through to the end. My account was reinstated and I was apologized to for the problem and inconvenience. I was able to cash out and have taken several more surveys since then. This type of response is virtually unheard of in the survey-taking world, but securely puts QuickThoughts back in my good book.
» Return to: TOP RATED SURVEY SITES
---
Popular Topics
Top Survey Sites of 2021
---
Highest User Rated Survey Sites
---
Survey Sites That Pay Instantly
---
Survey Sites with Low Cash Outs
---
9 Product Testing Job Websites
---
12 Online Surveys That Pay Cash
---
How to Earn Free Uber Gift Cards
---
14 Ways to Get Free Amazon Gift Cards
---
Best Paid Focus Groups
---
How to Get a Free Visa Gift Card
---
Ways to Get Free Xbox Gift Cards
---
Featured Advertisers: