QuickThoughts Reviews and Features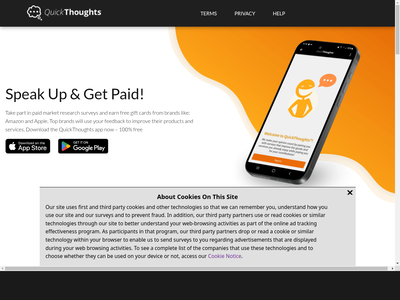 QuickThoughts
6 Research Drive, Shelton, Connecticut 06484 US
Tel: 877-254-1234 Contact: [email protected]
Operated by: Dynata
QuickThoughts Quick Overview:
Rewards Offered: Amazon gift cards iTunes gift cards
Member Opportunities: Mobile app Mystery shopping Diary surveys
Redeeming Rewards: Request an Amazon gift code or an iTunes gift code once your account reaches $10 (or £10 in the UK).
Similar Panels: Opinion Outpost, OpinionWorld

First launched in 2013, QuickThoughts is an app that gives you rewards for your opinion. QuickThoughts is owned by Dynata.
Get the App!
The QuickThoughts app is available on both Android and iOS. It is available for use on both mobile phones and tablet devices such as iPads. The app has been downloaded more than 1,000,000 times on Google Play, and has paid out millions of dollars to its members.
Rewards Offered
Earn Amazon gift codes and iTunes gift codes in exchange for completing surveys. Once your account reaches $10 (£10 in the UK), you may request a code. Reward redemptions are instant; after you request your Amazon e-voucher, you will receive it immediately.
Rewards
The app offers rewards of gift cards from Amazon or iTunes. Note that if you are on an iOS device, you will only have the option of redeeming your rewards via iTunes.
Types of Assignments
Although QuickThoughts primarily offers mobile surveys, sometimes other opportunities are offered, such as shopping assignments where you could be asked to take pictures of products on store shelves. Other shopping assignments such as taking in-store polls near you, or providing feedback on your shopping experience at a local store, are also available.
High Survey Availability
QuickThoughts is unique in that it connects you with 1000's of online survey sources, making a constant number of surveys available to take.
Survey Lengths and Compensation
Mobile survey lengths vary, but typically take anywhere from 5 to 30 minutes. Surveys award between $0.50 - $3 each. You will even receive $0.10 if you are screened out!
Participate in Sweepstakes
Occasionally, some surveys may offer sweepstakes entries in lieu of points. You will be alerted to this before you begin your survey.
Donate to Charity!
If you elect to donate your points or dollars to one of the charities approved by Dynata, Dynata will donate said points or dollars to the selected charity. The donation is not made by or on behalf of Dynata and Dynata does not and will not match any donation.
Eligibility: Users worldwide can download the app.
SurveyPolice Exclusive: 9 Question Q & A with QuickThoughts
---
Alternatives to QuickThougths
Survey takers who have joined QuickThoughts are also interested in these survey programs:
July 9, 2020 by Claire from United States
I have been a member of Quick Thoughts for several years. I was just removed from the site for unknown reasons to me. I always use the same information and, although I have a hard time going "slow", I give accurate and thoughtful answers. Recently, I had some internet issues that caused difficulty navigating. I could only quit and try to start over. This does not seem like "irregular" activity. I think this tactic is just to avoid paying us. I have been unceremoniously removed from Quick Thoughts, Opinion Outpost and e Rewards at the same time this time. All of these owned by the same parent company. Writing them only gets the form letter others have referred to. I'll stick with the honest companies from now on.
July 8, 2020 by Judi from United States
I was a loyal member of this panel and got kicked off while trying to redeem points! I contacted them and they said it was their mistake and it would be fixed in 7 to 10 days... Sent in for over a month! I contacted them yesterday as I had done several times during this ordeal and they said I had violated terms and cancelled my account! This was after saying they had had an accounting touch early on!
July 2, 2020 by Richard from United States
I have been a faithful user and supporter of QuickThoughts for a while. Until recently that is. I haven't gotten a survey in a while and contacted them on why they. They gave me this message: "Thank you for waiting, Richard!

Unfortunately, the accuracy and attentiveness of your account activity has been flagged, and upon review of your account, we have been forced to suspend your account.

As a member of our program you may only have one account, provide accurate profile information and survey responses. You must also be thoughtful and attentive in responding to our surveys. When we have concerns about any of these program rules we are obligated to take steps to investigate and unfortunately suspend accounts.

We do not take account suspension lightly and do so only when account issues have been identified. At this time your account has been indefinitely suspended and you will no longer be able to participate in surveys or claim rewards from our website.

Thank you."

This is bull. I only have one account and my information was accurate. The only information that has changed is that my house size went from 4 to 3 because my mother died. It's a shame. I was one of their biggest supporters until now.
June 16, 2020 by Gwen from United States
Have always been happy until May of 2020, I notice that someone else posted the same thing. Since the 4th of May 2020 I get a goofy error message and when contacting them I did as asked including sending a screen shot of the error message. I was actually able to access 1 survey that I screened out of and earned the dime reward that was 3 days ago. Have been unable to access anything since. What happened? Was a nice easy way to earn some Amazon cash
June 15, 2020 by Roberto from United States
It is very good for me, it is awesome, i earn money through this, and i like it.
» Return to: TOP RATED SURVEY SITES
---
Popular Topics
Top Survey Sites of 2020
---
Highest User Rated Survey Sites
---
Survey Sites That Pay Instantly
---
Survey Sites with Low Cash Outs
---
Surveys That Pay by Check
---
12 Online Surveys that Pay Cash
---
14 Ways to Get Free Amazon Gift Cards
---
Get Paid for Browsing the Internet
---
How to Get a Free Visa Gift Card
---
Get Paid by PayPal Without Fees
---
Featured Advertisers: