Would an extra $100 in your PayPal account sound nice right about now? We're sure it would.
There are plenty of websites that you may not be aware of, that will reward you for performing various tasks in exchange for PayPal cash payments.
9 Sites to Earn $100 free PayPal Payments
All of the sites listed below are free to join and will provide you with earning opportunities that pay cash from PayPal.
1. Swagbucks – Earn cash for everyday things you do online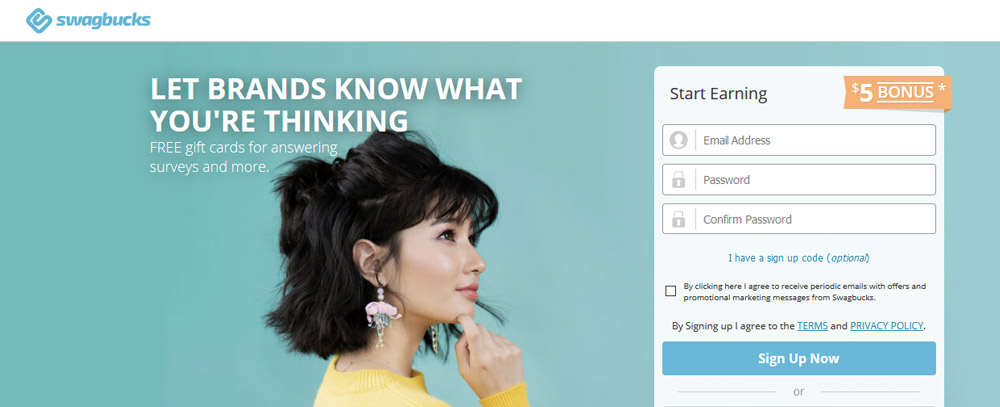 If you shop online on sites like Amazon or Walmart and spend time watching videos online, or doing internet searches, Swagbucks is a great option to check out.
As one of the world's most popular get-paid-to (GPT) websites believe it or not, they have paid over $850 million in rewards to their members (verifiable by visiting their homepage), Swagbucks is loved for its relative ease for earning quick money and for the variety of tasks you can be rewarded for on the site.
These include:
Swagbucks Live: Earn SB's (Swagbucks) for playing video games
Swagbucks Watch: If you enjoy watching videos, this option is for you
Swagbucks Answer: Answer paid surveys for additional SBs
In addition, you can earn extra credits for referring friends and getting cashback for shopping online at your favorite stores.
New members receive a $5.00 credit for joining the site. Cash out options include PayPal cash payments and a massive selection of gift cards.
2. ySense – Bonuses aplenty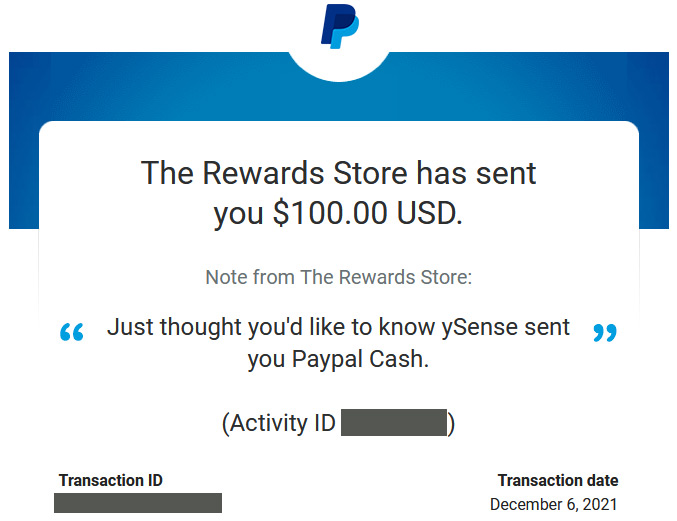 ySense is another GPT website which gives you the opportunity to make money and to earn $100 PayPal payments in a number of ways – and not just by answering paid surveys.
Peruse ySense Offers for various types of deals and offers where you can earn quick cash. Casino deals in particular can be very lucrative and many will match any cash amounts you deposit, which can result in a double cash bonus (see example below).

You can also earn by:
Taking paid surveys online and earning between $0.50 to $20
Watching short clips of videos or trailers via ySense Watch
Playing online games and receiving cash bonuses when you reach certain levels
Taking the daily poll and earning $0.01. It's a tiny amount but the poll takes literally 1 or 2 seconds to answer
Tip: Look for special contests and bonuses when you first log in. These will be listed in the form of a popup notification on the dashboard of your ySense account. These can be survey bonuses, special offers and more.
3. Branded Surveys – Surveys galore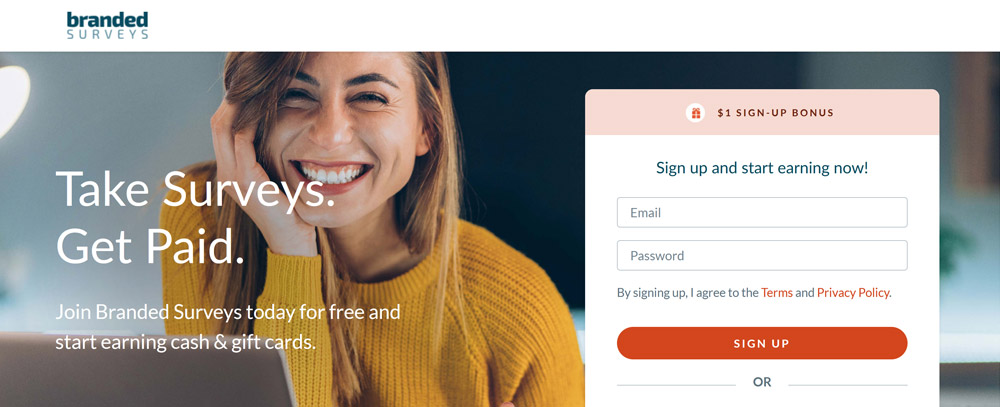 Branded Surveys is a popular online survey rewards platform. It doesn't have a huge variety of activities for earning rewards (like some of the other options on this list) as it's mostly for people who wish to be a paid market research participant by filling out online surveys.
Branded Surveys is one of the better websites out there for this though, as you'll have new survey opportunities emailed to you regularly, and you'll be paid fairly for each one. Branded allows you to withdraw as little as $5 into your PayPal account at any given time, or you can wait for a juicy $100 PayPal balance to accumulate before cashing out.
Join Branded Surveys and immediately receive a $1.00 credit added to your account.
Tip: Earn even more per survey with Branded Elite – Branded Surveys' rewards program which gives you extra bonus rewards based on your monthly survey activity.
4. Rover – Get paid to pet sit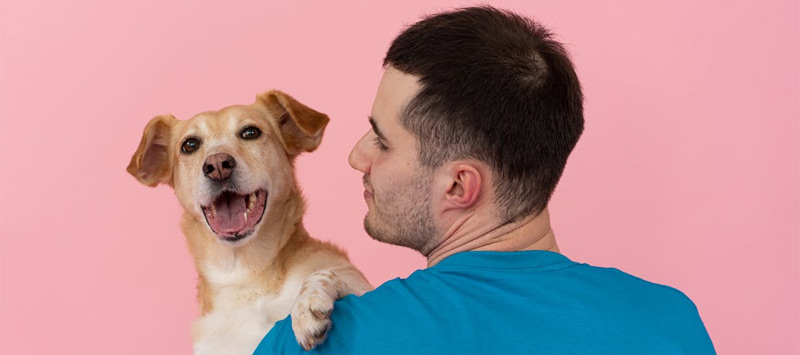 If you enjoy the company of animals, you may as well generate money taking care of them using Rover – something that this interesting online platform allows you to do.
Rover is essentially an app that connects pet owners and pet-sitters. Through this app, you're free to set your schedules and rates, as well as complete a brief background check to provide security and confidence to other users of the platform.
Rover allows users to pay each other directly through PayPal, and as the cost of owning a pet has skyrocketed in recent years, earning your first $100 cash payment on here won't take long at all!
5. Lucky Day – Feeling lucky?
Lucky Day is an app that lets you gamble for free. Essentially, it allows you to play electronic scratch cards and will transfer the money to your PayPal if you're a winner.
It might sound too good to be true, but Lucky Day makes money from the ads it serves and pays a portion of that back to its users in the form of prizes.
Lucky Day Entertainment Inc. (the parent company) claims to have over 30 million users worldwide and has awarded over $10 million in payouts, so you might just be the next lucky winner to have $100 or more land into your PayPal account.
6. Shopkick – Mystery shop for cash
Shopkick is essentially a mystery shopping app, which allows you to earn rewards for performing simple tasks inside stores within your local city. This could be as simple as taking a photo of some barcodes or store shelves. You'll be rewarded fairly handsomely for the work done, and it's rare you'll be asked to actually buy a product.
You'll earn credits for completing tasks, which can be exchanged for gift cards or PayPal cash payments.
7. Qmee – Search and earn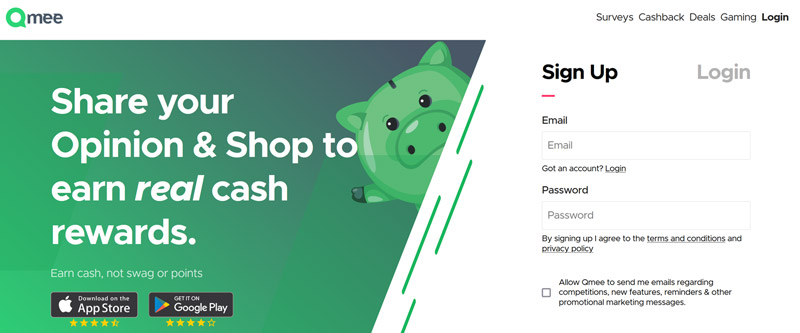 Qmee is a browser extension and smartphone app, which can help you to earn cash in various ways.
Their friendly pig mascot will help you navigate the platform as you toggle between the various earning options. Qmee primarily rewards its users for sharing their opinions in online surveys, but their browser extension also adds extra paid links to your search results, which you'll be rewarded for just by clicking. Yes, you'll literally be paid for clicking a button!
There are cashback shopping options in addition to shopping deals that can help you save a little extra the next time you shop online.
There's no minimum withdrawal threshold for Qmee, so you can decide whether to request a $1 PayPal payment or to build up your balance and wait for a $100 PayPal payment instead.
8. Honeygain – Passively earn PayPal cash
Honeygain is an app which lets other people connect to your phone or desktop computer and use the data you don't. If you always end up with a few gigabytes of data left at the end of the month, Honeygain allows you to convert them into dollars.
You'll earn $1 per gigabyte used. Reports suggest users tend to earn between $40-$50 per month, which is then deposited into their PayPal account or awarded in Bitcoin if that's their preference.
There's no privacy concerns with your internet connection, as your phone only acts as a gateway.
9. Ibotta – Easy cashback
Ibotta is a cashback app which allows you to generate money for making purchases via its wide selection of online partners. There are plenty of apps like this, but Ibotta would appear to be one of the more generous ones based on their growth and current popularity.
As well as the cashback you earn on purchases, you have the opportunity to claim a $20 welcome bonus and to earn $5 for every friend you refer.
Simply download the smartphone app, register your details, select your favorite participating stores and make your purchases to have cashback paid into your PayPal account.
Conclusion
The sites above provide various different options to earn $100 free PayPal payments. Although with some sites (more than others), it may take some time to earn $100, they all provide options that will help you reach your goals. Perhaps you'll choose to sign up to more than one of these websites, which should speed up the process of having a hundred big ones paid into your Paypal account.
The websites above are legitimate and you can receive a reward for doing something that you enjoy doing in your free time. In most cases, you'll find your PayPal payment is processed more or less immediately too.
---
Related Posts: