Interested in finding out how Adidas product testing works and how you can get involved? Discover how to get your hands on free Adidas products by joining their popular product testing program.
Read on if you're a big fan of this world-famous sports brand and would like to test out their products for free.
Note: Some of the below are affiliate links which helps cover our costs and keeps SurveyPolice free. Full affiliate disclosure here.
How does Adidas product testing work?


If you've ever dreamed of becoming a product tester, especially for the Adidas product testing program, you'll need to follow the following steps:
1. Apply to the program
During the application process, you only have to fill out a simple online form with your basic information including your name, age, body measurements (so you will be sent products that fit you), and email address. In addition, you'll be asked what sports activities you participate in and how often you practice, or if you do them professionally.
2. Wait to be confirmed
If you're selected to take part in the Adidas product tester program, you'll receive an official invitation by email. You'll have to click to confirm that you wish to start testing products. Then, you'll receive another email indicating which product you'll receive to test.
The products you receive will be based on your preferences. For example, if you mention during your application that you enjoy running, you are likely to be a candidate to test running shoes. The Adidas product testing team will select you based on characteristics such as your shoe/apparel size, demographic information, location and sport and athletic profile.
3. Receive your first product
You can expect to wait two to four weeks to receive your first product in the mail after receiving the confirmation email of the product you've been selected to test. Once the product is received, you will receive instructions that state how long to use the product for and what notes to take about it as you go about testing it.
4. Expect to take notes
Have you ever written in a diary? You'll essentially be expected to do the same while you test the products assigned to you. You will keep a log in accordance with the instructions for use that you receive, where you will relate your experience in detail. This step is important, since you will later answer a short online survey questionnaire.
5. Fill out an online questionnaire
After you've tested the product for a designated amount of time (usually two to four weeks), you'll be asked to fill out an online questionnaire about your experience using it. This questionnaire will be similar to an online survey whose format most market research participants are familiar with.
6. Return the product
Finally, you will be expected to return the product by post, usually after about two to four weeks of using it. This won't cost you a penny, since you will be provided a return label when you receive the product to carry out this step.
As you can see, the process of becoming an Adidas product tester is very simple. Whether you're a boxer, tennis player, cricket player or even a mountaineer, you can have the opportunity to try Adidas products before anyone else.
How to apply for Adidas Product Testing
To apply to the Adidas product tester program to enjoy the brand's unique and innovative products, you only need to meet the following basic requirements:
You must be at least 18 years old
You must live either in Europe or the United States
You must have access to the internet and an email address
You must be able to read and write in either English or German
In addition, you will need to sign a disclaimer promising not to test any competitor products, nor publicly share any information related to the product you're testing.
If you meet these requirements, you can apply to test Adidas products on the Adidas product testing website.
Do I get to keep Adidas products after I test them?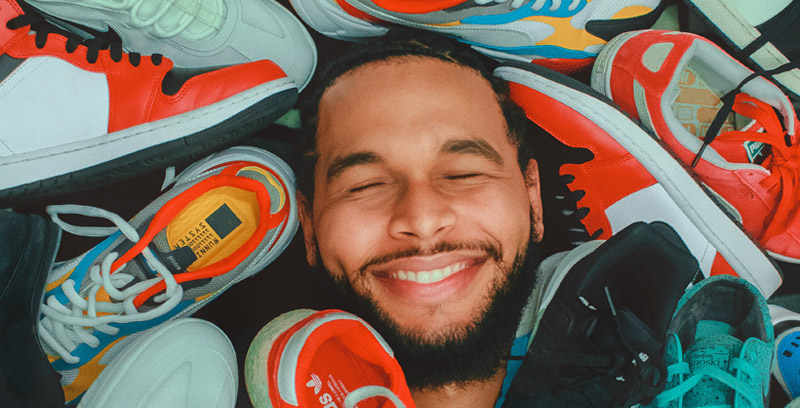 This is the question that most sports fans ask about the program. The sad answer is: you'll be expected to return to the items after you complete your testing. However, the cost of postage is paid for by Adidas and your use of the item will be analyzed. For instance, for shoes, the points where the tread is thinning may be noted or on apparel, piling and other wear and tear will be analyzed.
Although you may be disappointed that you won't be able to keep the test products, remember that your feedback will help decide whether the product will end up on a store shelf and if it does, what sort of improvements will be made beforehand. Essentially, if you test a product you end up liking (and others like it too), there's a good chance that it'll be even better once it's available in stores. 🙂
Adidas product testing: pros and cons
Here is a summary of points to consider about the Adidas product testing program.
Pros
Potential to test products before their launch
Experience the quality of Adidas products based on your own personal experience before deciding whether to buy them when they become available for sale
If you are a fan of the Adidas brand, you will enjoy its new innovations in its products
The application form is very simple to fill out
The testing process is very accessible and easy to follow
Your feedback helps contribute to the continuous improvement of brand products
Cons
The program is limited to residents of the USA and Europe
You will not receive any type of payment for sharing your experience
You cannot publish your experience on any social network
Products cannot be kept after tested
There are limited sizes and products available for testing
Adidas itself will decide which products you will get to try
Some applicants will not be selected for the program
Adidas product testing alternatives
If you've applied to become a tester but you haven't been contacted to test a product or you didn't hear back after submitting your application, there are plenty of other product testing opportunities that you might be interested in and that you can get paid to do.
Pinecone Research is a well-known survey panel that offers its members periodic product tests. Earn $3 per survey completion and test products from home.
YouGov pays its members in PayPal payments and gift cards, although in some cases, keeping the product that you are testing will be your reward.
Product Testing USA is arguably the most well-known product testing website in the USA. They're also available in the UK and Canada.
For the full list product testing websites where you can test free stuff, click the link.
In Conclusion
The Adidas product testing program provides a great opportunity to try new products from one of the most recognized sporting brands in the world.
However, in some ways, the Adidas tester program is more limited than it could be. For starters, only adults based in Europe or the United States can apply and it can take some time to find out whether you've been selected for the program.
You will also be required to return any tested products, unlike some other product testing programs which allow testers to keep the products they test as a reward for their efforts.
That said, the application process is very simple and the instructions for testing and leaving feedback are also very easy to understand and apply. If you're interested in becoming a product tester in general or love Adidas products, you have little to lose by applying to join the program.
---
Related Posts: