If you're looking for an opportunity to get free stuff and even make money by testing out products, you might be interested in product tester jobs. If you've ever dreamed of testing out products from home, read on to find out how product testing jobs work. Have items delivered straight to your home and get paid to test products – it's something virtually anyone can do and the getting started is an easy process.
Read on to discover how product testing jobs work, how to apply for them and what to expect once you begin. We'll cover topics including:
Note: Some of the below are affiliate links which helps cover our costs and keeps SurveyPolice free. Full affiliate disclosure here.
How product testing from home works
Product testing is typically conducted in two main ways: as an in home product test or as a central location test. As the name implies, an in-home product test (also called an IHUT in market research terms – an 'in-home usage test') is conducted at the product tester's home. The product tester is delivered the product straight to their door and they are tasked with providing their feedback back to the research company in the form of an online survey, a video diary, etc.
A central location test on the other hand, is where consumers assess a product in a centralized location. It can also be referred to as a 'hall test' and can involve walk-by participants testing the product at a booth in a shopping mall for instance, or with recruited product testers who are asked to meet at a specific location to conduct the test such as a testing center or market research facility.
Home usage tests, or product tests, are conducted in a consumer's own environment and are most commonly for things such as food products, small appliances, and electronics. For food product tests, if the product is perishable such as yogurt, frozen pizza or ice cream, the items will most typically be delivered by courier in an insulated box filled with ice packs. This will prevent the item from spoiling, and will also keep it fresh and as you would find it on a store shelf.
How product testing can shape a product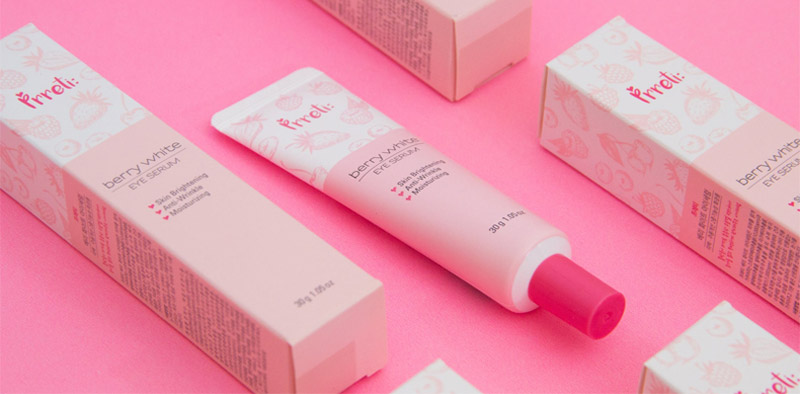 If selected for an assignment, you'll likely be offered to test products that aren't yet available for regular sale in the marketplace. In this case, the producers are looking for consumer feedback, so that they can improve the product before making it available to the masses.
A company might be doing prototype testing to get feedback on how people like the product, interact with it, and what improvements can be made. It's good for live feedback, especially when done at a testing facility where participants can be observed while they are participating in the product testing program.
As such, your feedback could have a huge impact on the overall success of a product launch and the shape, design and price point of the product itself.
How product tests help companies overall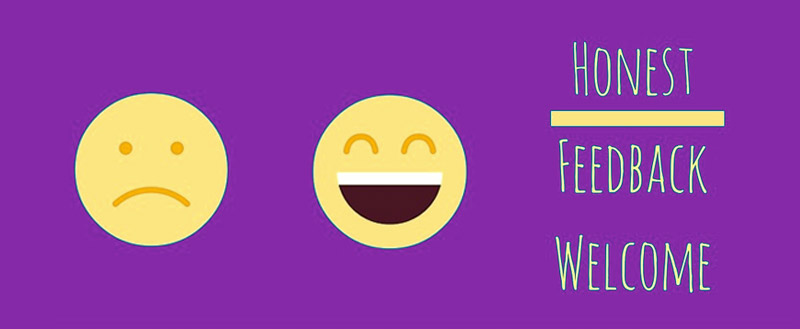 Product testing helps companies make better business decisions about their product. Conducting a product test can help them determine which consumer demographics appreciate their product most, which features resonate best with them and how much they may be willing to pay for it. Here's a real-life step-by-step example of the testing process in action:
Producer hires market research company to organise consumer product testing.
Producer and market research company agree on desired demographic of testing group.
Market research company designs survey to screen for desired demographic.
Market research company invites its members to apply for free product testing job.
Members fill out pre-screening questionnaire to ensure they're in the target demographic.
Market research company pre-screens suitable members further, via email and telephone.
Market research company organizes for products to be delivered to suitable households, along with instructions for testing.
Market research company sends out reminders to participants who don't deliver their feedback within a select time period.
Market research company delivers rewards to all participants who complete the testing.
Market research company compiles a report of the customer feedback and delivers it to the producer.
The study's participants are asked to provide their feedback on:
their satisfaction with various aspects of the product;
their overall satisfaction with the product, compared to any brands they are currently using;
the factors that influence their buying decisions for this type of product;
their overall perception of various brands in that industry;
their price expectations of the product.
This line of questioning is relatively common throughout product testing surveys. As such, the producer receives potentially vital insights about their target audience's buying habits, as well as their perception of a particular project.
The steps above is a real-life process followed for a product test that was conducted for diapers
1
; households were selected to participate and were sent packs of diapers to use over a few days, and a
$25 gift card
was awarded for participation. The participants not only got the product for free (something they were otherwise buying anyway), but they were also compensated with a generous reward for their participation.
What you should know about product testing jobs
It's important to have realistic expectations when applying for product testing jobs. While this is a nice side-hustle that you'll probably enjoy, there's no way this will turn into a full-time job.
While it is possible you'll be chosen to assess expensive technology or trendy fashion items, it's more likely that you'll be testing things like kitchen products, food, or small beauty products.
It's also difficult to be consistently approved for product testing opportunities. Most product-testing gigs are heavily oversubscribed, so you'll need to cross your fingers and hope you are chosen. It's somewhat of a lottery, though even in the case of the biggest state and national lotteries, there's always a winner. 🙂
Still, with the websites listed below at least, it's a hassle-free process and it's free to apply. The items are delivered to your door, you try them out and give your feedback with an online form. It's fun, allows you to try test free products, and can be lucrative at times.
There is no expense on your end – and it's hardly an intense job if you are chosen to test a product.
All in all, there's no downside to applying for product testing jobs. Just don't expect to quit your full-time job by doing so!
How to apply for product testing jobs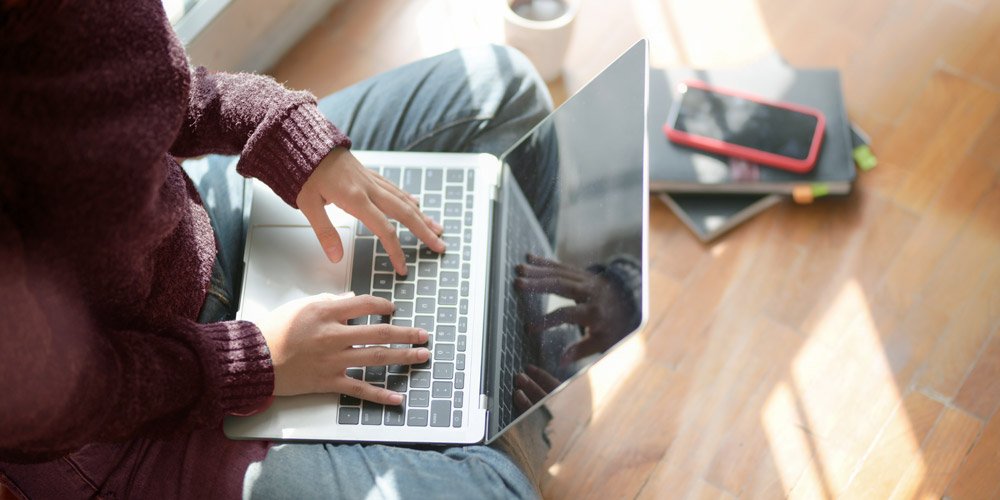 If you're looking to become a product tester and want to get paid to test products at home, you can apply for most product testing jobs online via a simple application process. In fact, many of the best product testing jobs are available as part of paid survey websites. You can join these websites for free by providing a bit of basic information about yourself, and sometimes by simply linking your Facebook account.
Once you're signed up to these websites, it's simply a case of waiting for product testing opportunities to be advertised, then applying to do so. These opportunities will typically appear on a separate page of these online survey websites, or you will be notified directly via email if an assignment becomes available for you.
If you're approved to test out a product, you'll be alerted by the website and given additional instructions. The product will be delivered to your house and you'll be expected to give your comments on it by a certain deadline. This feedback might be in the form of a questionnaire, an online diary, a video survey, or even a focus group.
Rewards for participating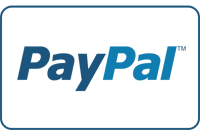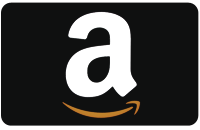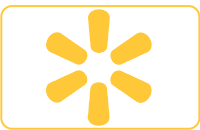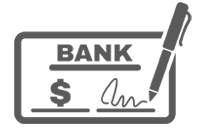 As a reward for your assessment, most websites will give you points which can be exchanged for cash or gift cards. Others will let you keep the product, especially if it's something like a small appliance and is already on the market; the cost and administration involved in having product testers ship a product back to the market research company can be prohibitive, so having participants keep the product after the study is complete can actually turn out to be a generous participation incentive.
The rewards for participating in product tests are usually quite generous; considering that most product tests only involve 25-30 testers2, companies who go though the trouble of constructing a product placement test want to ensure that participants will commit to providing their feedback for the duration of the study. As such, compensation is more than fair.
9 websites that offer the best product testing jobs
A lot of paid survey websites offer product testing jobs. As these websites are owned by market research companies, they have experience gathering opinions on products and consumer trends and legit product testing is simply as extension of that.
It's not as easy to be selected by these websites to test products as it is to get paid for answering surveys, but if you're selected, the rewards are much greater and process is typically more fun!
Here is our selection of the best product testing sites:
1. Pinecone Research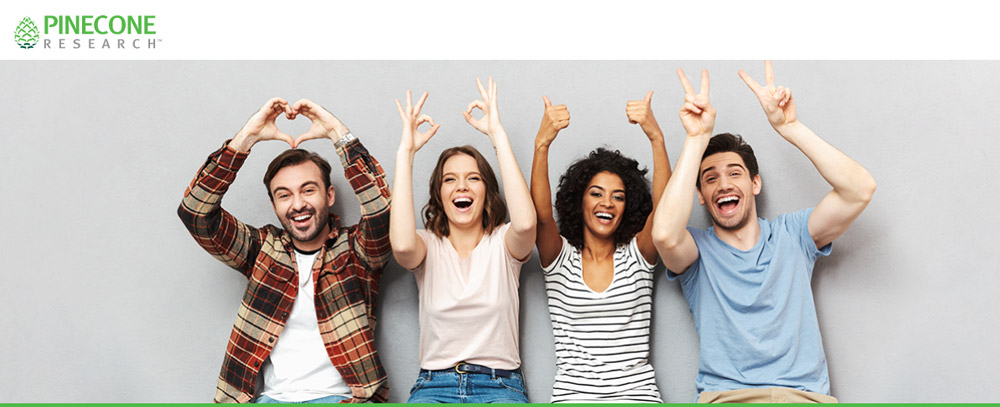 Pinecone Research is part of Nielsen – one of the world's most prestigious market research companies.
It is primarily a paid survey website, although product testing opportunities crop up now and again. Most commonly, you'll be given the chance to test food, drinks or beauty products.
The product testing process is well-organized, although it is one of the more exclusive membership sites. You can expect to be on the waiting list for a small while, before being accepted to test products for this company, however the upside to this is that you're far more likely to be chosen to actually test a product, once you're approved as a member.
With every product tested, you get to keep the item and you'll be compensated up to $3 to answer a simple survey about it. Payments can be redeemed via a cash transfer made directly to your bank account, or for a gift card of your choosing.
2. Opinion Outpost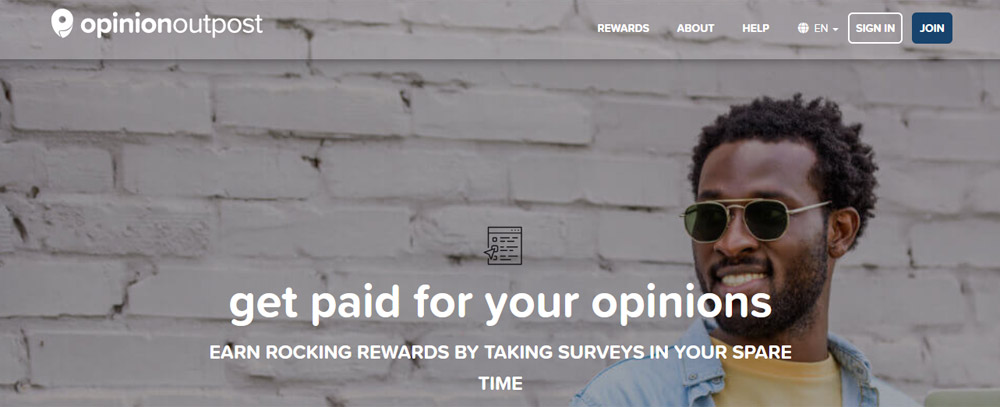 Opinion Outpost is best-known for providing a consistent supply of short surveys for its members to answer. However, it does also offer product testing opportunities to more experienced members.
You can cash out your rewards with as little as $5 in your account, and participants from the USA, UK, Canada, and select European nations are welcome to join the community.
Over $5,000,000 in rewards is paid out to members annually in the form of PayPal cash payments, Amazon gift cards and Visa gift cards.
3. YouGov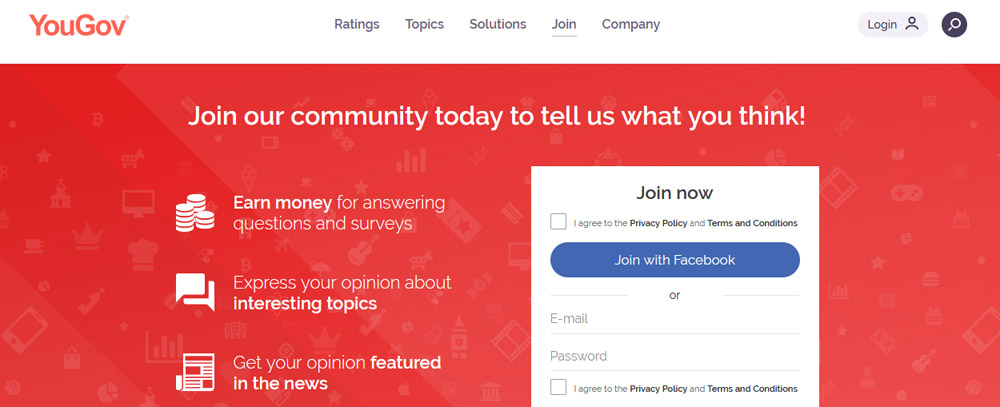 YouGov is arguably the most well-known British market research company, as the results of their interesting and informative surveys are frequently published in national media in the USA and elsewhere in the world.
They don't just conduct online surveys – now and again, YouGov members are given opportunities to test free products before they reach the market.
YouGov pays its members in PayPal payments and gift cards, although in some cases, keeping the product that you are testing will be your reward.
4. Ipsos iSay


Ipsos iSay is one of the longest-running market research companies. It has been recording consumer opinions since 1975 and conducts an astounding, 70 million interviews per year!
Although it doesn't offer as many opportunities to answer surveys as some of its competitors, it does occasionally give members a chance to test products. Food, beauty products, cleaning products and pet food are common test items.
In exchange for participating, like YouGov, you can expect to receive cash rewards or a gift card for your efforts.
5. Toluna Influencers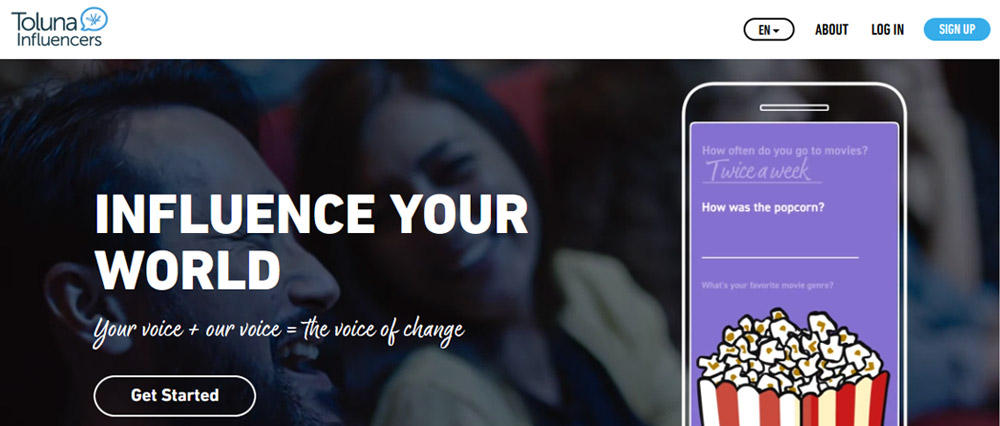 Toluna Influencers is primarily a paid survey website, but it is also among the best at offering consistent product testing opportunities.
Although you won't be paid to test the products, you will get to keep whatever products are sent to you. The most common products on offer are toiletries and cosmetics.
Simply visit the 'testing' section of the website and apply to test a specific product. Testers are chosen at random from the pool of applicants. Typically, Toluna Influencers requires between 200 and 500 testers per product, although they technically have millions of members on their site, not everyone will apply for or be interested in the product tests they have available.
6. OneOpinion (USA only)


OneOpinion was founded over 10 years ago and conducts research on behalf of some of the world's biggest companies.
Product testing opportunities for products not yet on the market are available periodically. You'll be able to test the products from your home, share your experiences with them and as a reward, you'll usually get to keep the product in addition to receiving free points for testing it.
Exchange your points for cash paid directly to your PayPal account, or choose a virtual Visa card or tons of different gift card options in exchange for your participation as a paid product tester.
7. Clicks Research
Clicks Research is primarily a product testing website, but it also offers paid surveys for its members. It works with a huge range of well-known cosmetic retailers including Boots, Marks and Spencer, Sanctuary and The Body Shop.
When you sign up, you can expect to test a wide range of items including clothing, toiletries, cosmetics and pet products.
You will get to keep all samples and items you try and review and you get to test products for free.
8. Alba Science
Within its 'Alba Volunteers' program, Alba Science is looking for help testing a range of new toiletries and cosmetic products. It aims to keep a base group of 15,000 volunteers across the UK to test these products.
Although they are not compensated, the volunteers get to keep the products and can consider it a free sample.
Alba Volunteers also performs clinical trials within its Edinburgh headquarters. They pays between £20 and £500 per trial, so if you live in the city, you may consider getting involved.
9. Product Testing USA, UK and Canada (overview)


Product Testing USA is arguably the most well-known product testing website in the United States.
The same company also operates a UK equivalent website entitled, Product Testing UK and a Canadian equivalent – Product Testing Canada.
There is a lot of hype around this company, because it offers users the opportunity to test out expensive in-demand products. In the past, users have been offered a chance to test out the newest iPad, FitBit or XBox One.
On top of that, there are opportunities to test out high-end electronics, yard equipment, beauty products and much more.
However, a lot of reports from Product Testing USA and their international members suggest that it's incredibly difficult to be chosen to test out any products, let alone these highly desired new items.
There are enough testimonials out there to suggest that some lucky members are chosen, but they are in the minority.
These members have to submit a 500-word written review and 1-minute video review for the product. That's a lot more than other websites ask for (such as the sites listed above). If they are chosen, they are typically only rewarded by being allowed to keep the product.
If you do roll the dice and try to apply for product testing opportunities with this company, you'll have to sift through a lot of advertisements and a lot of third-party companies asking for your personal data.
Indeed, many online users have complained about being overwhelmed with unwanted sales calls and emails after signing up to the website.
Product Testing USA, UK and Canada also offer mystery shopping opportunities, and will link you to third-party paid survey websites.
Nevertheless, if you're head-strong on trying to become a product tester, you might want to try your luck with these websites.
Product testing for teens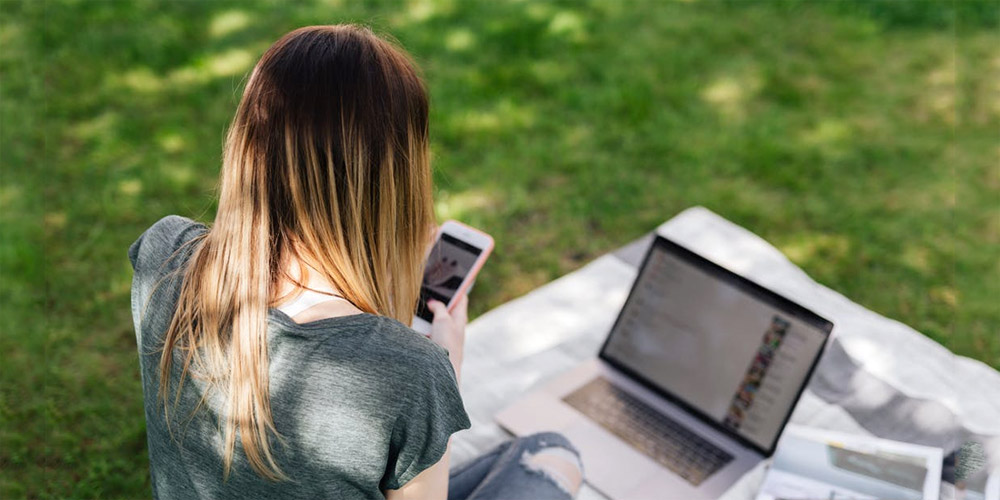 Although prospective testers looking for product testing for teens may not have as many options as adults, there are still plenty of places online where they can apply. The following websites offer opportunities for teenagers (note that some may require parental permission to enroll), and are free to join:
Other companies to check out:
Here are some other product testing companies not listed above that you might wish to check out:
To sum it up
Although paid product testing jobs from home are not something you can do full-time, it is possible to partake in occasional product review assignments. The frequency of receiving these assignments is impossible to predict. It depends on how many tests a market research company has been commissioned to perform, and whether these tests are seeking people from your demographic to provide their feedback and experiences.
If you'd like to regularly get paid to review products, the best strategy you can employ is to sign up with multiple companies that offer product testing assignments. If you limit yourself to just one or two companies, your chances of being selected for a project will be lower than if you commit to a few different programs. In addition, ensure your profile information in your survey accounts is complete, accurate, and up to date. This will help place your account in good standing with the research company who conducts such studies, making you more likely to be invited to future tests.
» Full list of product testing companies
Sources:
1. https://www.driveresearch.com/market-research-company-blog/case-study-in-home-usage-test-of-diapers-in-the-us/
2. https://www.driveresearch.com/market-research-company-blog/product-placement-tests-how-they-work-and-when-to-use-them/