A free Visa gift card is arguably one of the best ways to be rewarded for taking online surveys, as it can be spent with pretty much any online or offline retailer. After all, in 2023 and beyond, there are exceptionally few retailers who don't accept Visa payments. In fact, this type of card is often referred to as a "universal gift card", because of its ubiquity.
Indeed, the universal nature of this reward means it's far more likely to be useful to you than a gift card with a specific retailer.
» Skip ahead to find survey sites offering Visa gift cards
The problem is: not all paid survey websites offer a free Visa gift card as a reward to its members.
Instead, they may only offer gift cards with specific retailers, or perhaps online payments via PayPal. It could be argued that neither of these payments methods are as convenient.
We have therefore gone to the trouble of listing the most popular paid survey websites that do offer free Visa gift cards. Our guide comes complete with instructions on how to claim your gift card from each survey website.
What is a Visa gift card?
A Visa gift card is essentially a prepaid debit card, which is topped up by the purchaser and sent to the recipient. The balance can be spent with any of the millions of retailers that accept Visa. However, you can't use it to withdraw cash at an ATM.
The card can't be topped up a second time, like traditional prepaid cards can, so you may as well dispose of it once the balance has been spent.
With some paid survey websites, you may be given the opportunity to claim a 'virtual' Visa gift card instead of having a physical plastic card mailed to you. A 'virtual' card is sent to you by email and can be used to fund online payments.
The major advantage of a 'virtual' gift card is that you'll receive it instantly, as opposed to having to wait for it in the post. A key disadvantage is that it can't be used in the offline world.
5

6 survey programs where you can get free Visa gift cards

You can consider the following paid survey websites among the best to use if you're looking to get your hands on a free Visa gift card.

On each of them, you should be able to claim a gift card with little hassle and in a reasonable amount of time.

You can discover a larger range of websites offering free Visa gift cards using SurveyPolice Pick-a-Perk. This tool allows you to search for your ideal online paid survey site, using a range of filters to select what features you'd like it to have.
1. Tellwut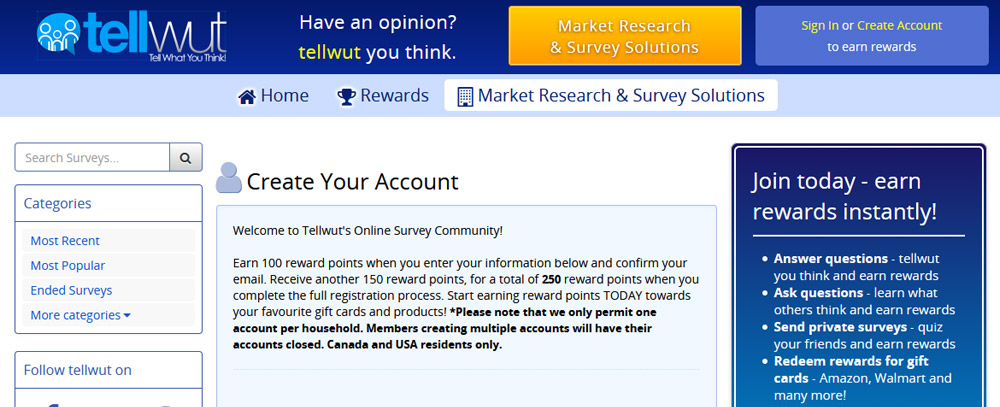 Tellwut stands for 'tell us what you think' and it offers plenty of paid surveys that allow users to do just that. It's available for those living in North America only.
Rewards and Payment Types: You can choose from a broad range of payment methods, including the option to be sent a free Visa gift card, or a Mastercard if you prefer. The earnings threshold for this option is $25.
Eligibility: A lot of people enjoy the unique community aspect of Tellwut, even though it has over 1.5 million users. Many of the surveys are created by its members, and you are given the option to chat with other members in the comments section of surveys. People from the USA and Canada are welcome to join the site.
» Visit the Tellwut website to get 250 free points for joining.
2. Branded Surveys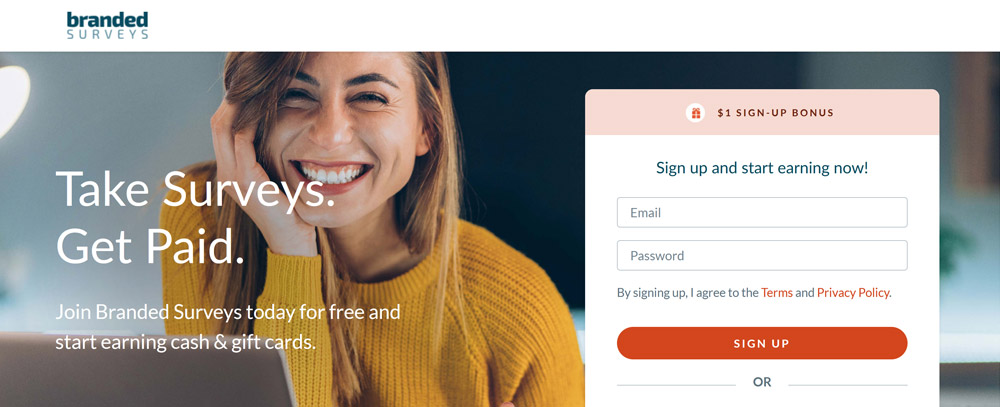 Branded Surveys is a slick paid survey website and everything it offers works smoothly. It consistently presents an impressive amount of new surveys, and pays its members well for the time spent on them.
Rewards and Payment Types: There is a large range of payment methods available, including the option to receive free Visa gift cards. It's also one of the few survey websites that will send you money via bank transfer, if you prefer.
Cashing Out: You only need to earn $5 worth of rewards points to be eligible to redeem for a gift card or cash. All payment claims are processed in 1-2 business days (and sometimes even immediately!), which is a lot quicker than some of its competitors.
» Visit the Branded Surveys website to get a 100 point ($1.00) joining bonus
3. Pinecone Research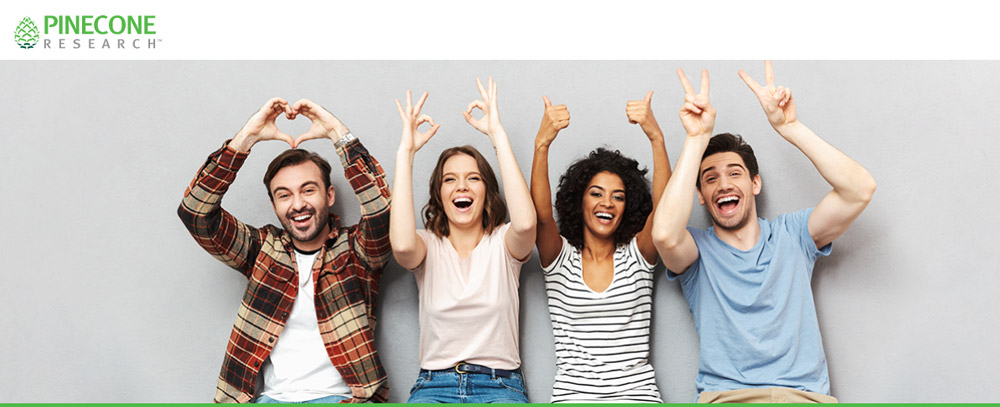 Pinecone Research tends to only offer lengthy surveys – each taking around 15-20 minutes to complete – but you will be compensated fairly for your time. It's a great choice of website if you're looking to dedicate serious time and make a notable amount of money by filling out online surveys. You can expect to earn between $3 and $5 per completed survey.
The website was created by Nielsen, one of the world's most reputable market research companies, so you can expect your experience as a member to run smoothly. They've been a favorite of SurveyPolice reviewers for many years.
Rewards and Payment Types: What's more, there are no minimum earnings thresholds for redeeming your rewards. Whenever you feel like claiming your free Visa gift card, submit your request, and you'll be able to.
Other available payment methods include cash payments via bank transfer, individual retailer gift cards including Amazon and Walmart, or even a check delivered to your home.
Eligibility: A common complaint about Pinecone Research surrounds its exclusivity. It's one of the more difficult paid survey websites to be accepted for (see our dedicated article on how to find an invite to join Pinecone Research). After filling out the application form, you'll face a wait to find out if you're accepted. The results of your application will depend on demand for new members in your demographic, which vary month to month. Applications are accepted from the US, UK, Canada, France and Germany.
» Earn $3 per survey with Pinecone Research
4. Panel Champ


Panel Champ is available to users across the globe, and has the potential to be one of the world's most lucrative paid survey websites for users who take their highly coveted music survey.
It has a broad range of surveys for members to complete. This includes music surveys, which users are paid particularly generously to answer. You can earn up to $90 completing these surveys, although you'll have to act fast because (as you'd expect) the demand to take part is high.
Rewards and Payment Types: You can be paid via PayPal, check or Tango cards, Amazon or vouchers, as well as free Visa gift cards.
Eligibility: Panel Champ welcomes people from around the world to visit their website and join their panel.
5. OneOpinion


With OneOpinion, you can participate in both paid surveys and product testing to earn free Visa Cards. You'll need to have at least $25 worth of earnings in your account to request a reward, but especially if you're selected for a product test, it shouldn't take overly long to attain this.
Rewards and Payment Types: OneOpinion has been around for a long time and its attractive website makes it a popular choice among survey takers. Becoming a member of the site takes (literally) only a minute or two and new surveys are posted to the platform every day.
You can also choose to be paid by PayPal, or to receive an e-gift cards to Amazon.
Eligibility: OneOpinion is open to US residents only.
» Take paid surveys with Oneopinion
6. PointClub


You'll have to earn at least $25 worth of rewards to be eligible to receive a free Visa gift card from PointClub, and this is one of the highest earnings thresholds on our list.
Rewards and Payment Types: PointClub had to be included it in our list of the best options for you, mostly because it offers so many opportunities to earn rewards. Where some paid survey websites tend to be limited when it comes to new surveys, PointClub tends to be stacked with them at all times. This website rewards you fairly for your time, and you'll even get a $5 bonus just for signing up. It's an easy platform to navigate and you should be able to reach the $25 with relative ease.
If you prefer to be paid via PayPal or via a gift card with an individual retailer, these options are also available.
Eligibility: PointClub welcomes applications from people across the world, but users in the USA will have the most opportunities to be eligible for new surveys and have the most success with the program.
» Get a $5 signup bonus with PointClub
Looking for Visa gift cards in the UK?

If you're looking for a free Visa gift card UK, you're in luck! Most of the survey providers listed above offer free membership to people residing in the UK. These include:
If you're open to other reward types, check out the full list of paid surveys UK on the main section of our website.
Looking for an instant virtual Visa gift card?
If you'd like to receive a virtual Visa gift card instantly, PrizeRebel is worth considering. It's a site where you can earn points for doing surveys, completing micro-tasks, watching videos and inputting free codes posted on social media. You can earn virtual Visa cards on their site in denominations of $5, $10, $25, $50 and $100.
Gold members (those who have earned at total of at least $45 on the platform) receive their rewards instantly after requesting them. Processing times for other users is still very fast, and is typically within 24 hours.
What about Mastercard gift cards?

There is virtually no difference between Visa and Mastercard gift cards. Visa technically processes more transactions annually, and each company uses their own respective payment networks. As a consumer however, there are no discernible differences. A very small percentage of retailers may only accept one type of gift card over another, however, generally speaking, retailers who accept Visa tend to accept Mastercard, and vice versa.
To sum it up…
The ubiquity of Visa makes a Visa gift card one of the most convenient payment methods offered by paid survey websites – and there are plenty of great websites that will pay you this way.
What's more, there's little stopping you from applying to be a member of all these websites, and earning money towards your Visa gift cards at a quicker rate.
Want even more? Get the complete list of sites that offer Visa card payments, by clicking the button below.
» All survey sites who offer pre-paid Visa cards
---
Related posts: