OneOpinion Reviews and Features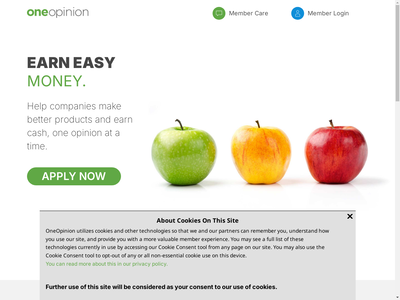 OneOpinion
6 Research Drive, Shelton, Connecticut 06484 US
Tel: (866) 360-9574 Contact: https://www.oneopinion.com/contact-us
Operated by: Dynata

PAYMENTS OFFERED

Cash paid via PayPal

Amazon gift cards

Prepaid debit or credit cards

HOW TO PARTICIPATE

Online surveys

Mobile surveys

Product testing

Diary surveys

Teen surveys

REDEEMING REWARDS
25,000 points ($25/£25) minimum account balance required to request rewards in the form of pre-paid credit cards, Amazon gift cards, or PayPal payments.
OneOpinion was founded in 2011 and is run by Dynata. OneOpinion conducts surveys on behalf of the world's leading market research companies. You can learn about new products and services and influence their development by sharing your opinions with the site. By joining, you'll be a part of a worldwide panel that actively participates in research studies from top companies, all while earning great rewards.
Simple Sign Up
Signing up for the OneOpinion survey site is quick and easy – simply fill out the registration form (or chat with 'Emily' the bot to sign up), and follow the instructions once you receive your confirmation email. Once your registration is confirmed, you can start taking paid surveys and earning rewards..
Earn Gift Cards or Cash
Once you have 25,000 Points (1,000 points = $/£1.00) in your account, you can redeem your balance towards items in the OneOpinion Rewards Program. Many different gift cards options are available, including Amazon gift cards, and are sent via UPS to your mailing address.
If you do not want to wait until a physical card is delivered (keep in mind that it can take up to 10 days to arrive), you can opt for a virtual gift card that will instantly be sent to you and ready for use. You can redeem your points for a $25 virtual Visa Debit Card, Amazon e-voucher, or you can elect to receive your funds as cash via your PayPal account for extra cash for you to spend any way you'd like. Extra verification is required for these rewards options, but you only need to do it once and it assures that only you will receive your rewards (and not a fraudster).
OneOpinion also has a "One Rewards Program", which lets you trade your well-earned points for diverse rewards that you can choose from, if you prefer rewards beyond cash or pre-paid debit cards.
Visit OneOpinion's website

›
Collect Your Points
Most OneOpinion surveys pay the points equivalent of $1 to $5 ($1 = 1,000 points), so you'll hit the 25,000 point threshold needed to start redeeming your rewards quickly if you are an active member of the panel.
When new surveys become available, you'll be e-mailed a survey invitation which will state the topic of the survey, the amount of points offered for completing it, as well as the approximate time it'll take to complete. Even if you end up getting screened out of a survey, One Opinion will still reward you with points! This will help you reach your rewards goals faster.
Earn Points for Disqualifications
If you get screened out or are disqualified from surveys, OneOpinion will still compensate you. Earn up to 250 points per day (50 points x 5 disqualifications) for screen outs.
Get Your Points Immediately!
After you complete an online survey, your reward points will instantly be loaded into your account. These points can be traded in towards great rewards from the OneOpinion Rewards Program.
Take Part in LOTS of Surveys
If you qualify, and your profile matches the studies criteria, there may be a new survey for you to take every day. Partner surveys are also available, which will help match you to additional studies.
Visit OneOpinion's website

›
Product Testing and Online Surveys
Members of OneOpinion periodically get the opportunity to see and test new products that are not even on the market yet. Try new products right in your home and tell OneOpinion about your experience! You will typically get to keep the product and will also receive points for testing it.
Extra Security to Protect Your Account
OneOpinion offers 2-Step Verification to help protect your account from hackers and scammers; this optional feature allows you product your account with your phone number so that if someone were to gain access to your email account, they would not be able to cash out your rewards from your One Opinion account.
24/7 Member Care
OneOpinion promises its members great customer service. If at any point you have a question about anything regarding OneOpinion, chat with Emily the 'bot' who is surprisingly savvy and can help with most inquiries, or call the customer service line and you will be connected with a customer representative that can answer your questions over the phone.
Is One Opinion Legitimate?
OneOpinion is not a scam and is a legit paid surveys site. Although members of the program may have different experiences, OneOpinion is legitimate and is run by Dynata (one of the largest data sampling companies in the world).
Eligibility: Residents of the USA and UK may join. Must be 13+ (members 18 and under must get parental consent before joining). Multiple members from the same household may join.
Note: OneOpinion closed the .ca (Canadian) .fr (French), Australian, German, Spain and Italian versions of their survey panel on June 30, 2019. The USA and UK versions of their panel continue to be operational.
---
1 Star Reviews (113)
36.8
What's Up with One Opinion?
January 17, 2022 by Joyce from United States
Up until recently I regarded this site as one of the most reliable sites in terms of everything. Lately, it seems the pages have glitches, when I try to look at as far as the listing of recent activity.. even the dates are off. It was also the 1st time my gift card didn't arrive on time. Customer service was good with that when I contacted and I did end up receiving it. What I am mainly finding an issue on is lately, after spending at least 20 minutes on a survey and reaching the end, being told I don't qualify. I am wondering if anyone else is having this issue.
My Account Doesn't Exisit Anymore
December 28, 2021 by Melody from United States
I was a member of OneOpinion starting when it was MyVoice. It was one of the best survey sites for various reasons. Over time I got less emails. Then at some point there were no emails.. I went to the website and could not log in, I tried to contact consumer service, There seems to be no way to do that. I tried to sign up again. Can't figure out how to do that either. So, I'm just dismissed without a word. The parent company could have at least transferred my points to another panel or told me I needed to use them by a certain date. I am still very confused by this.
December 16, 2021 by Jo from United States
Use to get survey email and you could do five or six now get email and no surveys available I am not sure why they send emails. You can't send them message does not work and suppose if you would call no answer. Danta probably going out of business if the stiff everybody.
Yayyy I Just Got Paid got my Money Thanks One Opinion
December 14, 2021 by Lester from United States
2nd New Update ALERT ....from what i see they NOT Closing down the USA site I Cash Out Dec 9th 2021 and my $25 was in my Pay Pal account Dec 12th yayyy They PAID me it take up to 4 days to get yo money via pay pal and i got more money coming everyday of this week cus i had a Total of $260 but u can only Cash out only $25 at a time they not letting me cash out the whole $260 at 1x i emailed them when i was having problems cashing out they never told me they was closing down last reply they sent me told me my account was flagg cuz i was doing surveys from 2 diff browsers hun i been doin them from 2 diff devices my laptop and my cell never had any problems heard they was just closing down they UK Site not the USA site they Own the Big Power Company Dynata but i wish they start letting people cash out the whole amount they made or at least $50 instead of $25 at a time hopefully emily come back online soon the helper u talk to when u have any problems >>>>My 1st update alert.. My #1 survey company. is still on and poppin just got paid via Pay Pal and I get a 50 cent consolation prize if I get denied. The only survey site that pays the most for trying. All the other sites just give u 2 cents to 10 cents. So far I saved up to $60 and counting. I plan on saving up to $500 then cash out with some nice pocket change in my Pay Pal Acct in my opinion One Opinion is still #1 Survey app of them all PaidViewPoint #2 QuickThoughts #3 inbox dollars #4 Surveys on the Go #5 Branded #6 Qmee #7 Eureka #8 Surveytime #9 Google Opinion Rewards #10 #Surveyking504
December 10, 2021 by STEPHEN from United States
This site just took over MyView Surveys. With MyView, I used to get 100 points when I didn't qualify for a survey, this site only offers 50 points for the same thing, but they seem to pay out more for surveys that I do qualify for and I'm cashing out a little more frequently than with MyView. I just cashed out $25 after only 28 days.

I've been dealing with the headache of trying to cash out the points. The one step that's a real pain is they send a SMS code to your cell phone. Problem is that it can take over 2 hours to receive the code and then when you finally get the code, it doesn't accept it. I just did this and had to try about 5 times to cash out my points for a $25 VISA girt card. This is starting to get very old and very annoying. They make you go through all this red tape just to redeem your points.

Update: I have them call my landline for the code to redeem my gift card, this works very well. I'm getting more surveys and redeem $25 approx. every 20 days now.

For the last couple of weeks, their website seems to be operating slower. I use to wait 6-7 seconds on the first screen waiting for surveys, now it's over 15 seconds. This might not sound like much, but time is money, esp. for someone like me who might do as many as 50 surveys in one day. 9/16/20.

Update 12/8/21: For the last few months, the amount of surveys that I've got has decreased drastically. Don't know if others are having this problem too. i read lots of reviews claiming they're going down.
» Return to: TOP RATED SURVEY SITES
---
Popular Topics
Top Survey Sites of 2022
---
Highest User Rated Survey Sites
---
Survey Sites That Pay Instantly
---
Survey Sites with Low Cash Outs
---
9 Product Testing Job Websites
---
12 Online Surveys That Pay Cash
---
How to Earn Free Uber Gift Cards
---
14 Ways to Get Free Amazon Gift Cards
---
Best Paid Focus Groups
---
How to Get a Free Visa Gift Card
---
Ways to Get Free Xbox Gift Cards
---
Featured Advertisers: