OneOpinion Reviews and Features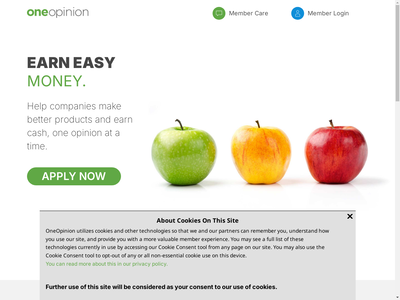 OneOpinion
6 Research Drive, Shelton, Connecticut 06484 US
Tel: (800) 651-8794 Contact: [email protected]
Operated by: Dynata
Quick Overview:
Rewards Offered: Cash paid via PayPal Amazon gift cards Prepaid debit or credit cards
Member Opportunities: Online surveys Mobile surveys Product testing Diary surveys Teen surveys
Redeeming Rewards: 25,000 points ($25/£25) minimum account balance required to request rewards in the form of pre-paid credit cards or PayPal.
Similar Panels: Branded Surveys, Univox Community, Opinion Outpost
Note: OneOpinion closed the .ca (Canadian) .fr (French), Australian, German and Italian versions of their survey panel on June 30, 2019. The USA, UK, etc. version of their websites continue to be operational.

OneOpinion was founded in 2011 and is owned by Critical Mix Inc. OneOpinion conducts surveys on behalf of the world's leading market research companies. Learn about new products and services and influence their development by sharing your opinion! By joining, you'll be a part of a worldwide panel that actively participates in research studies from top companies, all while earning great rewards.
Simple Sign Up
Signing up for OneOpinion is quick and easy – simply fill out the registration form (or chat with 'Emily' the bot to sign up), and follow the instructions once you receive your confirmation email. Once your registration is confirmed you can start taking surveys and earning rewards!
Earn Gift Cards or Cash
Once you have reached 25,000 Points (1,000 points = $/£1.00) you are able to redeem towards items in the OneOpinion Rewards Program. You could redeem your points for a $25 virtual Visa Debit Card instantly! These cards will be sent via UPS to your home. If you do not want to wait until the physical card is delivered (keep in mind that it can take up to 10 days to arrive), you can also opt for a virtual gift card that will instantly be sent to you and ready for use, or you can elect to receive your funds as cash via your PayPal account. Amazon gift cards are also available.
OneOpinion also has a "One Rewards Program", which lets you trade your well-earned points for diverse rewards that you can choose from, if you prefer rewards beyond cash or pre-paid debit cards.
Visit OneOpinion's website

›
Collect Your Points
Most surveys pay the points equivalent of $1 to $5 ($1 = 1,000 points), so you'll hit the 25,000 point threshold needed to start redeeming your rewards quickly if you are an active member of the panel. Even if you screen out of a survey, OneOpinion will still reward you with 50 points!
Get your Points Immediately!
After you take an online survey, your reward points will instantly be loaded into your account. These points can be traded in towards great rewards from the OneOpinion Rewards Program.
Take Part in LOTS of Surveys
If you qualify, and your profile matches the studies criteria, there may be a new survey for you to take every day!
Visit OneOpinion's website

›
Product Testing and Online Surveys
Members of OneOpinion get the opportunity to see and test new products that are not even on the market yet. Try new products right in your home and tell OneOpinion about your experience!
24/7 Member Care
OneOpinion promises its members great customer service. If at any point you have a question about anything regarding OneOpinion, fill out the contact form or call the customer service line, and you will be connected with a customer representative that can answer your question(s).
Eligibility: Residents of the USA, UK, Spain, Germany, Italy, France, The Netherlands, Australia and Canada may join. Must be 13+ (members 18 and under must get parental consent before joining). Multiple members from the same household may join.
---
November 13, 2019 by Rosemary from United States
Ive been with this site for almost a year and its been a great site, the last time I got a survey from them was Nov.7 now when I go to this site it says I have no surveys, I asked there robo thing why Im not getting surveys? the first time I asked was last weekend no answer, so I wrote them back yesterday the robo thing said there was nothing wrong with my account that they would fix it, today still nothing I wrote them this morning and I tried to call their toll free number its not a working phone. So I told them I was going to survey police to find replacement survey sites for them. They then sent me a message saying my account has been suspended because their emails have been flagged, I didnt flag their emails, I tried to make sure their old emails werent flagged still nothing. I have 22.00 in my account on their site which I guess I lost. Something is going wrong with these sites a few are shady and I have unsubscribed to the bad ones. Now Im going to find trustworthy sites to make for the loss of this one. I have to make up for this site and try to earn before Christmas
November 11, 2019 by Peggy from United States
Oneopinion is 1 of my favorite sites. I get plenty of survey's and they add up quick to cashout.
November 8, 2019 by Ian from United Kingdom
Get lots of invites but many then say there's nothing available. Good payout but takes a long time to get there, otherwise no problems.
Stopped surveys / certification licensing problems
November 6, 2019 by Hedwig from United States
A week ago I completed a survey, but no points were given. Their Emily - computer response - couldn't figure things out, but wrote that a staff member will be contacted. I also wrote an email to them, but didn't get a reply.
Next 2 days no surveys were available to me. I asked Emily who responded that my account was temporarily suspended. There is no reason that they could have suspended me. So I wrote them an email asking for the reason.
Today I received a response that they system flagged me because of browser issues. I used the same browser as always and even tried their site using another browser, Chrome, but I am still blocked.
I tried Emily again who wrote that they are having "having an issue with the certification licensing on our site".
Looks like they aren't going to operate anymore and that people like me who have points won't be able to redeem the points.
Follow-up: They unblocked me after a week, but again I have problems with them. They didn't give me points for a long survey, and right after I asked about it, they blocked me from taking more surveys and they canceled my request for the $25 Paypal payment I was eligible for and had requested.
So now they don't give the promised points and they don't pay out as promised.
Beware of this site!!!
Borders False Advertising-Bait n Switch for reward redemption
October 30, 2019 by Jackie from United States
I have been with OneOpinion for 8 years; the reward redemption button has NEVER worked; however, up until this time to redeem, they have been kind enough to do a manual redemption. This time I started asking for help on Sept 27 for a manual PayPal; told no more manual help--yet was told that in July & someone did help me. I challenged since the button has NEVER worked in 8 years. I DID the trouble shooting list given to me, reported back immediately, sent screenshot requested of the error, still being told no manual help with redemption, to chose a physical card. FF. . . 1-1/2 weeks later I sent a followup email to qtn results of troubleshooting & conceded to physical gift card. Oct 21 the response I get: THE SAME list for me to use to trouble shoot (which I had done and reported 1-1/2 weeks prior) and NO RESPONSE to acknowledging the physical card request, which if mailed, could have been here in that week. The next response I get: They claim NO REQUEST for physical card--yet right there in the thread--scroll up to Oct 14--2:23 p.m.--Better yet, copied and pasted with a SEE??????? Next response is no physical card for PayPal, but can do an Amazon, Wal-mart, or Starbucks--they will email the code. It has now been ANOTHER week. It has been OVER A MONTH with just back/forth CRAP for something DULY earned. They say tech dept is working on the problem--EIGHT YEARS?????? 1. If they are going to offer a virtual with redemption button, then the button NEEDS to work!!! OR help with manual redemption. 2. The need to READ and answer what is being asked to help appropriately vs just flitting off a generic answer. BTW: In July I put in the subject line: PayPal Redemption help. In the message I gave all the security info that they always ask for, to help expedite--guess what I get for a response? PLEASE TELL US WHICH REWARD YOU WANT. . DUH! It was right in the SUBJECT LINE.) FF: I conceded to the physical PayPal card on Oct 14; now, as above, told didn't receive request, continuing: Next told NO Physical card for PayPal, so I NOW have conceded to the AMAZON CARD a WEEK AGO. (HOW HARD TO SEND THE GIFT CODE TO EMAIL.) We are now at BAIT AND SWITCH. . . . I give 2 stars because at least points for surveys are posted immediately; if one does not qualify, you still receive 50 points for up to 5 surveys in a day. HOWEVER, when you call, you NEVER get a real person and ALWAYS get the excuse they are very busy. (Well, the way I see it, they are VERY busy because they do NOT know how to read, spending too much wasted time with back/forth redundant emails, and not giving ALL the info. Having worked in advertising for 20 years, I call this FALSE ADVERTISING (If you are going to offer a virtual reward & the redemption button has NOT worked in 8 years--there is a problem. When told no more help with manual redemption and must choose a physical card (because the redemption button does NOT work and they won't help with a manual redemption that is BAIT AND SWITCH, as I see it. (Further, I have no trouble on other survey sites with my phone to receive a verification code--LANDLINE. Have even iterated that I have seen others complain that their button sees the tel no as VOIP, yet LANDLINE, so I suggested that check that with my tel number. . . . I GET NO response or acknowledgement to getting this fixed. I am faithful to go in and do surveys EVERY DAY, and I KNOW they are making more money than what we, as panelists receive, for completing surveys. Sad to feel like BEGGING FOR over a MONTH (and EIGHT--8--years) that the redemption button has not and does NOT WORK, to be forced into a reward just to concede. . . . I am about due for another redemption and if the button does NOT work again then, I plan to report to the BBB. (I have NEVER had a problem getting help with a manual redemption from them on their end until now, yet nothing is being done to FIX the reward redemption button. . . . .AGAIN, EIGHT YEARS the button has NOT worked, but my tel and verification code receipt works JUST FINE on other survey sites. FURTHER, if these people could read and pay attention to what is being asked, there would be much less back/forth. I have, sadly, gotten so frustrated, I have found myself in tears and even yelling on the telephone to leave a message. . . . I just want my duly earned reward and REALLY want PayPal, but have settled for AMAZON gift code IF they EVER send it. How hard to send the email with the code????? HOW HARD AFTER EIGHT (8) YEARS TO GET THE REDEMPTION BUTTON FIXED