OneOpinion Reviews and Features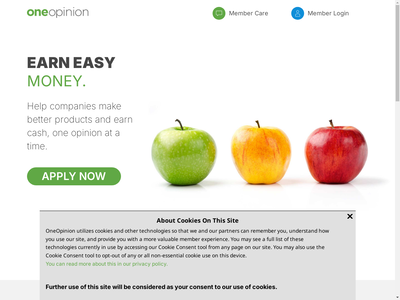 OneOpinion
6 Research Drive, Shelton, Connecticut 06484 US
Tel: (866) 360-9574 Contact: https://www.oneopinion.com/contact
Operated by: Dynata

PAYMENTS OFFERED

Cash paid via PayPal

Amazon gift cards

Prepaid debit or credit cards

Target gift cards

Home Depot gift cards

HOW TO PARTICIPATE

Online surveys

Mobile surveys

Product testing

Diary surveys

Teen surveys

REDEEMING REWARDS
25,000 points ($25/£25) minimum account balance required to request a reward.
OneOpinion is a paid survey site that conducts surveys on behalf of the world's leading market research companies. Learn about new products and services and influence their development by sharing your opinions with the site in exchange for rewards.
By joining, you'll be a part of a worldwide panel that actively participates in research studies from top companies, all while earning great rewards. OneOpinion was founded in 2011 and is run by Dynata.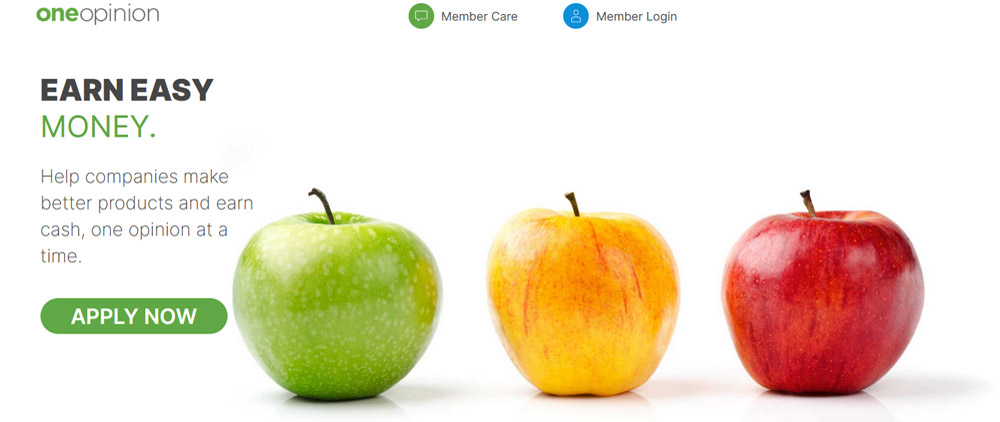 Simple Sign Up
Signing up for the OneOpinion survey site is quick and easy – simply fill out the registration form (or chat with 'Emily' the bot to sign up), and follow the instructions once you receive your confirmation email. Once your registration is confirmed, you can start taking paid surveys and earning rewards.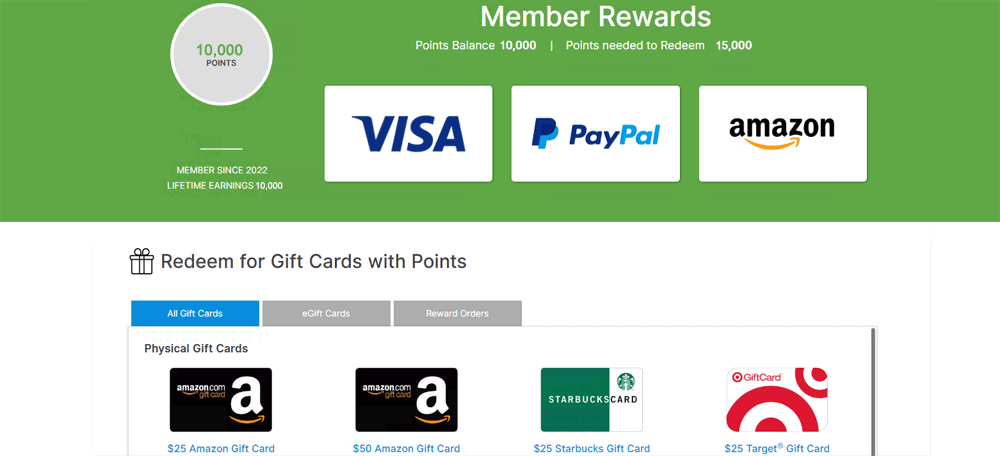 Earn Gift Cards or Cash
Once you have 25,000 Points (1,000 points = $/£1.00) in your account, you can redeem your balance towards items in the OneOpinion Rewards Program. Many different gift cards options are available, including Amazon gift cards, and are sent via UPS to your mailing address.
If you do not want to wait until a physical card is delivered (keep in mind that it can take up to 10 days to arrive), you can opt for a virtual gift card that will instantly be sent to you and ready for use.
OneOpinion Rewards
PayPal payments - receive a $25 PayPal payment with 25,000 points.
Amazon e-vouchers - with $25 or $50 worth of points in your account, request an Amazon.com e-gift code.
Starbucks gift cards - with 25,000 points, you can request a $25 Starbucks gift card.
Home Depot gift card - with 25,000 points in your account, opt to receive a $25 Home Depot gift card.
Visa prepaid cards - starting at 25,000 points, you can receive a $25 pre-paid Visa card. Other denominations are: $50, $75, and $100.
Points Value: 1,000 OneOpinion points = $1.00. Therefore, 100 points = $0.10
Visit OneOpinion's website

›
Collect Your Points
Most OneOpinion surveys pay the points equivalent of $1 to $5 ($1 = 1,000 points), so you'll hit the 25,000 point threshold needed to start redeeming your rewards quickly if you are an active member of the panel.
When new online surveys become available, you'll be e-mailed a survey invitation which will state the topic of the survey, the number of points offered for completing it, as well as the approximate time it'll take to complete. Even if you end up getting screened out of a survey, One Opinion will still reward you with points! This will help you reach your rewards goals faster.
Earn Points for Disqualifications
If you get screened out or are disqualified from an online survey, OneOpinion will still compensate you. Earn up to 250 points per day (50 points x 5 disqualifications) for screen outs.
Get Your Points Immediately!
After you complete an online survey, your reward points will instantly be loaded into your account. These points can be traded in towards great rewards from the OneOpinion Rewards Program.
Take Part in LOTS of Surveys
If you qualify, and your profile matches the studies criteria, there may be a new survey for you to take every day. Partner surveys are also available, which will help match you to additional studies.
Visit OneOpinion's website

›
Product Testing and Online Surveys
Members of OneOpinion periodically get the opportunity to see and test new products that are not yet on the market. Try new products from the comfort your home and tell OneOpinion about your experience! You will typically get to keep the product and will also receive points for testing it.
Extra Security to Protect Your Account
OneOpinion offers 2-Step Verification to help protect your account from hackers and scammers; this optional feature allows you product your account with your phone number so that if someone were to gain access to your email account, they would not be able to cash out your rewards from your One Opinion account.
24/7 Member Care
OneOpinion promises its members great customer service. If at any point you have a question about anything regarding OneOpinion, chat with Emily the 'bot' who is surprisingly savvy and can help with most inquiries, or call the customer service line and you will be connected with a customer representative that can answer your questions over the phone.
Is OneOpinion Legit or Scam?

Is One Opinion Legit?
OneOpinion is not a scam and is a legitimate paid surveys site. The site has been operating since 2011 and has issued millions of dollars in rewards to its members. Although members of the survey program may have different experiences, OneOpinion is legitimate and is run by Dynata (one of the largest data sampling companies in the world).
As with any survey site, it's advisable to consult user reviews before joining. Scroll down for a list of OneOpinion reviews.
Eligibility: Residents of the USA and UK may join. Must be 17+ (members 18 and under must get parental consent before joining). Multiple members from the same household may join.
Note: OneOpinion closed the .ca (Canadian) .fr (French), Australian, German, Spain and Italian versions of their survey panel on June 30, 2019. The USA and UK versions of their panel continue to be operational.
---
1 Star Reviews (130)
40.2
March 5, 2023 by Mitchell from United States
For about 2 weeks i go to their website i click on a survey and it never ask a question just disqualifies me and gives me my 50 points they give for not getting to take the survey.
A few weeks later and this site is still doing this i never get to take a survey.

Edit: Firefox isn't supported anymore don't know why but it isn't.
February 6, 2023 by Roberta from United States
This used to be a great panel. That has all changed. Very rarely qualify for surveys and it takes a lot of points to cash out. Disappointing.
January 26, 2023 by Bret from United States
Need to watch this site - was a member on this site for over 5 years and then without notification my account was "PERMANENTLY SUSPENDED" and my account has over $125.00 in it which I cannot get. I had inquired why and was advised due to discrepancy in my answers too several of their surveys. I inquired as to why no notification - and received no response
January 23, 2023 by Christine from United States
I would not recommend this survey site. They are not as good as they use to be. Without warning they will stop sending surveys and halt one's account.
January 7, 2023 by Joyce from United States
I have noticed for the past several months that even if one doesn't qualify for a survey, they are supposed get 50 points. for as much as 5 surveys a day. I did message their customer service on the matter and got back an impersonal AI response. It's very frustrating after doing as many as 5 surveys and if I don't qualify, I might get credit for 2 or 3 the most. On surveys that I do qualify for, I get credit immediately which is good. Also today, I spent at least 20 minutes on a survey, all the way to the end and was told I didn't qualify.. not even a credit and it was the 1st survey of the day there.
» Return to: TOP RATED SURVEY SITES
---
Popular Topics
Top Survey Sites of 2023
---
Highest User Rated Survey Sites
---
Survey Sites That Pay Instantly
---
Get $100 Free PayPal Payments
---
9 Product Testing Job Websites
---
12 Online Surveys That Pay Cash
---
How to Earn Free Uber Gift Cards
---
14 Ways to Get Free Amazon Gift Cards
---
Best Paid Focus Groups
---
How to Get a Free Visa Gift Card
---
Ways to Get Free Xbox Gift Cards
---
Featured Advertisers: