OneOpinion Reviews and Features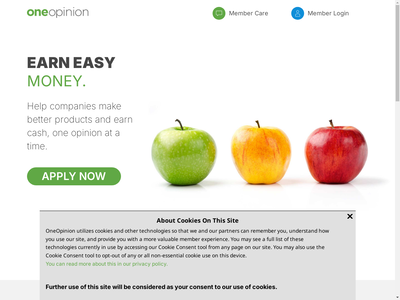 OneOpinion
6 Research Drive, Shelton, Connecticut 06484 US
Tel: (866) 360-9574 Contact: https://www.oneopinion.com/contact-us
Operated by: Dynata

PAYMENTS OFFERED

Cash paid via PayPal

Amazon gift cards

Prepaid debit or credit cards

HOW TO PARTICIPATE

Online surveys

Mobile surveys

Product testing

Diary surveys

Teen surveys

REDEEMING REWARDS
25,000 points ($25/£25) minimum account balance required to request rewards in the form of pre-paid credit cards, Amazon gift cards, or PayPal payments.
OneOpinion was founded in 2011 and is run by Dynata. OneOpinion conducts surveys on behalf of the world's leading market research companies. You can learn about new products and services and influence their development by sharing your opinions with the site. By joining, you'll be a part of a worldwide panel that actively participates in research studies from top companies, all while earning great rewards.
Simple Sign Up
Signing up for the OneOpinion survey site is quick and easy – simply fill out the registration form (or chat with 'Emily' the bot to sign up), and follow the instructions once you receive your confirmation email. Once your registration is confirmed, you can start taking paid surveys and earning rewards..
Earn Gift Cards or Cash
Once you have 25,000 Points (1,000 points = $/£1.00) in your account, you can redeem your balance towards items in the OneOpinion Rewards Program. Many different gift cards options are available, including Amazon gift cards, and are sent via UPS to your mailing address.
If you do not want to wait until a physical card is delivered (keep in mind that it can take up to 10 days to arrive), you can opt for a virtual gift card that will instantly be sent to you and ready for use. You can redeem your points for a $25 virtual Visa Debit Card, Amazon e-voucher, or you can elect to receive your funds as cash via your PayPal account for extra cash for you to spend any way you'd like. Extra verification is required for these rewards options, but you only need to do it once and it assures that only you will receive your rewards (and not a fraudster).
OneOpinion also has a "One Rewards Program", which lets you trade your well-earned points for diverse rewards that you can choose from, if you prefer rewards beyond cash or pre-paid debit cards.
Visit OneOpinion's website

›
Collect Your Points
Most OneOpinion surveys pay the points equivalent of $1 to $5 ($1 = 1,000 points), so you'll hit the 25,000 point threshold needed to start redeeming your rewards quickly if you are an active member of the panel.
When new surveys become available, you'll be e-mailed a survey invitation which will state the topic of the survey, the amount of points offered for completing it, as well as the approximate time it'll take to complete. Even if you end up getting screened out of a survey, One Opinion will still reward you with points! This will help you reach your rewards goals faster.
Earn Points for Disqualifications
If you get screened out or are disqualified from surveys, OneOpinion will still compensate you. Earn up to 250 points per day (50 points x 5 disqualifications) for screen outs.
Get Your Points Immediately!
After you complete an online survey, your reward points will instantly be loaded into your account. These points can be traded in towards great rewards from the OneOpinion Rewards Program.
Take Part in LOTS of Surveys
If you qualify, and your profile matches the studies criteria, there may be a new survey for you to take every day. Partner surveys are also available, which will help match you to additional studies.
Visit OneOpinion's website

›
Product Testing and Online Surveys
Members of OneOpinion periodically get the opportunity to see and test new products that are not even on the market yet. Try new products right in your home and tell OneOpinion about your experience! You will typically get to keep the product and will also receive points for testing it.
Extra Security to Protect Your Account
OneOpinion offers 2-Step Verification to help protect your account from hackers and scammers; this optional feature allows you product your account with your phone number so that if someone were to gain access to your email account, they would not be able to cash out your rewards from your One Opinion account.
24/7 Member Care
OneOpinion promises its members great customer service. If at any point you have a question about anything regarding OneOpinion, chat with Emily the 'bot' who is surprisingly savvy and can help with most inquiries, or call the customer service line and you will be connected with a customer representative that can answer your questions over the phone.
Is One Opinion Legitimate?
OneOpinion is not a scam and is a legit paid surveys site. Although members of the program may have different experiences, OneOpinion is legitimate and is run by Dynata (one of the largest data sampling companies in the world).
Eligibility: Residents of the USA and UK may join. Must be 13+ (members 18 and under must get parental consent before joining). Multiple members from the same household may join.
Note: OneOpinion closed the .ca (Canadian) .fr (French), Australian, German, Spain and Italian versions of their survey panel on June 30, 2019. The USA and UK versions of their panel continue to be operational.
---
1 Star Reviews (105)
35.5
April 18, 2021 by Fred from United States
Started off great, cashed out several times for $25. As you get further into doing their surveys they disqualify you quite often. out of the last 10 surveys, I was disqualified each time, most from the same sub survey company they deal with. They do pay instantly when you cash out, but now it seems as though they are resorting to the same tactics employed by many of the scam sites, which is offer you surveys to keep you coming back but disqualifying you at the same time until they can actually come up with a legitimate survey.. I'm waiting to cashout one more time and them dump the like many others but now it takes up to 50 surveys to cash out..
In the beginning there were many 1000 point surveys and quick cashouts, not they offer mostly 500 point surveys. I refuse to waste my time of 15 minutes for 500 points. In the case of 500 points , they say 15 minutes. I bit and wasted as much as 29 minutes for a lousy 500 points. Once it gets beyond the time indicated I leave the survey, my time is more valuable They also want your SS# so they can send you tax information. Time to rethink this site. They now have a robot as their problem solver, however you you're lucky you get and smart mouth insulting so-called customer service rep that tells you almost directly "If you don;t like it unsubscribe and we'll send you what ever you have in points by whatever method you want". I've decided to maybe do one survey a day until I see better results. ONCE AGAIN SUCCESS BREEDS GREED and that's what this site is all about
Definitely on the downhill slide. Hat was once a reliable site has joined many others that are on the way out. What was once a site with many 1000 point surveys has resulted in a token 50 point survey for clicking on the link. In order to reach a 25000 point payout you would need to complete 500 surveys

When logging in over the past few days there were no surveys available. I contacted them and they passed me on to another method of contact and I have received no response. It would appear that this is in it's last days as others are having similar problems. Up to the last week it was a goof site that paid on time, but now there is no corresponddence. This is an example of their offers
REWARD
Varies*

SURVEY LENGTH

Varies*

SURVEY #

452501
In other words who knows what you're getting

Now here we are in April 2021 and I got the old screw job again. They won;t pay me and the only excuse they could give me was that I live in another country when I've been a member since 2007 and have not moved. This is a great site if you like to get the old shaft from Dynata a known giver of the shaft. My advice is find another site. There's good ones out there
April 16, 2021 by Laurie from United States
I am very disappointed with the response to my problem with the one opinion website. I have been a member since 2017 and have earned quite a few gift cards doing surveys through their website. I was also a member of Opinion Outpost and the same thing happened. I have answered the questions for all of the surveys as honestly as possible but it seems once I built up some points (rewards) my account gets frozen and I am then permanently suspended and not able to access the money that I built up. Between both panels I have not lost $100.00 and that does not seem fair to me since I took the time and energy to complete the surveys. I will be leaving a review on google as to NOT ever using these sites again.
March 29, 2021 by Katie from United States
I have taken 56 surveys. Everyday I would check my email and have 2 or 3 notifications of surveys I could take. Once I clicked on them and finished it would give me another survey and so forth. This went on for about 6 days or so. Then all of a sudden they stop. It has been almost a week and they have not sent me even one survey. I have $23.45 so far and need 1550 points to cash out. That would make it $25.00. For the surveys to stop right before I meet the required amount you can cash out at is very wrong. Don't waste your time.
Dynata and Oneopinion are Disgraceful
March 13, 2021 by Steve from United States
Like so many others here, I was a very long time member of this panel for over 15 years from back when it was Zoompanel. Recently my account was paused. When I inquired why, they gave me the same multiple bogus responses like everyone else - multiple accounts, accuracy of answers, profile information, etc, all of which were patently untrue. After a few emails, they said they suspended my account. I had a balance of over $600 which they refused to pay out. It is unconscionable that they kept this money after working on hours of diligent survey responses. Not only that, but they also suspended my account on the e-rewards panel as well which had a $700 balance. Dynata now owns both of these companies. I checked the Better Business Bureau's web site and there were over 1,000 similar complaints filed against Dynata along with poor customer reviews. Dynata's larger clients are subject of many of the surveys that include Disney, NBC Universal, JD Power, Carl's Jr., Microsoft, Apple, US Bank and many others. Anyone who has been terminated in a similar situation should consider emailing these companies who pay Dynata for these surveys and let them know how outrageous these actions are against panelists. Then urge them to suspend their marketing efforts with Dynata so they can partner with more reputable survey companies.
March 2, 2021 by Rick from United States
I rank it in my top 5 survey sites. So far no problems, decent payout for time spent on a survey. Less than normal disqualifications and get 5 points for each disqualify. (from 12/17)

Since my last review the site has gone downhill. You get disqualified more often, and the value received for time spent is worse. They have a new type of survey that "varies" the points and time, which means that, with a few exceptions, the points earned compared to the time spent is even worse.
» Return to: TOP RATED SURVEY SITES
---
Popular Topics
Top Survey Sites of 2021
---
Highest User Rated Survey Sites
---
Survey Sites That Pay Instantly
---
Survey Sites with Low Cash Outs
---
9 Product Testing Job Websites
---
12 Online Surveys That Pay Cash
---
How to Earn Free Uber Gift Cards
---
14 Ways to Get Free Amazon Gift Cards
---
Best Paid Focus Groups
---
How to Get a Free Visa Gift Card
---
Ways to Get Free Xbox Gift Cards
---
Featured Advertisers: