If you're looking to earn free Amazon gift cards, you're in luck because there are many different ways to legitimately earn Amazon gift cards.
As nothing legitimate is truly free, you'll have to complete simple tasks to earn these free gift cards, but one of the most popular and easiest ways is through participation on online survey sites.
Although most survey sites may appear similar, they do vary in the types of surveys they offer and how and when you can cash out your e-gift cards. To start earning points and to redeem Amazon gift cards, you'll have to create an account profile with each website. Your profile will help each website understand your demographics and give you surveys that are relevant to you.
14

15 survey sites that award Amazon gift cards:

Tip!

Some survey sites offer

sign-up bonuses

that you can use trade-in for an Amazon gift card or coupon codes.
1. Tellwut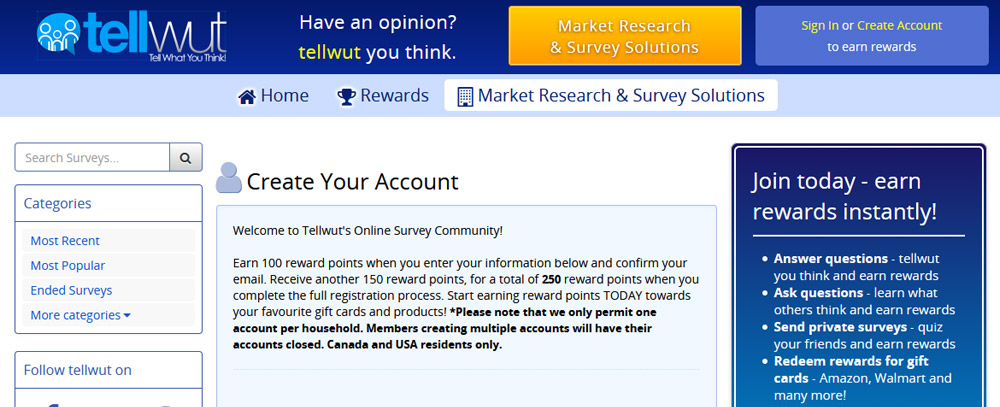 Tellwut is a fun, community-oriented survey site that gives people the opportunity to interact with other survey takers, while earning rewards.
You can easily earn points daily on their site (redeemable for Amazon cards) by doing the following:
Creating surveys
Completing other member's surveys
Taking part in external surveys
Referring friends to the platform
With just 4,000 points in your account ($10 worth), you can exchange your points for a reward. Gift cards are available in digital versions or can be mailed to your home address.
» Join Tellwut and receive a 250 point signup bonus.
2. PrizeRebel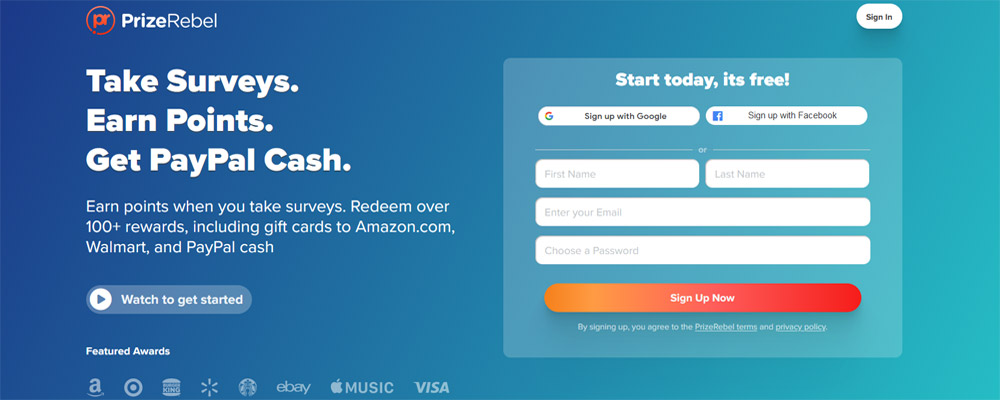 PrizeRebel has been around since 2007. Since its inception, it has paid its members more than $25 million. Prize Rebel has more than 10 million members who use their site to earn free money.
PrizeRebel awards its members with rewards points after they perform the following functions:
Signing up for trials or joining mailing lists
Taking surveys which are available via Your Surveys, Precision Sample Surveys, and Cint Daily Surveys
Watching videos
Applying bonus codes that award free bonus points
Participating in games, raffles, and contests
Unlocking more levels in their rewards program (silver, gold, platinum, and diamond)
You can redeem the points for a free Amazon gift card or other e-gift card codes. Prize Rebel also offers the option to earn rewards on other shopping sites such as eBay and Walmart; or receive PayPal cash.
PrizeRebel is available globally for users who are 18 years and above. It is important to note that users who have the most success with the site are from Canada, the USA, UK, and Australia.
» Join PrizeRebel to earn Amazon gift cards.
3. Branded Surveys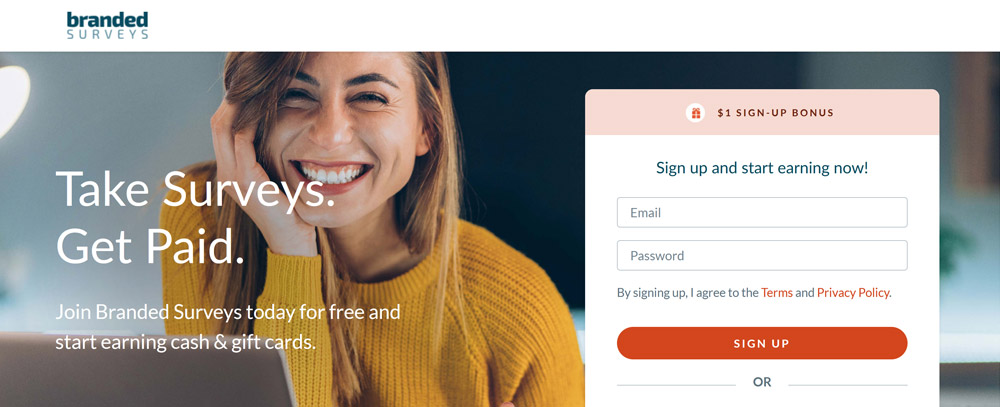 Branded Surveys is one of the world's leading market research firms that rewards people for their opinions.
Sign up on their site, create a profile, and provide details about yourself to qualify for more surveys and to earn Amazon cash.
Every person is awarded 100 points ($1.00) as a free sign-up bonus.
You can earn points with Branded Surveys by completing the following:
Paid surveys
Completing offers
Taking part in polls
Recruiting referrals
You can begin redeeming points once you have just 500 points, the equivalent of $5
You can use these points to get Amazon gift card codes or redeem your points on Paypal, BPAY (bank transfer), or for a prepaid virtual credit card. It will take 1-2 days to process your points, and a valid phone number is required.
» Join Branded Surveys to claim your $1.00 (100 point) signup bonus.
4. YouGov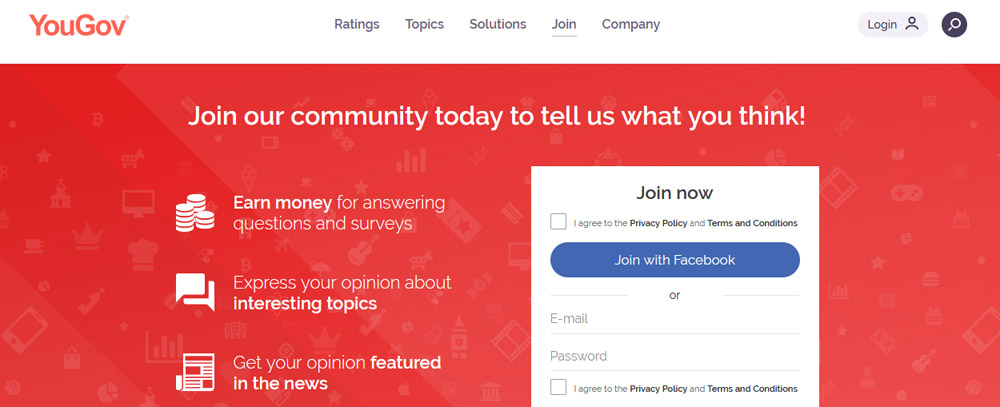 YouGov is an online market research firm that conducts online surveys on politics, products, brands, public affairs as well as other topics of general interest.
YouGov has more than 5 million members, of which 800,000 are in the UK. YouGov is free to join for people ages 16 and above.
You can start earning 50 points per survey, all the way up to 500 points per survey, and 25 points for profiling surveys. The longer the study, the higher the points, and the faster you'll be to receiving your first Amazon card.
Another way to earn points is by referring friends. You can pick up your exclusive referral code by logging into your YouGov account.
YouGov sends its members 2-3 surveys every week, meaning that it takes several weeks before a member can reach the minimum cash-out amount.
You can withdraw a minimum of 5,000 points. The reward redemption varies from country to country. For instance, in the US., the minimum number of points to be redeemed is 35,000, which can be redeemed for a $15 free Amazon gift card.
Their points can also be redeemed for gift cards from Best Buy, Walmart, or iTunes.
You can also download the YouGov app on your phone or tablet, enabling you to take surveys on the go. One major benefit of YouGov is that their surveys are short and easy to understand; there is no chance of disqualification and no irritating ads on their site.
» Join YouGov to start taking political surveys.
5. Panel Champ


Panel Champ is a global online survey platform that features short and long surveys that reward people through Paypal and Amazon.
You can sign up as long as you are 16 years and above. Members residing in the US can begin earning cashback once the balance in their account reaches $12.50, which is credited to your PayPal account. Users from other countries will experience similar minimum payouts. Only people residing in the US and UK. have the option of cashing out in the form of free Amazon gift card instead of PayPal payments.
Panel Champ surveys focus on topics such as finance, lifestyle, travel, consumer goods, healthcare, and technology.
The highest paying surveys on Panel Champ are the music surveys because your review can pay up to $90. These are in high demand, so if you happen to see one, grab it fast.
Their surveys last from 7-30 minutes and the pay ranges from $.25-$5 per each study completed successfully.
» Join Panel Champ to take music surveys worth up to $90 each.
6. Pinecone Research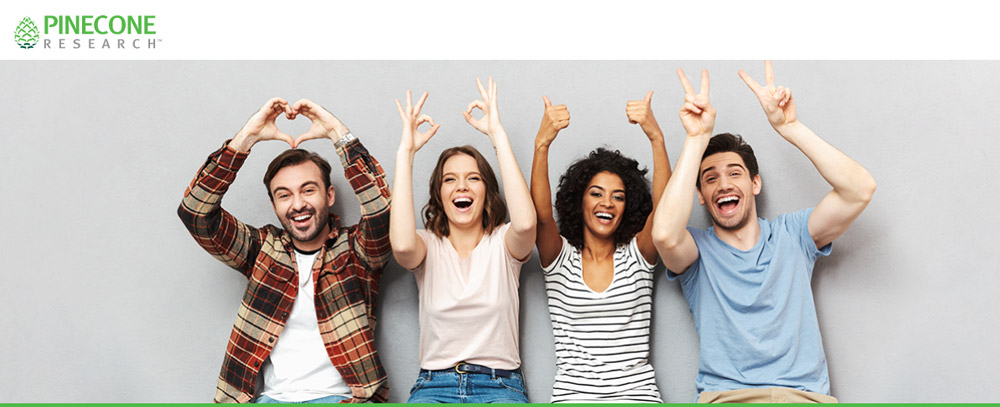 Pinecone Research is owned and operated by Nielsen. Formed in 1998, Nielsen is a market research company that is based in New York. The company's focus is on improving the quality of future products by collecting data worldwide.
It is a 100% legit survey site that is recognized by the Better Business Bureau, which has assigned the site a rating of A+, as of 2023.
Pinecone Research is different from other survey sites, as it is an invite-only platform. You can only join if an existing member sends you a referral link or if you happen to stumble upon a Pinecone sign-up link or banner (SurveyPolice offers this special Pinecone signup link). To join, you'll have to be 18 years and above with a valid email address.
It is available in the following countries: Canada, USA, UK, and Germany.
Each survey takes about 10-15 minutes, while some may be shorter. Each completed survey can earn you a minimum of $3.
With Pinecone Research, you can also earn through:
Online surveys
Website testing
There is no minimum amount needed to claim your rewards – you can cash out at any time. With Pinecone, you can redeem your cash via bank transfer or receive free Amazon gift cards and to other retailers such as Walmart.
It is free to join, and compared to other survey sites, it pays well. Their payment system is fast as it only takes a few days.
» Join Pinecone Research to take surveys for $3 each.
7. Swagbucks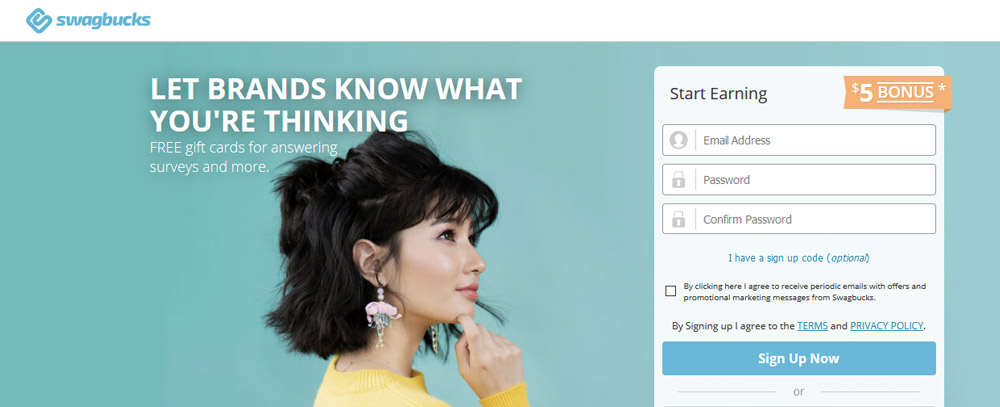 Swagbucks is one of the largest and most popular GPT (Get Paid To) websites, which allows you to earn points, and then redeem them for free Amazon gift cards.
When you join Swagbucks, you have an opportunity to earn a sign-up bonus of $5, which you can redeem for a free Amazon gift card once you have enough points in total..
With Swagbucks, you can earn 'Swag Bucks', or SB's which is their form of reward points by:
Completing surveys
Promotions
Watching videos
Free product trials
Referring friends
Online shopping
Playing games
Conducting web searches on the Swagbucks search engine
Swagbucks also as an app that you can download on your iPhone, Android, or iPad to earn gift cards.
One of the reasons why Swagbucks is famous is because you can redeem your SB's when you have as little $3 in your account during a Swagbuck promotion, while on some of the other sites, you have to accumulate at least $10 or $20 before you can redeem.
» Join Swagbucks to claim your $5 joining bonus.
8. Survey Junkie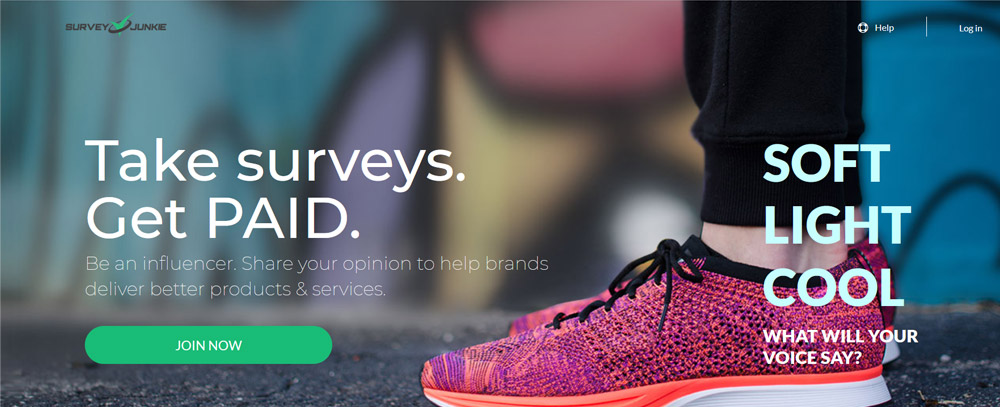 Survey Junkie is user-friendly and has more than 20 million members who are using it to earn free amazon gift cards for taking online surveys.
Survey Junkie's focus is solely on surveys. You can join Survey Junkie by creating an account using Google, Facebook, or with your email address.
500 points on Survey Junkie is equivalent to $5, so if you're looking for a place to earn a $5 or $10 Amazon gift card, this is a site to consider.
You can earn points once you have completed a survey. A typical survey will generate between 100-200 points. Once your points total is 500 or more, you can redeem them for a $5 free Amazon gift card.
With Survey Junkie, you have the option of choosing the length of the survey before you take it, and once you've verified your account, payments and gift cards are issued instantly after requesting them.
» Join Survey Junkie claim your 50 point sign up bonus.
9. LifePoints

LifePoints is an online survey platform consisting of like-minded people and is available in 26 languages. These people share their opinions and views to influence big brands in their future decisions. In return, LifePoints rewards people for their ideas and reviews. Lightspeed manages LifePoints.
Every new member is given 10 points as a sign-up bonus. And you must be older than 16.
On LifePoints, members earn points by performing the following activities:
Completing online surveys
Taking mini-polls
Testing products
You must have a minimum of 550 points, or $5, to redeem your points. Once you hit the minimum, redeem your points for a free Amazon gift card or PayPal payment. You can also use gift cards at other sites like Starbucks or eBay, or you can donate your LifePoints to charitable organizations such as Unicef.
Compensation for the surveys depends on the length, and if you do not finish your poll, you are still awarded 2-3 LifePoints for making an effort.
At the end of every month, LifePoints rewards its members with prizes such as a Playstation, Xbox, Amazon vouchers, Smart TVs, Apple Watch, and more.
» Join Lifepoints to get 10 points immediately credited to your account.
10. LEO Surveys


LEO Surveys is a popular survey site in Canada and the U.S. with over 400,000 members and over 600 staff members. Also known as Leger Opinion, LEO Surveys was founded in 2004 and conducts nearly 500 surveys each year.
Members earn on Leo Surveys through:
Paid surveys
Monthly contests. After you have completed filling out your profile, you are given five chances to enter any game you want. The entries are reset every month, so make sure to use up all the five entries before the month ends. You can win a significant amount of money through these games!
You earn 1,000 points and one entry for the monthly contest for every new person you invite that completes the registration process.
1,000 points are equivalent to $1. And the minimum points you can redeem is 20,000, which is equal to $20. The points can be redeemed for a free Amazon gift card or Paypal payments.
The Leo Survey app can be downloaded on to a mobile phone, giving you on the go advantage.
Only Canadian and U.S. residents who are 18 years and above can access the survey site.
» Join LEO Surveys to take surveys for Amazon gift cards.
11. Opinion Outpost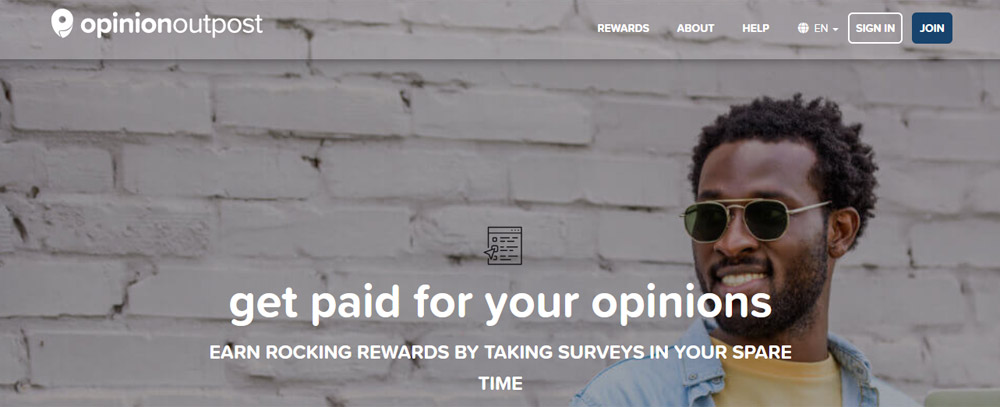 Opinion Outpost is a survey website owned and operated by Dynata. Opinion Outpost earns money by collecting data for other market research companies, and this is how it can pay you for completing their surveys.
Opinion Outpost is only available to people residing in the U.S., Canada and the UK, and it is 100% free to register.
Once you have registered with Opinion Outpost, you must complete a welcome survey, which earns you your first $.50.
After each completed survey, you earn points that you can redeem for free Amazon gift cards or other retailers as well as PayPal payments.
You can redeem your points once they reach 30 points, which is equivalent to $3.
Opinion Outpost always informs you of the length and compensation of each survey. With some surveys, you can receive an entry into the quarterly sweepstakes where you could win $10,000. You can also earn points through referrals.
Payment processing takes just 72 hours after request.
» Join Opinion Outpost to take online surveys.
12. Toluna Influencers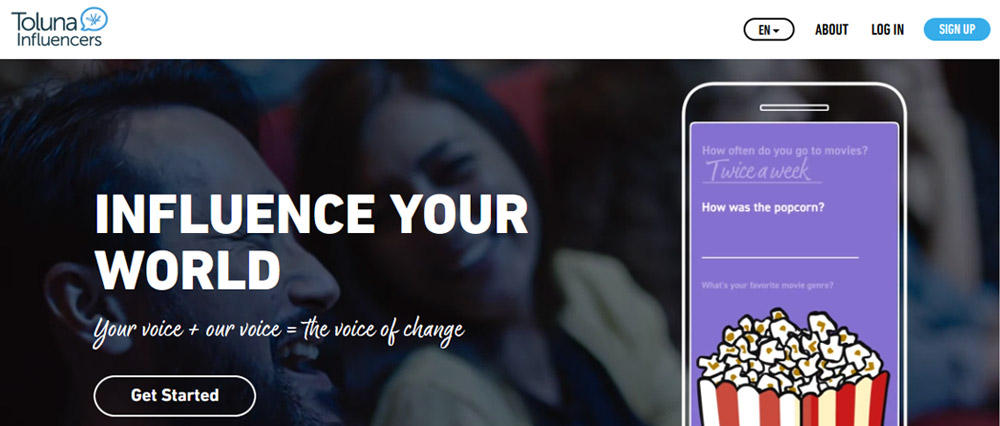 Toluna Influencers is a legit survey site. It was referred to as Toluna, but in 2018, it changed its name to Toluna Influencers.
It was launched in 2000 by Frederic-Charles Petit, the current CEO. Toluna Influencers has more than 24 million members, and it is accessible in more than 68 countries.
New members receive 500 points as a sign-up bonus and can earn an additional 500 points each time they refer a new member.
In addition to taking surveys, you can earn money through:
Product testing
Sponsored polls
Content creation
Contests
Games such as Toluna Wheel
You can also register your phone number so that you can receive notifications every time there is a survey.
For every survey, you earn points that can then be cashed out in the form of free Amazon gift cards or Paypal payments or another gift voucher of your choosing. Toluna also permits users from some countries to receive payment in Bitcoin.
In the U.S., 3,000 points are equivalent to $1, and most surveys will give you between 2,000-6,000 points. Once you request your payout, it may take 2-8 weeks to process.
» Join Toluna Influencers to claim your 500 point joining bonus.
13. One Opinion


One Opinion is an online survey platform that is also owned by Dynata. The site pays people to share their opinions through surveys to help companies improve their products.
One Opinion primarily focuses on product testing and surveys.
It is free and easy to sign-up with, since it only requires your email and some basic personal information. It also has a two-step verification process to protect your account.
Membership is only open to people residing in the US. and the UK.
The information you provide when registering determines the number of surveys you will get. Depending on your area of interest, you can take anywhere from 1-10 surveys per week.
For every activity completed, you earn some points. 1,000 points are equivalent to $1, and the minimum withdrawal threshold is 25,000, which is equal to $25. The longer the survey, the more the points. The pay for each activity completed ranges and will be stated in the survey invitations.
You can redeem points to earn a free Amazon gift card, prepaid visa card, or PayPal payments.
» Join OneOpinion to take paid surveys.
14. PointClub


PointClub is an independently-owned market research company that is managed by Innovate MR. The site has more than 3.5 million members and has completed over 10 million surveys.
PointClub is committed to quality and transparency and the site focuses on surveys alone.
Upon signing up on the site, new members are awarded 5,000 points, which is equivalent to $5.
You can sign up using Google, Facebook, or your email address.
After completing your surveys, you can cash out your points for a free Amazon gift card. PointClub has more than 80 other free gift card options. These include Walmart, Sephora, Google Play, and Target, or you can earn free cash via PayPal.
» Join PointClub to claim your $5 signup bonus.
15. Epoll Surveys


Founded in 1977, Epoll Surveys is a market research company that focuses on the media and entertainment industry. Bridge Entertainment Inc. owns Epoll Surveys, and it has a rating of A+ from Better Business Bureau as of 2021.
Epoll is ideal for people looking to share their opinion on entertainment and celebrities, and take surveys as well.
Each survey can earn you between 500-1,000 points depending on the length and the survey's level of complexity.
The surveys include video surveys that may require you to watch a video or new TV commercials.
It is free to join if you are a U.S. resident and 13 years old or older. With Epoll, you earn points after completing surveys; then, you can redeem via PayPal or free Amazon gift cards. You can also choose to donate to the American Red Cross or National Wildlife Federation.
The minimum amount of points you can withdraw is 3,500, which is equivalent to $5 and payment processing takes 4-6 weeks once redeemed.
» Join EPoll Surveys to take fun surveys on entertainment.
Final Thoughts
Above are some of the best sites to get free Amazon gift cards. You can also make it a point of checking the Amazon gift codes list every week if you want more free gift cards. Don't just try, consider trying them all if your country has access, because who does not love free things?