Survey Junkie Reviews and Features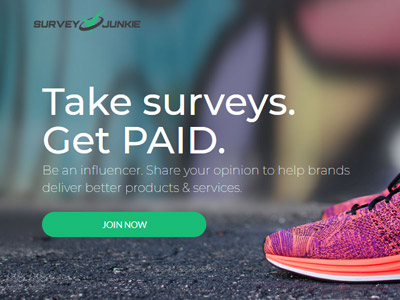 Survey Junkie
800 N. Brand Blvd, Floor 21 Glendale, CA 91203 US
Tel: Contact: https://www.surveyjunkie.com/help?show=contact-us#
Operated by: Disqo

PAYMENTS OFFERED

Cash paid via PayPal

Cash paid via bank transfer

Amazon gift cards

Target gift cards

Walmart gift cards

iTunes gift cards

Starbucks gift cards

HOW TO PARTICIPATE

Online surveys

Mobile surveys

Mobile app

Online focus groups

Teen surveys

REDEEMING REWARDS
500 point minimum account balance required to request a $5 reward.

Survey Junkie is an online platform that connects its 11 million members to research studies in the form of online surveys from big brands and market research companies.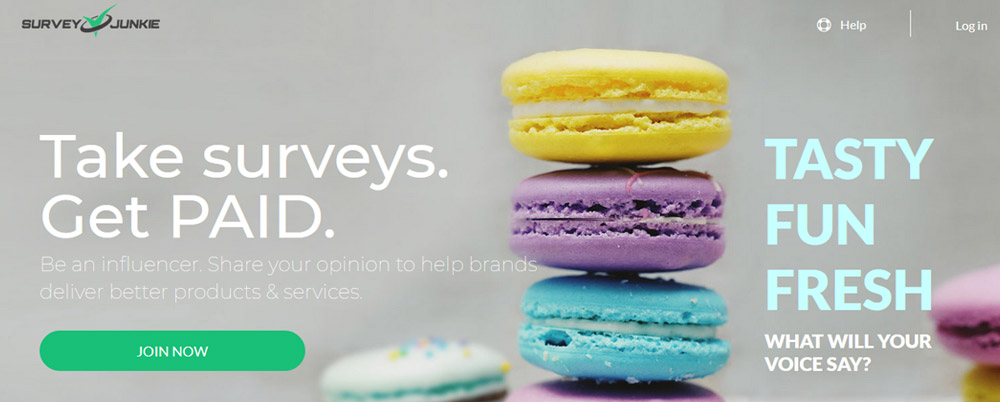 With Survey Junkie, you can participate in online surveys on your computer or using the app in order to earn rewards including cash paid to your PayPal account. US residents can receive gift cards and bank transfers as well. Creating an account is free and can be done via your Facebook or Google account.
Survey Lengths
The average length of time it takes to complete a survey with Survey Junkie is 15 minutes. The estimated time for completions is stated on survey invitations (or in the app).
Short Point Approval Times
Once you take a survey, it may take up to 24 hours to approve your points. Points do not expire as long as you are an active member. In order to be considered 'active', simply log in to your Survey Junkie account and complete a survey within a 12 month period.
Earn Cash for Completing Surveys
With just $5 worth of survey earnings (500 points), you can 'cash out' your points balance for an instant PayPal payment. Note that you must redeem your full points balance when selecting the PayPal option for a payout. If you live in the USA, you can also choose to receive a bank transfer payment. Bank transfers are handled by a third-party partner and take 3-4 business days to complete.
Choose a Gift Card Instead
If you live in the USA, you can also choose to redeem your points for e-gift cards. e-gift cards are available in denominations of $5, $10, $15, $20, $25 and $50. You can choose from major retailers including Amazon, Target, Walmart, Sephora, Groupon, iTunes and Starbucks.
Earn Points for Disqualifications
If you attempt to complete a survey but get disqualified before you're able to finish it, Survey Junkie will still credit your account with 2-3 points. Payouts for surveys themselves vary and will depend on the length of the survey, how difficult it is to qualify, as well as other criteria.
Complete Profile Surveys to Earn Points and Get Better Matched
Survey Junkie has numerous profile surveys available to members in their account dashboards. Complete these profilers to earn 10 points for each completion, and benefit from being better matched to future surveys.
Visit Survey Junkie's website

›
Mobile App for Android and iOS
Survey Junkie has a mobile app available on Google Play, for Android phone users and on iTunes for iOS users. The app functions similarly to the website in that you can take surveys, check your available points balance, and redeem rewards. The app will notify you when new surveys become available, which can be helpful in reducing the chances of being disqualified from a survey, if you are one of the first respondents to complete a survey.
BBB Accreditation
Survey Junkie is a member of the Better Business Bureau of Glendale, California and maintains a solid BBB rating. They have hundreds of reviews posted on the BBB's website, most of which are positive and amount to a star rating that's between 4-5 stars.
Survey Junkie Pulse

Survey Junkie Pulse is a browser extension (you can install it via the mobile app, too) you can install in order to receive exclusive surveys that are based on your browsing activity. You'll receive a notification of new surveys directly in your browser, as soon a survey becomes available. SJ Pulse is designed to connect you with surveys based on your browsing interests and does not collect personal information such as passwords, emails, credit card information, etc.
Keep the extension enabled for 30 days on your desktop computer, and receive bonus points credited to your Survey Junkie account! As an added bonus, SJ Pulse users may also receive access to exclusive surveys that SJ Opinion users may not receive.
Visit Survey Junkie's website

›
Alternatives to Survey Junkie
People who have taken surveys with SurveyJunkie are also interested in these survey programs:
Survey Junkie is not a scam and is considered safe and legitimate survey panel. It is a real website which you can use to earn gift vouchers and cash in exchange for participating in online surveys. They are a member of the BBB and have a good reputation there.
Although everyone's experience with the website may be different in terms of whether it's worth the time and how much you can ultimately earn, with over 11 million survey takers registered on their site, Survey Junkie is legit.
Eligibility: Residents of USA, Canada, Australia, 16+ only.
Survey Junkie Reviews (217)
5 Star Reviews (134)
61.8
April 4, 2021 by Mary from United States
I have been using their site since 2017. The recent changes of IDing yourself is tougher than it is at the voting booth in America. First you have to take a selfie and whatever.... and it doesn't work. So they send a post card... WHICH NEVER CAME. Also the last few emails went unanswered. I can't change my last name on there to my married name. If they sent the card under my maiden last name the mail may have not gotten to me. I was going to try for another post card, but without the name change would this happen again? I love Survey Junkie... but these changes are aggravating and they will probably lose people. I would love to be able to cash out like I used to.... The new process .... I hate.... MAKE ME LOVE THIS PLACE AGAIN!
March 26, 2021 by Danny from Canada
I have been waiting for the postcard with a 12 digit number so I can enter on their website to collect my PayPal earnings.
Went from Good to Terrible
March 25, 2021 by joe from United States
I joined Survey Junkie in December last year and completed many surveys and redeemed points often with no problems. Then one day I was told that I couldn't redeem my points (which eventually reached $48 and change) until I received a postcard and entered a verification code. I was supposed to receive this card in 5-6 days. It never arrived. Weeks went by, with no explanation from customer service as to why the postcard didn't arrive. Then they claimed they sent another postcard. Meanwhile, every time I visited the site, I saw a message telling me to cash out before I reached $50, because redemption over $50 would require special approval. So, I could not take any surveys over a few cents, or take part in their streak bonuses (get a $5 bonus for completing a certain number of surveys for several days). After more attempts to contact customer service, they finally "allowed" me to redeem the points for the money they owed me. But now, even though I receive daily survey invitations, when I visit the site, there are no surveys at all. It seems the folks at Survey Junkie don't like being held accountable to their members!
March 4, 2021 by Derrick from United States
It's been months that I've been using SJ and now that I've earned enough points to get rewarded, I'm now getting blocked. Same message when I apply: "The entered address is invalid, please retry with a new address." Every time. I have considered dropping my membership with SJ but I still feel that I should be rewarded. Maybe SJ isn't as fun as I first thought it would be. By the way, I did try a different address, but still got the same result!
Their surveys take your info and they don't reward
February 23, 2021 by Sven from United States
Survey Junkie has joined the "we will disqualify you at the end of completing a long survey so we can take your information and not reward you" survey site crowd. They blame the surveys themselves but they are the site hosting them, so they are responsible for these surveys that take your information without reward. Don't bother with this unethical site.
» Return to: TOP RATED SURVEY SITES
---
Popular Topics
Top Survey Sites of 2021
---
Highest User Rated Survey Sites
---
Survey Sites That Pay Instantly
---
Survey Sites with Low Cash Outs
---
9 Product Testing Job Websites
---
12 Online Surveys That Pay Cash
---
14 Ways to Get Free Amazon Gift Cards
---
Best Paid Focus Groups
---
How to Get a Free Visa Gift Card
---
Get Paid by PayPal Without Fees
---
Ways to Get Free Xbox Gift Cards
---
Featured Advertisers: