Survey Junkie Reviews and Features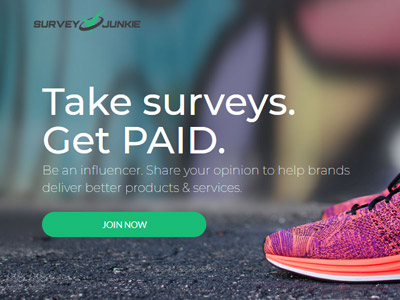 Survey Junkie
800 N. Brand Blvd, Floor 21 Glendale, CA 91203 US
Tel: Contact: https://www.surveyjunkie.com/help?show=contact-us#
Operated by: Disqo

PAYMENTS OFFERED

Cash paid via PayPal

Cash paid via bank transfer

Amazon gift cards

Target gift cards

Walmart gift cards

iTunes gift cards

Starbucks gift cards

HOW TO PARTICIPATE

Online surveys

Mobile surveys

Mobile app

Online focus groups

Teen surveys

REDEEMING REWARDS
500 point minimum account balance required to request a $5 reward.

Survey Junkie is an online platform that connects its 11 million members to research studies in the form of online surveys from big brands and market research companies.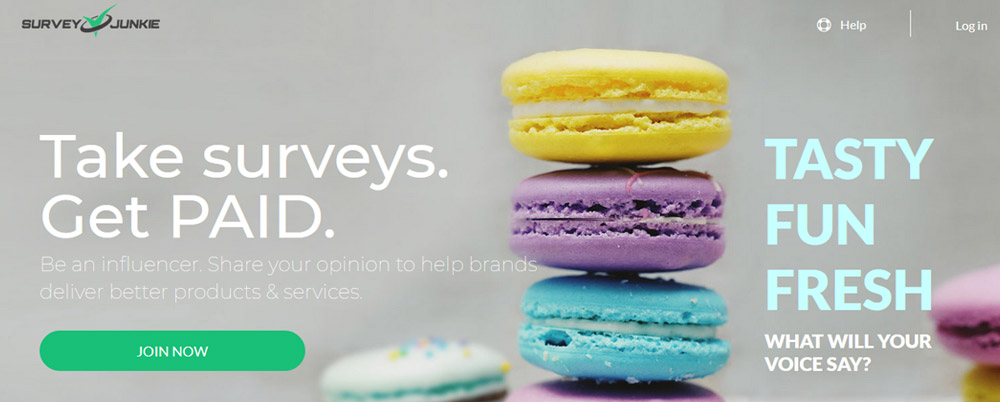 With Survey Junkie, you can participate in online surveys on your computer or using the app in order to earn rewards including cash paid to your PayPal account. US residents can receive gift cards and bank transfers as well. Creating an account is free and can be done via your Facebook or Google account.
Survey Lengths
The average length of time it takes to complete a survey with Survey Junkie is 15 minutes. The estimated time for completions is stated on survey invitations (or in the app).
Short Point Approval Times
Once you take a survey, it may take up to 24 hours to approve your points. Points do not expire as long as you are an active member. In order to be considered 'active', simply log in to your Survey Junkie account and complete a survey within a 12 month period.
Earn Cash for Completing Surveys
With just $5 worth of survey earnings (500 points), you can 'cash out' your points balance for an instant PayPal payment. Note that you must redeem your full points balance when selecting the PayPal option for a payout. If you live in the USA, you can also choose to receive a bank transfer payment. Bank transfers are handled by a third-party partner and take 3-4 business days to complete.
Choose a Gift Card Instead
If you live in the USA, you can also choose to redeem your points for e-gift cards. e-gift cards are available in denominations of $5, $10, $15, $20, $25 and $50. You can choose from major retailers including Amazon, Target, Walmart, Sephora, Groupon, iTunes and Starbucks.
Earn Points for Disqualifications
If you attempt to complete a survey but get disqualified before you're able to finish it, Survey Junkie will still credit your account with 2-3 points. Payouts for surveys themselves vary and will depend on the length of the survey, how difficult it is to qualify, as well as other criteria.
Complete Profile Surveys to Earn Points and Get Better Matched
Survey Junkie has numerous profile surveys available to members in their account dashboards. Complete these profilers to earn 10 points for each completion, and benefit from being better matched to future surveys.
Visit Survey Junkie's website

›
Mobile App for Android and iOS
Survey Junkie has a mobile app available on Google Play, for Android phone users and on iTunes for iOS users. The app functions similarly to the website in that you can take surveys, check your available points balance, and redeem rewards. The app will notify you when new surveys become available, which can be helpful in reducing the chances of being disqualified from a survey, if you are one of the first respondents to complete a survey.
BBB Accreditation
Survey Junkie is a member of the Better Business Bureau of Glendale, California and maintains a solid BBB rating. They have hundreds of reviews posted on the BBB's website, most of which are positive and amount to a star rating that's between 4-5 stars.
Survey Junkie Pulse

Survey Junkie Pulse is a browser extension (you can install it via the mobile app, too) you can install in order to receive exclusive surveys that are based on your browsing activity. You'll receive a notification of new surveys directly in your browser, as soon a survey becomes available. SJ Pulse is designed to connect you with surveys based on your browsing interests and does not collect personal information such as passwords, emails, credit card information, etc.
Keep the extension enabled for 30 days on your desktop computer, and receive bonus points credited to your Survey Junkie account! As an added bonus, SJ Pulse users may also receive access to exclusive surveys that SJ Opinion users may not receive.
Visit Survey Junkie's website

›
Alternatives to Survey Junkie
People who have taken surveys with SurveyJunkie are also interested in these survey programs:
Survey Junkie is not a scam and is considered safe and legitimate. It is a real website which you can use to earn gift cards and cash in exchange for participating in online surveys. Although everyone's experience with the website may be different in determining whether it's worth the time and how much you can ultimately earn, with a membership base of over 10 million members, the website is legit.
Eligibility: Residents of USA, Canada, Australia, 16+ only.
Survey Junkie Reviews (195)
5 Star Reviews (128)
65.6
October 23, 2020 by Marie from United States
OLD REVIEW: I wanted to give Survey Junkie a decent review although it's not easy to qualify for surveys (they go fast) the threshold is low, it's only $10 to cash out. If you have PayPal account you're paid instantly once you meet your credit quota. If you don't qualify or they redirect you; then they may give a a 2-3 cent incentive for trying.

UPDATE: I am disappointed, Survey Junkie used to be my go-to-site for a little extra money. But lately they're just like all the other sub-par survey sites. I absolutely hate when I reach the end of a survey that I spent time on (sometimes more than 20 minutes), I finish it, I'm redirected, and then told that this survey is already filled. The only good thing I can say is that they lowered their threshold to $5 instead of $10, they'll reimburse you a few cents for either disqualification, or if a survey is filled, but really 2 cents for a survey that took longer than15 minutes is not a good incentive.
Lots of opportunities, sometimes it seems "bait and switch" tactics
October 21, 2020 by Michael from United States
I like SurveyJunkie in large, but dislike some things. The people have always responded quickly to my questions and comments. Lots of surveys to choose from, though I often think that the longer surveys don't pay the appropriate amount more than the shorter surveys. What bugs me is that sometimes a survey asks me all sorts of relevant questions about my views (for 8 minutes maybe?) and then says, "sorry, you don't qualify for this survey." They should pay for the information they get (political views, economic status, marital and parental status, etc.). Bugs me! But I still keep coming back in spare moments. Ah yes, sometimes a five minute 25 cent survey is advertised and then after a few questions they say, "Sorry, you don't qualify for this survey, but we have a 30 minute survey for you." But they don't tell you what they will give you for that 30 minute survey. Is it the same 25 cents? No one knows.
October 19, 2020 by john from United States
So far this is the best site i have used, as with all survey sites it takes patience and perseverance.

UPDATE
everything was great, i even made a positive on here, now i had to verify my identity, they would send a postcard, of course they didnt, next step i requested a phone call, they did call i spoke with a pleasant sounding lady who said i have been verified, i could now redeem. however i cant redeem i have sent several requests for communication all have been ignored . it hurts, i guess next step is the BBB
October 17, 2020 by Elaine from United States
Its been since Oct 9th, they won't let you redeem, say they will mail you a postcard, after reading online and esp on BBB in CA people are having problems. People either never get the postcard but if they do and input verification number it goes to a queue to get a call from them. I have tried the queue and they never call. I try the email they say they will reply back M-F 9-5 and again no response. I have been a member since 2014 and this is not how they have responded in years past. I did leave a report/complaint with BBB and they informed me they sent message to the company but I don't know if thats going anywhere either.
Good at first, until you complete "too many surveys"
October 8, 2020 by James from United States
Then, Survey Junkie bans you "right out of the blue," and gives you no reason as to why it did so That was my experience.
» Return to: TOP RATED SURVEY SITES
---
Popular Topics
Top Survey Sites of 2020
---
Highest User Rated Survey Sites
---
Survey Sites That Pay Instantly
---
Survey Sites with Low Cash Outs
---
9 Product Testing Job Websites
---
12 Online Surveys that Pay Cash
---
14 Ways to Get Free Amazon Gift Cards
---
Get Paid for Browsing the Internet
---
How to Get a Free Visa Gift Card
---
Get Paid by PayPal Without Fees
---
Ways to Get Free Xbox Gift Cards
---
Featured Advertisers: