Survey Junkie Reviews and Features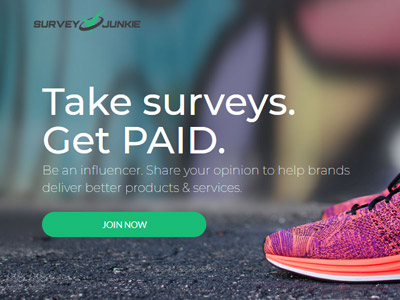 Survey Junkie
800 N. Brand Blvd, Floor 21 Glendale, CA 91203 US
Tel: Contact: https://www.surveyjunkie.com/help?show=contact-us#
Operated by: Disqo

PAYMENTS OFFERED

Cash paid via PayPal

Cash paid via bank transfer

Amazon gift cards

Target gift cards

Walmart gift cards

iTunes gift cards

Starbucks gift cards

HOW TO PARTICIPATE

Online surveys

Mobile surveys

Mobile app

Online focus groups

Teen surveys

REDEEMING REWARDS
500 point minimum account balance required to request a $5 reward.
Survey Junkie is an online platform that connects its 11 million members to research studies in the form of online surveys from big brands and market research companies. Members can earn their choice of cash or gift cards in exchange for their participation.
It is available to residents of the USA, Canada and Australia.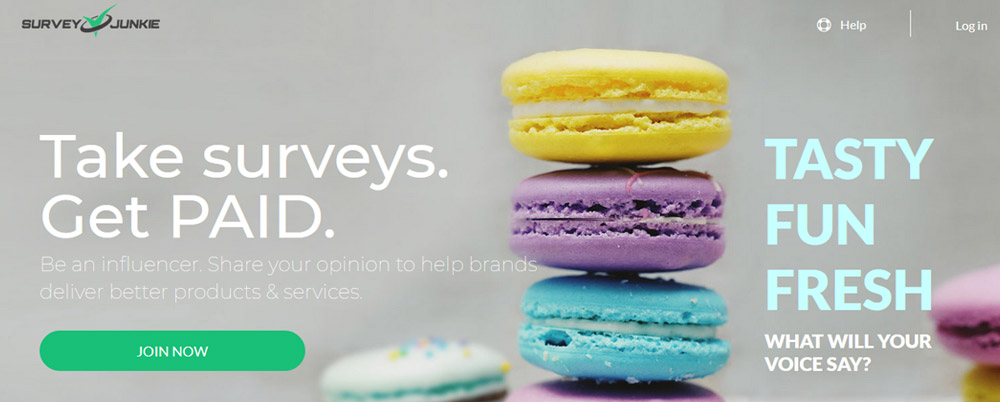 With Survey Junkie, you can participate in online surveys on your computer or using the app in order to earn rewards including cash paid to your PayPal account. US residents can receive gift cards and bank transfers as well. Creating an account is free and can be done via your Facebook or Google account.
Survey Lengths
The average length of time it takes to complete a survey with Survey Junkie is 15 minutes. The estimated time for completions is stated on survey invitations (or in the app).
Short Point Approval Times
Once you take a survey, it may take up to 24 hours to approve your points. Points do not expire as long as you are an active member. In order to be considered 'active', simply log in to your Survey Junkie account and complete a survey within a 12 month period.
Earn Cash for Completing Surveys
With just $5 worth of survey earnings (500 points), you can 'cash out' your points balance for an instant PayPal payment. Note that you must redeem your full points balance when selecting the PayPal option for a payout. If you live in the USA, you can also choose to receive a bank transfer payment. Bank transfers are handled by a third-party partner and take 3-4 business days to complete.
As mentioned above, as $5 is the equivalent of 500 points, 1 point therefore equals 1 cent.
Choose a Gift Card Instead
If you live in the USA, you can also choose to redeem your points for e-gift cards. e-gift cards are available in denominations of $5, $10, $15, $20, $25 and $50. You can choose from major retailers including Amazon, Target, Walmart, Sephora, Groupon, iTunes and Starbucks.
Earn Points for Disqualifications
If you attempt to complete a survey but get disqualified before you're able to finish it, Survey Junkie will still credit your account with 2-3 points. Payouts for surveys themselves vary and will depend on the length of the survey, how difficult it is to qualify, as well as other criteria.
To increase your chances of qualifying for a survey, look for surveys that have green diamonds. These indicate surveys that you are most likely to be able to successfully complete. Red diamonds on the other hand, may carry higher payouts, but will have the lowest chance of being able to complete.
Complete Profile Surveys to Earn Points and Get Better Matched
Survey Junkie has numerous profile surveys available to members in their account dashboards. Complete these profilers to earn 10 points for each completion, and benefit from being better matched to future surveys.
Visit Survey Junkie's website

›

Mobile App for Android and iOS
Survey Junkie has a mobile app available on Google Play, for Android phone users and on iTunes for iOS users. The app functions similarly to the website in that you can take surveys, check your available points balance, and redeem rewards. The app will notify you when new surveys become available, which can be helpful in reducing the chances of being disqualified from a survey, if you are one of the first respondents to complete a survey.
BBB Accreditation
Survey Junkie is a member of the Better Business Bureau of Glendale, California and maintains a solid BBB rating. They have hundreds of reviews posted on the BBB's website, most of which are positive and amount to a star rating that's between 4-5 stars.
Survey Junkie Pulse

Survey Junkie Pulse is a browser extension (you can install it via the mobile app, too) you can install in order to receive exclusive surveys that are based on your browsing activity. You'll receive a notification of new surveys directly in your browser, as soon a survey becomes available. SJ Pulse is designed to connect you with surveys based on your browsing interests and does not collect personal information such as passwords, emails, credit card information, etc.
Keep the extension enabled for 30 days on your desktop computer, and receive bonus points credited to your Survey Junkie account! As an added bonus, SJ Pulse users may also receive access to exclusive surveys that SJ Opinion users may not receive.
Visit Survey Junkie's website

›
Alternatives to Survey Junkie
People who have taken surveys with SurveyJunkie are also interested in these survey programs:
Survey Junkie is not a scam and is considered safe and legitimate survey panel. It is a real website which you can use to earn gift vouchers and cash in exchange for participating in online surveys. They are a member of the BBB and have a good reputation there.
Although everyone's experience with the website may be different in terms of whether it's worth the time and how much you can ultimately earn, with over 11 million survey takers registered on their site, Survey Junkie is legit.
Eligibility: Residents of USA, Canada, Australia, 16+ only.
Survey Junkie Reviews (243)
5 Star Reviews (142)
58.4
January 19, 2022 by CHARLES from United States
Survey junkie is a great site for instant payments. I used them for about 7 yrs and have not had one problem. I say thanks for the opportunity to be a panelist.
January 18, 2022 by Bonnie T. from United States
As addictive as the name implies. Frequent disqualifications and many glitches. Uneven points awarded for time required—some high and some quite low and tedious for the points awarded. Still fun and interesting surveys, though the time to get to the $5 incentive level for payment can be long.
January 5, 2022 by Michel from United States
The time estimates can be four times longer than promised, and very often you are rewarded only a small fraction of the points promised for a completed survey. They will claim that you didn't qualify even though you completed the survey, or they will claim some other reason to not reward you. If you contact support they will need survey ID numbers, but if you actually do have that information they will do nothing at all. This site is crooked, and it thinks your time is totally worthless.
December 27, 2021 by Roxanne from United States
I average 80/100 per month on this page. Try to do all the email invite is recommended as soon as you get them helps build faster. Easy to understand surveys.
December 19, 2021 by penny from United States
I received the following from Survey Junkie and have a huge problem with them wanting a photo ID. The only place lately that has asked for one is my doctor's office. Why does SJ need a photo ID to take surveys? Do they trust their people to not sell your ID or do they trust that hackers can't get into their system and steal your ID? I think the BBB should get involved as to their policies for potential clients.

Thank you for contacting the Survey Junkie Support Team!

Upon review, it was determined that you must verify your Survey Junkie account through Photo ID verification.

Here are the steps to proceed with Photo ID verification:

1. Visit the "My Points" page and click on the "Redeem Now" button.
2. Press Photo ID Verification and agree to SJ Photo ID Privacy Policy
3. It will redirect you to a verification window. You are kindly required to click on the "Start Verification" button.
4. Fill in your Name and Surname (should match the name on your ID and SJ profile)
5. Choose the document type you want to upload (one of the listed)
6. Take a picture of your government issued photo ID (please follow the instructions on the screen, in terms of lighting and holding the camera steady)
7. Take a picture of the front and back sides of the document and a selfie following the screen instructions.

Once you complete the steps, your account will be automatically verified, and you will be able to redeem your points. If you complete the steps but still can't redeem, or if you have any other questions, feel free to reach out and let us know.

Kind regards,

Survey Junkie Support
» Return to: TOP RATED SURVEY SITES
---
Popular Topics
Top Survey Sites of 2022
---
Highest User Rated Survey Sites
---
Survey Sites That Pay Instantly
---
Survey Sites with Low Cash Outs
---
9 Product Testing Job Websites
---
12 Online Surveys That Pay Cash
---
How to Earn Free Uber Gift Cards
---
14 Ways to Get Free Amazon Gift Cards
---
Best Paid Focus Groups
---
How to Get a Free Visa Gift Card
---
Ways to Get Free Xbox Gift Cards
---
Featured Advertisers: