Tellwut Reviews and Features

PAYMENTS OFFERED

Cash paid via PayPal

Amazon gift cards

Best Buy gift cards

Walmart gift cards

Home Depot gift cards

Starbucks gift cards

Prepaid debit or credit cards

Merchandise

Movie vouchers

Retail e-vouchers

Restaurant gift cards

HOW TO PARTICIPATE

Online surveys

Daily surveys

Refer-a-friend program

REDEEMING REWARDS
Minimum balance of 4,000 points ($10) required to request rewards. Some gift cards are mailed, others are e-mailed in the form of e-vouchers. The method of delivery is stated in the rewards catalog.
Tellwut is an online survey site that offers you the opportunity to answer surveys, submit your own surveys and refer friends in exchange for cash and gift cards.
The name Tellwut is short for "Tell us what you think" and is run by a well-known market research company based in New York, USA. To date, over 38 million surveys have been completed on the platform.

Earn Rewards for Surveys and More
Tellwut is an online community open to residents of Canada and the USA. Members provide their feedback and opinions on various topics through the Tellwut online survey tool and social media platforms. Tellwut members participate in surveys and social media activities, earning rewards while being engaged in the Tellwut community experience. It has been operating since 2010 and the panel grows every day and has over two million members.
A Survey Taking Community
The community aspect of Tellwut helps it stand out from its competitors. It allows you to create your own surveys, answer other members' surveys and chat about them in a comments section. You can register for Tellwut with your email address, Google or Facebook account. The website will prompt you to fill out your profile as part of the registration process, as this will help you become eligible for more online surveys. Your address information is used to ship your rewards and the rest of information helps optimize which studies you can qualify for.
Visit Tellwut's website

›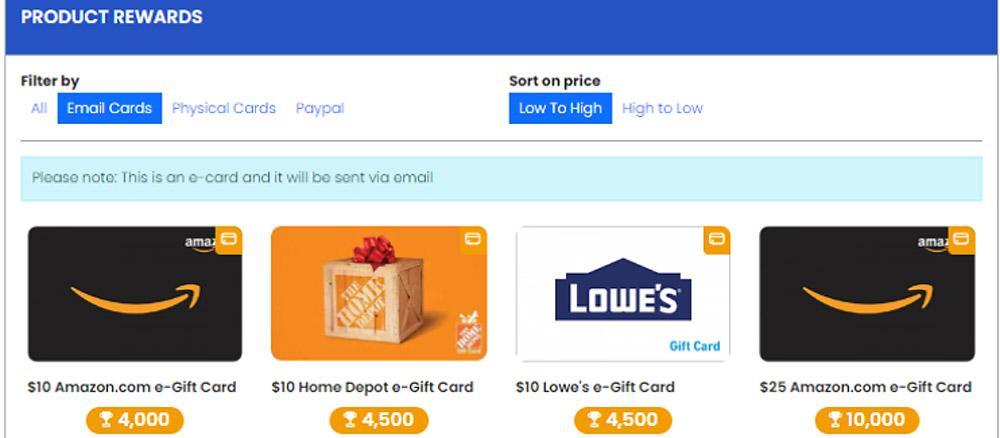 Tellwut Rewards Cash and Gift Cards
Tellwut rewards you with points that can be exchanged for retail gift vouchers and PayPal payments (as of June, 2021). To calculate the value of these points, for USA members, 4,000 points can be exchanged for a $10 Amazon gift card, though a $10 Tango card will cost you 4,500 points and a $25 prepaid Visa debit card requires 13,000 points. For Canadians, a $15 Amazon gift card requires 6,000 points and $25 gift cards to Home Depot, Best Buy, etc. require 10,000 points.
Points Value: $1 in rewards requires 400-550 points. Therefore, 1 Tellwut point = approximately $0.02.
Gift Cards
You can receive gift cards in denominations of $10, $15, $25 for retailers including Amazon, Home Depot, Subway, Sephora, Walmart, Bed Bath and Beyond, Target, CVS, Starbucks, Dunkin' Donuts, Domino's, and Game Stop. Amazon gift certificates are also available in extra denominations of $50, $100, and $250.
PayPal Payments
Redemptions for $25 PayPal payments are available with 11,000 points to both US and Canadian users. Payments are issued in your local currency and will take approximately 3 weeks to process.
New Member Bonuses
New members of Tellwut will receive 100 reward points immediately after signing up and a further 150 points are awarded for filling in their account information, for a total joining bonus of 250 points. Becoming a survey taker is super easy, and the registration process only takes a few minutes.
Member's Tip! Remember that your shipping information is required to send you rewards and confirm your eligibility to take surveys, so you might as well provide your shipping information to collect your bonus points straight away
Collect Points to Earn Rewards
Tellwut offers points whenever you take a survey. Points awarded can be anywhere from 5-2000 points, depending on the time and effort required, so you potentially have a chance to accrue points fast! For example:
Answer a member-generated survey: 5-25 points
Create an approved public survey: 10-20 points
Answer an external survey: 50-2000 points
Redeeming Your Tellwut Rewards
Tellwut rewards can be redeemed starting at 4,000 points ($10.00), though more rewards are available at 10,000 points ($25.00). Choose from a variety of gift cards options from Visa, Amazon, CVS, Sephora, Walmart, etc., a PayPal payment, or merchandise such as a t-shirt or even a Motorola tablet!
It's also possible to convert your points into a prepaid Visa debit card. You'll need to save up at least 13,000 points for a $25 prepaid gift card.
Once you have enough points to receive a reward, your order will be fulfilled within approximately 10-15 business days of redemption. Shipping times vary by location, though some gift cards are available in electronic format, and will be emailed.
Visit Tellwut's website

›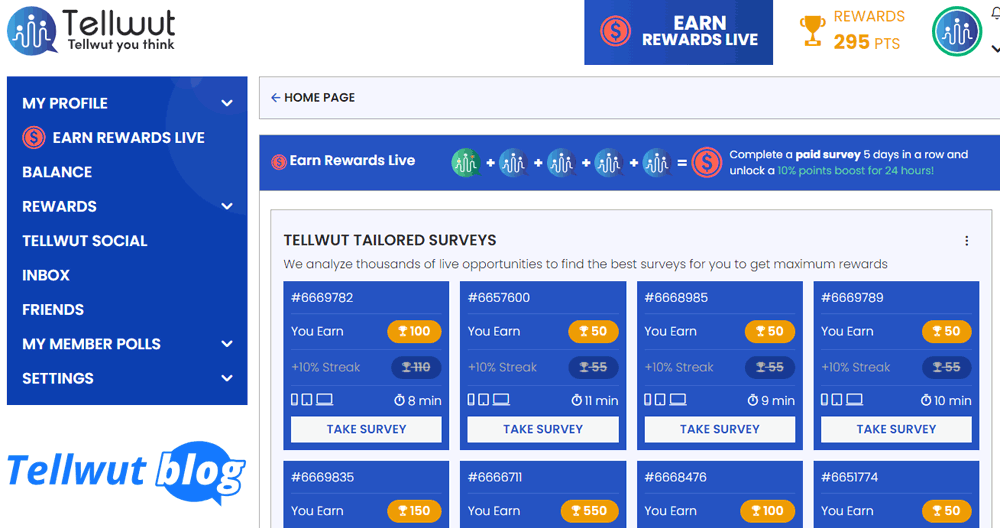 Where some get-paid-to websites offer a huge range of ways to make money, Tellwut focuses almost exclusively on surveys.
Types of Surveys Offered
Fun polls are created by users (maximum of one posting per week) or are submitted by businesses. Users can log in to their accounts daily to take surveys and do not have to wait for e-mail invitations. You can find the most recent surveys listed in your account under Categories > Most Recent Online Surveys.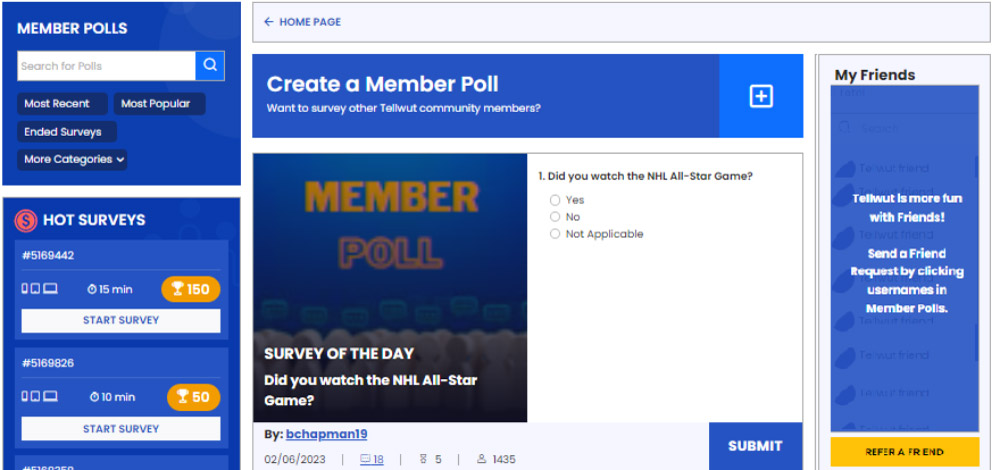 Having said that, you can opt-in to receive email promotions of new surveys if you prefer. Note that Tellwut does not offer an app.
Survey Completion Times
Each Tellwut poll available typically takes less than 30 seconds to complete, and many new polls are available on the website daily. A higher paying survey usually takes between 10-15 minutes to complete. Once the surveys have closed, you may browse through the results to see how your answers stacked up when compared to others!
Survey Availability
Members of Tellwut can simply log into their accounts to take all of the available surveys for that day - invitations to complete surveys are not typically emailed.
Most survey points are awarded directly after you finish a survey, although occasionally some surveys must close before points are awarded. Allow for 10-15 days to receive your points from survey participation.
Visit Tellwut's website

›
The community aspect of Tellwut is one of its most unique aspects. If you enjoy socializing with other members of survey websites, you may particularly enjoy this feature of the site.
You don't just earn points for surveys! Just signing up gets you started on your way towards earning rewards:
Create your account: 100 points
Provide profile information: Up to 200 points
Refer a friend: 25 - 400 points
Refer a Friend Program
For every friend you refer to Tellwut, you will immediately be credited with 25 points once your referral signs up and confirms their e-mail address. If you have completed at least 2 external surveys, once your friend completes just one external survey, you will be credited with an additional 400 points!
To start referring friends, simply click the "Refer Friends" button listed under your Friends to grab your unique referral URL which you can share with friends, on social media, etc.
Create Your Own Surveys
Tellwut allows you to create two of your own surveys per week. You'll earn 10-20 points for each survey created, and it can be fun to see the results of questions that were playing on your mind. If you need to do market research for your own job, this feature may be particularly appealing. Member-generated surveys remain live for 24 hours.

You'll also earn 5-25 points for answering member-generated surveys. This is nowhere near what you can earn by answering Tellwut's own surveys, but members may enjoy the brevity and added variety of member-generated questions.
Chat with Other Members
Member-generated surveys have a comments section below them, allowing you to engage in a lively discussion about the topic, of which there are hundreds.
This essentially makes Tellwut more of a social media website, as much as a surveys website. You won't earn any points for getting involved in community discussions, but many members appear to enjoy it and they are popular, nonetheless.
Social Media Engagement
On Tellwut's various social media pages (namely Facebook), the company frequently posts opportunities for you to earn additional points. You'll also learn about some of the more interesting results of Tellwut surveys on Instagram and Pinterest.
Customer service is offered via social media too. All in all, these are nice incentives to follow Tellwut on Twitter and Facebook.
Great Support Staff!
If you ever run into issues with the platform, you can reach out via the contact form online or email Tellwut at s[email protected]. They will typically respond within 48 hours!
Is Tellwut Legit or Scam?

Is Tellwut Legit?
Tellwut is certainly not a scam and is safe and legit. They have awarded over $3,000,000 in rewards to their members making Tellwut a legitimate survey website which you can use to earn rewards and connect with other survey takers. If the community aspect of the website appeals to you, you may particularly enjoy being a member. Check out our SurveyPolice Exclusive: 9 Question Q & A with Tellwut if you'd like to learn more about the platform.
You can also learn more and find out what users think of their surveys site in the Tellwut reviews section below.
Eligibility: Residents of Canada and USA, 18+
Joining Bonus! Tellwut is currently offering a 250 point bonus to new members.
» Click here to claim your bonus!
---
5 Star Reviews (391)
67.2
November 28, 2023 by Lisa from United States
Best surveys, I've been with tellwut for over 8 years.
rewards come in a few days e gift cards
November 1, 2023 by stephanie from United States
Great survey site and tons of Rewards to choose from.
October 28, 2023 by Ladonna from United States
Since 2016 I've been a panelist for Tellwut and I have always had a good experience. I've enjoyed earning a little bit of side income by answering fun and interesting surveys. An aspect of this survey panel that I still haven't found any others having is the option of creating your own surveys for others to answer, and you can earn doing that as well. I'll always stick with Tellwut. They are one of my top favorites.
October 28, 2023 by darlene from United States
I just received my e-card and arrived very quickly. Thank you tellwut
October 20, 2023 by Margaret from United States
For me, the straw that broke the camel's back was when I took 2 very lengthy surveys, back to back, today, Thursday, October 19, 2023, to be told I did not qualify for the surveys. Wasted my time. I have contacted Tellwut and requested they cancel my account to which I did receive an email that they deleted my account with no attempt to make any attempts to keep me as a customer. Pretty damn sad on their part.
» Return to: TOP RATED SURVEY SITES
---
Popular Topics
Top Survey Sites of 2023
---
Highest User Rated Survey Sites
---
Survey Sites That Pay Instantly
---
Get $100 Free PayPal Payments
---
9 Product Testing Job Websites
---
12 Online Surveys That Pay Cash
---
How to Earn Free Uber Gift Cards
---
14 Ways to Get Free Amazon Gift Cards
---
Best Paid Focus Groups
---
How to Get a Free Visa Gift Card
---
Ways to Get Free Xbox Gift Cards
---
Featured Advertisers: