YouGov Reviews and Features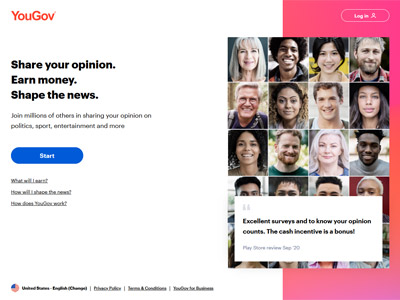 YouGov
50 Featherstone Street, London, EC1Y 8RT GB
Tel: +44 (0)20 7012 6000 Contact: https://today.yougov.com/about/contact-us/
Operated by: YouGov

PAYMENTS OFFERED

Cash paid via PayPal

Cash paid via bank transfer

Amazon gift cards

Best Buy gift cards

Apple gift cards

Target gift cards

Walmart gift cards

Merchandise

Movie vouchers

Restaurant gift cards

Retail e-vouchers

Donations to charity

Sweepstakes entries

HOW TO PARTICIPATE

Online surveys

Product testing

Mobile surveys

Mobile app

Daily surveys

Business surveys

IT surveys

Teen surveys

Refer-a-friend program

REDEEMING REWARDS
Rewards vary country to country. Minimum 35,000 points ($15 worth) required to request rewards in the USA. In the UK, a £50 minimum account balance is required.
YouGov is one of the world's leading research companies, with an impressive 6 million members worldwide. They publish a number of syndicated reports, such as the annual Global Survey of Wealth & Affluence, which provide comprehensive market intelligence on a range of industry sectors. The results of their research is frequently featured in the media.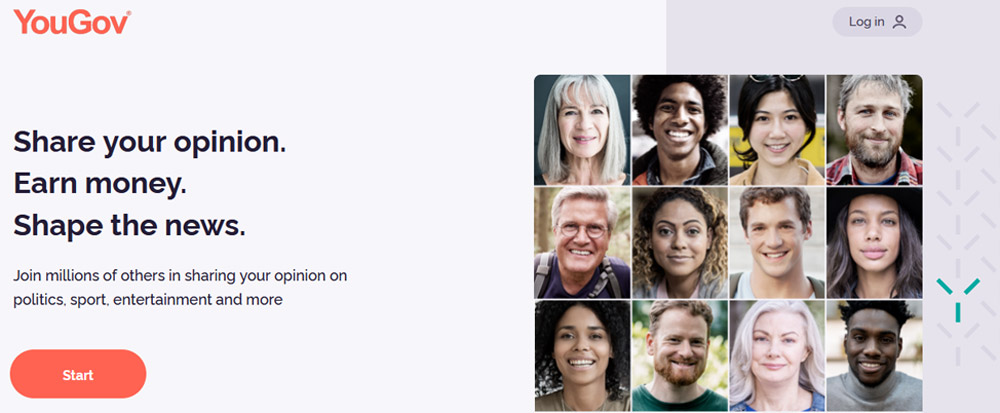 Create a YouGov account in minutes
To join YouGov, simply enter your email address and desired password on the sign up screen on the website. You'll be sent a verification email containing a code to confirm your email address, then voilà. You're ready to go.
Start Taking Surveys
YouGov will email you when a new survey becomes available. You can expect to receive 5-7 new opportunities per week and you'll earn points for each paid survey completed.
Convert Your Points Into Rewards
Once you've earned enough points, you'll be able to convert these into rewards including cash, gift cards and more.

Sign Up Bonus!
Join YouGov online panel and get rewarded for participating in online surveys and focus group opportunities. As a sign up bonus, you will get your first 500 points for creating your account and confirming your e-mail address. You'll earn an additional 2000 points for filling out the very short welcome survey that takes approximately 3 minutes to complete.
Compensation Per Survey
Most online surveys will award between 300-500 points; the longer the survey, generally, the more points that are awarded. 1,400 points equates to $1.00. Reward redemptions are for gift cards but vary from country to country. In the USA, the minimum is 35,000, which equates to a $15 gift card. The first survey available to you after registering is worth 2,000 points, which will help you on your way to obtaining your first reward.
Points Value 30,000 points = $25.00, therefore 100 points = approximately $0.08. Points increase in value if saved for bigger rewards, as 100,000 points = $100.
Reward Options
YouGov surveys offers a variety of redemption options for members, and these options vary from country to country. Cash payments awarded via PayPal are a way to earn money in some countries, and gift cards are available in most countries. Retailers include Amazon, Best Buy, Apple, Walmart, and more. YouGov branded merchandise is also available.
PayPal payments - receive a $25 PayPal payment by redeeming 30,000 points. Receive a $50 payment by exchanging 55,000 points or a $100 payment for 100,000 points.
Amazon gift cards - receive a $25 Amazon gift card in exchange for 30,000 points. A $50 gift card = 55,000 points, and a $100 Amazon card = 100,000 points.
Additional rewards - Visa pre-paid cards, bank transfers, additional gift card options and merchandise available on a per-country basis.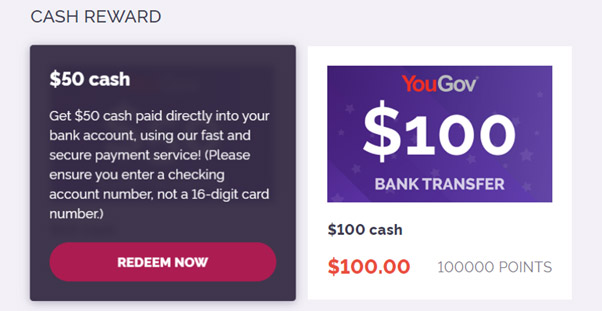 Rewards Delivery
Cash rewards are issued within 1-3 working days. Gift card rewards take approximately 2-3 weeks to receive after redemption. Gift cards are physically mailed.
Visit YouGov's website

›
Survey Lengths
The length of each online survey varies, but most are between 5-15 minutes long. Surveys are rarely longer than 20 minutes, as this is considered a maximum. YouGov offers paid surveys quite frequently compared to other similar sites. You will receive an email every time a new survey is available. It can be different from country to country, but on average you can expect 5-7 surveys a week.
A big plus for YouGov is that they almost never send you a link to a survey that you then do not qualify for. If you are screened out, you are likely to be matched with another survey.
Survey Topics
As with any paid survey site, YouGov's survey topics can vary, however most of the time, they frequently about politics, as YouGov's surveys and political polling results are frequently published in the media. Surveys may also be about consumption habits, your social attitudes, what you think of things happening in the news, and so on.
See the Opinions of Others
YouGov offers the chance for you to see what your answers in surveys are used for. About once a month, they send out a newsletter, where they link to some of the national and international stories where their survey results have been featured. You can also find this information on their website if you choose not to receive their newsletters. This gives you the ability to find out where your opinions stand in relation to the greater YouGov surveys community!

Download the YouGov App
YouGov has a mobile surveys app that has been downloaded over one million times and is available on both iOS and Android. Download the app to take paid surveys on the go, check your points balance and to redeem rewards. Stay up to date on the latest survey releases by activating push notifications that will come to your mobile first!
YouGov Lottery
In some countries, YouGov surveys offers a lottery, and you can use your points in exchange for chances to win. The prizes you can win in the lottery can be big!
Refer Friends, Earn Money
In some countries, YouGov provides you the opportunity to earn points for every friend you refer to their site using your unique link. Once a friend has signed up and completed 6 surveys on YouGov, you will receive 200 points credited to your account.
If you're an experienced affiliate marketer, you can earn up to $3 per lead if you apply for YouGov's affiliate program.
Share Your Opinions!
The 'Opinions' feature of the YouGov surveys website lets you share your opinion on the topics that interest you most. When you do, other members will be able to comment and vote in a poll whether they disagree or agree.
What's more, you can browse other people's opinions and respond and vote on them in this polling section.
Visit the YouGov surveys website

›

Is YouGov Legit?
YouGov is absolutely legitimate and has been in business for over 20 years. They run a high-quality online survey panel that conducts thousands of surveys yearly and is frequently featured in the media. The YouGov survey site is legit, not a scam, and is a great and safe way to voice your opinions and participate in quality research.
As with any survey site, member experiences may vary, so before joining, it's advisable to read the YouGov survey reviews below, so that expectations are met.
Eligibility: Available in select countries. Must be age 14+ in USA to join, 16+ in UK to join.
Joining Bonus! YouGov is currently offering a 500 point bonus to new members plus an additional 2000 points for completing the profile survey. » Click here to claim your bonus!
---
5 Star Reviews (115)
33.0
September 26, 2022 by Tiffani from United States
Quite some time ago, I decided to join YouGov, after reading reviews online. Although, I do know my username and password, one day late last year (2021), I was unable to access my account. A screen appeared instructing me to check my email to login, stating a code would be sent. Unfortunately, I do not have access to the email I used to originally sign-up.

In January 2022, I contacted YouGov via email, inquiring about changing my email address, as I was near completing enough surveys to get the $100 reward. It is now nearly October 2022, still can't access my account. I have sent numerous emails with screenshots regarding this issue. Apparently, I'll never get my reward, nor will i be able to access my account, absolutely ridiculous.

If by some miracle I'm ever able to access my account and obtain my rewards I will edit this review.
August 30, 2022 by Elizabeth from Canada
THIS WAS SO GOOD WHEN IT WAS GOOD. I had so many surveys, I accumulated so many points. And then I had an issue where I wasn't able to change my postal code because my account was stuck in American mode. Fast forward a few years and I was lured into YouGov again. I can now change my postal code! I have cashed out $100.

Fast forward a year or so....MY ACCOUNT RANDOMLY SWITCHED TO UK. And I cannot get it back to Canadian. I can no longer do surveys, every time I try to login to my Canadian account, I'm redirected to the UK site. Support is useless. All I got were a bunch of automated replies or copied and pasted from the FAQ section.

I have made the very sad decision to delete my account. BUT I CONTINUED TO GET SURVEYS. I then decided to re-create my account. BUT THEY REMEMBERED ME and assigned me a UK account again.

I GIVE UP.
August 28, 2022 by Nancy from United States
YouGov has interesting surveys, and I have only disqualified once, in the many years I have done surveys with them. I does take me a while to cash out though. Somebody on the forum here said that you get more surveys to do, if you do some of the free polls they have. I get maybe three surveys a month from them.
August 28, 2022 by Andrew from United States
2nd UPDATE: Never received the bank transfer from my OP. But I can still redeem new survey points for gift ecards. The last card was issued more than 4 weeks after redemption. A couple weeks after, they emailed an apology for the delay. Since then, I earned another reward that is also not received after 4+ weeks.

UPDATE: lowered my rating. As of today, I've been waiting 40 days for my $50 payout. I have a confirmation email from redeeming the points. I've contacted the Yougov "zendesk" (help desk) numerous times, and get a confirmation email of my inquiry, and no contact after that. Meanwhile, I am still receiving surveys. If this goes on, I'll quit and find something else, and be out $50 for nothing.

Original review: Yougov is one of the better paid survey sites I joined. That said, the quality and frequency of the surveys has gone way down. Sometimes you only get one survey a week. Very rarely is there a "you don't qualify", if that is the case you're always offered another survey. You also usually get an "extra" 100-point survey afterward, about dead composers or sports teams you never heard of.
Pros: pretty reliable. Surveys are usually simple. It's easy to rack up points.
Cons: They claim payouts can take up to 2 weeks... I've received payouts in 3 weeks, and I currently have one pending for over 4 weeks now. "Contact us" help desk is less than useless. The majority of surveys are "brand related"... insurance companies, hotel chains... stuff that is neither interesting nor personally relevant.
August 27, 2022 by Leslie from Canada
My review is about you YouGov. I have been a member for about three years, at first you get surveys quite consistently, sometimes more than 4 a week, I was able to rack up points for a gift card easily..Yes it takes them about two weeks to send you an e- gift card but you do get it. Now here is where the patience comes in, you will go through periods where you don't get a survey for weeks, and you think, what's up, have they forgotten about me, no they haven't, soon surveys will start hitting your email again, best way to describe it is just hang it there, the surveys are interesting, you don't have to search for them, personally it works for me. In three years I have collected more than 10 gift cards and to me that's great!
» Return to: TOP RATED SURVEY SITES
---
Popular Topics
Top Survey Sites of 2022
---
Highest User Rated Survey Sites
---
Survey Sites That Pay Instantly
---
Get $100 Free PayPal Payments
---
9 Product Testing Job Websites
---
12 Online Surveys That Pay Cash
---
How to Earn Free Uber Gift Cards
---
14 Ways to Get Free Amazon Gift Cards
---
Best Paid Focus Groups
---
How to Get a Free Visa Gift Card
---
Ways to Get Free Xbox Gift Cards
---
Featured Advertisers: