You've heard about people earning money from home by taking online surveys, and you want to know where to find a legit survey site and how much you could potentially earn from taking them. Market research companies are more than happy to pay potential customers so they can refine their products and better meet the needs of their audience.
» Skip ahead to see which survey sites are legit
The secret to making money is to sign up for multiple survey sites. You likely won't be making enough extra money to make it worth your time if you only sign up for one or two online survey sites that pay. Do you have questions about survey websites? Keep reading to find out more about online surveys that pay cash.
How Can I Earn Money from Home?
If you're looking for ways to earn money from home or for a part-time job, online paid surveys may be the way to go. Whether you need to supplement your regular income or you're looking for ways to make a little extra spending money, working for online survey companies is a great way to add some additional funds to your bank account.
Survey companies need feedback from consumers about their products. Answers to questions such as:
The easiest way for these companies to obtain this feedback is by using a global test market, filling out surveys regarding their product. Companies take these valued opinions from consumers and use that information to improve their product or business model and be more appealing or user-friendly.
Another way to obtain this feedback is by getting people to test a company's products directly in their own homes. Some survey companies offer free product testing at home to members of their survey panels as part of being a member of their websites.
There are dozens of legit online survey companies that you can work for to earn money online from home.
Survey companies work a little differently from each other in how often you can complete particular surveys, how you can redeem your points, as well as payout requirements. If you want to earn the most money from home completing surveys, you should work with several different survey sites at the same time.
How to Sign up for Paid Surveys
Signing up for paid surveys is extremely simple. First, find a survey site that you're interested in joining (hint: the sites below are good options) and visit their website. You'll then see a sign up form which will ask you for your name, address, e-mail, etc. Some surveys sites make registration even easier by giving you the option to connect your Facebook or Google account. Joining is completely free. Once you've completed the form, submit it and check your e-mail to confirm your account.
Once you click the confirmation link, you'll be all signed up and ready to make cash taking surveys! Simply check your account for surveys that are immediately available for you to complete (the survey's subject matter, completion time and incentive will be listed), or wait for e-mails inviting you to complete paid surveys. Once you complete these assignments, you'll see your account balance increase until you're ready to cash out your earnings.
Remember: Anyone 18+ can take surveys for cash. No skills are required and all you need to do is join a survey site to start receiving invitations to complete paid surveys.
Survey Sites Have Differences
Take note that no matter what survey sites you're signed up with, you may not always qualify to complete every survey available. Usually, before starting a survey, you'll be asked a series of questions concerning your demographics, such as your gender, age, where you work, if you are married or single, if you have children, etc. These are called profiler surveys. If your demographic matches the demographics the company is looking for, you'll qualify for the survey and will be able to complete it and get paid.
Which Paid Survey Sites are Legit?
There are dozens upon dozens of legitimate survey sites and that you could sign up for, so it'd be a very long to list every single one of them (though check out the survey rankings to view a complete listing for your country). Instead, here is a list some of the most popular survey sites that are legitimate.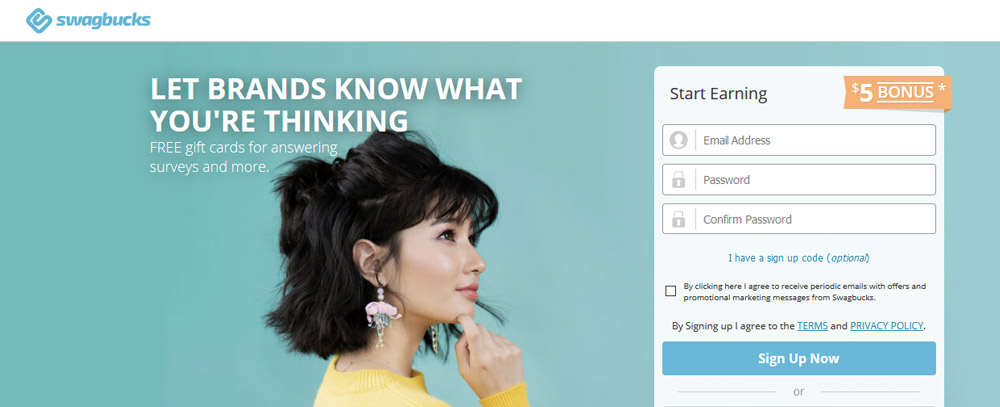 Swagbucks: Swagbucks pays you for taking surveys, watching videos, playing games, and other exciting opportunities to make some extra cash. Swagbucks accepts users from anywhere in the world and pays via PayPal and gift cards.
» Visit the Swagbucks website and get a $5 welcome bonus!


PointClub: PointClub is a super interactive platform where you can earn over 80 different rewards (including PayPal cash) for taking surveys, completing tasks, referring friends, inputting simple promo codes, and more.
» Visit the PointClub website and get a $5 joining bonus!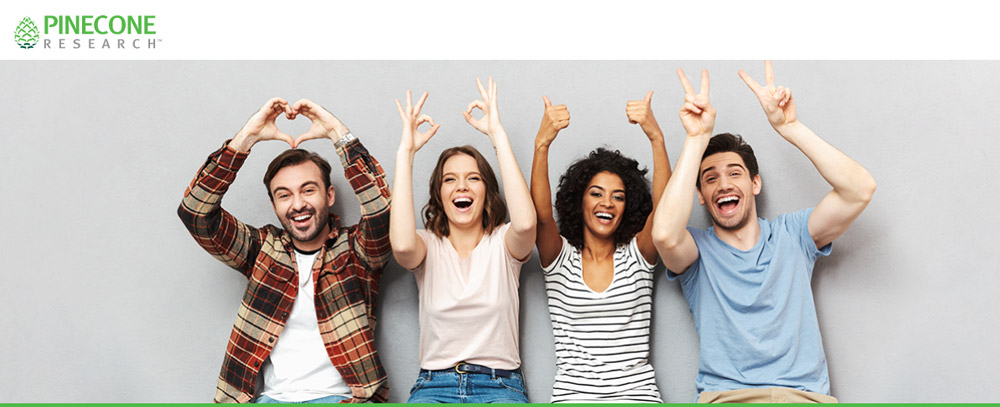 Pinecone Research: This survey site has been around for more than 20 years! You can participate in product testing and earn $3 for every survey you complete. Get paid via bank transfer or with a wide variety of gift cards, which are all awarded quickly.
» Visit the Pinecone Research and earn $3 per survey!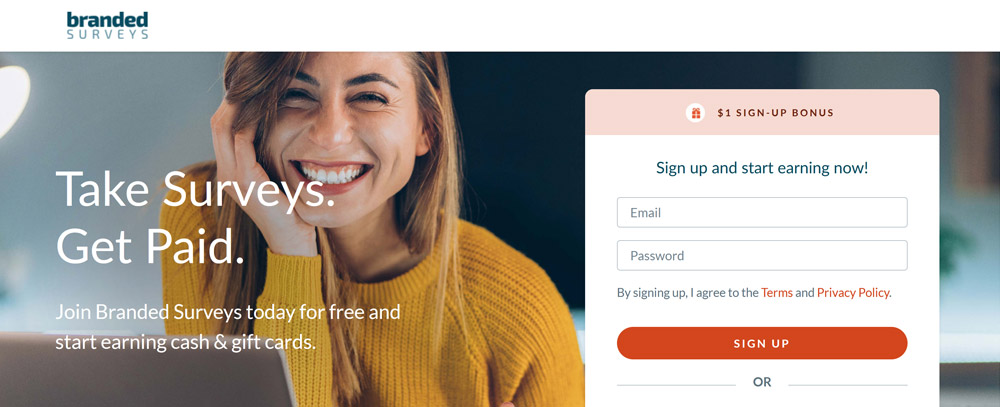 Branded Surveys: Branded Surveys offers paid surveys, polls, and a referral program that can help you earn your first $5 payment. Tons of gift cards such as Amazon, Starbucks, Apple, etc. and cash options (including Paypal and bank transfers) are available.
» Visit the Branded Surveys website and get a $1.00 new member bonus!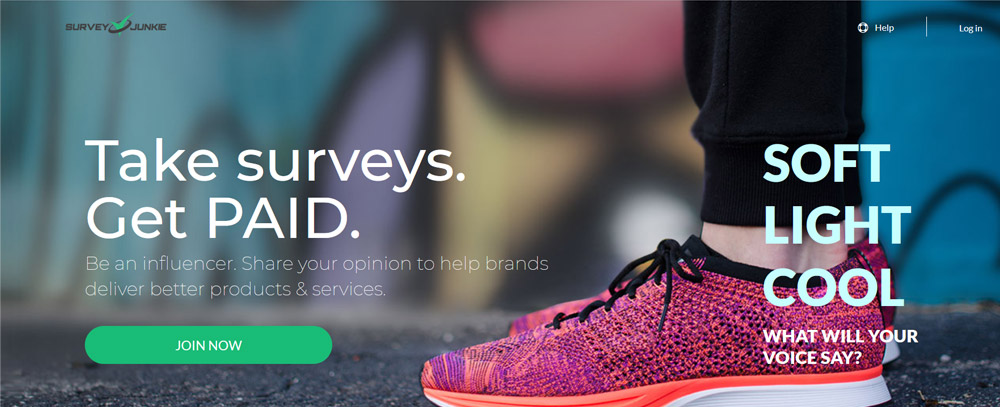 Survey Junkie: With just $5 worth of survey earnings (500 points) in your Survey Junkie account, you can 'cash out' for an instant PayPal payment. Over $11,000,000 in payments have been issued to members. Open to residents of the USA, UK, CA and AUS.
» Visit the Survey Junkie website to join the community.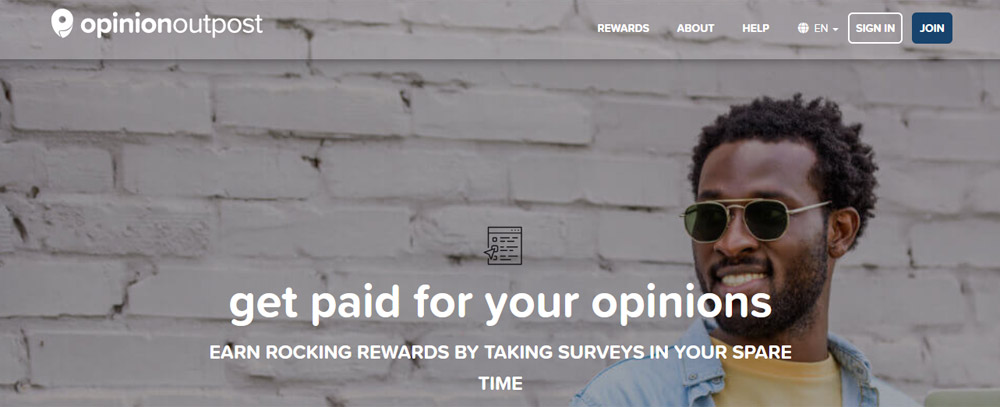 Opinion Outpost: Anyone 18+ in the US, UK, Canada and certain parts of Europe can sign up to complete surveys at Opinion Outpost. This site has been around for years and is one of the more popular survey sites out there, in part because it looks past just the American consumer opinion. Once you earn at least $3, you can cash out via PayPal or gift cards.
» Visit the Opinion Outpost website to join the community.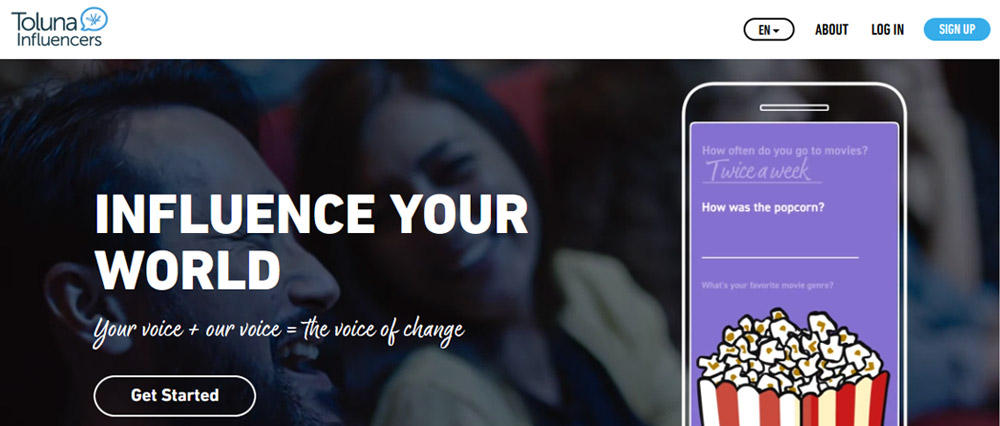 Toluna Influencers: With Toluna, you can complete surveys and get paid to try out products. You can earn between $1 and $5 for every survey you qualify for and complete, and they pay via PayPal.
» Visit the Toluna Influencers website and get 500 free points!
(Note: list continues below).
Can You Actually Make Money from Surveys?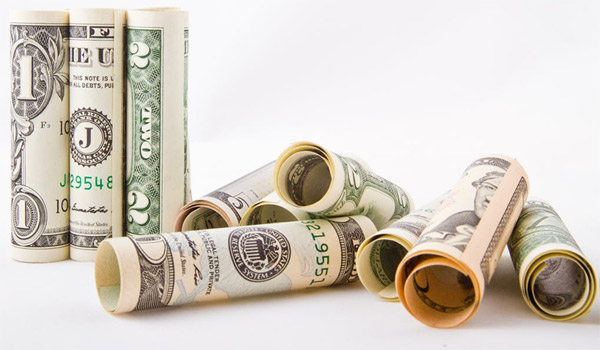 The short answer is yes – you can make money from surveys. The long answer is, while you can make money, you're probably not going to make a lot. Doing surveys is not something that can replace full-time income from a job. If you're looking for ways to get a little extra money, then surveys will help you do that.
For instance, if you're trying to earn money to help build a "fun account" for vacations or buying new clothes, or are looking for extra cash to buy gifts for birthdays and at Christmas, then doing surveys online can help you earn money for those things. Still, you're not going to be able to live off of the money you make from doing surveys.
Are Paid Surveys Worth It?
If you have the time to sit and take surveys and get paid to do it, then yes, surveys are worth it. High paying survey panels are few and far between, but a little bit at a time can add up fast if you are dedicated and willing to put in the time and consistency.
Looking for a way to jump-start your earnings? Check out these survey sites that offer
signup bonuses
. These joining bonuses will make earning your first payments faster!
You also get to earn easy money from home. Many of the survey sites, in addition to paying cash, also let you cash out your earnings in the form of e-gift cards to retailers such as Amazon, Walmart, Target, Starbucks, various restaurants, and other stores. Gift cards are great to have for those times when your budget is tight, or you need of a quick and easy gift idea. It's like having a secret stash of money lying around, which is a nice reward for your hard work.
How Long Do Online Surveys Take?
Every survey is different, so one might take 10 minutes while another may take up 60 minutes. The average survey length you'll counter however, is typically between 10-15 minutes.
Typically, before you begin taking a survey, you'll be informed about how long the survey will take to complete (along with what rewards you can earn for completing it), so you'll know if you have enough time in your daily schedule to take the survey or not.
Where Can I Take Surveys for Money?
You can go to any of the survey sites listed above to take surveys for money. You can also research additional survey sites that pay cash to take surveys online (use SurveyPolice Pick-a-Perk to find a full list). There are hundreds of legitimate survey sites that will pay you for your opinion or to test products. Some additional options (to the list above) include:
Which Surveys Actually Pay Cash?
Many of the survey sites have a points system, which means you earn points for taking each survey, and once you have a certain amount of points, you can redeem them for cash or other rewards. Other survey sites allow you to earn cash for each survey and you can cash out your cash balance when you're ready – without any points conversions. All of the survey sites listed in this article follow one of these two earning methods.
What is the Highest Paying Survey?
If you're going to take the time to sit and do surveys for cash, you want to start with the surveys that pay the most. Here are a few of the highest paying survey sites:
It's also important to note that not all surveys on the same site will pay the same amount, so pay attention to the details of each assignment before committing to completing it.
What is an Online Survey Job?
Taking online surveys can't really be considered a job. Most people consider survey-taking to be a hobby or just something to do in their spare time to earn some extra money and voice their opinions. Unless you plan to sit all day, every day doing nothing but taking surveys, you're probably not going to earn enough to equal the salary from a job. Even if you did sit all day, every day doing surveys, you'd still have a hard time making the kind of money you could make at an actual job.
How Much Do Companies Pay for Surveys?
You'll find surveys that pay as low as a few cents to as high as $100, if the survey is difficult to qualify for because it's limited to a very particular demographic. The majority of survey companies pay on the lower end of that range.
Tips for Earning Cash with Survey Sites
When you're new to the survey-taking world, it can be overwhelming trying to figure out where to begin to start earning money. There are so many different survey sites, which one or ones should you sign up with? How will you know if you'll actually get paid? Here are a few tips to get you started taking surveys for cash: