The Ultimate Guide to Paid Surveys
Updated on September 21, 2020.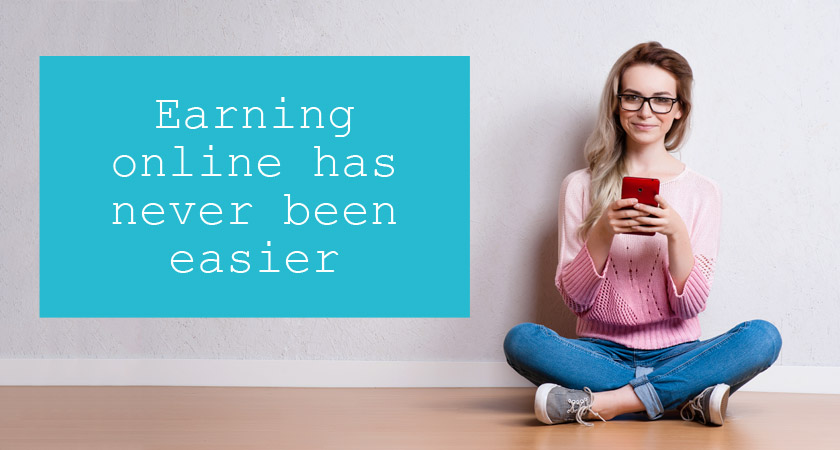 Strapped for cash?
Maybe you're constantly struggling to find extra money to put into your savings account, no matter how hard you work. You're not alone.
We all find ourselves in need of an extra dose of income from time to time. However, not all of us have the energy and endurance required to work second or third jobs. That's where high-paying survey websites can come in handy.
Paid survey sites might not make you an overnight millionaire, but they do give you an easy way to earn a little extra money from the comfort of your own home, without any unique skills or training. With the right website, you can generate additional income for your family. You can even earn free gift cards (such as an Amazon gift card) and prizes too.
Of course, not all survey sites are created equal.
Here's your guide to finding the highest-paying options on the market.
Skip Ahead:
How to Earn Cash from Online Survey Sites
Before we jump into looking at the best ways to make money answering questions, let's take a look at how online survey sites work, and how you can make the most of them.
The first thing that you need to know is that there's a reason you get money from answering questions online. Companies, governments, and other large groups are constantly searching for ways to access more information about their target market. When you complete a poll or questionnaire online, you're doing your part to deliver information about your demographic to a specific organization.
The more important the information that you're sharing is, the more you can expect to earn. That's often why high-authority sites and companies conducting crucial research will end up paying more.
Before you begin taking surveys online, it's worth making sure that you know how to take full advantage of these sources of extra income.
For instance:
Sign up for multiple sites: A lot of survey websites only allow you to take a certain number of paid questionnaires each day. This means that your earning potential will be limited. Signing up for more than one survey panel and multiple sites will give you more survey opportunities, which translates to more cash rewards.
Do your research: Doing your homework and checking reviews to ensure that the sites you're interacting with are legitimate will help to protect you from any dangerous scams. Remember that no legitimate survey club will ask you to pay for a membership.
Participate in various types of research: Many online survey sites offer opportunities beyond paid surveys. These include paid product tests, focus groups, diary surveys, and video surveys.
Provide honest feedback: The better the feedback that you give; the more companies will want to access your insights for future questions. Try to be as informative as possible with your answers.
Use an extra email address: Use a different email address to sign up to your survey sites, as this will help to ensure that you don't end up with a cluttered inbox.
Check for customer support: Make sure that you can access the support you need whenever you have problems with things like getting payments sent to your account.
Register with sites that focus on your country: The sites listed below work well for Americans and Canadians. If you live in the UK, check out Top 10 Paid Surveys in the UK.
Choosing the Highest-Paying Survey Sites
Once you know how to separate high-quality survey sites from their contenders, you can begin looking at which sites are going to pay the most.
The amount you can earn from a survey site will depend on a few different things, including:
How many paid surveys you can take each day
How much you need to earn before you can withdraw your money
Payment options (cash, or gift cards)
Remember, surveys for cash probably aren't going to replace your main source of income, but they can be a great way to get a bit of extra cash.
Here are some online survey site options to get you started.

PointClub is an independently owned market research firm with over 10-million survey completions under their belt. Like many online survey sites discussed below, PointClub is free to join and gives you an initial bonus just for signing up.
Here are some ways you can earn money using PointClub:
$5 signup bonus
Daily Streak bonuses by logging in to your account consecutively
Referring friends
Earning per survey: On average, each survey will award you 200-2,000 points.
Payment options: PointClub offers a few payment options. Many people choose to have their funds deposited to their PayPal account. If you would like a gift card to a specific place, you can have a digital gift card sent to your PointClub email. A different, great option is having your points redeemed by one of PointClub's sponsored charities.
Earning requirement before withdrawal: Funds may be withdrawn in increments of 25,000 points ($25). If you request to have your funds deposited through PayPal, an additional fee of 2% will be applied.
» Claim your $5 sign up bonus with PointClub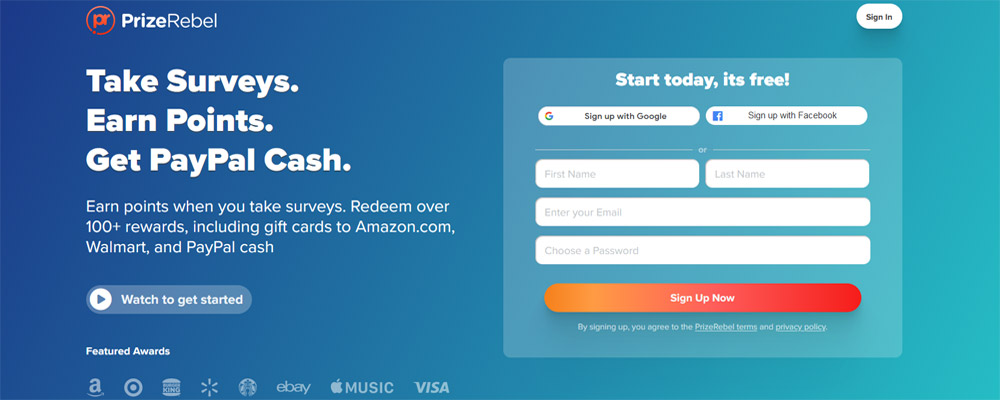 PrizeRebel makes it easy to sign up and start earning money online fast. With more than ten years in the industry, and over $20 million dollars in payments, this company is a trusted option on the market.
When it comes to making money with paid surveys, you shouldn't have much trouble with Prize Rebel. The company pays out in points, rather than cash, where 100 points equate to $1. That means that a 200 point survey will earn you a quick $2 in rewards.
There are many paid tasks on this platform, including:
Inviting your friends
Watching short videos
Completing daily challenges
Redeeming promo codes
Completing surveys
Earning per survey: Between .50 cents to $20 per survey depending on the duration and complexity of the questions. You can take any survey as long as you pass the prequalification test.
Payment options: Gift cards or PayPal
Earning requirement before withdrawal: You need at least $2 to withdraw your earnings.
Processing time: Payment processing only takes about 24 hours in most cases.

Like many other online survey sites, Tellwut's surveys work on a point system. The surveys and polls usually take less than 30-seconds to complete, which makes it ideal for those who don't have a lot of time to dedicate at any given sitting. New opportunities are available daily, but you have to log into your account to find them.
Earning per survey: Survey payments start at 5 points.
Payment options: Gift cards, amazon vouchers, movie vouchers, merchandise, and other options.
Earning requirement before withdrawal: You need at least 4200 points ($10) to redeem your points to get a pay out.
Processing time: Payments usually take between 10-15 business days.
» Get 250 points for starting with Tellwut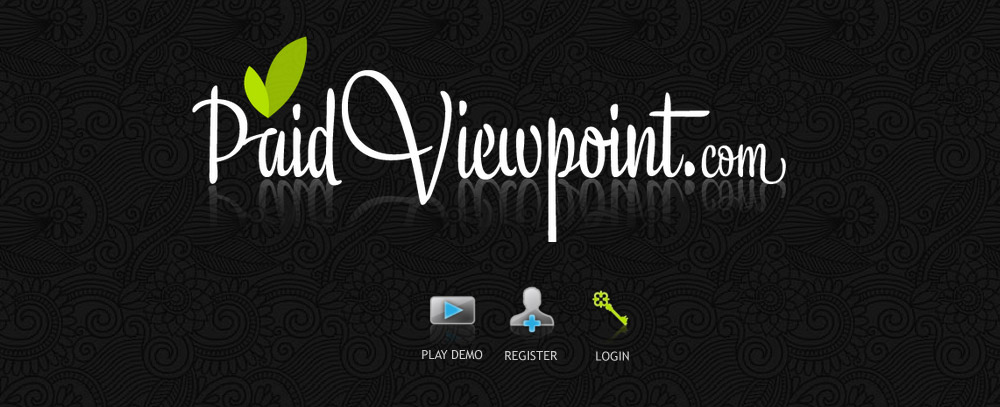 Paid Viewpoint focuses primarily on surveys. To start, all you need to do is provide an email address and password. Remember, to use the same email address as your PayPal email address when signing up.
With Paid Viewpoint you can make money by:
Online surveys
Mobile surveys
Referring friends
There are plenty of surveys and other activities waiting for you from the moment that you sign up.
Earning per survey: Surveys start at .03 and go up from there.
Payment options: Paypal cash or gift cards.
Earning requirement before withdrawal: You need to earn $15 before requesting payment.
Processing time: It usually takes 72 hours for your rewards to be processed.
» Claim your $1 Signup bonus with Paid Viewpoint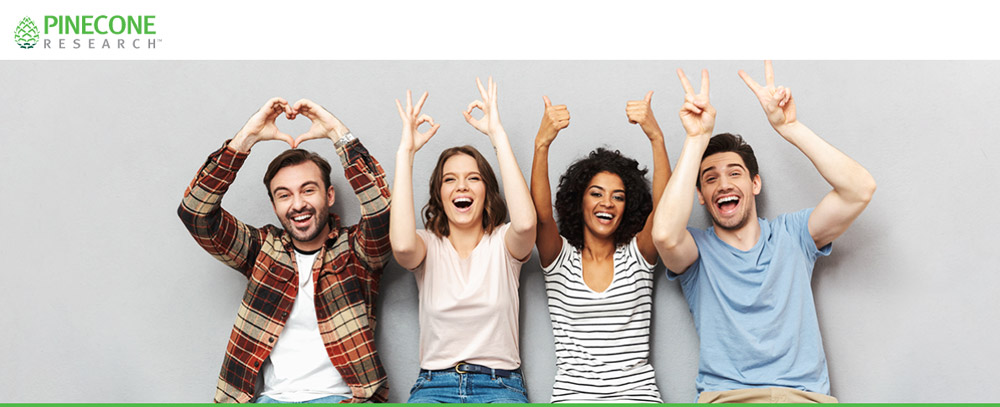 Pinecone Research is a very legitimate and trustworthy paid survey website, backed by the incredible research company, Nielsen. With Pinecone, you do things like answer surveys and take part in product testing to earn money.
You must be 18 years old to get started. However, if you pass that simple requirement, then you should be able to start making money very quickly. You can earn cash through this site through a variety of tasks, including:
Taking part in Paid Surveys
Taking surveys on your phone
Product testing
Sweepstakes
Earning per survey: Pinecone pays an average of $3 per survey, but you can also earn a lot more. Each survey could take up to 20 minutes.
Payment options: Gift cards, PayPal, Sweepstakes entries, and more.
Earning requirement before withdrawal: You need at least $10 to get a pay out.
Processing time: Payments usually take a few days at most.
» Get started with Pinecone Research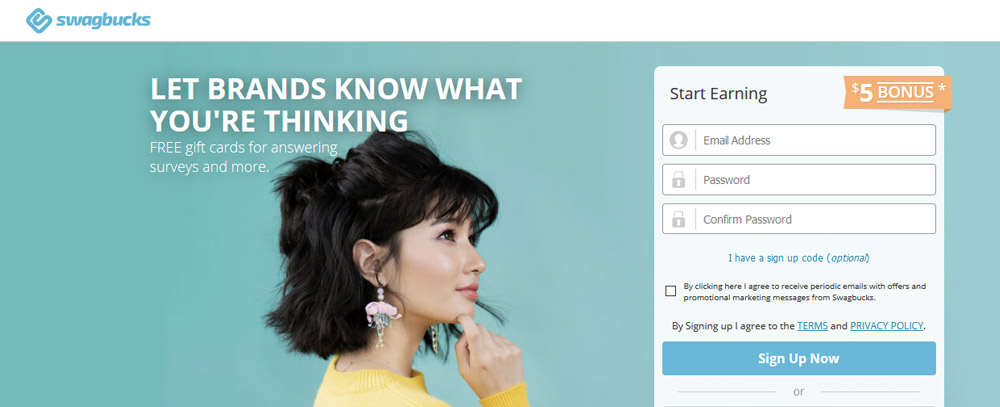 Swagbucks has been around for quite some time now, and it's probably one of the most popular survey companies on the market. Like InboxDollars, it's easy to sign up for Swagbucks. You can even choose to create an account using your Facebook profile.
Notably, with Swagbucks, you earn points, rather than cash up-front. You'll need to earn a certain number of Swagbucks to convert them into real money. For instance, it costs around 450 "bucks" for a $10 gift card.
Swagbucks has multiple ways through which individuals can earn rewards. These include:
Taking paid online surveys
Watching videos
Playing interesting games
Hunting deals
Doing Swagbucks searches
Shopping online
Purchasing gift cards
Entering into competitions
Meeting daily goals
Signing up to certain services
Referring to your friends etc
Redeeming Swagbucks SBs
We'd recommend checking out the Daily Offers on Swagbucks to make the most money, as these tend to come with the biggest number of points attached to them.
Earning per survey: Earnings can vary on Swagbucks, but the important thing to remember is that most people can earn anywhere up to $11 per hour.
Payment options: Gift cards or PayPal
Earning requirement before withdrawal: You need to earn $10 to request payment
Processing time: It takes between 30 minutes to 7 days to get your payment.
» Claim your $5 signup bonus with Swagbucks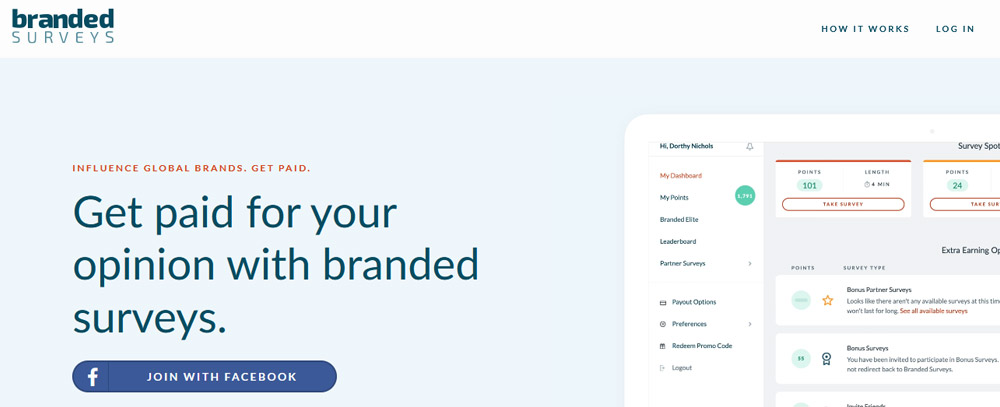 Branded Surveys will match your profile to surveys based on your demographics. You can complete daily challenges, offer your opinion on various products, and provide feedback through surveys. The more information you provide in your profile, the more opportunity you have to complete surveys. Your feedback will be sent directly to market research companies and based upon upon your feedback, they will award you points.
Earning per survey: There is a range in value, but you can earn up to 300 points for some surveys.
Payment options: PayPal, direct deposit to your bank account, or e-gift cards to a variety of popular places.
Earning requirement before withdrawal: You can earn your rewards as soon as you reach 1,000 points. Gift cards begin at $10 increments.
Processing time: Payment arrives within 48 hours of being processed.
» Get started with Branded Surveys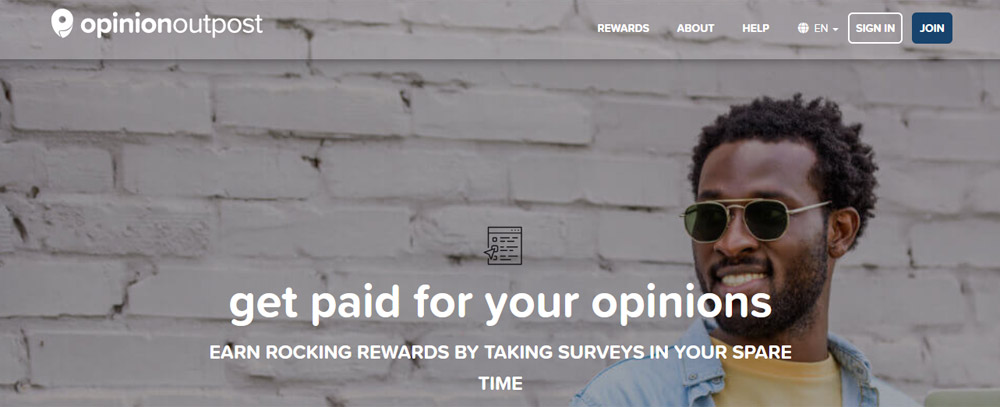 Opinion Outpost is yet another legit survey company that individuals can join and earn rewards as they take part in several activities. Designed by a user-friendly platform, Opinion Outpost is a great option for beginners who want to start making money on the web as quickly as possible. You can sign up in a range of ways- including using your LinkedIn or Facebook account.
Additionally, just like other survey companies discussed above, Opinion Outpost offers multiple earning options to its members. Members can choose what they want to take part in and when they want to do so. Some of the ways to earn include:
Referrals to friends
Completing paid online surveys
Signing up to services
Watching short videos, etc.
Claiming Your Rewards
Earning per survey: You earn points for every survey you complete. Most surveys will offer a few hundred points, which equates to a couple of dollars.
Payment options: Gift cards or PayPal
Earning requirement before withdrawal: You'll need at least 100 points to convert your money into PayPal cash.
Processing time: Processing often happens instantly.
» Get started with Opinion Outpost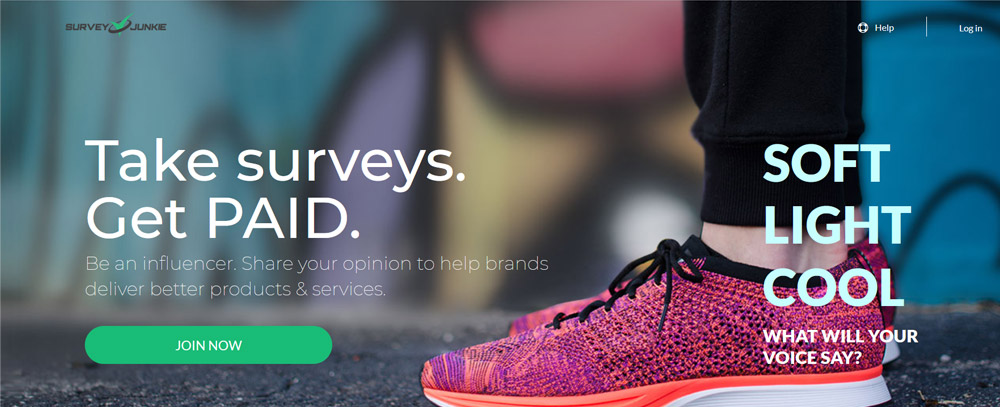 Offering one of the best community experiences of any paid survey website, Survey Junkie is easy to use and brimming with great ways to earn money. More than 3 million people are using this platform, indicating just how fantastic it can be for those who need a bit of extra cash.
Membership to this platform is restricted to a few geographic locations (US, UK, Australia, Canada, and New Zealand). You can either use Facebook or your email address to create your profile. Once your profile is set, you are now good to start earning rewards from this survey company.
There are multiple ways to earn rewards on this platform. These include:
25 points for confirming your profile
Participate in surveys
Referring friends
Completing profile questionnaires
Taking part in other rewardable actions
Survey Junkie Point Redemption
Earning per survey: Between $0.50 to $3 per survey. You can qualify and complete three surveys per week.
Payment options: Gift cards or PayPal
Earning requirement before withdrawal: You need to earn at least $10 to cash out.
Processing time: You can get paid almost immediately from Survey Junkie.
» Get started with Survey Junkie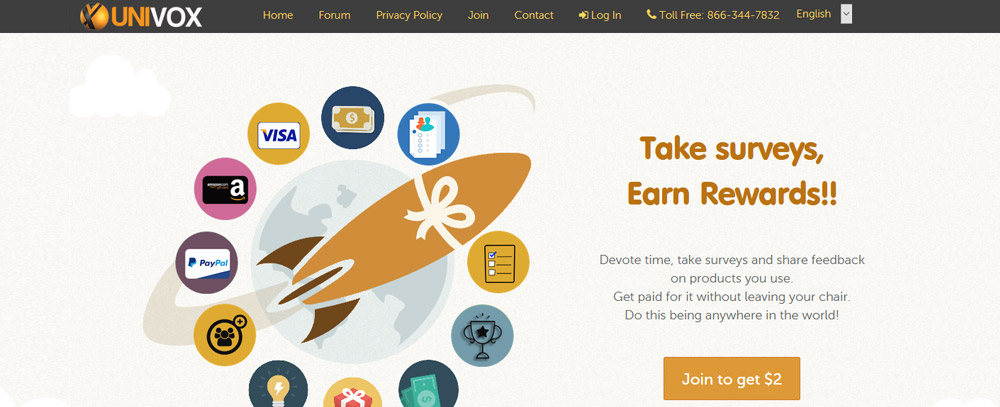 Univox values your time! They ask for your feedback by sending out quick surveys to complete. One great feature about this survey site is that under some circumstances, even if you don't complete the survey, you will still be credited 2 points. You can earn additional points just by signing up and referring friends.
Earning per survey: Varies
Payment options: PayPal, Amazon gift cards, Virtual Mastercard rewards card, Reward Links
Earning requirement before withdrawal: 2500 points, or the equivalent of $25 for basic users. But, if you are part of one of their other three loyalty programs, you can get rewards as soon as you accumulate 1000 points ($10). All levels max out at 10000 points ($100) per redemption.
Processing time: Typically processed in 24 hours.
Are Legitimate Paid Surveys Worth It?
Paid surveys can be an excellent way to get some extra cash without exhausting yourself with a second job. You also get the freedom to know that you don't necessarily have to complete any quiz that you don't want to.
It's very unlikely that completing paid surveys will replace your regular source of income, but it can help give you a little more financial freedom. Ultimately, thousands of people use these tools to make a little extra money each day. Still, the limitations on your accounts will mean that you're probably not going to become a millionaire overnight.
The amount you can earn will depend on:
the numbers of hours you dedicate to answering surveys and doing other tasks
the number of friends you bring to the platform
the type of tasks you are doing
the platform you choose (different platforms may offer different rates for similar jobs)
Remember, always do your research before signing up for a survey website. The more you learn about the company that you're going to be working with, the easier it is to protect yourself from online scams.