Univox Community Reviews and Features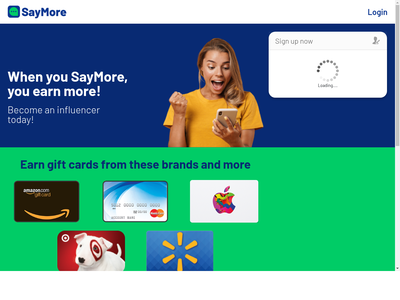 Univox Community
101 Wood Avenue South, Iselin, New Jersey 08830 US
Tel: 1-866-344-7832 Contact: http://univoxcommunity.com/Page/ContactUs
Operated by: Schlesinger Group

PAYMENTS OFFERED

Cash paid via PayPal

Amazon gift cards

Reward Link

Prepaid debit or credit cards

HOW TO PARTICIPATE

Online surveys

Mobile app

Refer-a-friend program

REDEEMING REWARDS
Minimum account balance of 2500 points ($25) required to request rewards.

Join and Get $2
By joining Univox Community, your account will automatically be credited with points worth $2 as a welcome to the community.
Choose From 4 Great Reward Options
Every time you complete a survey, you will earn reward points. Every 100 points equates to $1.00. With 2500 points in your account, you will be eligible to request a $25.00 cash payment or e-gift card. Univox currently offers its members three ways to request their earnings:
PayPal - receive a $25 cash Paypal payment directly to your account
Amazon e-gift card - opt to receive a $25 Amazon.com e-gift card
Virtual Mastercard - request a virtual Mastercard rewards card which is accepted at any online merchant who accepts Mastercard payments.
Reward Links - receive a Reward Link e-gift card, which can then be turned into a gift card from dozens of your favorite stores.
Visit Univox Community's website

›
Get Rewarded, Even When You're Disqualified!
If you attempt to complete a survey but are unable to (i.e. you get disqualified), your account will still be credited with up to 5 points if you've been disqualified because of Client Security terminate, the client is over quota, or the client has terminated the survey. In order to reduce the number of times you may be disqualified from a survey, community members are invited to participate in surveys based on their basic profile information.
Great Loyalty Program for Regular Participation
Univox has four different levels of users, each with their own point minimums for point redemptions:
Ambassador users - Redemption button is activated once 1000 points ($10) is accumulated, and redemptions start at a minimum of 1,000 points ($10) with a maximum of 10,000 points ($100).
Premium users - Redemption button is activated once 1500 points ($15) is accumulated, and redemptions start at a minimum of 1,000 points ($10) with a maximum of 10,000 points ($100).
Verified users - Redemption button is activated once 2000 points ($20) is accumulated, and redemptions start at a minimum of 1,000 points ($10) with a maximum of 10,000 points ($100).
Basic users - Redemption button is activated once 2500 points ($25) is accumulated, and redemptions start at a minimum of 1,000 points ($10) with a maximum of 10,000 points ($100).
Visit Univox Community's website

›
A Large Community, and Growing!
Univox Community currently has over 3 million members, and is growing every day. The site also features an online forum which features community news, regular contest announcements, and more. Via the online forum, members can participate in group discussions.
Refer Friends and Family and Earn Additional Points
Each time you refer someone to Univox Community, you will earn 100 points ($1.00) per signup once they've made 10 survey attempts or have fully completed their first survey. You may refer an unlimited number of friends and family members.
Download the App!
Univox is now mobile! Download their app, available on iOS and Android, and take surveys on the go. Allow for push notifications and you'll know when the latest survey arrives!
Eligibility: Worldwide, 18+
Joining Bonus! Univox is currently offering a $2 sign up bonus to new members.
» Click here to claim your bonus!
---
Univox Community Reviews (259)
1 Star Reviews (186)
71.8
September 11, 2021 by Hector from United States
I have been doing reviews for them for years, and recently earned a $20 Amazon gift card, which I requested on 6/4/21. I still have not received it. I have emailed them several times and I no longer have access to their site to check status. They have not provided me with a response as to why I have not received the gift card.
August 18, 2021 by Natalia from Poland
This is the worst research panel.
They block the accounts in order not to withdraw the payment.
This company should be reported to some kind of control.
I do not recommend
Latest UPDATE 08-12-2021...
August 13, 2021 by Sheila from United States
Update 08-12-2021: Univox has gotten worse. Used to be legit but now something is going on. I login on site, click to do a survey and get a pale blue screen, says Demographics on tab but nothing there. Does not take me back to Univox site. Have to click out and keep logging in on site separately. Contacted customer service but they said they would look into it and get back tome. Sent them screenshot for several surveys that did that...no answer. So far I have not completed a survey for them in way too long and they do not seem to care. I used to like going there when I first started, but it has gone down hill. Maybe I have to live in India/Asia to qualify?? Too bad, I will miss the site.

Original Review: Have to say the only problem I have with Univox so far is the number of surveys I do not qualify for. However, the pay is decent on the ones I have qualified for and completed. Reserving full opinion for when I do any redeeming of points. We'll see how long it takes and if there are any problems. As the title says, so far so good and am happy to have Univox added to my daily surveys.

Update 10-8-2018: Am changing header and adding a star to my original rating...
Redeemed points one day and they were delivered the next day to PayPal...great service. Have also dealt with their customer service with a few small problems and must say they handled the problems respectfully, timely and without much fuss. Satisfied and surprised they did not use computer generated pat answers as many sites have now done.

UPDATE: Added to the above happiness is the fact that as you advance in status you will get credited with one/two points just for going to a survey, even though you do not qualify. Pleasant surprise and very happy we are not given those sweeps entries that some sites are so proud of handing out when we do not qualify. Hate those.

1-26-2020: After several attempts to do surveys I find I did not get sent back after each survey attempt. Instead was asked the same questions over and over, sending me to possible surveys in between. The policy is now for 10 survey attempts, you get 2 points. The kicker is that you never get sent back to Univox to record those attempts and get not even those 2 measly points for answering questions ad nauseum.
August 7, 2021 by Eug from Australia
This site is a waste of time, they were ok before, but now they do not payout. Give them a flick, they do not deserve your time.
August 5, 2021 by michael john from Philippines
It was great and you can trust this, always responsible and will never let you down
» Return to: TOP RATED SURVEY SITES
---
Popular Topics
Top Survey Sites of 2021
---
Highest User Rated Survey Sites
---
Survey Sites That Pay Instantly
---
Survey Sites with Low Cash Outs
---
9 Product Testing Job Websites
---
12 Online Surveys That Pay Cash
---
How to Earn Free Uber Gift Cards
---
14 Ways to Get Free Amazon Gift Cards
---
Best Paid Focus Groups
---
How to Get a Free Visa Gift Card
---
Ways to Get Free Xbox Gift Cards
---
Featured Advertisers: