Branded Surveys Reviews and Features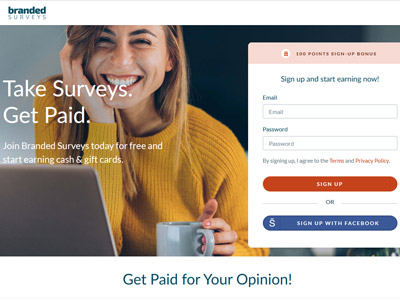 Branded Surveys
343 4th Ave, Suite 201, San Diego, CA 92101 US
Tel: Contact: https://surveys.gobranded.com/page/contact
Operated by: Branded Research Inc.
Quick Overview:
Rewards Offered: Cash paid via PayPal Amazon gift cards Best Buy gift cards iTunes gift cards Starbucks gift cards Target gift cards Walmart gift cards Cash paid via bank transfer Prepaid debit or credit cards Movie vouchers Restaurant gift cards
Member Opportunities: Online surveys Daily surveys Teen surveys Refer-a-friend program
Redeeming Rewards: Once you have earned a minimum of 1,000 points, you will have the option to redeem your points for cash or gift cards. You can choose any amount over $10.00 and gift cards are sent out in $10.00 increments. Branded Surveys also works with PayPal to securely handle payouts. All earnings are processed between 1-2 business days.


As of November 2017, MintVine rebranded itself as Branded Surveys. The company has been running online surveys since 2012.
Get 100 Points for Completing the Profile Survey
Take your first Profile Survey on Branded Surveys to instantly receive 100 points credited to your account.
Join and Earn a Payout in as Little as One Week!
Surveys range in value and can run as high as 300 points! If you are not the best fit for a survey, you will still be rewarded with points for answering even a couple of questions. Registration is quick – use your social account or email to sign up.
Rewards
When your account reaches 1000 approved points, you may redeem your points for cash via PayPal or gift cards in increments of $10.00. Upon approval, redemptions take approximately 1-2 business days to process. A valid phone number may be required to cash out your rewards.
Visit Branded Survey's website

›
Earn Points for Survey Disqualifications
If you are disqualified from completing a survey, you will be credited with additional points for your attempt which will be based on the points value of the survey.
Survey Lengths
The average survey takes 11 minutes to complete. The estimated completion time will always be listed on the survey invitation.
Daily Polls
Log into your account daily to receive 5 points for taking the quick poll available on your Branded Surveys Dashboard. You may complete one poll every 24 hours.
Earn Extra Points
Local Deals are provided by businesses and offer additional opportunities to earn points with Branded Surveys. These opportunities are also listed in your Branded Surveys dashboard. The more points you earn, the more qualified you will be for additional opportunities.
How to Redeem Points
When you complete a survey, you will be rewarded points and your survey answers are sent directly to Branded Survey's market research clients. Once you have earned a minimum of 1000 approved points, a redemption button will become active in the "My Points" section of your account.
Click the redemption button and choose from a variety of rewards; PayPal cash payments, Amazon gift cards, pre-paid virtual credit cards, and many more.
Visit Branded Survey's website

›
Branded Elite
Branded Elite recognizes and awards members for their consistent participation in surveys. There are three status levels: Bronze, Silver and Gold. These tiers allow for earning points and offering referrals to friends who earn you points when they join. Branded Surveys will also award the top 100 active Branded Surveys members with an additional 100-point incentive at the end of the month.
Branded Elite Leaderboard
Increase your daily payout by getting on the Leaderboard. The Leaderboard tracks the Daily Top 50, Weekly Top 50 and Monthly Top 20 performers and rewards members for their survey completions.
Daily Top 50 leaders = 50 points
Weekly Top 50 leaders = 200 points
Monthly Top 20 leaders = 300 points
Visit Branded Survey's website

›
Bonus Points for Consecutive Survey Completions
Earn additional points for completing surveys consecutively:
Complete 12 surveys in 7 days and earn an additional 5% of the total number of approved points in your account as a Bronze badge holder, 10% as a Silver and 15% as a Gold badge holder.
Complete 20 surveys in 7 days and earn an additional 7% of the total number of approved points in your account as a Bronze badge holder, 12% as a Silver and 17% as a Gold badge holder.
Complete 30 surveys in 7 days and earn an additional 9% of the total number of approved points in your account as a Bronze badge holder, 14% as a Silver and 19% as a Gold badge holder.
Requalify to Keep Your Badge Status
To maintain your badge color, members are encouraged to keep participating. Note that badges are subject to change on the first of each month if there was minimal participation for the duration of the month.
Remain Active to Win Daily, Weekly & Monthly Prizes
Remember that for every survey you complete, you will get submitted into daily, weekly and monthly random prize drawing. Win up to 50 extra points in a daily drawing, 500 points in the weekly drawing and 1000 points for the monthly drawing. The more you participate the greater number of entries you will receive for the drawings.
Referral Program
Receive 50 points as a gold or silver badge holder whenever your friends and family reach the silver badge status.
Eligibility: USA, UK, Canada residents 13 years of age and older
---
SurveyPolice Exclusive: Q & A with Branded Surveys
» More news and information on Branded Surveys
December 12, 2019 by Claudia from United States
This site rarely gives disqualification points. After weeks of trying surveys, I finally got the minimum to redeem. They have added a new security process that I wasn't aware of. You have to provide your cell phone number and they text you a verification number. I don't have a cell phone because I am hearing impaired and can't hear on one Therefore, I was unable to redeem my points. I feel I was discriminated against because of my disability.
not paying completed surveys
December 11, 2019 by paul from United Kingdom
AS YOU CAN SEE ADDITIONAL STUDY FROM ONE OF THEIR SURVEYS OFFERING £20 AND EVIDENCE I COMPLETED IT- I HAVE FORWARDED THIS 3 TIMES TO BRANDED RESEARCH 3 TIMES. IT NOW 7 WEEKS SINCE STUDY ENDED AND STILL NO PAYMENT.

THIS IS A SHAME BRANDED HAVE IMPROVED IN MANY AREAS SUPER QUICK PAYOUTS GREAT GOLD WEEKLY AWARD BUT EVERY TIME THEY RUN A SURVEY THAT TAKES YOU TO A NEW PANEL TO JOIN OR EXTRA STUDY TI RUN THERE IS A HUGH PROBLEM GETTING POINTS THEN THEY DONT TAKE RESPONSIBILITY THEY SHOULD NOT RUN THESE IF THEY DO NOT VET THEM PROPERLY AND PAY PEOPLE.

NEARLY 7 WEEKS NOW STILL NO £20 PAYMENT I HAVE REPEATEDLY CONTACTED BRANDED AND ANALYSE ME AND BRANDED JUST SAY IT IS DOWN TO ANALYSE ME EVEN THOUGH IT CAME THROUGH THEIR SITE.

-------------
6 May at 21:37

Hello,

We got your inquiry from GoBranded Helpdesk.

According to our records, data has been collected for 28 days which means you have completed the study and should be rewarded within 4-6 weeks from completion.

If you want to delete the app but are not sure on how to do that, please follow the instructions provided here: xxx. In regard to your reward, it will be directly deposited into your panel account.

Best regards,

App Support

Dear respondent,

Thank you for completing the Online Travel survey, and opting-in to the online behavior tracking study!

The purpose of the study is to understand your online browsing, app usage and media consumption activities and opinion by collecting data directly from your smartphone or computer, over a period of 28 days.

For participating in the study, you will be credited a total of £20 in equivalent panel currency for keeping it active for 28 days. If you download the app on a second device and keep the app active on that device for the entire period, you will receive an additional £10 in equivalent panel currency

To initiate the tracking, please download the AnalyzeMe application at the

Please sign in to the app using your email address.

Once you have downloaded the application, please follow the instructions provided below and the prompts within the application. For the installation instructions, click here.

If at any point you wish to end your participation in the tracking study, you may delete the application, which will stop all data collection. Step by step instructions on how to uninstall are provided here. Additionally, if you wish to have us delete the data collected on you, you can put in an email request to us at the below email address and we will fulfill the request.

[email protected]

We look forward to your participation in this tracking study!

Below are the directions to install AnalyzeMe to your Android device.

For a visual step-by-step guide, please click here.
At the end of this survey you will receive an email with a link to download the app. Click the link then click 'Install' to get started.
Accept the access request on the next window and wait for the App to be installed.
After installing, 'Open' the App using the button.
You will receive a screen that says, 'We need more information to complete configuration." Press 'Continue'.
Where the app asks you for the email address, please enter the one you registered for the study with.
Accept the terms and conditions to activate the AnalyzeMe app
On the App's main windows, locate the 'VPN Status' card and press 'Continue'.
Confirm the VPN certificate by pressing 'OK'.
In case you haven't set a lock screen or a pin before, you are now required to do so in order to secure your device. Please follow the system's messages through the setup for either a lock screen PIN or password.
After successfully setting up, the App's main screen will be displayed. Locate the 'AnalyzeMe Status' card and press 'Enable Accessibility' and follow the on-screen steps.
Look for 'AnalyzeMe on the screen and move the switch on the right-hand side to 'ON' and confirm.
Return to the AnalyzeMe App to confirm that it's working correctly. Hit 'Connect' on the VPN Status card if shown.
Press 'OK' on the following connection request to install the AnalyzeMe VPN. This is required to finalize the installation of the app.


UPDATE: FINALLY PAID AFTER 8 WEEKS THANKS TO HANNAH FOR HER HARD WORK IN GETTING MY PAYMENT- WORD OF CAUTION ANALYSE ME ARE INCREDIBLY HARD TO GET PAYMENTS OUT OF


IN THE LAST MONTH OR SO WHEN YOU SUBMIT A CLAIM AS YOU DID NOT GET PAID FOR A COMPLETED SURVEY WHEREAS 95% WERE GIVEN BEFORE NOW 95% ARE REJECTED FOR NO REASON AND YOU ARE NOT BEING PAID FOR YOUR TIME AND NOW THEY ARE SUDDENLY REJECTING SURVEYS FROM TWO MONTHS AGO WITH NO EXPLANATION AND IT IS CLEAR IT IS DELIBERATE POLICY - TOTALLY DISHONEST AND UNREPUTABLE AND AVOID THIS PANEL AT ALL COSTS THEY ARE NOT GENUINE AND JUST LET YOU COMPLETE SURVEY AFTER SURVEY THEN NOT GIVE POINTS AND ALSO REJECT MANY YOU HAVE COMPLETED MONTHS LATER- AVOID THEM AT ALL COSTS

the latest trick is three times in the last two weeks i notice my points have gone down, by 300, 250 and 60 so i email get an email back saying they have been rejected- often months after survey so u ask for more details then i get email back eventually on 3 occasions saying they are giving the points back because there was a bug in partners survey- no apology no points given- so now you have to keep a running score of your points because this is obviously the latest tactic to take points from people- they used to be such a good panel now it feels like everything is a battle and you are treated as being in the wrong- not to mention the amount of 15-20 minute surveys i have done lately that at end get told no match and no points given- no other panel behaves in the way they seem to be more and more and it was such a good panel at one point- now its just leaving a sour taste in the mouth..
Extremely disappoint with customer service
December 11, 2019 by Jonathon from United Kingdom
Extremely disappointed. I have been a very active member of Branded Surveys since September. That is until my account was frozen last week because of a rejected survey (despite the fact that I provided a screenshot of the final page to show that I had completed it).

I have answered all surveys honestly and in good faith and have now been told by customer services that my account has a "large amount of surveys" that were rejected by their partners.

There are 17 surveys that have been rejected out of the 881 that I have completed. This gives me a success rate of 98%, which I would say is an account in good order.

I am only posting this because it has taken a week of sending several emails to receive two, generic unhelpful responses which do not explain the situation at all.

All I would say to you is if you do use Branded Surveys, try not to be too successful or they will find a way to close your account. Sad, really.
December 10, 2019 by Kara from United States
Never ever qualify anymore, haven't gotten a d's prolly in over a month. Points now missing. This is the last place I come to now.points are back but survey length is inane. 23 cents for 25 minutes! The survey length changes a lot after you get to the actual survey. It'll say 90 cents for 8 minutes but when you click it will say 90 cent for25 minutes. That's a big jump but most I assume think they might as well go ahead and give them a extra 17minutes cause we are.so glad to finally get a survey. Customer service has declined drastically. Dont answer my ticket correctly. Will give me a answer about something I didn't ask. This has happened multiple times yesterday. I asked why I have not been given any disqualifying points after attempting a survey. Its been.over a month and no dq points. 3 emails over this and was told to keep trying to do surveys. Payment is never late but if you only netting 5 cent off a daily poll then every week you're only making 35 cent, 1.40 cents a month so then you should be able to cash out for 10$ in 7 months. Almost the time it takes to have a baby... Tv studies from poprewads used to be reliable but the last 3 months I've tried it says its full or I don't qualify. How can you not qualify for inputting what you watched on tv? Go figure...How do all.these surveys come in and soon as they come in I click but magically this survey is no longer available. All day everyday. It was fun while it lasted but now it's.blasted

Branded Surveys responded to this review on December 10, 2019
Hello Kara,
Thank you for taking the time to share your experience, and we do apologize for any customer service issues you may have experiences. Unfortunately, some surveys do not offer disqualification points. Additionally, if a survey does not meet your needs, you are able to utilize the 'skip' survey feature.
You can also jump over to our "Partner Surveys" page for additional earning opportunities. Thank you!
December 6, 2019 by Yana from United States
This site does not pay. Do not waste your time. It is trash. Support does not answer.

I got this message:
Dear Branded Surveys Member,

Please note that all issues regarding withdrawal requests and point balances have now been resolved. We thank you for your patience and appreciate your dedicated membership!
Thank you,

But, the problem is not solved!!!!!
How can I get paid? I don't even have this button.