9 Questions with Branded Surveys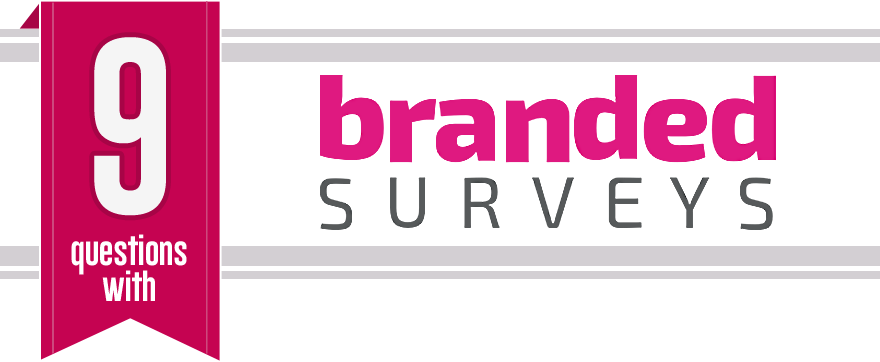 1. Can you provide a background on Branded Surveys?
For over four years Branded Surveys has provided it's 1.5M+ community members the ability to participate in market research surveys and other offers in return for cash and gift card rewards. Our community members help some of the world's biggest companies by providing the consumer and business insights necessary for Fortune 500 companies to make definitive decisions about their products and services.
2. What makes Branded Surveys unique?
Unlike related reward sites, Branded Surveys allows members to redeem their rewards quickly with a $10.00 minimum payout threshold. In addition to cash payments through PayPal, Branded Pay and Dwolla, Branded Surveys members have over 110 great gift card options to choose from. In addition, we provide daily,weekly and monthly challenges, offering our member multiple opportunities to earn additional rewards. Our mission is to put the experience of our community members first. We strive to improve that experience every day.
3. What types of surveys and research opportunities do you have available for members of your panel?
Branded Surveys members participate in a variety of different survey opportunities based on their unique individual profiles. For instance, a sample study may include questions regarding grocery-store purchasing habits. While other studies may ask for feedback on a new product, such as a baby formula. The topics covered run the gamut and the opinions we provide are instrumental in shaping some of the world's most recognizable products and services.
4. What kinds of organizations hire you to conduct market research?
Our clients are comprised of large market research agencies, representing multiple international brands. In many cases, our clients are the brands themselves, reaching out to us directly to help fill their survey needs.
5. What types of incentives can members of Branded Surveys receive in exchange for their participation?
Whether it is cash or gift cards to a favorite establishment, Branded Surveys ensures that there is a reward option for everyone. In addition to great options, there are also easy ways to earn points outside of taking surveys. With our Branded Elite Referral Program, members can earn a percentage of survey points just for referring an active friend, along with point bonuses for participating in daily polls and challenges as well as rewarding for being a top 100 active member.
6. How are panel members notified to take part in studies?
Branded Surveys members are notified by email when new survey or related opportunities are available. Alternatively, members can log in to their account at https://surveys.gobranded.com/ any time. Members can also manage the frequency of their notifications through their custom profile settings.
7. How is the privacy of your members protected?
Branded Surveys has a comprehensive Privacy Policy in place to ensure that none of a member's personal information is shared with any third party for any purpose.
8. What are some of the top five reasons to join Branded Surveys?
Member experience! We place a high value on member experience at Branded Surveys. This seems to be an afterthought at many similar reward destinations.
Cash, dozens of gift card options and a prompt payout schedule.
A more efficient way to earn rewards. We utilize our proprietary Survey Matching Engine to match you to most suitable surveys. Time is money!
Easy to earn bonus points via the daily poll and referrals.
Dedicated customer service. We do not leave any community members hanging! Every question deserves a prompt resolution.
9. What industry memberships and business standard practices do you currently uphold?
Our parent company is rated "A+" by the BBB (Better Business Bureau) and is proud member of many professional market research organizations like the M.R.A.
Peer testimonials! Branded Surveys Forum allows our community members to share their own thoughts and opinions amongst one another.