Focus groups are a useful tool for companies that want to perform extensive market research on their products and services.
They take longer to complete than regular paid surveys, but they also take fewer people's opinions into account, making the pay much higher. Many people find them more enjoyable than filling out survey after survey, as at the very least, they offer some variety.
In this guide we'll review the following:
Online focus groups are available through many paid survey websites. However, they are harder to come by, and only a small percentage of their user base are needed to take part. You'll need to have the right demographics and a bit of luck to be chosen for paid focus group work, but that doesn't mean that it's impossible.
What is a focus group?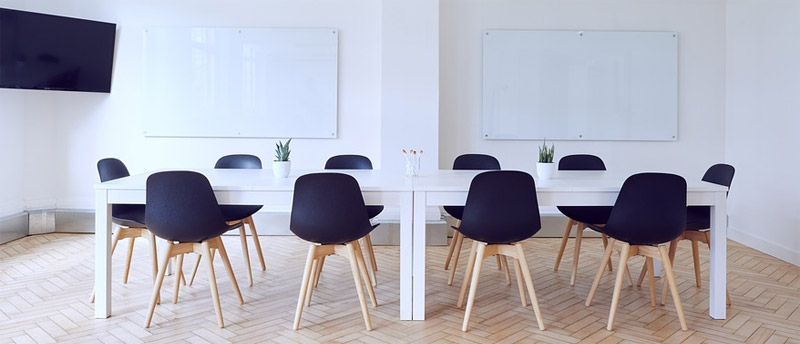 A traditional focus group can be defined as a selection of consumers chosen to take part in a group discussion, led by a moderator. These can take part both offline or online and participants can earn extra cash or rewards such as Visa gift cards.
Market research companies often use focus groups to gather consumer opinions on new or existing products and service in real-time. Here are some real life examples of how focus groups impacted real companies.
Opinions gathered from focus group interviews tend to be more detailed and precise compared to what retailers can gather from consumer surveys. The moderator is able to press consumers to expand on their answers, or ask further research questions based on their responses. Participants may also be recorded and/or observed from a one-way mirror, allowing researchers to really read into what participants may be thinking during a round-table discussion.
Online focus groups are becoming less expensive, quicker and easier for market research companies to organize. In 2022, where technology allows for a seamless online experience, you're more likely to be selected for a focus group today than even a few years ago.
With that considered, your best shot of being chosen to take part as a respondent in a focus group is to sign up with a few of the most reputable survey websites that offer paid focus groups and as with product testing, wait until you're asked to participate in a session.
How to be selected for a paid focus group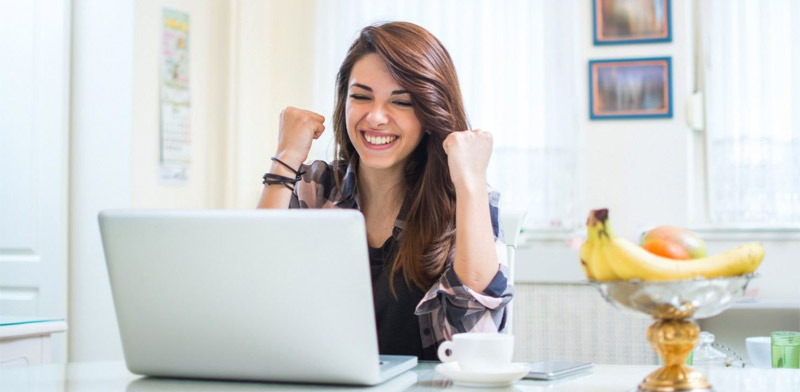 The easiest way to be selected to take part in a focus group is to register to a paid survey website, rather than searching for focus groups near you.
Many of these survey websites offer their users the opportunity to apply to take part in focus groups, as well as for filling out paid surveys for companies looking to gather opinions.
These opportunities are scarcer than surveys, because focus groups are more complicated and expensive for companies to organize, and fewer people are required to take part. However, if you are chosen to take part in a research study, you'll be compensated well for your time (you can earn a payout that's anywhere from $10-$250) and the experience will be engaging and interesting.
As with paid surveys, the market research company will check that you meet its client's demographic requirements before confirming your place in the study. In many cases, you'll also need to be available to take part in the focus group at a specific time or date. After confirming these details, you'll have confirmed your seat and will be scheduled to take part.
The 7 best paid focus groups online
The following is a list of 7 websites that regularly offer paid focus groups, pay their focus group participants well and give their members a half-decent chance at being selected to take part in studies. Overall, these are the websites we rate highest for offering focus group opportunities:
1. Survey Junkie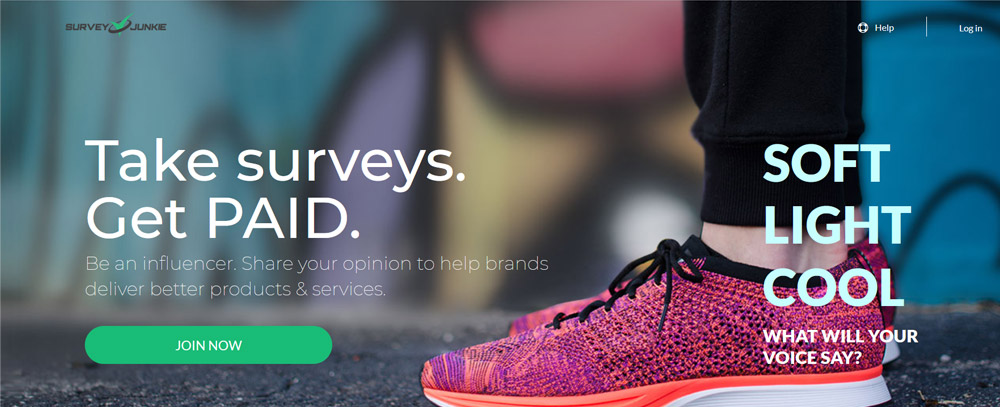 Survey Junkie focuses on consumer opinions about various brands and products you may interact with daily.
This website focuses on online surveys, but it will occasionally offer its members focus groups too. Here are their pay rates:
Product tests: earn up to $50 – receive a free product to test, test it, and fill out an online survey afterwards, reporting on your experience.
In-person focus groups: receive up to $150 – after an initial screening survey, if selected, attend an in-person focus group at a specified location near you.
Telephone surveys: up to $100 – a market researcher will call you to ask you questions over the phone. These studies are just as easy as online surveys, but pay much better.
The points you will earn from participating in the research above, can be exchanged for a variety of retail gift cards, money in the form of a PayPal payment (which is issued immediately), or by direct bank transfers for cash. Residents of the USA, UK, CA and AUS can apply to take part.
Bonus: Survey Junkie offers a 50 point sign up bonus to new members. That is 10% of the way to your first cash out!
2. American Consumer Opinion


American Consumer Opinion has been conducting surveys and online focus group studies for more than 20 years! They are one of the first market research sites to ever conduct research online.
Becoming a member is super simple and makes you eligible to participate in focus groups, paid surveys, as well as product tests. Once you've participated in just $10 (1000 points) worth of activities, you can redeem your points for a cash reward or a gift card of your choosing.
This popular site is BBB accredited, and has issued an unbelievable $35 million in payments to members!
3. TGM Panel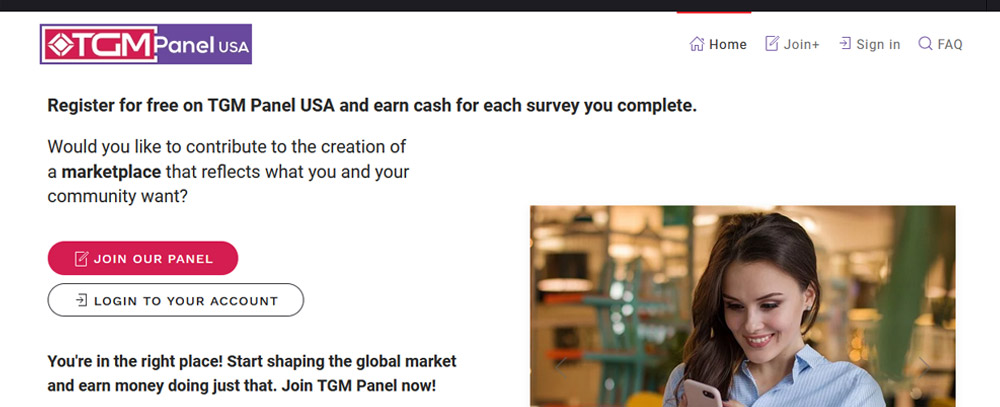 TGM Panel is one of the more diverse websites paying consumers for their opinions. As with most of these websites, you're most likely to get paid by answering surveys, of which they have a wide selection, as their survey inventory is very high.
However, you'll also be given the opportunity to get involved with focus groups or mystery shopping tasks as they become available.
You'll be rewarded with PayPal payments (issued within 72 hours of request), Amazon vouchers or retail gift cards for your participation. TGM Panel operates internationally and is available in 80+ countries, making it a good option for just about everybody.
4. Ipsos i-Say


Ipsos is one of the most well-known and reputable market research companies. It has been paying consumers for their opinions since 1975 and conducts reputable research.
They send out automated emails to their members whenever new studies become available, including for online surveys, paid focus groups, mobile surveys, and more.
Ipsos iSay rewards its members very well for their time compared to its competitors, and they offer a steady stream of opportunities to participate. Points earned can be converted into retail vouchers, PayPal payments or prepaid debit cards.
5. LEO Surveys


LEO Surveys is a Canadian website run by a very reputable company, which offers its members the opportunity to complete around 500 surveys per year. These could be short surveys paying $1 per completion, or longer surveys that offer a payment range topping $35.
They also offer in-person and online focus groups if you live in Canada or in the United States. In-person focus groups are typically held in major city centers.
When ready, you can convert your points into PayPal payments, gift cards to Amazon, Uber, Walmart, etc), air miles or charity donations – your choice.
6. User Interviews


User Interviews is a platform that connects researchers to participants and pays $50+ per study completion!
They offer a variety of different research types, including:
Online tests and surveys. Length: 10 mins – several hours. Pay: $20-$300+
Online interviews. Length: 30 mins – 2 hours. Pay: $20-$300+
Online diary studies. Length: 3 days – several weeks. Pay: $55-$400+
Online focus groups. Length: 1 hour – 3 hours. Pay: $40-$200+
Signing up is very easy and only takes a few seconds. Once you've registered, User Interviews will automatically match you to studies, which you can view at any time in your account.
Get paid via cash, check, or gift card; every study will list the reward offered for completion, so if you prefer certain types of rewards over others, you can apply for studies that offer those.
7. Clear Voice Surveys


Clear Voice Surveys focuses on fun and engaging surveys, but there are focus group opportunities available too.
They even have a telephone helpline for anyone who gets stuck or has questions and is accessible during working hours on weekdays (8AM-5PM MST).
All international members are welcome (though USA residents will find they have the most success with the site), and you can sign up and become a respondent provided you're at least 13 years old.
What about Apex Focus Group?


A lot of people wonder whether or not it's worth joining Apex Focus Group in order to increase one's chances of being selected for a study. In the last couple of years, this website has increased in popularity and some users wonder whether it's worth becoming a member of.
Apex Focus Group Reviews
There are not many reviews for Apex Focus Group posted online. The reviews that are posted are generally negative, though again, the sample size is relatively small. It seems that although the site itself has gained some steam in the last year, their users seem a bit shy on reviewing the site online.
Is Apex Focus Group Legit?
It's unclear whether Apex Focus Group is legitimate. Their website features a thin privacy policy and terms of service, neither of which are very comprehensive. The site features some broken English throughout (example: 'What Our Member Says' on the homepage), which is a bit of a red flag.
Their Terms of use state: 'These Terms shall be governed and construed in accordance with the laws of Nevada, United States', yet their office locations are listed to be in the state of Georgia, as well as in Singapore. This also seems a bit odd.

On the Apex homepage, it lists 824 'Active Participant'. We're not sure what this means. Does the site have 824 members in total? If so, this is very low for a website entirely dedicated to providing focus group opportunities. We've also accessed the site numerous times spanning months, and this number has remained unchanged.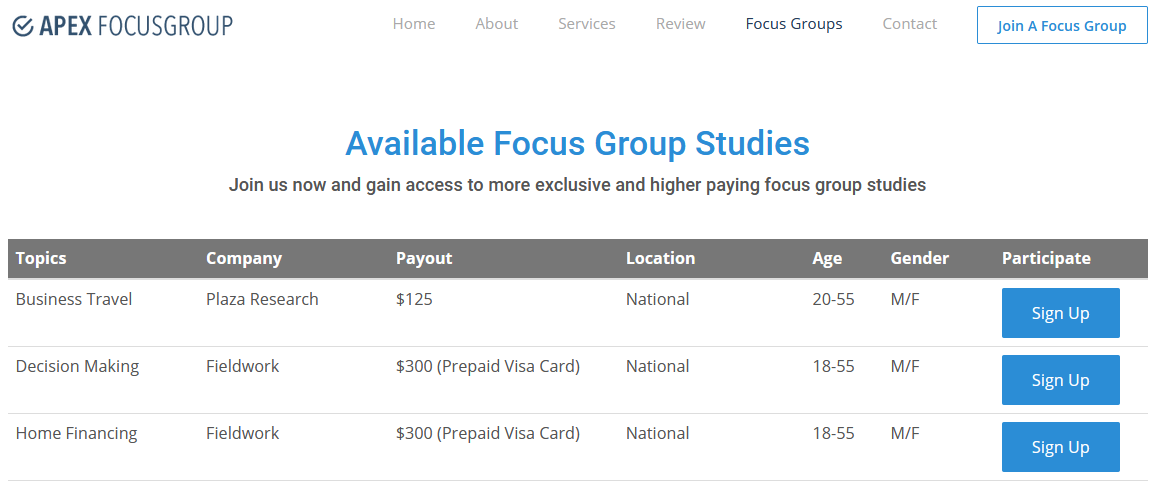 On their studies page, a few dozen focus group studies are listed. We found that clicking the 'Sign up' button on the vast majority of these resulted in being brought to a broken website, or a page with a message that said 'survey is now closed'. If Apex Focus Groups is getting paid to recruit users for these focus group studies via these buttons, a proper disclosure for this is missing.
Conclusion: We'd stay away from this one. It's not clear whether Apex Focus Group is a scam or is legitimate. The lack of user reviews combined with strange inconsistencies on their website definitely raises some eyebrows. If you're looking for legitimate focus group opportunities, we suggest skipping Apex and instead, becoming a member of any of the groups listed above.
Finding the top focus group jobs
If you're looking for a focus group job, remember that participating is more akin to a side-hustle than full-time employment. Being selected as a respondent for a focus group is a combination of being part of the right demographic, as well as luck; if you apply too late or are just outside of the types of people researchers are looking to interview, you might not be selected for an upcoming focus group.
As such, focus group jobs are somewhat of a misnomer; nobody is employed full time participating in these, though they can still be a great way to make extra money if and when you are selected.
General tips for online focus groups
Sign up to several survey websites so that you'll have the biggest chance to apply for a focus group study. The more sites you register with to add your name to their database, the more opportunities you'll have.
If you get notified of a new research study, apply quickly, because online focus groups tend to reach full capacity within hours. To increase your application speed, consider downloading the mobile app of your chosen paid survey app and turn on push notifications, so you'll be instantly alerted when a new focus group becomes available.
Fill out your profile (i.e. a series of short surveys about yourself) located in your survey site account to increase your chances of being matched with a new study as soon as one becomes available.
Don't be disheartened if you're not chosen for a paid focus group immediately after applying. Persistence and patience are key.
» Find a full list of focus group websites
---
Related posts: