When first hearing about the possibility of filling out online surveys for money, UK residents might think it sounds too good to be true. The reality is: this is a legitimate side-hustle for thousands of people living in the UK. It really is possible to make a decent chunk of pounds and pennies from the comfort of your own home by becoming a paid market research participant.
Looking to skip ahead?
The surveys side-hustle may especially appeal to stay-at-home parents, people in between jobs or part-time workers who want to top up their primary income. Freelancers or anyone who works as part of the gig economy are likely to also appreciate this opportunity to make some extra money in their free time.
However, in order to make the time you spend on these websites as cost-effective as possible, it's important to know what are the best online surveys for making money in the UK, as well as all the tips and tricks for maximising your earnings.
Read on for our explanation of how paid survey websites work in the UK and our rundown of the top online surveys for money UK.
What is a paid survey website?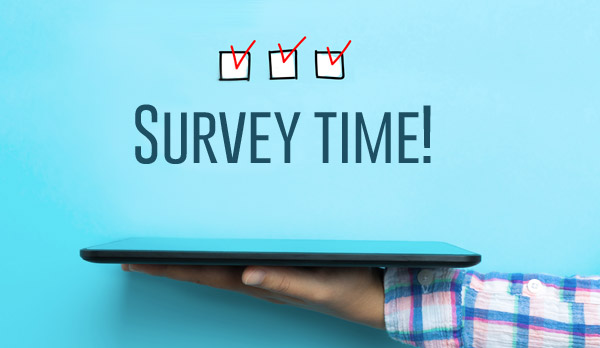 Paid survey websites are run by market research companies. These companies are happy to pay for opinions and information about consumer trends, as their clients will pay big money for information that ultimately reduces their business risk and can make their businesses better.
In order to be paid to take surveys on these websites, you'll have to register an account with a survey panel. The registration process will often require you to complete a survey profiler. This will help to determine what surveys you'll be eligible to fill out.
From there, you will be e-mail surveys (or if a survey site offers an app, you can take them on there too), and when you've taken enough studies to reach the payment threshold, you can receive a paypal payment for your efforts, various vouchers (such as to Amazon.co.uk), or even a bank transfer!
Can you really make money from a UK paid survey website?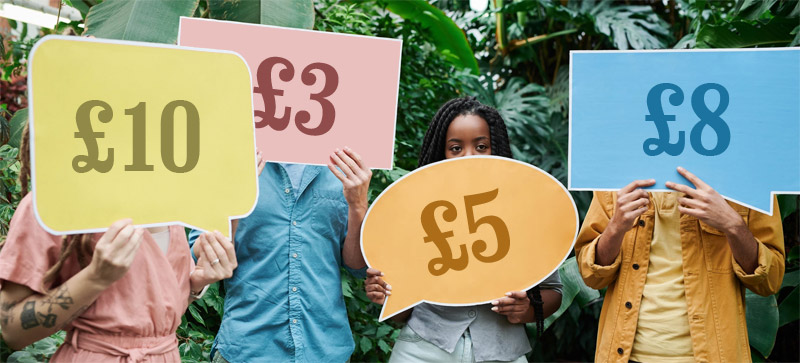 As with any money making opportunities, there are scam survey websites that you'll have to be conscious of. Always ensure you're signing up with a survey company that lists a privacy policy, proper contact information and preferably, has good reviews. This will ensure its legitimacy and will keep your personal information safe.
While it's unlikely you'll be able to quit your job to fill out surveys full-time, you should be able to make a reasonable amount of extra cash, considering the effortless nature of using a surveys for money UK website.
With most legit survey sites, you'll have to accrue a minimum amount of 'points' before you can convert them into rewards. The rewards available will differ depending on the website. Most websites will offer gift vouchers for a wide variety of popular retailers or Paypal cash (for which you'll need to have a PayPal account in order to receive payments). Some sites offer prepaid debit cards or bank transfers – use SurveyPolice Pick-a-Perk to find the specific reward types you're looking for.
It's important to be realistic about the amount of money you can make from online survey websites too. It's unlikely you'll be able to quit your job and make a decent living filling out surveys on a full-time basis. But you can take interesting surveys to earn extra cash which can make it worth a worthwhile endeavor.
Considering the almost effortless nature of this task, and with no specific skill set required, it's little wonder that so many Brits are happy to spend their time on paid survey websites.
Finding surveys in the UK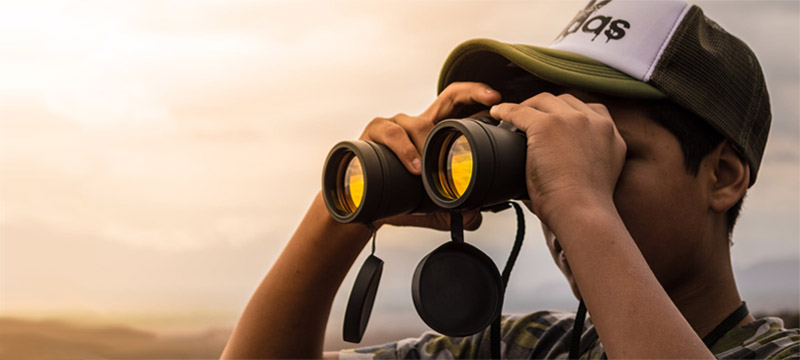 The websites on the list below are either open exclusively to UK residents, or are global websites with a lot of opportunities for Britons to answer surveys.
With all of our recommended websites, you can expect new surveys to become available most days. Members are paid for each survey completed, with bigger rewards being offered for more extensive surveys. Some paid survey websites are very particular when it comes to the demographics of who can answer individual surveys, but we have done all we can to pick out the websites that give a typical user the most opportunities to make money.
Once you've entered your demographic information and details of how you want to be paid, you'll be presented with a list of paid online surveys and can begin filling them out and making money straight away. Typically, you'll be paid in 'points', which can be exchanged for gift vouchers, PayPal payments or prepaid debit cards once you reach the payout threshold.
Some paid survey websites allow you to make money from other online tasks, including focus groups, product testing or even watching video adverts. This will be stated in the descriptions below.
Our Top 9 UK Paid Survey Websites
While there are dozens of paid surveys sites to choose from, the following options are ones to consider joining and become a survey taker for.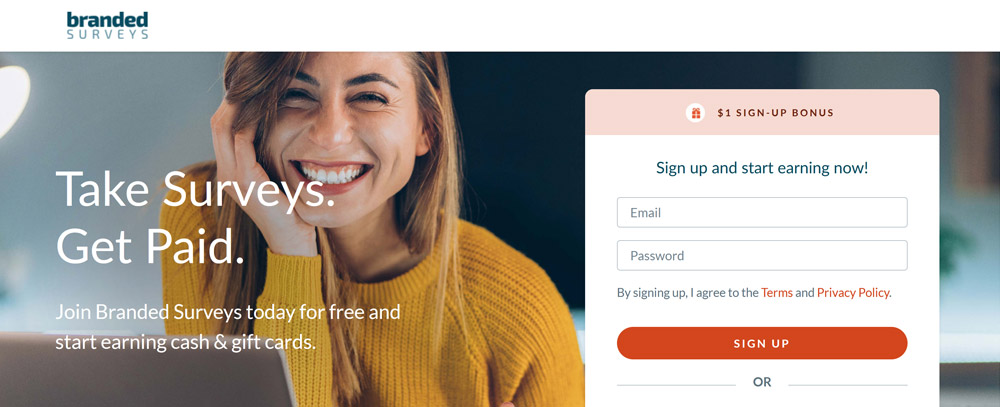 Having launched in 2012, Branded Surveys has grown to become one of the largest paid survey websites available to UK consumers. They provide frequent survey opportunities and a nice interface to boot.
It tends to offer shorter surveys with a reasonable pay rate. All surveys list the average time taken to complete, and it tends to be reasonably accurate. The average time taken to complete a survey is 11 minutes.
Your points can be converted into gift cards or prepaid credit cards and PayPal payments in increments of $5 USD. You'll get a $1 USD joining bonus to get you started.
You'll enjoy the intuitive design of the Branded Surveys website – and the fact that it pays a small incentive even if you're disqualified half-way through taking a survey. Benefits and activities of this survey site include:
Paid surveys
Completing offers
Taking part in polls
Great referral program
» Join Branded Surveys and get a $1 joining bonus.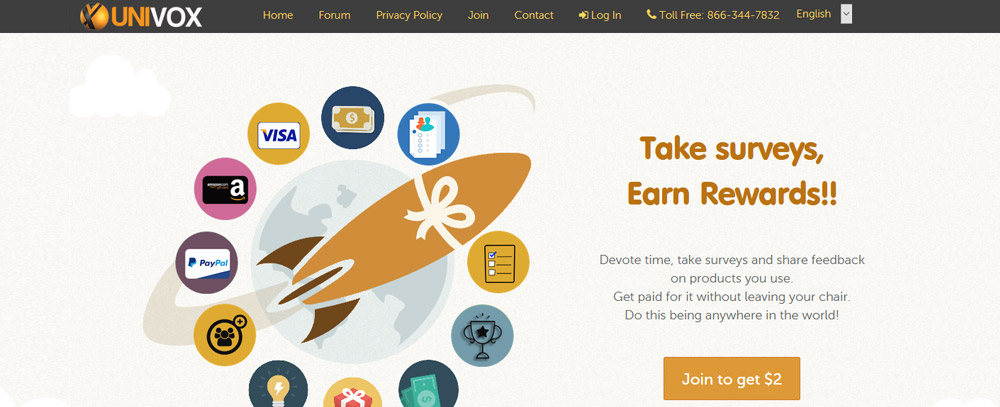 Univox Community has over 3 million members worldwide, including a huge community of members from the UK.
There are plenty of unique features that could tempt you to choose this survey website over others, which include great earning opportunities.
For example, Univox will offer you a small payment if you start a survey but are then deemed ineligible to complete it. This is one of the biggest frustrations with paid survey websites.
When you're ready for a payout, choose from the following rewards:
PayPal cash
Amazon e-vouchers
Prepaid Mastercard
Reward Link e-gift cards
New users can redeem prizes once they've earned 2,500 points ($25), but this figure will continue to reduce the longer you've been an active member of the site with minimum cashout being as low as $10. You'll earn $1 worth of points for every friend you refer to Univox.
» Join Univox and get a $2 USD joining bonus.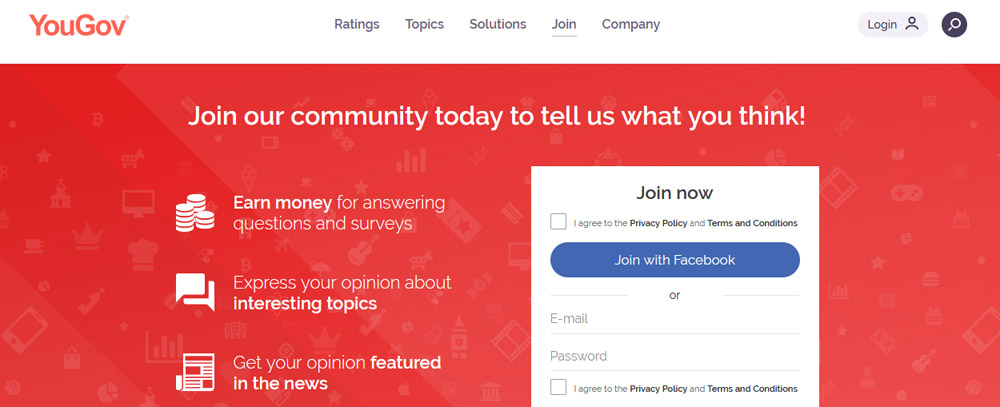 YouGov is perhaps the most well-known market research company in the UK, as its polls are frequently published in the British media.
Once you sign up to YouGov surveys using your email address or Facebook account, your first survey will be about your demographical information. This will earn you your first points, which can ultimately be exchanged for PayPal payments or gift cards with various retailers.
Many YouGov polls are mostly politically-based. A typical survey will feature 20-30 very short questions and should take no longer than 10 minutes to complete. There is a huge range of miscellaneous topics also covered.
YouGov will email you when a new survey becomes available for you to answer. You can expect to receive 5-7 new opportunities per week, and it's extremely rare that you won't be eligible for the surveys recommended to you.
You'll earn around 400 points per survey and can redeem these for rewards once you accrue 5,000 points. YouGov pays in both PayPal payments and gift cards.
Generously, you'll receive 4,000 points if you refer a friend who completes at least three surveys. There's an associated affiliate marketing program which can earn you even more cash too.
» Join YouGov Surveys and to participate in interesting political polling.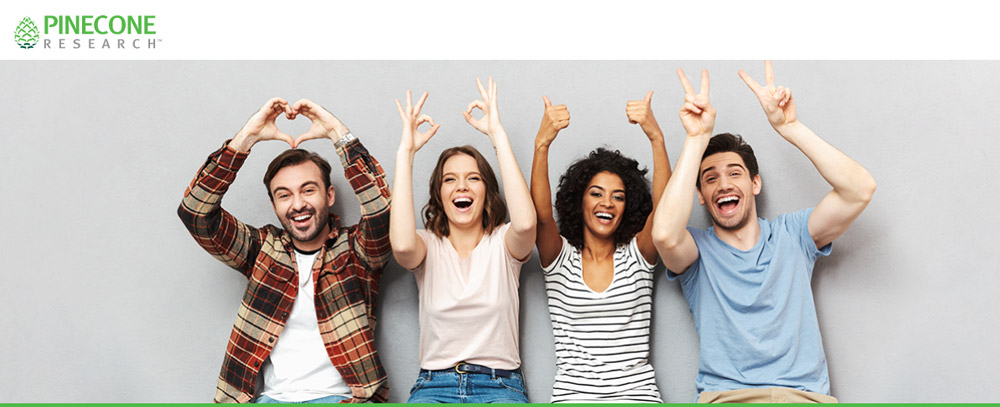 Pinecone Research was created by one of the world's most well-known market research companies, Nielsen – is one of the more exclusive paid-survey websites. It's likely you'll be on a waiting list for a while before you're accepted, but as it's one of the best-paying options for earning cash, it may be worth the wait.
Surveys typically take between 15-20 minutes to complete and you can expect to earn £3-£5 for each one.
You can cash out via a free bank transfer once you've earned just £3. If you prefer, you can request from a wide variety of gift vouchers or a virtual Visa.
Pinecone Research also offers their members opportunities to test products from home, and these projects pay even better.
» Join Pinecone Research to earn £3 per survey.


Panel Champ is an international website, with plenty of surveys available for UK consumers. Your registration will only be accepted if Panel Champ is on the lookout for more members in your local area.
Still, if you are accepted, it has a nice range of potentially interesting topics, including travel, tech, finance and consumer goods.
However, the most lucrative option is Panel Champ's music surveys. You can earn up to $90 USD by sharing your opinion on these. You'll need to be super-speedy to get accepted for these, as unsurprisingly, the demand to take part in these surveys is exceptionally high.
Panel Champ will allow you to convert your points into retail vouchers, PayPal payments, a cheque or prepaid debit cards.
» Join Panel Champ to take lucrative music surveys.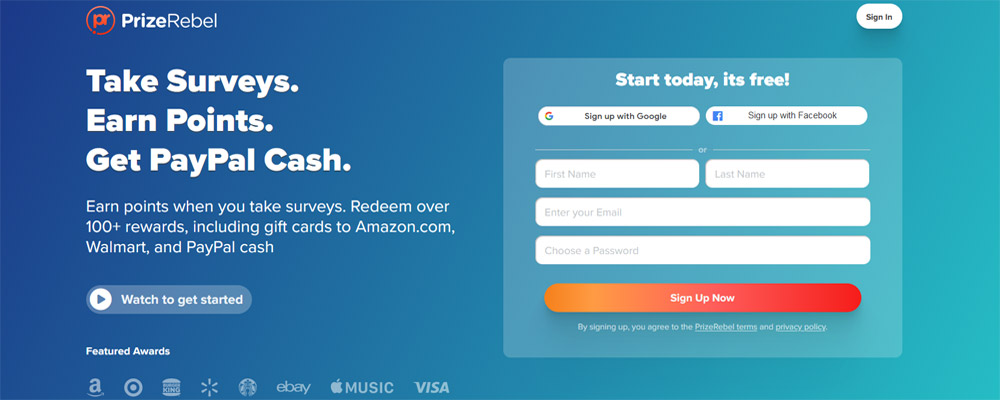 PrizeRebel is available to consumers across the world. However, the most surveys are available to users in the UK, United States, Canada and Australia.
PrizeRebel offers a huge variety of ways to make money, but its paid surveys are likely to be most worth your time.
When it comes to converting your points into rewards, there are 500+ gift cards and the threshold for cashing out is extremely low. You can request a £2 Amazon gift card if you are so inclined. PayPal transfers are also available.
Its referral bonuses are particularly generous. When you refer someone to the platform, you'll earn 15% of their points for life as a thank you and these will be automatically credited to your account.
Another great feature of PrizeRebel is its loyalty bonuses. As you earn more points, you can upgrade to higher membership tiers that earn you bigger rewards for completing surveys and referring your friends to the platform.
» Join PrizeRebel to earn PayPal payments and e-vouchers.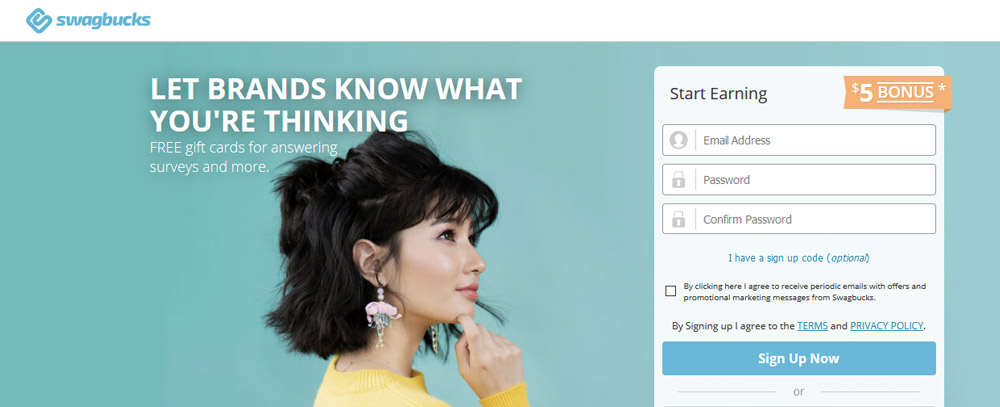 Having launched in 2005, Swagbucks is one of the most well-known paid survey websites available to UK residents. It is one of the most varied – and arguably therefore one of the most enjoyable websites around. The points you earn are called 'Swagbucks' and there are plenty of ways to earn them.
Having said that, similarly to PrizeRebel, paid surveys are likely to provide the most time-efficient method of making money on the platform.
Turn your Swagbucks into PayPal payments once you've earned just £5 worth.
If you prefer, you can choose to convert them into prepaid debit cards or vouchers for a number of well-known retailers.
Ability to sort surveys by length of time for completion, making short surveys easier to find.
Excitingly, Swagbucks often runs 'sales' on its rewards allowing you to buy them at a discount.
Indeed, the process of completing Swagbucks surveys is seamless. The list of surveys will include an estimate of how much time the surveys take to complete and how many points you'll earn for it. You can choose to be notified by email when new surveys appear.
» Join Swagbucks and receive a $5.00 USD joining bonus.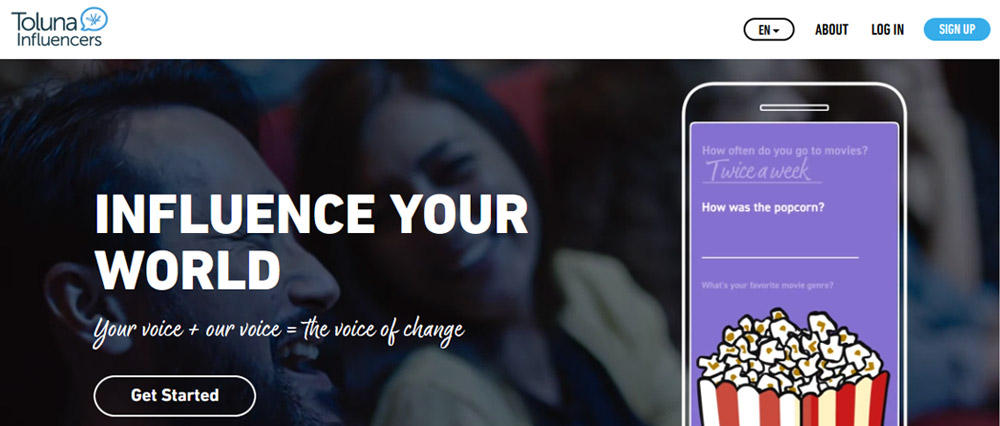 Toluna Influencers is one of the most well-known survey websites. It allows UK consumers across the world to register and earn money by taking surveys. There are plenty of new surveys steadily being made available for UK residents.
The registration process is fast and seamless – and you'll even get bonus points for fully completing your profile (500 points worth). A nice way to kick-start your membership.
The rewards per survey taken isn't the highest, but this is balanced by the consistent flow of new money-making opportunities.
Your threshold for cashing out depends on what reward you want. At the time of writing, you can purchase a £5 Starbucks gift card for 27,000 points, a £10 iTunes voucher for 55,000 points, or a £35 Paypal payment for 190,000 points. There are dozens more to choose from too. For context, Toluna suggests you can earn up to 1,200 points taking surveys that take less than 10 minutes.
» Join Toluna Influencers and get 500 free points.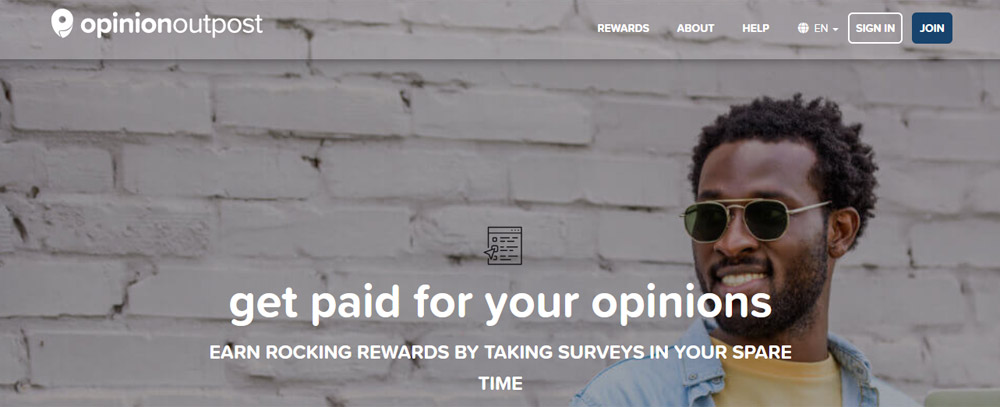 Opinion Outpost offers an impressive flow of new surveys. As most surveys only take between 10-15 minutes to complete and you can build up your points really quickly.
It is possible to cash out once you've reached £5 worth of points, either as an Amazon voucher, Apple voucher or PayPal payment.
You can expect these rewards to be delivered instantly – something few other websites do.
You'll earn £1 worth of points for each person you successfully refer to Opinion Outpost, up to a maximum of five referrals.
» Join Opinion Outpost to earn £5 e-voucher codes.


Ipsos i-Say is a community of millions of survey takers around the world who participate in surveys for cash and rewards.
You can choose from hundreds of different reward options including Paypal payments, e-vouchers, and merchandise, all of which are available in their extensive rewards catalogue.
In the event that you get disqualified from a survey, i-Say will still credit your account with some rewards, helping you attain that next payment sooner.
» Join Ipsos i-Say to earn cash and rewards.
In Summary
There's a huge range of reputable UK paid surveys websites for Brits to choose from that are run by dozens of survey companies.
Better yet, there's nothing stopping you from registering for several of them as a respondent, as there are no limit as to how many sites you can join.
It might take you more time to reach the cash out threshold for an individual site this way, but this well help to increase the amount of new surveys you can take each day.
What's more, it's the best way to discover which paid survey website is truly the most effective for you.
» Find all Top Rated UK Survey Sites