Toluna Influencers Reviews and Features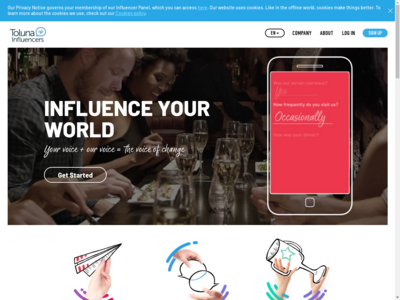 Toluna Influencers
21 River Road, Wilton, Connecticut 06897 US
Tel: 1 (972) 732 7323 Contact: https://us.toluna.com/contactus
Operated by: Toluna Group

PAYMENTS OFFERED

Cash paid via PayPal

Amazon gift cards

Apple gift cards

Best Buy gift cards

Target gift cards

Walmart gift cards

Starbucks gift cards

Movie vouchers

Reward Link

Restaurant gift cards

Retail e-vouchers

Sweepstakes entries

HOW TO PARTICIPATE

Online surveys

Mobile surveys

Mobile app

Daily surveys

Video surveys

Diary surveys

Teen surveys

Refer-a-friend program

REDEEMING REWARDS
Minimum of 30,000 ($10) worth of points required in account in order to request rewards.
Having launched in 2000, Toluna Influencers has grown to become one of the most established and popular online survey websites around.
Toluna Influencers is owned and operated by market research powerhouse, Toluna Group and has millions of survey members around the world who participate in a variety of market research opportunities and influence some of the biggest brands worldwide.
It's well-known for being a survey site that places a strong emphasis on community, making it a popular choice.
How Toluna Influencers Works

Create a free account
With Toluna Influencers account takes only minutes. To create an account, you'll answer a nine-question survey about yourself; Your name, date of birth, gender, country of residence, zip code, desired password and mobile number (this is optional). From there, you're ready to start earning points.
Start taking surveys
The main dashboard of the website will show you a list of surveys for you to fill out. You can choose by survey length or your desired topic. Underneath each survey, you'll see an estimated length and how many points you'll earn for completing each survey. Some surveys may offer a unique experience such as being a video survey or a diary style survey.
Convert your points into rewards
Once you've earned enough points, you'll be able to convert these into a wide range of rewards. Choose from options including cash paid by PayPal, gift cards, e-vouchers and more.
New Member Bonus
New members to the Toluna Influencers community will automatically have 500 points deposited into their accounts. If you invite new members and they join Toluna, you'll also be awarded 500 points per recruit.
In addition to the 500 point bonus for new members, new members will also receive an additional 1,000 points after completing their first survey. This means if you're new to Toluna, cashing out your first reward has never been easier.
Rewards for Surveys
Toluna Influencers offers an extensive rewards catalog.
Gift certificates and PayPal payments - Toluna Influencers offers a substantial selection of gift certificates to retailers including Amazon, Starbucks, Walmart, iTunes, Tango, Best Buy, Target, and even Bitcoin! Gift certificate values start at 30,000 points, or $10. PayPal payments start at 95,000 points ($30). These amounts are stated for Toluna USA, and may vary slightly by region.
Sweepstakes - Toluna Influencers offers monthly draws for thousands of dollars in cash and items such as electronics whose entries can be redeemed for a relatively small number of points. The Toluna Millionaire Sweepstakes offers a daily draw for 1,000,000 to active Toluna Influencers members. You can earn entry by participating in surveys or by purchasing entry via the reward center for 500 points. Note that sweepstakes draws are not available in all regions.
Visit Toluna's website

›
Additional Ways to Earn Points
Besides participating in online surveys, members of Toluna Influencers can earn additional points by participating in sponsored mini-polls (typically a yes/no question for 15 points), filling out profile surveys (worth 100 points each) and by referring friends (500 points per referral). You can refer friends by sharing a unique URL for them to sign up with.
Number of Points Per Survey
The number of points will vary per survey and is based on things like the length and complexity of the survey. That said, successful survey completions can award anywhere from 15 - 50,000 points each, and special surveys could offer even more!
Rewards Process
Toluna Influencers states on their website that it can take up to 8 weeks for delivery of rewards after they've been requested. However, many members receive virtual gift cards and PayPal payments within a couple weeks of request. All rewards are redeemed through Toluna Influencers' "Rewards Center" from the community menu on your profile. As stated above, rewards include gift cards to Best Buy, Groupon, overstock.com, Redbox, PayPal, The Cheesecake Factory and more. When points are awarded, they are valid for 12 months.
Visit the Toluna Influencer's website

›
Getting Involved with Toluna Influencers
There are a variety of options to browse if you would like to become a part of the Toluna Influencers community.
Topics: Answer a variety of exciting questions on interesting and sometimes even humorous topics!
Battles: Give your opinions on a battle of products or subjects, i.e. Which do you prefer, a treadmill or elliptical?
Thumb It: Provide a "like" or a "thumbs up" on products or subjects that you enjoy, i.e. Would you give a thumbs up to the act of napping?
Download the Toluna Influencers App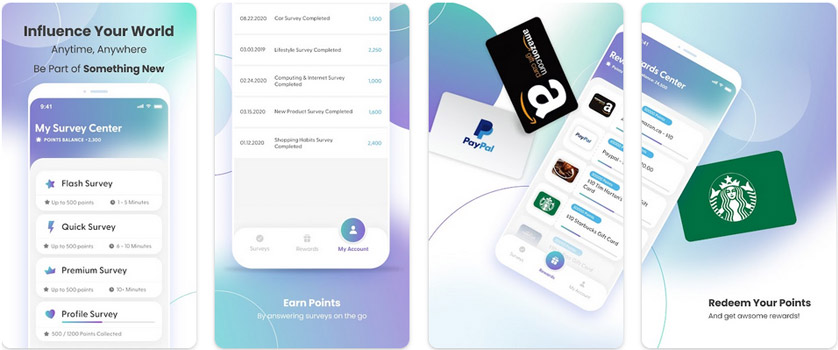 Access your profile from anywhere and stay up to date on the hottest research opportunities. The Toluna Influencers app offers features like snapping photos while on the go, accessing your account information and redeeming rewards straight from your phone. Download it from Google Play or the App Store.
Is Toluna Legit?
Toluna Influencers is a safe, legitimate website. It is not a scam, and has had millions of survey takers around the world take their surveys for over 10 years. Although your experience with the site may differ from other survey takers', Toluna Influencers is not a scam website.
Eligibility: Residents worldwide 13+
Joining Bonus! Toluna is currently offering a 500 point sign up bonus to new members, plus an additional bonus of 1000 points after completing your first survey.
» Click here to claim your bonus!
---
Toluna Influencers Reviews (556)
5 Star Reviews (101)
18.2
1 Star Reviews (276)
49.6
Toluna Still Up To It's OldTricks
June 30, 2022 by Gemma from United Kingdom
Toluna is still allowing it's repondents to fully complete a survey; all too often involving a lot of work with much typing and going on forever, then on being returned to the Toluna Home Page, informed that the survey had either filled up, or that they were 'Looking for a slightly different profile'! Or, sometimes, not being returned to the Toluna Site at all but just left high and dry and having to physically go back to the site, to find on checking their points account, they have not received the points for the survey! When contacting Toluna Support, they are told rather loftily that other people were completing surveys at the same time as them and it is just that the survey quota gets filled up 'Just as other respondents are finishing the same survey'. Or some such! This can't be right surely? I am a member of several survey companies and none of them behave like this. Most of the time, the preliminary questions are got out of the way at the beginning of the survey and if necessary one is screened out then. NOT right at the end, or even halfway through; which is bad enough. This is showing a complete lack of consideration for their respondents!

Toluna Influencers responded to this review on July 4, 2022
Hello Gemma,
Thank you for updating your review.
I am truly sorry to hear about your negative experience with our surveys. Sounds like your demographic was reached while you were filling out the surveys. This is due to the fact that our clients normally require a limited number of responses from participants belonging to one or more profile groups. Therefore, it may happen that the quota for your specific group is reached at the time you fill in the survey. The survey is still available because there are still some profiles where the quota has not been reached.
Nevertheless, as I kindly asked before, could you please submit a ticket at https://uk.toluna.com/contactus using 'Survey Police review - follow-up' as subject so that I may identify your account and personally assist you on this matter?
Hoping to hear from you soon,
Katy
June 24, 2022 by Laura from United Kingdom
Toluna have been great for a few years now for me, but the last 4 days i have not been able to take any surveys and when i contacted them i got this email stating that my survey attempts had been automatically rejected, because of three options, That i was using a VPN, when i wasn´t, My ip address had been flagged or blacklisted, when it isn´t or that my country of residence is inconsistent (i haven´t moved for 38 years, sadly)...

I have tried their directions to refresh the ip address by turning off router, leaving it turning back on, etc, I have checked my ip there is nothing there, 0 fraud rating, and low risk, I tried to see location of my browser as far as i am aware it is all set to my location and has never changed location.

I received one survey in french last week, it gave me no option to change its location and after the second question i closed the survey, so if that is why it registered me in another country i dont know, but that was not my fault, as it was a survey available on the toluna surveys page, my mistake was clicking the first question, as sometimes by the second question it is set again in the right language.

I hope it wasn´t because i was close to another pay out.

They did respond but i have no idea what the exact issue is or how to resolve it. They just gave a series of possibilities.

I find this upsetting, as I have been a good worker for several years now and i am not that tech savvy to work out what is going on. I just feel unvalued by this for all the work i have done for them in the last few years.

I have 30 pounds in my account, and was close to getting a pay out.

Update:

Katy kindly got in touch with me and with her more detailed reason and resolutions, i worked out it was because my laptop was set to US eng rather than UK eng, when i changed that and retried unplugging modem , one of them or both worked, so is resolved now and am happily taking surveys again with toluna. Thank you Katy.

Toluna Influencers responded to this review on June 30, 2022
Thank you very much for your kind update, Laura! I'm beyond happy to hear that the instructions helped and that the problem has been resolved! :)
If you'd like to suggest a feature or an improvement to our platform, please write in to us at https://uk.toluna.com/contactus. We'll do our best to incorporate the same and earn a five star rating from you.
It was my pleasure to assist you and I wish you all the best,
Katy
June 17, 2022 by rose (laura) from United States
The toluna panel seems to be geared at folks under age 50, AND they require a lot of surveys to earn any rewards.
Perhaps it is only me with the less than positive experience, but it didn't seem to be worth my time and/or effort.

Toluna Influencers responded to this review on June 20, 2022
Thank you for your feedback, Rose! I am sorry that the Toluna experience has not been as good for you as we would have wished.
There are times when we may have fewer surveys available, depending on our customers needs. Invitations are sent based on the profile of our members, so keeping all your profile surveys updated will significantly increase your chances to qualify. Each research study has specific respondent needs and targets and some surveys might be looking for a particular group of people who meet a very narrow set of demographic or other criteria. Respondents that are not part of the targeted demographic groups will be screened out and offered a new survey opportunity.
To increase your chances of receiving better targeted surveys with the highest chances to qualify, we recommend that you keep all your profile surveys completed and updated every six months (https://us.toluna.com/interestsurveys).
We can assure you that many influencers manage to claim at least one voucher per month. We have multiple reward options available, at different thresholds and with different processing times - you can check them all out in the app's Rewards Center or at https://us.toluna.com/rewards.
I would be more than happy to further discuss your specific experience and have the chance to improve your Toluna experience based on your expectations and needs! Don't hesitate to submit a support case using "Survey Police review - follow-up" as the subject and I will personally assist you.
Best wishes,
Katy
What Is Going On With Toluna North America?
June 8, 2022 by Carolyn from Canada
Since November 2021 there have been no CCM points, no points for specific content topics created by Toluna, surveys that most members are not able to complete and ABSOLUTELY NO RESPONSE from the Community Manager, Toluna North America or Toluna Corporate. Members are getting upset that we continue to create content and attempt to take surveys for Toluna's clients but we are not given the courtesy of an explanation as to why we are not getting the points we have earned. Ignoring the people who keep them in business is really poor customer service. The participation rate has declined significantly on the Canadian site and the US site as well. If the company is experiencing financial or operational issues, we should be advised. Some of us feel that one day we will be unable to log in and our points will disappear.


Toluna Influencers responded to this review on June 14, 2022
Thank you for the updated review, Carolyn. I am truly sorry to see that your Toluna experience is not improved. The CCM situation has been explained and resolved in the beginning of the year. We remain available via https://influencers.toluna.com/en_CA/contact-us for any other questions or concerns you might have and we'd love to hear from you.
All the best,
Toluna Team
June 7, 2022 by Lor from United States
Super fun Surveys, of various topics. Quick to pay with a low payout threshold. Highly recommend.

Toluna Influencers responded to this review on June 10, 2022
Thank you for your lovely review, we are delighted to hear you enjoy being part of our Influencers Community!
Don't hesitate to get in touch with our support team at https://us.toluna.com/contactus if you have any questions, concerns or simply wish to share your feedback - we certainly want to keep your Toluna experience at a 5 star level.
Thank you again for your nice words and see you soon on Toluna.com,
Katy
Toluna Team
» Return to: TOP RATED SURVEY SITES
---
Popular Topics
Top Survey Sites of 2022
---
Highest User Rated Survey Sites
---
Survey Sites That Pay Instantly
---
Get $100 Free PayPal Payments
---
9 Product Testing Job Websites
---
12 Online Surveys That Pay Cash
---
How to Earn Free Uber Gift Cards
---
14 Ways to Get Free Amazon Gift Cards
---
Best Paid Focus Groups
---
How to Get a Free Visa Gift Card
---
Ways to Get Free Xbox Gift Cards
---
Featured Advertisers: