Toluna Influencers Reviews and Features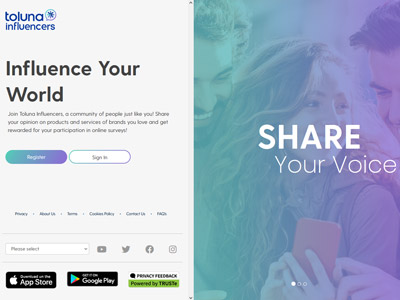 Toluna Influencers
21 River Road, Wilton, Connecticut 06897 US
Tel: 1 (972) 732 7323 Contact: https://influencers.toluna.com/contact-us
Operated by: Toluna Group

PAYMENTS OFFERED

Cash paid via PayPal

Amazon gift cards

Apple gift cards

Best Buy gift cards

Target gift cards

Walmart gift cards

Starbucks gift cards

Movie vouchers

Movie vouchers

Restaurant gift cards

Retail e-vouchers

Sweepstakes entries

HOW TO PARTICIPATE

Online surveys

Mobile surveys

Mobile app

Daily surveys

Video surveys

Diary surveys

Teen surveys

Refer-a-friend program

REDEEMING REWARDS
Minimum of 30,000 points ($10) required to request a reward.
Toluna Influencers is a paid surveys site that offers users the opportunity to answer online surveys in exchange for rewards including cash and gift cards. It has grown to become one of the most established and popular online survey websites around.
People from all over the world are invited to join their community to voice their opinions for cash.
How Toluna Influencers Works

Create an account for 500 free points
With Toluna Influencers, creating an account takes only minutes. To create an account, answer a nine-question survey about yourself; your name, date of birth, gender, country of residence, zip code, desired password and mobile number (this is optional). Confirm your account by clicking the e-mail link and receive an instant 500 point credit to your account.
Take interesting surveys to earn rewards
Toluna offers their members surveys every day that are on a wide array of subjects including large consumer brands, your habits, and the environment you live in. Your opinions will directly impact companies and how they market, distribute or advertise new products and services to consumers like you.
Fill out the profilers for more points
When you first log into your account, you will be asked to complete the profile surveys (though this is optional). These short surveys are designed to help better match you to surveys so that you're primarily sent surveys you will qualify for. For every completed profile survey you complete, you will be awarded 100 points. You can update your profile surveys every 6 months to earn more points.

How to Redeem Points
Upon joining and completing surveys and participating in games and other point-awarding activities, you will be credited with points. Once you have earned a minimum of 30,000 points ($10.00 worth), you can redeem your points for a selection of prizes.
Rewards Options
Toluna Influencers offers an extensive rewards catalog. When you're ready to request a cash out from your Toluna Influencers account, click the Rewards button and choose from a wide variety of options:
PayPal payments - with 65,000 points in your account, you can request a $20.00 PayPal cash payment.
e-Gift cards - choose from a wide variety of digital gift cards, including Amazon, Boston Pizza, Apple, Starbucks, and many more. Gift cards can be redeemed with as few as 30,000 points ($10.00).
bitcoin - receive $30 USD in Bitcoin in exchange for 114,000 points, awarded via mybitcards.
Note that rewards options will vary based on your country of residence.
Toluna Points Value: 3,000 Points = $1.00 (though this varies slightly per reward chosen). Therefore, 30 points = $0.01.
Rewards Processing Times
Upon requesting a reward, it can take up to 3 weeks for it to be delivered. All rewards are digital in nature (PayPal or bitcoin cash and e-gift cards), so ensure you monitor your inbox closely after requesting a reward to ensure you don't miss it!
Visit Toluna's website

›

Start taking surveys
The Surveys tab in your account will display a list of online surveys ready for you to fill out. You can choose to view surveys by Priority Surveys (which are recommended for you), Quick Surveys (short surveys), or by Premium Surveys (surveys that award more points than usual).
Every survey will display the estimated length of time it will take to complete, the topic of the survey, as well as how many points you will receive for completing it. Some surveys may offer a unique experience such as being a video survey or a diary style survey.
Points Earned Per Survey
The number of points you will earn per survey completion will vary and is based on things like the length and complexity of the survey. However, successful online survey completions typically award anywhere from 15 - 50,000 points each, and special surveys could offer even more.
Points Expiry
When points are credited to your account, they remain valid for 16 months. If after this period your points have not been used, they will automatically expire and be deleted from your account. Your points will not expire all at once; instead, points will expire 16 months after you originally earned them, so be sure to regularly redeem your points for rewards.
Visit the Toluna Influencer's website

›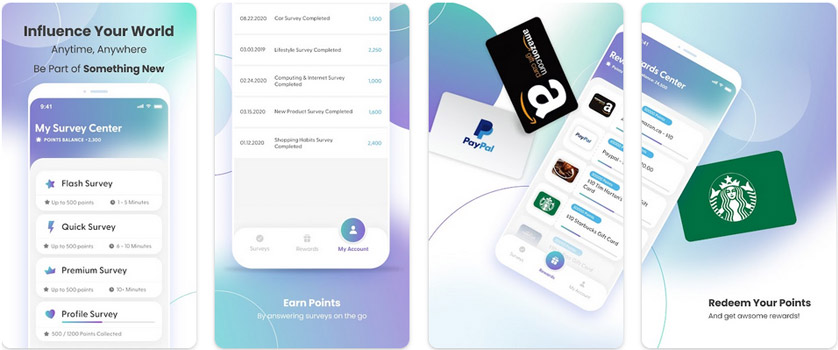 Download the Toluna Influencers App
Access your profile from anywhere and stay up to date on the hottest research opportunities with the Toluna Influencers app. With over 5 million downloads, the app offers features like snapping photos while on the go, accessing your account information and redeeming rewards straight from your phone. Download it for free from Google Play or the App Store.
Additional ways to earn points
Besides participating in online surveys and referring friends, you can earn points by participating in the following activities:
Quick Votes

- participate in the quick daily poll to earn an easy 15 points and see how fellow community members have voted! Also called My Sponsored Polls.

Games

- play fun games such as answering trivia questions to earn bonus points.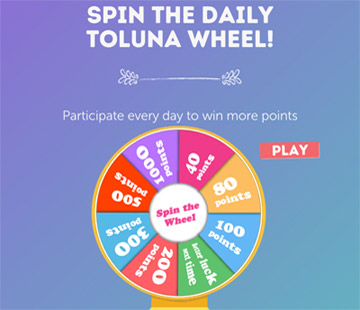 Spin the Daily Wheel

- every day, you can spin the daily wheel to win up to 1000 free points. There are 8 different spots on the wheel which you can land on: Better luck next time, 40 points, 80 points, 100 points, 200 points, 300 points, 500 points, and 1000 points. This is a great way to easily earn free points.
Refer-a-friend program
Under the 'Refer-a-Friend' tab located in the Account section of your dashboard, you will find your unique referral link which you can share with friends and extended family to invite them to the Toluna community. Receive 500 points credited to your account for every friend you refer, up to a maximum of 10 referrals per month.
Is Toluna Influencers Legit or Scam?

Is Toluna Influencers legit?
Toluna Influencers is a safe, legitimate website. It is not a scam, and has over 21 million users in 50 countries that have taken their surveys for over 20 years. Toluna Influencers is owned and operated by market research powerhouse, Toluna Group, and works with some of the biggest brands worldwide. Although your experience with the site may differ from that of other survey takers, Toluna Influencers is not a scam website. It is well-known for being a survey site that places a strong emphasis on community, making it a popular choice.
Eligibility: Residents worldwide 13+
Joining Bonus! Toluna is currently offering a 500 point sign up bonus to new members, plus an additional bonus of 100 points per profile survey. » Click here to claim your bonus!
---
Toluna Influencers Reviews (561)
5 Star Reviews (103)
18.4
1 Star Reviews (279)
49.7
The Same Old Toluna Account Suspended Song and Dance
November 29, 2022 by Gary from United States
The Same Old Toluna Account Suspended Song and Dance

If you are thinking of joining Toluna, DON'T.

I've noticed on this site there are reviews from people all around the world that Toluna suddenly suspends their account without any warnings. Often, the members can't log into their account and that's when they are told by Toluna their account has been suspended. No advance warning, and the suspension reasons are without objective evidence. These members lose their earned points, meaning they completed surveys and were not paid. I don't know how that is legal.

I also experienced this surprise account suspension without objective evidence. I learned my account was suspended after I inquired about not being able to log into my account.

I submitted a Better Business Bureau complaint against Toluna. So, I increased the number of complaints against this suspicious account suspension. I rejected Toluna's response, as they provided (again) vague reasons again and no objective evidence. I still don't know exactly how I sped through a survey, didn't provide accurate answers (what were the questions that I answered?), etc. I only lost $10 worth of points. I've noticed on other negative reviews that others have lost more $$$ than me.

I strive to provide honest and accurate answers to surveys.

Toluna only responded to my BBB complaint with survey numbers that I were flagged. That's doesn't tell me anything. They won't provide detailed information, which sounds suspicious.

According to the Survey Police site on Toluna reviews, 61% out of the 561 reviews are 1-star (49.6% or 2-star (11.4%). Around 30 of these reviews are about people suddenly having their accounts suspended without any notice. They only learn about this when they cannot log into their accounts. Plus when you factor in the 16 BBB complaints about the same issue, doesn't sound like Toluna has high standards with treating them members with decency or honesty.

One May 2022 Survey Police review from a Toluna member (account also suspended) from Singapore suggested:

"Here are some suggestions for improvement for you to ignore:
- Send your users warning emails with clear instructions and maybe examples.
- When you suspend an account, inform the user via email and provide the reason(s) as well as a method of recourse.
- Don't suspend accounts only when the user tries to redeem a reward. That's a douche move and highly suspicious. Do your checks when the user logs in, or before a survey is taken, or have an alert banner to prompt updating of details. If you wait until the user tries to redeem a reward to ban them, it looks like corporate greed, and that's not a smart move.
- Or, prompt your user to update whatever information is missing before you can process the reward."

EXCELLENT suggestions that Toluna obviously ignored!

I've noticed that other sites, like Swagbucks, InboxDollars and Survey Junkie) have better ratings than Toluna. Join those companies instead.

Survey Junkie is great with at least giving you 2 or 3 points if you get disqualified for a survey up front. Toluna gives you nothing but a future account suspension with forfeited points.

So DON'T JOIN TOLUNA unless you want to complete surveys, earn points, the have the high probability those points will forfeited. Meaning you wasted your time and Toluna profits.

And Toluna, don't respond to this survey. I cannot tolerate your sugar-coated disrespectful, and sickening vague responses.
They block people's IP addresses unreasonably
September 30, 2022 by June from Australia
Less than FEW DAYS after Katy confirmed my new IP address was no longer flagged by their system. I just managed to take two surveys before seeing all surveys not really available to me. Then when I sent a ticket to Toluna to ask them whether they start to block my IP address again or the surveys really have technical issues or they were REALLY no longer available, that red tape "John Oliver" came back to throw me this nuts " Kathy had confirmed that your IP address is no longer flagged by our system BUT THAT DOESN'T MEAN YOUR ACCOUNT HAS BEEN WHITELISTED, blah blah blah.."

I remembered asking that "John Oliver" MANY TIMES before did Toluna block my account. His answer was IP address issue. AND btw that "IP address" issue was really a modem issue provided by Optus. And now he reverted his answer.

The answers and practices provided by Toluna are clearly crappy inconsistent.

And they never answer my another question, why do I unable to access their 'premium' surveys?
Since they change their website that looks more appealing to mobile phone users, it works TERRIBLE for PC users. Unless they are going to offer surveys on for mobile phones users, the new weblook is messy for PCs but MANY survey conductors actually prefer surveys to be taken by PCs because they may have contents that need to maximise the screens.

I hold onto ALL my previous reviews. They are just creating endless barriers for me. And they refuse to make up the points for me to make a last redemption. They simply bin everyone when they are awhile for 'long enough' and make people's points lapsed.

That "John Oliver" is worse than any red tape bureaucrats. He said that a very low fraudulent score from that ipqualityscore.com isn't sufficient. So what doesn't Toluna expect? Every IP address is 'purity clean' having 0 risk. There is not such thing in this world.
The problem with that ipqualityscore.com is that they sell 'whitelisting' services and dozens other subscription based packages to organisations and individuals. Naturally, they can randomly blacklist anybody to find more new businesses for themselves. A conflict of interests.
So far Toluna has blocked TPG and Optus' NBN networks' IP addresses as 'highly fraudulent for suspicious activities' because of this ipscore.com. There are only 4 major telecom network providers in Australia. Half of the universe are now classified as 'fraudulent' or potentially 'fraudulent'. If they want to blame somebody, blame the Australian government for why there are only 4 major primary networks providers and operators in this country and whatever 'quality' of IP addresses generated by their modems or networks. Surely not punishing individual internet users by blocking our IP addresses. But Toluna always play 'innocence, nothing we can do at our end' SUPER CRAP despite EVERY IP address blockage is initiated by their system.
Whoever blocks the IP is the ONLY party that can unblock any IP address but apparently they treat everyone as dumb by throwing tech smoke guns. This is saying super crap of 'we have nothing against you "personally" but we BLOCK your internet providers, half of the primary NBN network providers btw. The weirdest thing you can hear. I feel like I am worse than living in Russia or Cuba or Iran under Toluna, subjected to internet censorship MORE SEVERE than any tyranny you can think of in this world. Toluna has the greatest dictatorship potential as a company.

"Amused" development is that Kathy finally sings the same song as John Oliver. Added on a new bizarre explanation that my browser or my device's language setting is "English-GB" rather than "English-AU". Anybody who uses major browsers like Chrome, Firefox and Edge will know that this is default setting of the same universe-ENGLISH. And anybody who installs Window will know that the default set language is already set when A GENUINE AUTHORISED version of Window was installed.

NOTHING has EVER changed since I joined Toluna. I AM THE CONSISTENT PARTY while Toluna always keep changing and inventing all sorts of bizarre 'tech' reasons to demonise and block me.

Katy said the matter was 'resolved' and therefore 'reopening' of the ticket wouldn't change anything. The CRITICAL point is I have been in GOOD FAITH following "John Oliver" suggestion to use different device from different network. I DID THIS. They blocked me. Then I asked my IP provider to resolve it, they block me. They FULLY proved what my IP provider had said that if a company DETERMINES to block your IP address, there is no guarantee that they won't do it again even we give you a different IP address. And ANYBODY having ANY COMMON SENSE about internet connection is that you can only change IP address when you change your provider, your type of internet connection or you genuinely move to live in a different location.

Toluna completely ignores and disregards the facts that people CAN AND NORMALLY will complete ANY SURVEYS at ANYWHERE because we are not fixtures and prisoners in our home or in our workplace or on the go. And from all the ALL SORTS OF 10000 reasons 'you are the ONLY wrong party' line of thinking, they actually do BY behaviour that if a person completes their surveys on a shared devices environment-which is not uncommon in many workplaces with co-shared hubs or co-shared terminals, they WILL blacklist ALL of them.

And they can forever throw up new innocent reasons to rebuke their previous words no matter what I do, including following their suggestions to 'resolve' the situation.

They play pretentious words that we don't block your account. We 'just blacklist it' and we WON'T whitelist it even though our system no longer flagged your IP address.

Feel like who I am dealing with? Exactly typical any tyranny regime's dictators who target anybody. Once the person is targeted, there is no way out.
I have 48000 something points with them but "John Oliver" didn't make good to make up the difference to allow me to make a final redemption.

They just want to waste people's efforts and time as free mules.
Thing is clear: when a person is there long enough to make 'sufficient redemptions', they will use ALL sorts of reasons to bin a person. Randomly accuses people as 'fraudulent' is a well known malpractices in this industry. Because our 'almighty god IT system' "thinks" you are 'fraudulent, dishonest' blah blah blah, you are out of the game NO MATTER what you do, even you did EVERYTHING we 'suggested' you to do. Despite I never do anything since day one.

I believe that why they soon flagged me is Toluna is unhappy that I make the GENUINE poor experience here. Therefore their 'almighty god IT system' plays retaliation and there will be 'forever bizarre new accuses' thrown to me.

I show that "Katy" screenshots of my PC's language setting and ALL settings, exactly in the country include Google from the EXACT country I live NOT what they framed me WRONGLY. But I guess for those who determines to invent endless 'reasons of frauds', proof of innocence doesn't make any difference to them.
Firefox is DEFAULT set as ONLY having US English. Microsoft Edge ONLY DEFAULT sets for US English and UK English. But I rarely use Edge to complete Toluna surveys.
POINT IS-the notion of your browsers' language setting is problematic causing our 'almighty god IT system' to flag you as covering up your country of residence is TOTALLY crap. So literally everyone can be blacklisted because they use Firefox and Microsoft Edge to complete their surveys?
Language settings of ANY device has NOTHING to cover up or messy up with the person's geographic location. If somebody in my country can't read English, is that person LEGITIMATELY and NATURALLY will set the language to something the individual CAN READ for using the device?!

I believe by now any OBJECTIVE UNBIASED third party who read my review can judge who is deliberately creating all sorts of absurdity to prevent my to take part in their surveys.

Toluna Influencers responded to this review on October 10, 2022
I regret that you didn't find our responses satisfactory, however, we have presented various details regarding your flagged participations throughout our emails, as well as proposed solutions.
I realize this was an unpleasant experience but at the same time I hope you understand these checks are necessary to secure the quality standards of our panel and only send quality data to our clients.
If there is anything we can do for you, please submit a ticket at https://influencers.toluna.com/en_AU/contact-us and our support team will gladly address your concerns.
All the best,
Katy
Toluna team
September 20, 2022 by Debbie from United States
I didn't mean to delete my first review but they suspended my account and they eventually reinstated me and I got all my points back so I am thankful they did.

Toluna Influencers responded to this review on September 21, 2022
Thank you very much for taking the time to update your review, Debbie! I'm very happy to hear that everything was sorted out by our support team.
See you soon on Toluna,
Katy
September 3, 2022 by penny from United States
I've been a member for a few years. Their surveys are interesting and the rewards are fast. Their customer service is always professional, quick to reply and thanks you for being a member. It's perfect to enjoy feeling good about what to expect from this site. Highly recommend Toluna Influencers.

Toluna Influencers responded to this review on September 8, 2022
Thank you for the amazing review, Penny! We really appreciate you taking the time out to share your positive experience with us. We work hard to meet our Influencers' expectations, and we're happy to hear we hit the mark for you.
See you soon on Toluna,
Katy
August 23, 2022 by Rya from Hong Kong
One of the few sites that I'm still using after years. No complaints, great number of surveys, points earned easily and quick.

Toluna Influencers responded to this review on August 24, 2022
Thank you for leaving this wonderful review, Rya!
Your kind words reaffirms the hard work we put in every day to offer the best experience to our influencers.
Please don't hesitate to get in touch whenever you have questions or concerns - our support team will ensure your experience on Toluna is seamless every time!
Thanks again for your beautiful words, see you soon on Toluna!
Best Wishes,
Katy
» Return to: TOP RATED SURVEY SITES
---
Popular Topics
Top Survey Sites of 2022
---
Highest User Rated Survey Sites
---
Survey Sites That Pay Instantly
---
Get $100 Free PayPal Payments
---
9 Product Testing Job Websites
---
12 Online Surveys That Pay Cash
---
How to Earn Free Uber Gift Cards
---
14 Ways to Get Free Amazon Gift Cards
---
Best Paid Focus Groups
---
How to Get a Free Visa Gift Card
---
Ways to Get Free Xbox Gift Cards
---
Featured Advertisers: