Toluna Influencers Reviews and Features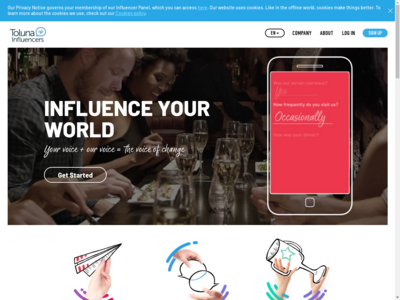 Toluna Influencers
21 River Road, Wilton, Connecticut 06897 US
Tel: 1 (972) 732 7323 Contact: https://us.toluna.com/contactus
Operated by: Toluna Group
Quick Overview:
Rewards Offered: Cash paid via PayPal Amazon gift cards Best Buy gift cards iTunes gift cards Starbucks gift cards Target gift cards Walmart gift cards Movie vouchers Reward Link Restaurant gift cards Retail e-vouchers Sweepstakes entries
Member Opportunities: Online surveys Mobile surveys Mobile app Daily surveys Video surveys Diary surveys Teen surveys Refer-a-friend program
Redeeming Rewards: Minimum of 30,000 ($10) worth of points required in account in order to request rewards.
Similar Panels: Opinion Outpost, Branded Surveys, Opini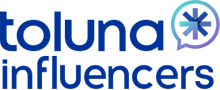 Toluna Influencers is a worldwide survey community which is owned and operated by market research powerhouse, Toluna Group. Toluna Influencers has millions of survey members who participate in a variety of market research opportunities and influence the future of the biggest brands worldwide!
New Member Bonus
New members to the Toluna Influencers community will automatically have 500 points deposited into their accounts. If you invite new members and they join Toluna, you'll also be awarded 500 points per person!
Rewards for Surveys
Toluna Influencers offers an extensive rewards catalog.
Gift certificates and PayPal payments - Toluna Influencers offers a substantial selection of gift certificates to retailers including Amazon, Starbucks, Walmart, iTunes, Tango, Best Buy, Target, and even Bitcoin! Gift certificate values start at 30,000 points, or $10. PayPal payments start at 95,000 points ($30). These amounts are stated for Toluna USA, and may vary slightly by region.
Sweepstakes - Toluna Influencers offers monthly draws for thousands of dollars in cash and items such as electronics whose entries can be redeemed for a relatively small number of points. The Toluna Millionaire Sweepstakes offers a daily draw for 1,000,000 to active Toluna Influencers members. You can earn entry by participating in surveys or by purchasing entry via the reward center for 500 points. Note that sweepstakes draws are not available in all regions.
Visit Toluna's website

›
Additional Ways to Earn Points
Besides participating in online surveys, members of Toluna Influencers can earn additional points by participating in sponsored mini-polls (typically a yes/no question for 15 points), filling out profile surveys (worth 100 points each) and by referring friends (500 points per referral).
Number of Points Per Survey
The number of points will vary per survey and is based on things like the length and complexity of the survey. That said, successful survey completions can award anywhere from 15 - 50,000 points each, and special surveys could offer even more!
Rewards Process
Toluna Influencers states on their website that it can take up to 8 weeks for delivery of rewards after they've been requested. However, many members receive virtual gift cards and PayPal payments within a couple weeks of request. All rewards are redeemed through Toluna Influencers' "Rewards Center" from the community menu on your profile. As stated above, rewards include gift cards to Best Buy, Groupon, overstock.com, Redbox, PayPal, The Cheesecake Factory and more. When points are awarded, they are valid for 12 months.
Visit Toluna's website

›
Getting Involved with Toluna Influencers
There are a variety of options to browse if you would like to become a part of the Toluna Influencers community.
Topics: Answer a variety of exciting questions on interesting and sometimes even humorous topics!
Battles: Give your opinions on a battle of products or subjects, i.e. Which do you prefer, a treadmill or elliptical?
Thumb It: Provide a "like" or a "thumbs up" on products or subjects that you enjoy, i.e. Would you give a thumbs up to the act of napping?
Download the Toluna Influencers App
Access your profile from anywhere and stay up to date on the hottest research opportunities. The Toluna Influencers app offers features like snapping photos while on the go and easily creating quick polls. Download from Google Play or the App Store.
Eligibility: Residents worldwide 13+
---
February 14, 2020 by richard from United Kingdom
Built up a good account balance over the space of 6 months, then suddenly my account was cancelled saying i had breached the guidelines, but they could or would not tell me how i had.....Avoid

Toluna Influencers responded to this review on February 17, 2020
Hi Richard,
Thank you for sharing your feedback.
We are very sorry to hear about the experience you've had and we sincerely apologize that you have still not yet been provided an explanation.
Would you mind sharing your username with me, as I would like to look into it personally? You can also choose to send me an email at https://uk.toluna.com/contactus with the following as subject: 'Survey Police review - follow-up'.
Awaiting your response,
Katy
February 13, 2020 by Rebecca from United States
It's a good site to do surveys, I just don't qualify for many.

Toluna Influencers responded to this review on February 14, 2020
Hi Rebecca,
Thank you so much for sharing your thoughts on Toluna! We are happy to hear you enjoy our research studies!
To increase your chances of receiving better targeted surveys with the highest chances to qualify, we recommend you always keep your profile surveys up to date.
We encourage you to check out all the features available on our site - you can create quality content or participate in games and contests, to earn bonus points while having fun at the same time! You can also go through the Toluna magazine at http://e-mag.toluna.com/bookcase/ukbj to find interesting news, fun facts and updates from the community.
If you have any questions or you need assistance with anything please do not hesitate to get in touch with our Support Team directly by submitting a ticket at https://us.toluna.com/contactus and we would be very happy to assist you.
Best wishes,
Toluna Team
February 12, 2020 by Melanie from United States
I only started doing Toluna surveys 2 months ago and I'm very near payout already! I love this survey site!

Toluna Influencers responded to this review on February 13, 2020
Hi Melanie,
Thank you for your wonderful review, it made our day! We are thrilled to hear about your experience and that you enjoy being a Toluna Influencer!
Whenever you have questions or feedback you'd like to share, please feel free to contact us at https://us.toluna.com/contactus and our Support Teams will be more than happy to assist you!
Have a most amazing day,
Toluna Team
Disappointed, no warning about points expiration
January 29, 2020 by Irina from Canada
23.06.2016
I rarely qualify for surveys, but they pay 200 points if you are not qualified. At least something is better than nothing. Usually they pay 1000-2500 if you are qualified. The only thing I really dislike here - it takes too long to receive you rewards (about 4 weeks), I don't understand why it takes that long to get your money to your paypal account.
28.01.2020
This is an update for Toluna website.
My points have been expired without any warnings. I was told that banner should appear with points expiration details 28 days prior to expiration. I was thinking to complete couple more surveys before redemption and literally checked my account every single day to not miss the banner. There was no banner! (Toluna has to check that I see a lot of people do not see this banner in their accounts) Also, I redeemed my points less than 1 year ago, so points earned that time should have been redeemed already. Looks like points that were earned less than 1 year ago got expired somehow. There is no way to check in the account which points exactly have been redeemed or are going to expiry. Banner with warning that they are talking about never appears. I have no idea when points are going to expiry as I do not know what points exactly were redeemed toward the last redemption order. I think this mess started 1 -1.5 year ago, as I didn't have any problems before that. I have to change my rating unfortunately.

Toluna Influencers responded to this review on January 31, 2020
Hi Irina,
Thank you for taking the time to share your review. We are very sorry to hear your experience on Toluna.com is no longer at the level we would have liked.
The points expiration policy is part of our loyalty program used to engage our influencers and encourage them to stay active, while earning more points that they can use to redeem multiple reward options we offer.
If not spent, points expire after 12 months from the date they are earned and, always on the 28th of the expiring month. For example, if you earned Points on 15 Of January 2019, they will be removed from your account on 28 January 2020 if they are not converted.
Indeed, to make sure you can use your points in time, we inform you of how many points are about to expire via a notification in 'Your Points' section. The notification appears on a black band to catch your attention and is displayed from the beginning of the month until the 28th, allowing you 27 days to decide what to do with the amount of points mentioned.
We have many reward options available at different thresholds so that both very active members as well as the ones who are casually active can easily request a reward. Please do not wait until the last moment to redeem your points.
If you have any questions or need more information, please don't hesitate to reach us at https://ca.toluna.com/contactus and our support team will be more than happy to assist you.
Best wishes,
Toluna Team
January 28, 2020 by Timmy from Singapore
I have been a Toluna Influencer for 1 year. I have completed many surveys and redeemed vouchers in the past. I always gave my most truthful feedback when I did the survey.

Cons of signing up with toluna:
1) Take too long to filter users that does not meet clients' profile. You may spent at least 5-10 minutes to do the surveys before being filtered out. They only give you a lottery ticket where the chances of winning is slim.

2) You can complete 20-40% of the surveys and they will direct you to a page to inform you the surveys have been filled up.

3) Recently, Toluna sent emails to users to inform them that their accounts have been suspended as they deemed it as suspicious.

Most users spent time and effort to complete each survey which may take 30 minutes to complete. We gave our most honest feedback and toluna accused us of giving lousy/false feedback without providing any reasons.

I wrote in to clarify which surveys Toluna felt was not satisfactory. However, they did not reply.

It is unfair to permanently banned users without giving them a good explanation. In my opinion, Toluna should allow users to redeem their outstanding rewards before banning them.

I urge other users to think twice before signing up as you can be denied to redeem rewards as you can be banned out of the blue.

Toluna Influencers responded to this review on January 31, 2020
Hello Timmy,
Thank you for taking the time to share your detailed review with us and the community, it is much appreciated!
Our influencers' satisfaction is a top priority for us and we are committed to providing them with the best and most rewarding experience on our global community. At the same time, we are also dedicated to providing high quality data to our clients, as they rely on consumers' truthful feedback to make important business decisions. To ensure this high level of quality (and in agreement with our terms and conditions) we conduct ongoing quality checks of our members across the globe that have been flagged as having the potential to jeopardize the quality, legitimacy and the security of our panel.
As you mention you have not been contacted back regarding your inquiry, I would like to personally investigate and follow-up on your case so that I can provide an explanation as soon as possible. Would you mind sharing your username with me, so I check where the delay is coming from and why this was not sorted earlier?
You can also choose to send me an email at https://sg.toluna.com/contactus with the following as subject: 'Survey Police review - follow-up'
Awaiting your response,
Katy