Toluna Influencers Reviews and Features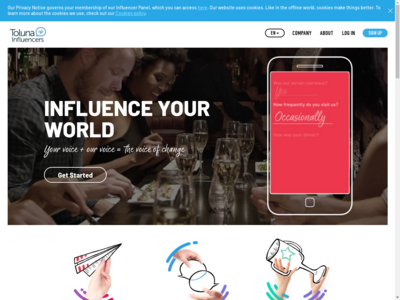 Toluna Influencers
21 River Road, Wilton, Connecticut 06897 US
Tel: 1 (972) 732 7323 Contact: https://us.toluna.com/contactus
Operated by: Toluna Group
Quick Overview:
Rewards Offered: Cash paid via PayPal Amazon gift cards Best Buy gift cards iTunes gift cards Starbucks gift cards Target gift cards Walmart gift cards Movie vouchers Reward Link Restaurant gift cards Retail e-vouchers Sweepstakes entries
Member Opportunities: Online surveys Mobile surveys Mobile app Daily surveys Video surveys Diary surveys Teen surveys Refer-a-friend program
Redeeming Rewards: Minimum of 30,000 ($10) worth of points required in account in order to request rewards.
Similar Panels: Opinion Outpost, Branded Surveys, Opini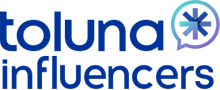 Toluna Influencers is a worldwide survey community which is owned and operated by market research powerhouse, Toluna Group. Toluna Influencers has millions of survey members who participate in a variety of market research opportunities and influence the future of the biggest brands worldwide!
New Member Bonus
New members to the Toluna Influencers community will automatically have 500 points deposited into their accounts. If you invite new members and they join Toluna, you'll also be awarded 500 points per person!
Rewards for Surveys
Toluna Influencers offers an extensive rewards catalog.
Gift certificates and PayPal payments - Toluna Influencers offers a substantial selection of gift certificates to retailers including Amazon, Starbucks, Walmart, iTunes, Tango, Best Buy, Target, and even Bitcoin! Gift certificate values start at 30,000 points, or $10. PayPal payments start at 95,000 points ($30). These amounts are stated for Toluna USA, and may vary slightly by region.
Sweepstakes - Toluna Influencers offers monthly draws for thousands of dollars in cash and items such as electronics whose entries can be redeemed for a relatively small number of points. The Toluna Millionaire Sweepstakes offers a daily draw for 1,000,000 to active Toluna Influencers members. You can earn entry by participating in surveys or by purchasing entry via the reward center for 500 points. Note that sweepstakes draws are not available in all regions.
Visit Toluna's website

›
Additional Ways to Earn Points
Besides participating in online surveys, members of Toluna Influencers can earn additional points by participating in sponsored mini-polls (typically a yes/no question for 15 points), filling out profile surveys (worth 100 points each) and by referring friends (500 points per referral).
Number of Points Per Survey
The number of points will vary per survey and is based on things like the length and complexity of the survey. That said, successful survey completions can award anywhere from 15 - 50,000 points each, and special surveys could offer even more!
Rewards Process
Toluna Influencers states on their website that it can take up to 8 weeks for delivery of rewards after they've been requested. However, many members receive virtual gift cards and PayPal payments within a couple weeks of request. All rewards are redeemed through Toluna Influencers' "Rewards Center" from the community menu on your profile. As stated above, rewards include gift cards to Best Buy, Groupon, overstock.com, Redbox, PayPal, The Cheesecake Factory and more. When points are awarded, they are valid for 12 months.
Visit Toluna's website

›
Getting Involved with Toluna Influencers
There are a variety of options to browse if you would like to become a part of the Toluna Influencers community.
Topics: Answer a variety of exciting questions on interesting and sometimes even humorous topics!
Battles: Give your opinions on a battle of products or subjects, i.e. Which do you prefer, a treadmill or elliptical?
Thumb It: Provide a "like" or a "thumbs up" on products or subjects that you enjoy, i.e. Would you give a thumbs up to the act of napping?
Download the Toluna Influencers App
Access your profile from anywhere and stay up to date on the hottest research opportunities. The Toluna Influencers app offers features like snapping photos while on the go and easily creating quick polls. Download from Google Play or the App Store.
Eligibility: Residents worldwide 13+
---
December 9, 2019 by Scott from United States
Toluna is awful. There are lots of thing that you deserve to know if I could get the truth past the gatekeepers here. I am comfortably retired and don't need the little pittances survey sites pay, but even I don't think that Toluna is worth anybody's time.

Toluna Influencers responded to this review on December 10, 2019
Hello Scott,
Thank you for taking the time to share your thoughts. We are very sorry to hear that your experience on Toluna.com did not meet your expectations and your review is very concerning to us.
If you would like to discuss your personal experience further or you have any inquiries that you feel were not properly addressed, I will follow up on these personally and ensure you get a better experience next time. Would you mind sharing your username with me or send me an email at https://us.toluna.com/contactus with the following as subject: Survey Police review - follow-up?
Awaiting your response,
Katy
December 9, 2019 by Don from United States
I joined this panel after reading the reviews on survey police. As far as the frequency of surveys, they do a good job. I also qualified and completed a fair number of surveys. However, no matter how many points I earned, I never got close enough to earn a PayPal reward. My points were regularly deducted with the excuse they had expired. Also, no notice was given my points were about to expire. In order to even get a PayPal reward, you have to amass 90000 points! Don't bother. You'll never get even close without losing your points.

Toluna Influencers responded to this review on December 10, 2019
Hello Don,
Thank you so much for sharing your complex review with us and the community! We are sorry that your experience with Toluna so far has been a mixed bag, and your feedback is highly appreciated! We would love the opportunity to provide a service that is up to the standard you expect if you gave us another chance.
The points expiration policy is part of our loyalty program and its sole purpose is to make sure that our most active and engaged users are most rewarded. Points only expire after 12 months from the date they are earned, and on average, active users can redeem multiple rewards in that time. To make sure you can use your points in time, we inform you of how many points are about to expire via a black banner in 'Your Points' section. You have 28 days after the appearance of this banner to use the expiring points.
Besides our PayPal option, there are various other rewards available at different thresholds so that both very active members as well as the ones who are casually active can easily request a reward. You can check out all the available options at https://us.toluna.com/rewards.
If you have any questions or other suggestions you would like to share, please don't hesitate to reach us at https://us.toluna.com/contactus!
Warm regards,
Toluna Team
Lots of Ways to Earn Points
December 6, 2019 by Lynda from United States
I've been a Toluna member for a long time. In addition to interesting surveys, they offer a variety of activities (polls, games, topics) to earn more points and rewards. They offer a variety of rewards from gift cards to Pay Pal. And they do pay.

Toluna Influencers responded to this review on December 9, 2019
Hello Lynda,
Thank you for taking the time to share your wonderful review!
Our members satisfaction is of utmost importance, and hearing these nice words from a loyal and engaged member such as yourself motivates us even further to strive to provide the best in class services.
We are thrilled to hear that you enjoy all our site's features and would like to assure you that we will never stop innovating and improving what our platform has to offer.
Did you know that we also have a Toluna magazine, where you can find interesting news, fun facts and updates from the community? Go check it out at http://e-mag.toluna.com/bookcase/ukbj!
We are grateful for your loyal membership!
Best regards,
Toluna Team
worked with this a few weeks, WOW!
December 5, 2019 by Mitchell from United States
Toluna is a good company for a few reasons 1st they have lots of survey's 2 and 2 they always have something to do to earn a little you may not get anything for failing a survey but they make up for it in that in the Sponsored Content content under surveys at the top of the website. I will tell you there site is a little slow I've had surveys I've been taken to just sit there for a little while before loading the next page I didn't set there I just closed the tab.

Toluna has got to fix their site I can't do the first thing on there. Hey if they need a good webmaster I'm available this site is so slow i get messed out of points everyday. Some of the surveys set for 10 minute and time out so i never get credited for it.

Toluna Influencers responded to this review on December 6, 2019
Hello Mitchell,
Thank you for submitting your updated review, we are so happy to see that your satisfaction towards our services has increased!
Our influencers' satisfaction is a top priority for us and your feedback keeps us motivated to continue to improve and offer the best experience to our community.
Every time you have feedback or comments to share please don't hesitate to get in touch at https://us.toluna.com/contactus and we will happily assist every time.
We look forward to seeing you on the site!
Warm regards,
Toluna Team
December 5, 2019 by Mary from United States
Toluna is a wonderful site,The people on their are like good friends.The gift cards rewarded are nice just for doing surveys.I always figure watch TV or make money on Toluna.Also you get to create and interact with others and their opinions.Come join us you wont be disappointing.Smiles,Mary

Toluna Influencers responded to this review on December 6, 2019
Hello Mary,
We appreciate your taking the time to share this wonderful and detailed review!
We are thrilled to hear that you enjoy being a Toluna Influencer! Creating a tightly knit community is our goal, and hearing from loyal members such as yourself that you enjoy the friendly environment on our site shows us that we are on the right path.
We always strive to increase our influencers' satisfaction and are doing our best to deliver better and faster rewards. We offer a large variety of rewards at different thresholds, so that both very active members as well as the ones who are casually active can easily request a reward.
Thank you for your invaluable contribution to our community!
Best wishes,
Toluna Team