Swagbucks and Survey Junkie are two very popular websites for making money on the internet. Both websites present consumers with an abundance of opportunities to make money from the comfort of their own home.
However, there are key differences between Swagbucks vs Survey Junkie that are likely to make you favor one over the other.
Below, we'll explore these key differences and present a recommendation for which website is most likely to be suitable for you.
What Is Swagbucks?


Swagbucks is an incredibly popular get-paid-to (GPT) website, which is best known for offering its users a wide range of online activities to make money. It launched in 2008 and has more than 20 million registered users across the world. It has issued an unbelievable, $800 million in rewards to its members since this time.
What Is Survey Junkie?


Survey Junkie is a paid survey website which is best known for offering its users a consistent range of surveys to answer. It technically launched in 2005, but only adopted the Survey Junkie name in 2013. It now has more than 10 million registered users who take surveys regularly.
Key Differences Between Swagbucks vs Survey Junkie
Below, you'll find a comparison of the key differences of Swagbucks vs Survey Junkie to help you decide which website best suits your needs.
Eligibility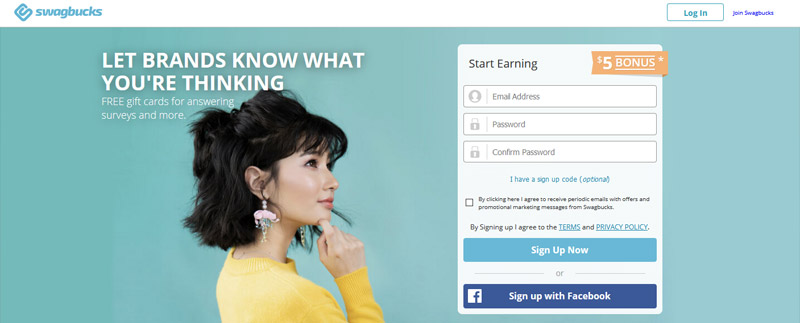 Swagbucks: available to residents of the United States, United Kingdom, Canada, Germany, France, Spain, India, Australia, New Zealand, Portugal and Ireland. You have to be 13 years old or over to register for Swagbucks.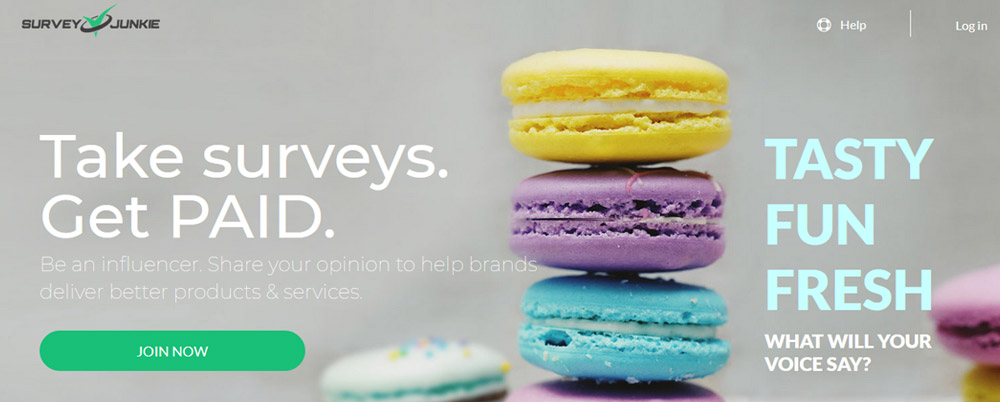 Survey Junkie: available to residents of the United States, United Kingdom, Canada and Australia. You must be 16 years old or over to register for Survey Junkie.
Rewards You Can Earn
Swagbucks: exchange your credits (also called 'SB's) for a massive range of retail gift cards, PayPal payments or charity donations. Swagbucks awards 7,000 free gift cards every day to its users and payments start at just $5.00. Hundreds of rewards in total are available.
Survey Junkie: with as little as $5.00 in earnings, you can exchange your points for a PayPal payment. If you live in the USA, you also have the opportunity to redeem your points for a gift card or a direct bank transfer.
Activities You Can Do to Make Money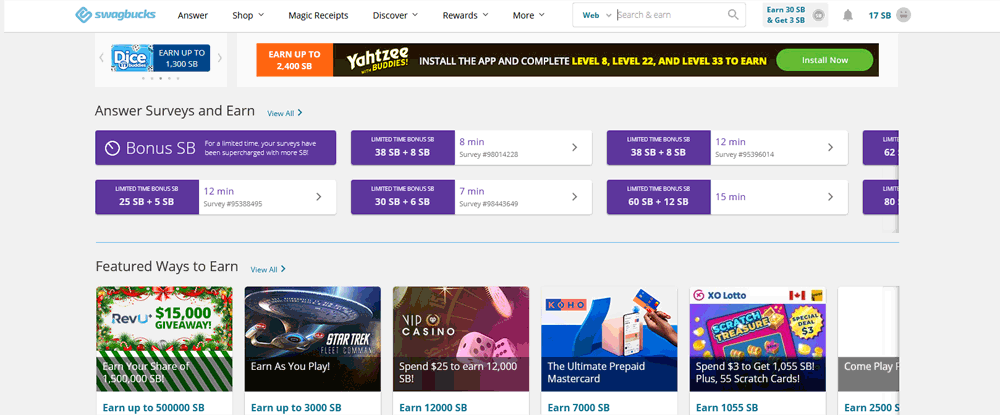 Swagbucks: offers a wide range of activities that give members the opportunity to make money on its platform. Answer paid surveys, play games, watch videos, complete web searches, take part in affiliate offers and more to earn credits that can be exchanged for rewards. There's never a shortage of activities to do, and the offerings are plentiful.


Survey Junkie: is focused on providing paid surveys, although most users will receive more than enough surveys to earn a decent side-income. There are some opportunities to take part in focus groups and product testing, but these opportunities are less common and they fill up very fast.
Ease Of Use
You'll find both websites easy to use and navigate, although perhaps Survey Junkie is simpler due to its simplicity with having fewer activities available for completion. The sign-up process is quick and easy for both websites.
Both websites also have smartphone apps on iOS and Android, allowing you to earn money on the go. Both websites rate highly for customer service, and you can expect super-fast payments on each.
What Is the Most Time-Effective Website?
Everyone is interested in making as much money as they can with as little effort as possible. Both websites are good for this compared to their competitors.
Both Swagbucks and Survey Junkie offer a similar rate of pay for answering surveys. This is likely to be the most time-effective activity for making money on each respective website.
You can cash out just $5 worth of credits as retail gift cards on both websites. You'll need at least $25 worth of credits to cash out to PayPal on Swagbucks, whereas you only need $5 for this on Survey Junkie.
Sign Up Bonuses
Swagbucks: offers a $5.00 joining bonus to new members. You can also receive bonuses for reaching daily credit goals on the website, helping you achieve your first cash out sooner. » Sign up for Swagbucks here
Survey Junkie: receive a 50 point sign up bonus upon joining Survey Junkie. This amounts to $0.50, which with a low $5.00 minimum cash out, that's 10% of the way there! » Sign up for Survey Junkie here
Conclusion
Provided you're living in an eligible country for both websites, your decision between joining Swagbucks vs Survey Junkie is most likely going to be based on how much you enjoy answering surveys for money.
In most cases, Survey Junkie will be able to provide a steady flow of surveys for you to make a steady side-income. Swagbucks offers a consistent-enough stream of surveys, but it also has other activities for you to earn cash online if you get bored of answering surveys.
There's nothing stopping you registering for both websites however, presuming you're in an eligible country. It's free to sign up for both websites, after all.
This might be your smartest bet for maximizing your earnings. There's never any obligation to continue with a platform, and if you're unhappy participating, you can delete your account at any time.
---
Related posts: